September 5, 2009 - 8:45pm
Sourdough bread: Good results with a new tweak of my steaming method
I made a couple of sourdough boules today. I'm quite happy with them. I used a slightly different formula, but the exciting thing to me was the effect of a modification of my oven steaming method I've been meaning to try for some time.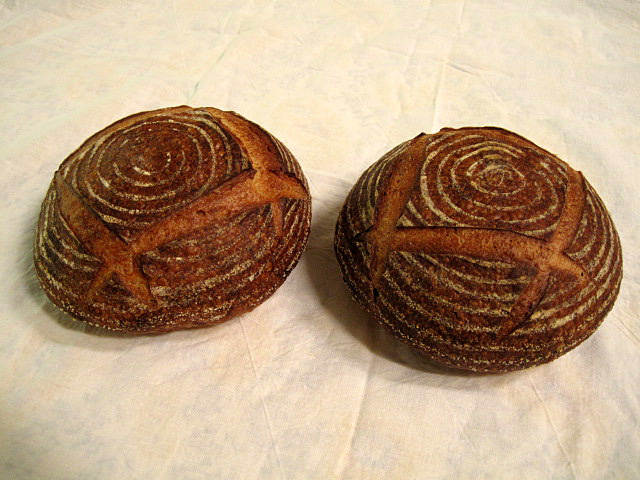 | | | |
| --- | --- | --- |
| Ingredients | Amount | Baker's percentage |
| High-gluten flour | 450 gms | 90 |
| Whole rye flour | 50 gms | 10 |
| Water | 362 gms | 72 |
| Salt | 10 gms | 2 |
| Levain (1:3:4 - S:W:F) | 100 gms | 20 |
| Total | 972 gms | 194 |
I used KAF Sir Lancelot flour and Bob's Red Mill "Dark Rye" flour.
Procedures
Mix the flours and water to a shaggy mass. Cover and let rest for 20-60 minutes.

Add the salt and levain and mix to moderate gluten development.

Transfer to the bench and do a couple of folds, then transfer the dough to an oiled bowl and cover it. Note the volume the dough will achieve when doubled.

After 45 minutes, do another stretch and fold, then allow the dough to double in volume.

Divide the dough into two equal pieces and pre-shape into rounds. Let the pieces rest, covered, for 10-20 minutes.

Shape each piece into a boule and transfer to well-floured bannetons, seam side up. Place each in a food-grade plastic bag, seal the openings.

Allow to proof for 30-60 minutes (less in a warmer environment), then refrigerate for 8-14 hours.

Remove the loaves from the refrigerator 2-4 hours before baking (depending on how risen they are and how warm the room is). Allow to warm up and expand to 1.5 times the loaves original volume.

45-60 minutes before baking, pre-heat the oven to 500F with a baking stone on the middle shelf and a cast iron skillet filled with lava rocks on the bottom shelf. (I suggest moving the stone ove to within one inch of the oven wall on your non-dominant side. Place the skillet next to the wall on your dominant side.)

When the loaves are ready to bake, pour 1/3 cup of boiling water over the lava rocks and close the oven door fast. (Strongly suggest holding the kettle wearing an oven mitt!)

Transfer the loaves to a peel or to parchment paper on a peel, and load them onto your baking stone.

Immediately pour ½ cup of boiling water over the lava stones and quickly close the oven door.

Turn the oven temperature down to 460F and set a timer for 10 minutes.

After 10 minutes, remove the skillet. Reset the timer for 20 minutes.

The loaves are done when nicely colored, thumping their bottoms gives a "hollow" sound and their internal temperature is at least 205F.

When the loaves are done, turn off the oven but leave the loaves in the oven with the door ajar for 7-10 minutes to dry the crust.

Cool thoroughly (2 hours) before slicing and serving.
The crust was remarkably shiny when it came out of the oven. This effect, due to starch that is gelatinized early in the bake, I have only achieved before with breads baked under a stainless steel bowl for the first half of the bake. I also got quite satisfactory oven spring and bloom in these loaves which I had feared were a bit over-proofed.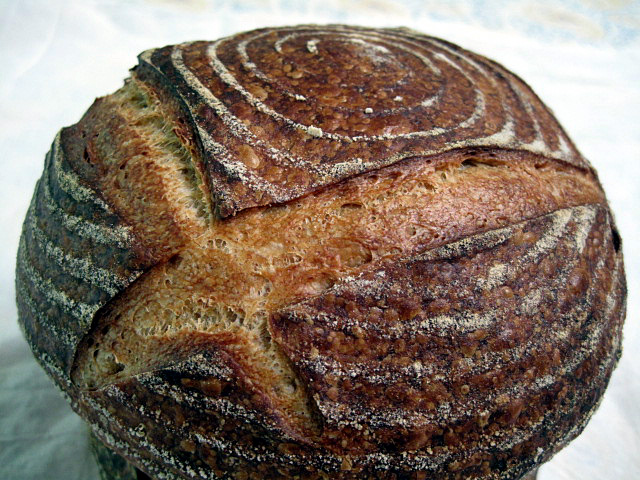 It is evident that using the skillet with lava rocks for both pre- and post-loading steaming is superior to either a) pre-steaming by throwing ice cubes in a hot metal loaf pan or b) compensating for insufficient pre-loading steam by over-steaming post-loading. Some methods of steaming, when used to excess, actually interfere with the cuts opening and produce pale-colored loaves.
The bread I tasted has a delightfully crunchy crust and a chewy crumb with what I would regard as medium-strong sourness – just how I like it best.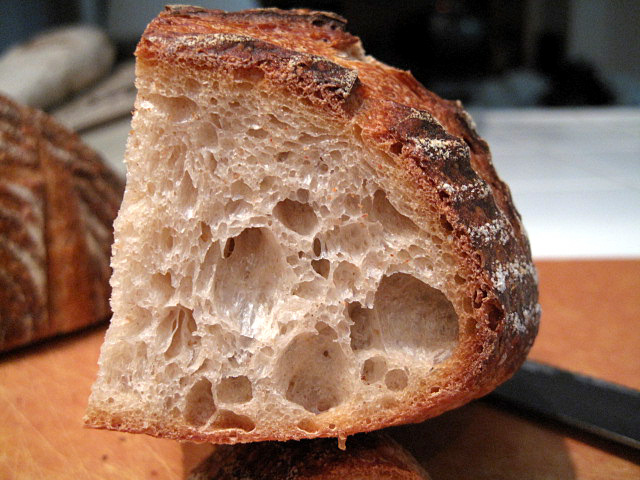 As far as I'm concerned, this experiment was a success.
David
Submitted to Yeast Spotting