100% Whole Wheat Bread from BBA
Almost all the breads I bake are sourdoughs, but there are two non-sourdough breads I really like – Cinnamon-Raisin-Walnut bread and a hearty 100% Whole Wheat sandwich bread. Whole wheat bread is my bread of choice for tuna salad or egg salad sandwiches and for nut butter and jam sandwiches. It's one of my favorites, toasted, to accompany eggs, although it has stiff competition from San Francisco-style Sourdough bread and un-toasted Jewish Sourdough Pumpernickel (with cream cheese).
My favorite whole wheat bread has been the "100% Whole Wheat Bread" from Peter Reinhart's "The Bread Baker's Apprentice." It uses both a poolish and a soaker and is essentially identical to what Reinhart calls the "foundational bread" in his later-published "Whole Grain Baking" book. It incorporates what Reinhart calls "the epoxy method" in the later book.
These books are widely available, so I will not duplicate the formulas here. However, Reinhart offers a number of options, and I will tell you which I used for this bake.
The Poolish in Reinhart's BBA formula isn't really a poolish in the classic sense of a 100% hydration mix of flour and water with a little yeast. In the WGB book, he calls it a "barm," and it's not really a barm either, as I understand the strict definition. I suppose you could call it a "sponge."
The Soaker calls for "coarse whole wheat flour or other coarsely ground whole grains." In the past, I've used bulghur (medium size). This time, I did have some coarse ground whole wheat flour on hand. I used 2 oz of the coarse whole wheat and 2.25 oz of bulghur, soaked overnight in 6 oz of buttermilk (One of Reinhart's options), rather than the water I had used before.
The final dough uses fine ground whole wheat flour, salt, honey and instant yeast. No additional water is added in the formula. An egg and 1 T of vegetable oil are optional. I used the egg but not the oil. The honey I used was Orange Blossom honey.
Using these ingredients, the dough was considerably drier than it had been when I had used water (rather than buttermilk) and all bulghur (rather than coarse ground WW and bulghur). I ended up adding about 3 T of additional water during mixing and still ended up with a rather stiff, barely tacky dough.
Fermentation to doubling and proofing to almost doubled took about 75% as long as the recipe specified. This was because my kitchen was 80F yesterday.
The dough made two 17 oz pan loaves which baked at 350F for 45 minutes.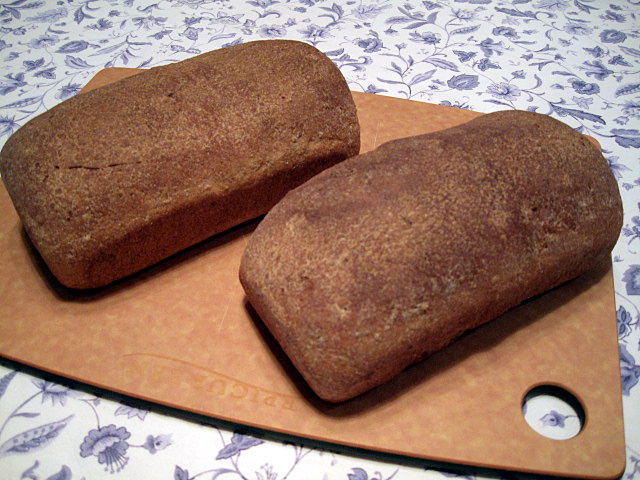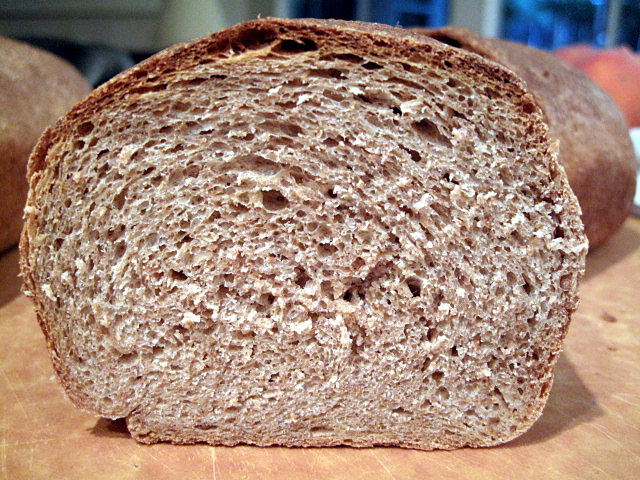 This is a very flavorful, somewhat dense yet tender bread. The flavor of red whole wheat predominated, but the Orange Blossom honey flavor was very much "there," too. If you pay attention, I think you can also taste a tangy overtone from the buttermilk. I tasted some just after it cooled and had more toasted with almond butter and strawberry jam for breakfast. It's still a favorite.
I am curious how I would like this bread made with white whole wheat, and I'll probably make it that way next time.
David
Submitted to YeastSpotting