Dan Lepard's Barm Bread (100% sourdough)
My husband text me from China and said his boss told him over pre-dinner drinks that he is a sucker of sourdough!   Immediately I was thinking what would I bake if he ever makes a trip to Australia, not that I've been forewarned of any near-term possibility, but I was just entertaining hypothetical visits.  Somehow, I know it's not MacGuire's that I've been making lately even with all those lovely big holey crumbs that I've been getting.  The flavors of all those MacGuire breads/sourdoughs are not the best of all breads/sourdoughs that I've made.   Indulge me with this explanation: the flavors of all those super-hydrated (and the resulting super-holey) crumbs are not deeply alluring for me to want to come back and have another slice once chewing is done.
I was out doing a bit of gardening and enjoying the gorgeous sunshine of Australian winter.   It hit me that my husband left a bottle of Irish ale in our bar fridge.  There is a Dan Lepard's recipe that uses ale (as one would expect) in his "The Handmade Loaf" that I've been wanting to try.  It's called "Barm bread."  For most of you out there there will be no difficulty guessing what a barm bread might be, but I've never heard of this word, barm.  My Wiktionary says it is an old English term referring to the foam rising upon beer or other malt liquors, when fermenting, and used as leaven in making bread (and in brewing).  So, that's it - a barm bread is like a sourdough bread.
To make a quick barm
250 g ale (or bottle-conditioned beer)
50 g white bread flour
4 tsp white leaven (Dan's starter is 80% hydration; as the amount used is so little, it would not matter if your is not 80%.)  
Heat up the ale or beer in a saucepan to 70C (158F), then remove from the heat and quickly whisk in the flour.  Transfer to a bowl, leave to cool down to 20C (68F), then stir in the leaven.  Cover with a plastic wrap and leave overnight to ferment.  (My barm took 36 hours to be bubbly.)  Use as you would a leaven (but adjust your recipe water as the barm is quite liquid).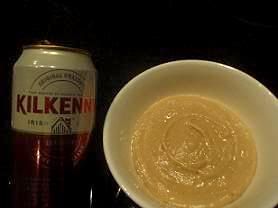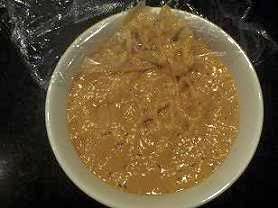 the ale and the barm freshly made up                              the barm is ready
Dan Lepard says this is a perfect replica of the complex barm of olden times for the home bakers.
Now, the above formula is really curious to me.  Recently a TFL user Bruce (Frrogg1son) asked me about a Chinese "65C soupy dough" and when I Googled it a whole string of Hongkonese and Taiwanese bread recipes ran up; many of these breads are on the sweet side with milk powder, butter and sugar, almost like French brioche breads.  I see these type of sweet white breads in Japan a lot too.  
The curious thing is that the ratio of water to flour in this "65C soupy dough" is the same as Dan's ale to flour ratio; ie, 5 to 1, and it is heated up to 65 C, closed to Dan's 70 C.  Bruce told me that the science behind this soupy dough is that "when the flour particles reach about 65C, they burst, releasing starch molecules, which have the capacity to absorb very large amounts of water.  It is like gelatinization."  What this does to a dough is that it improves the moistness of the crumb and keeping quality of the bread.   He first discovered it on the internet as a natural way to extend the moistness of some doughs.   How interesting.  I imagined what this does is similar to what potato does for some sourdoughs - very most crumbs and good keeping quality.
That said, I felt a sense of auspicious foreboding coming for this barm bread.  Dan's book (page 41) says the Barm bread is the traditional wheaten bread of England.  Wow.
The formula
150 g barm from above (the rest can keep in the fridge for a week)
250 g water (adjust your water temp to achieve a dough temp of around 21C / 70F)
500 g strong white flour (or a flour mix of rye and wholewheat, or even soaked grains, but I used white flour only)
10 g salt (or 1& 1/2 tsp)
*  Note: This is a 68% hydration dough; but I added 20 g extra water to bring it to 72%. 
Schedule in hours and minutes 
0 :00    In a large bowl, whisk the barm with the water.  Add the flour and salt, and stir until you have a sticky mass.  Cover.  Autolyse. The dough temp should be about 21C (70F).
0 :10    Turn the dough out onto a lightly floured surface and knead for 10 - 15 seconds.  Return the dough to the bowl.  Cover.  (I gave the dough 7 - 8 folds inside the bowl, which  lasted 15 seconds, much the same way as dough is folded in James MacGuire's pain de tradition here that I recently posted.) 
0 :20    Knead again as above.  (I folded the dough again in the bowl.)  The room temp should be about 20C (68F), if not, you may need to place your dough in the fridge for part of the time to keep the dough temp down.
0 :30    Knead again as above.  (I folded again.) 
1 :00    Knead again as above.  (I folded again.)
2 :00    Knead again as above.  (I folded again.)
3 :00    Knead again as above.  (I folded again.)
5 :00    Turn the dough out and divide it into two pieces of 450 g each (I left mine as whole).  Pre-shape each into a ball.  Cover.
5 :15    Shape dough into boule and place into floured linen-lined baskets or bowls.  Cover.   Leave at room temp of around 20C (68F) for a bit longer than 4 hours or until dough almost doubled.
8 :30    Turn on your oven to 220C/425F (if it takes one hour to pre-heat).
9 :30    Bake with steam for 50 - 70 minutes.
Phew!  This schedule may look like a bread making marathon to you but in truth my dough was not ready until after 12 hours!  I started mixing my dough at 7am yesterday, and it was only ready to bake at 8 pm!  Possible reasons are that my room temp was only around 18C (64F) and/or my barm was very slow.   And this is it: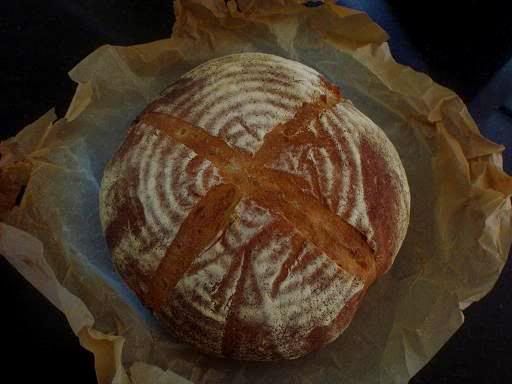 Dan Lepard's Barm Bread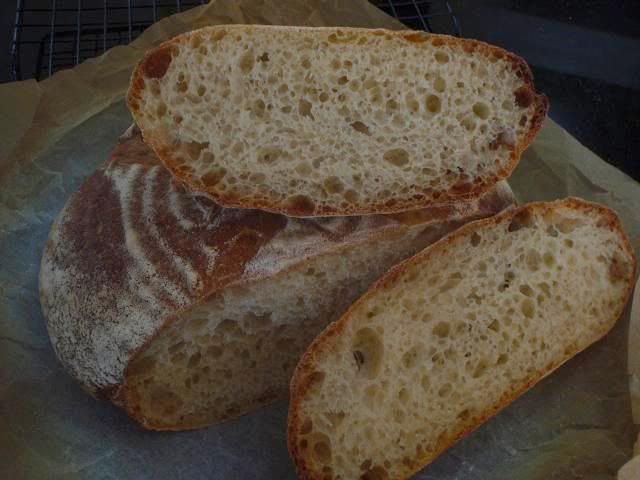 What a beautiful barm bread; the taste is most amazing, richly flavored from the ale-based barm, which has a slight bitterness and sweetness from the ale.  I am most impressed by Dan's formula.  The crumb is sweetly fragrant.  It has a very deep aroma, and allure.  Now, this is something that I would come back to have more.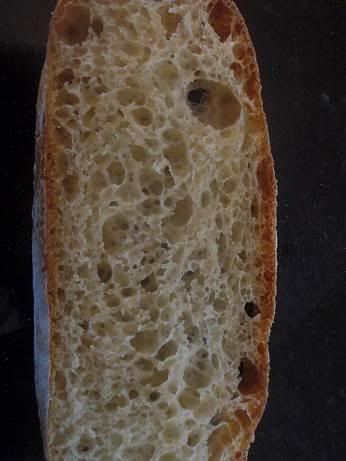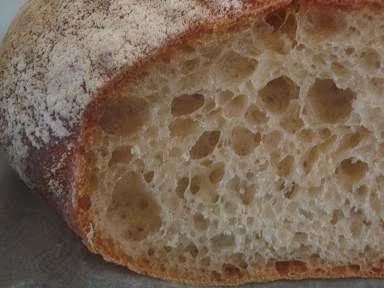 It's been years since I ate past 8pm but last night I literally had 1/3 of the loaf on my own!  Any of you ladies out there, don't do what I do. 
I have not recommended any breads to people up until now because most of my breads are frivolous experiments and for my eyes only, but I do commend this one.   Whether your guests are experienced connoisseurs or no foodies at all, there would be no qualms about this superb sourdough.  (I am blowing my own trumpet.)
Thank you, Dan. 
It's time Polly our dog go out for a rumple-trot in our yard; I sang out her name and she stirred from behind my couch.  Out she went through the hallway door to enjoy the green and the afternoon sun.   And me?  I am having my afternoon tea with this bread!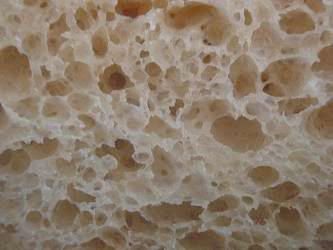 Shiao-Ping