Miche, Pointe-à-Callière: Another James McGuire formula (from Hamelman's "Bread")
Even before the recent crop of beautiful breads made with James McGuire's "Pain de Tradition" formula, I had been planning to bake the "Miche, Point-à-Callière" from Hamelman's "Bread" this weekend. Hamelman attributes this bread to McGuire, whose intention was to replicate the type of bread baked by the first French settlers of what ultimately became Montreal. The name of the bread, "Pointe-à-Callière," was the name of their first settlement.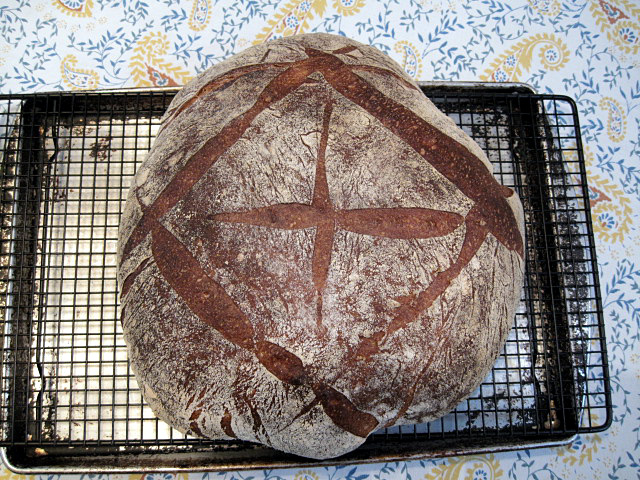 Miche, Pointe-à-Callière
The other, more well-known, bread meant to approximate French bread of that era is Pain Poilâne. Hamelman's formula is for a 82% hydration Miche (very large boule) made with high-extraction flour. It is a pain au levain with no added yeast. The principal difference between McGuire's and Poilâne's miches is the higher hydration of McGuire's. Actually, I make this bread with 2 oz less water than Hamelman calls for, which makes it a 76% hydration dough.
I have made this bread with first clear flour, Golden Buffalo Flour (a high-extraction flour from Heartland Mills) and with a mix of bread flour and whole wheat. Personally, I prefer the results with first clear flour over the others.
| | | |
| --- | --- | --- |
| Overall Formula |   |   |
| High-extraction whole-wheat flour | 2 lbs | 100.00% |
| Water | 1 lb, 8.2 oz | 76.00% |
| Salt | 0.6 oz | 1.80% |
| Total | 3 lb, 8.8 oz | 177.80% |
| | | |
| --- | --- | --- |
| Levain Build |   |   |
| High-extraction whole-wheat flour | 6.4 oz | 100.00% |
| Water | 3.8 oz | 60.00% |
| Mature culture (stiff) | 1.3 oz (3 T) | 20.00% |
| Total | 11.5 oz |   |
Final Dough

 

 

High-extraction whole-wheat flour

1 lb, 9.6 oz

 

Water

1 lb, 4.4 oz

 

Salt

0.6 oz

 

Levain

10.2 oz (all less 3 T)

Total

3 lb, 8.8 oz

 
Procedure
Make the levain about 12 hours before you want to mix the dough. Dissolve the mature culture in the water, then mix in the flour. Cover tightly and ferment at room temperature. (I let the levain ripen at room temperature for about 10 hours overnight. I then refrigerated it for another 6 hours. This was a matter of my convenience. It probably did increase the sourness of the final dough, which happens to be fine with me.)

To make the dough, mix the flour and water in a large bowl or the bowl of a stand mixer, if you have one that can handle this much dough. Cover and let stand for an autolyse of 20-60 minutes. At the end of the autolyse, sprinkle the salt over the dough, add the levain in chunks and mix thoroughly. Hamelman says to mix the dough at second speed for 2 to 2 ½ minutes to get a loose dough with only moderate gluten development. This time would be for a professional spiral mixer, of course. DDT is 76F. (I mixed the dough in a Bosch Universal Plus. It took about 4 ½ minutes to get what I regarded as "moderate gluten development." I think one could easily use the "stretch and fold in the bowl" technique with this bread and achieve equally good results, if not better.)

Transfer the dough to a lightly oiled, large bowl, cover tightly and allow to ferment for 2 ½ hours. Fold the dough twice at 50 minute intervals. If the gluten development was less than "moderate" after mixing, a third fold may be needed. If so, do the three folds at 40 minute intervals.

After fermentation, transfer the dough to a floured board and lightly pre-shape into a round. Allow the dough to rest for a few minutes, then gently round up the dough and transfer it to a well-floured banneton. Cover with a slightly damp towel or with plasti-crap. (The miche could be proofed on a well-floured linen couche, in principle. I have never attempted to transfer a slack dough loaf of this size from a couche to a peel. I imagine the results would be … amusing.)

While the bread is proofing, pre-heat the oven to 500F and set up your steaming method of choice. (Hamelman calls for heating the oven to 440F.)

After steaming the oven and loading the bread, turn the oven down to 440F. After 15 minutes, remove the steam source and turn down the oven to 420F. Hamelman says the total bake time is "about 60 minutes." You can leave the miche in the turned off oven with the door ajar for 10 minutes after the bread is done. This will dry out the crust somewhat, but this is a very wet bread, and the crust will soften.

Cool thoroughly on a rack. Hamelman prescribes covering the cooled miche with baker's linen and delaying slicing for at least 12 hours. (I think I actually did forgo slicing it for 12 hours once. It is an excellent idea, but I am weak.)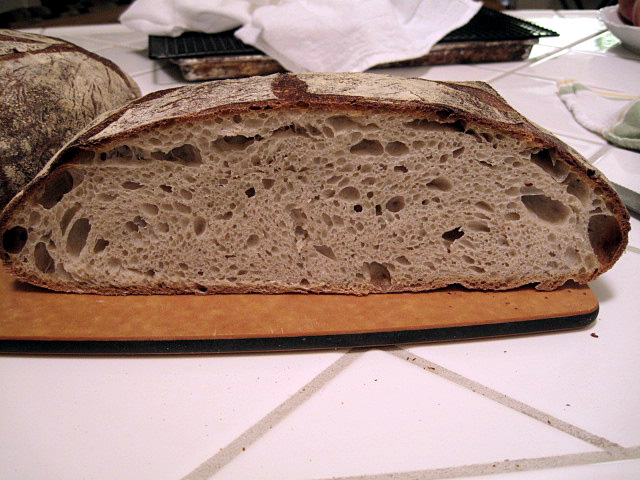 Miche Crumb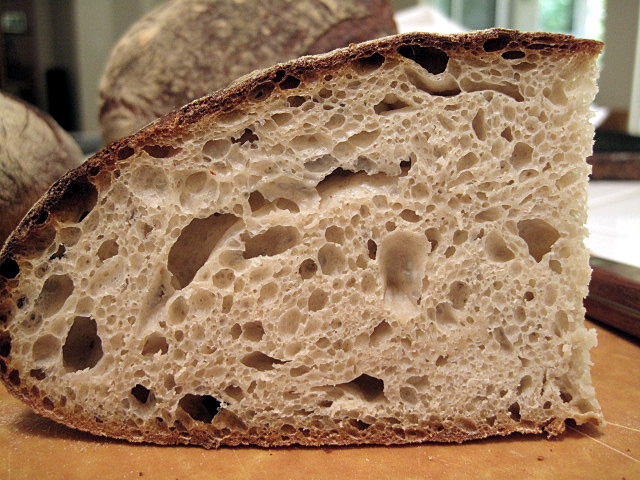 Miche crumb close-up
The flavor of this bread, like Poilâne's Miche, definitely improves over 1 to 3 days. I personally like the flavor best the day after it was baked. Of course, the next day is also pretty terrific, and the next … Hamelman says that the bread gets more sour and the "wheat flavor intensifies" over several days. My experience has been that the sourness does increase. I would describe the change in flavor as "mellowing" rather than intensifying. I think that is the same as what Hamelman describes as "the flavors melding."
This bread has excellent keeping quality. Kept in a bread bag or bread box, it is very enjoyable for a week. It also freezes well. I usually cut it in quarters to freeze, wrap each quarter in 2 layers of freezer wrap and place them in food-safe plastic freezer bags.
Enjoy!
David
Submitted to YeastSpotting