Norm's Semi-flat Onion Rolls
I really like Norm's method of using re-hydrating dried onions. They tasted fabulous on the rolls. The dough was very stiff and tight when I removed it from the mixer for bulk fermentation, but when I went to shape it was amazingly light and easy to work with. I don't know why I expected the finished product to be bagel-like. These rolls are light, tender things with a mild onion and poppy seed flavor, and nothing like bagels! I couldn't help myself and gobbled one down before they were even cool. Thanks, Norm, for sharing this terrific recipe with us at TFL.
I think these rolls would also make great hamburger buns too either with or without the onions.
The original thread is here: http://www.thefreshloaf.com/recipes/normsonionrolls
Ready to proof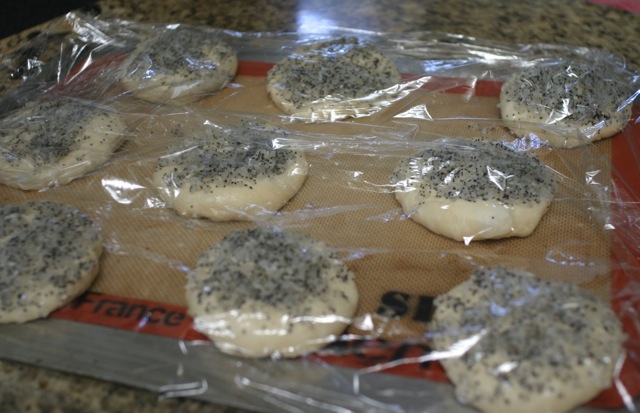 Out of the oven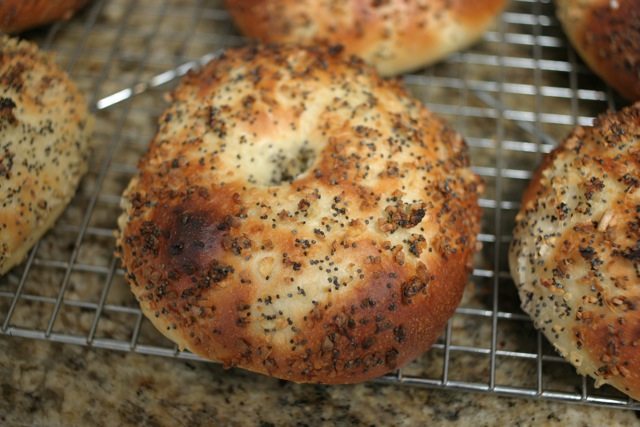 Being eaten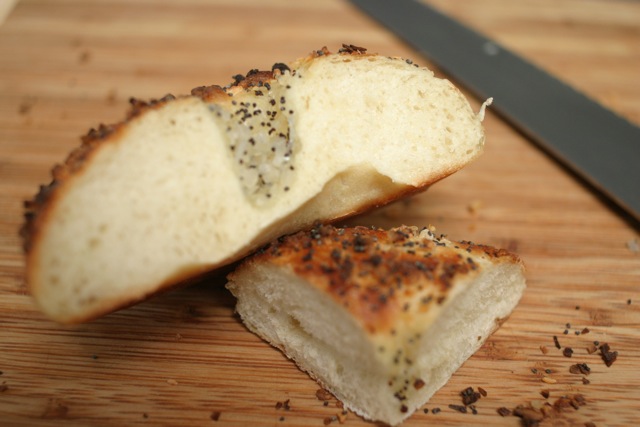 My interpretation of Norm's formula and method:

The onion mixture

Rehydrate 1/3 cup dried, minced onions in about 1 1/2 cups of boiling water. When the onions have absorbed all the water that they can, drain them (I pressed them with a spoon when they were in the strainer to make sure I got most of the water out), and add a little salt (I added 1/2 teaspoon kosher), 1 tablespoon of canola oil (I forgot to add the oil so I just dapped a little on the top of each roll before baking them), and 2 teaspoons of poppy seeds to the mixture. Refrigerate until ready to use. Norms says that you have to used dried onions to get the authentic taste of these rolls.

The roll dough

21 g sugar
7 g malt syrup (I used 14 g by accident because I was pouring from the bottle and it got away from me)
7 g salt
21 g egg, beaten
21 g vegetable oil
454 g bread flour
227 g water
7 g instant yeast

Place all ingredients in the bowl of your mixer and mix with the paddle until everything is incorporated, about 1 minute. Let dough rest 5 minutes to hydrate. Change paddle to dough hook and knead on speed 2 for 10 minutes until dough is quite smooth. Norm cautions that this is a very stiff dough and that you should keep an eye on your mixer so that you don't overheat it. I think this dough might knead very well in a food processor; of course it would probably only require a couple of minutes of kneading.

Place dough in a bowl, cover and let rise until double, about 2 to 2 1/2 hours.

Gently deflate dough and cut into 2 to 4 ounce pieces (I used 3 ounce pieces for my rolls), form pieces into balls, cover with plastic wrap, and let rest for about 10 minutes.

Meanwhile, dump the onion mixture onto a lipped cookie sheet and spread it out.

When the 10 minutes are up, pick up the relaxed dough balls, turn them over onto the onion mixture, and press them flat with the palm of your hand. You want to balls to be flattened to about 1/4 to 1/2 inch.

Place the rolls onion side up on a baking sheet, and preheat your oven to 450º.

Cover the onion rolls lightly with plastic wrap and let fully proof, about 1 hour. Just before they are ready to go into the oven, press down in the center of each roll with your thumb to make an indentation.

Bake for about 20 minutes on the middle oven rack until nicely brown and crisp, spritzing them with water once a minute during the first 5 minutes of baking and rotating the pan 180º after the first 10 minutes. Watch them closely near the end of the 20 minutes because they can burn fast--I caught mine just in time. (Next time I make these I might try 425º for 25 minutes.)

Makes 9 three-ounce rolls