Should I use steam or put a cloche on it?
A while back I had a discussion with David about when he used steam and when he used a cloche (or something like that), and I think his reply was some like "I'm still working that out". I've been trying to work that out over the last 3 or 4 months now too, so I thought it might be a nice time to share my thoughts and get the opinions of other TFLers.
When is it better to use steam and when is it better to use a cloche (I'm using cloche here as a generic term for an inverted roaster, tin foil pan, Le Cloche, etc.)?
When I first starting using a cloche I was really impressed with how much oven spring I got. In the beginning I think I was putting an inverted roaster on nearly everything. But as time progressed I began to notice that some of my cloched loaves had shiner, somewhat thinner crusts and not-very-evident scoring marks, so I've gone back to using steam on most of my white flour and rye flour loaves and now reserve the cloche for only 100% whole wheat or high percentage whole wheat breads. For me, it is the whole wheat types of loaves that don't get a lot of oven spring and therefore tend to have a dense crumb and a heavy feel about them. When I put a cloche on these types of loaves, I get about 20% more oven spring and a much lighter crumb.
Many people have asked if it is possible to get a light crumb when using 100% whole wheat flour. My experience is, "Yes" as long as you use a cloche. And I grind my own flour as well.
Another factor in deciding not to cloche my white flour loaves is their slackness. I esp. notice disappearing scoring when using a cloche on slack dough no doubt owing to the increased moisture level from the dough and the cover.
For the record, I'm using an electric oven that is well insulated, holds its heat and steams OK.
(Sorry about the picture quality--these were taken with my old camera.)
100% whole wheat loaves
Uncloched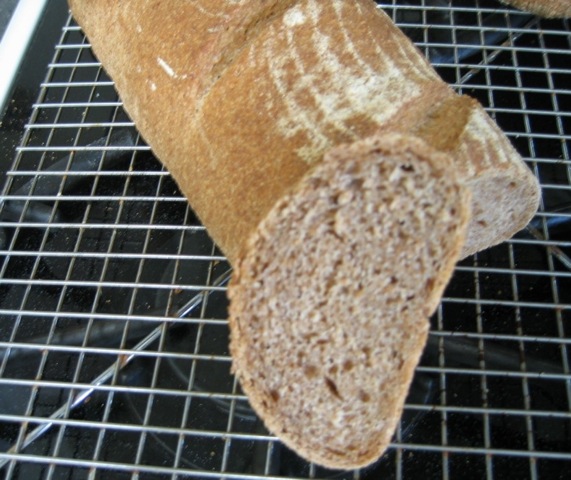 Cloched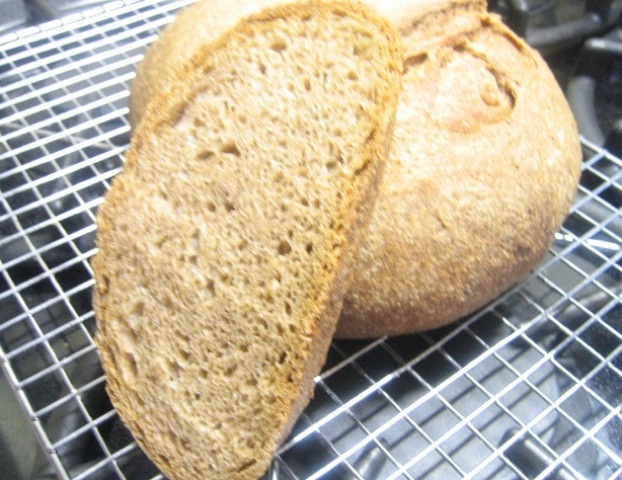 --Pamela