Baker's Internship Update!
Well, last week we finished up one week of hard work together for the first baker's internship of the summer.  Fellow Fresh Loaf member Thomas flew out here to Montana from Chicago to help me prepare for 3 main events last week.  We had two separate farmers' markets to prepare for and sell at, and one night event where we furnished enough appetizers for approximately 150 people at an artist's gallery opening. 
Picture descriptions clockwise from top left:
1 - Thomas tightening up a boule of 18 pounds of dough after 'stretch and fold #2'
2-  Working on mini roll-up appetizers made with croissant dough, black forest ham, and swiss cheese
3-  Getting ready for a farmer's market
4-  214 mini palmiers, 275 mini ham and cheese croissants, and 175 spinach and artichoke croissant diamonds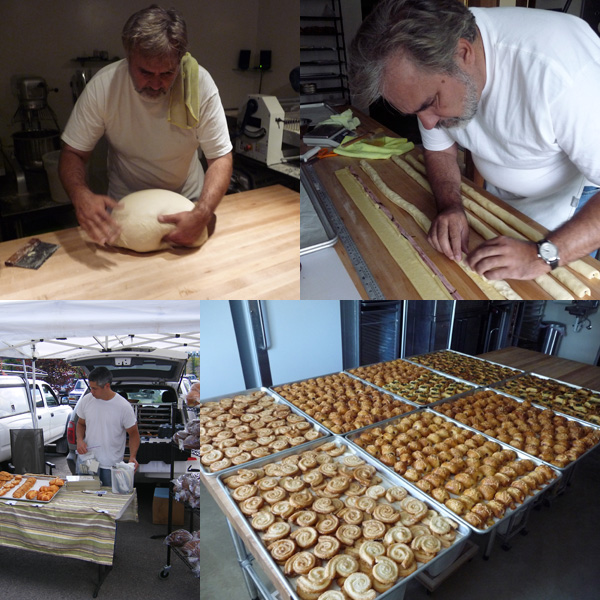 Thanks Thomas for all of the hard work and for being willing to do everything from shaping and mixing to egg washing and cooking too.  I hope your expectations were fulfilled and in addition you had an enjoyable time.  You're welcome to visit again next time you feel like some more baking in beautiful Northwest Montana.
-Mark

PS  As mentioned in my original internship post, I'll be looking for more volunteers later in the year as my wife and helper gets ready for her next school year (September), so if you're interested, please email me!