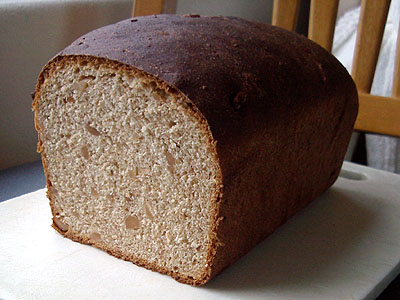 Another one from Bernard Clayton's New Complete Book of Breads that I tried this weekend. Quite good. 3/4 cup chopped peanuts sounds like a lot, but the peanut flavor is actually quite subtle.
Nubby Peanut Loaf
1 1/2 cups whole wheat flour
1 package or 2 teaspoons dry yeast (I used instant, though active dry would work fine)
1/3 cup nonfat dry milk (or substitute real milk for half of the water)
3 tablespoons sugar
1 teaspoon salt
1 cup hot water (120-130 degrees)
2 tablespoons butter or shortening
1 egg
3/4 chopped salted peanuts
1 1/2 - 2 cups all-purpose flour
Combine whole wheat flour, salt, yeast, dry milk, and sugar in a mixing bowl. Add hot water, butter, and egg. Stir until ingredients are combined. Mix in peanuts.
Stir in all-purpose flour a handful at a time until the batter becomes a dough (thick enough to form a ball and remains tacky but doesn't stick to your hands). Turn the dough out onto a floured work surface and knead for 10 minutes.
Place the kneaded dough into a greased bowl and cover with plastic. Allow to rise until doubled in size, approximately 1 hour.
Punch the dough down and shape it into a loaf. Place the loaf in a greased loaf pan, cover with plastic, and allow the dough to double in size again, approximately 45 minutes. While it is rising, preheat the oven to 400 degrees.
Place the loaf in the oven and bake for approximately 40 minutes. After 20 minutes rotate the loaf and check how it is doing. If it appears to be getting too brown on top (mine was), cover the loaf loosely with aluminum foil for the remainder of the time.
Remove the bread from the oven and allow to cool for a while before slicing.