Okay, I'm going to admit it.....  I'm just about the only one in my family with a sweet tooth!  One of my grandmothers had one but unfortunately she is no longer with us.  I realized that I was the sole family member left to carry her torch as I gradually noticed that I was the one who always got nominated to make desserts for our family gatherings.  It's not that I'm some kind of pastry chef, I'm just the only one who really enjoys making desserts.  So this is how I will preface yet another post from me in the "sweets" forum.
I got the recipe for Summer Fruit Pie from the CI Best Recipe book, and I have made it with various fruits many times.  In this instance I used the excuse that I had received fresh peaches from my parents who had picked them from a peach farm here in North FL.   After DH and I ate our fill of raw ones, I put the rest in this pie: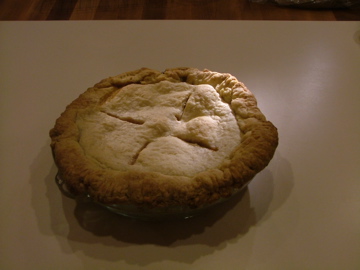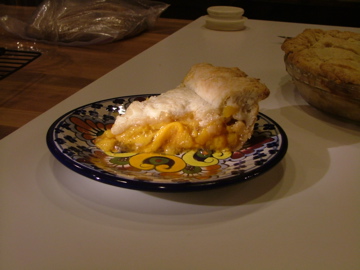 This is a very easy and satisfying crust for which the food processor does most of the mixing.
Summer