Biga vs. straight dough Whole-Wheat Buttermilk Bread experiment
I'm still not ready to write a review, but from my first hands-on experience with their work, I can confidently say that Laurel Robertson and her compatriots know a thing or two about whole wheat bread.
I started my foray into the Laurel's Kitchen Bread Book with their Buttermilk Bread, a loaf that they say "keeps well (when hidden)." It's true. These loaves are moist and delicious days later, but they're so deliciously sweet and light, they won't likely stick around that long.
I made two different loaves. For the first loaf, the night before, I took 30% of the flour and mixed it with the appropriate amount of water from the recipe and a bit of yeast to make a biga. The next morning, the biga was nice and ripe, so I took the remainder of the recipe, reduced the yeast from 1 tsp to 3/4 tsp, mixed it up and started to knead.
And knead.
And knead.
Then about an hour later, I mixed up a second loaf, this time following the straight-dough recipe to the letter.
Laurel recommends a long, hearty knead for whole wheat bread if you want a light, high rising loaf, which I do. About 20 minutes or 600 strokes. A few more weekends of Laurel's Kitchen-style kneading, and I'll not only have great whole-wheat bread, but enormous, rock-hard shoulders to boot. Or a herniated disc, whichever comes first.
But it does make an enormous difference in the quality of the bread. I have never seen whole-wheat bread rise so high. It's astonishing.
Her other piece of advice, which I'd heard of second-hand long before buying the book, was to let whole-wheat doughs rise twice during the bulk rise before shaping. This step takes a lot of the edge of the whole-wheat flavor, and also helps with the final rise.
I'd wondered previously in this forum whether the double rise would make a pre-ferment unnecessary. My experiment lacks a wide enough sample (2 loaves does not a sample make) to make a conclusive finding, but ... well, see for yourself. I wasn't able to put them in the oven at the same time, because kneading them seperately takes 20 minutes a piece, but I did keep all other factors equal to the best of my ability. I can't guarrantee that they proofed for exactly the same amount of time, but the age-old finger poke test showed both loaves were ready.
On the left, the straight dough. On the right, the dough made with a biga. Now, the loaf on the right did suffer from a bit of poor shaping that left a moderate gap in the top middle of the loaf, but that gap alone can't account entirely for the difference in size. Clearly, the biga loaf rose higher.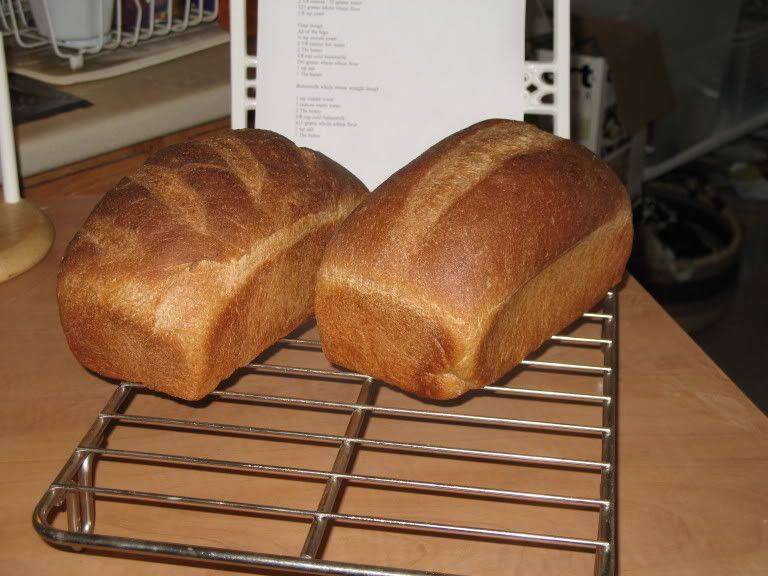 Here's another view. I scored the loaves differently so that I could tell them apart during the tasting.
So, what about it? How did they taste?
Both breads were excellent. Nevertheless, the difference was noticeable, though subtle. The loaf with the biga had a richer, stronger aroma, a deeper sweetness and a longer finish than the straight-dough. If you plan to eat this bread primarily in sandwiches or with jam, the biga will make little difference. As a bike commuter, however, the first thing I usually do after removing my helmet after my ride home is to run to the kitchen for a slice or two of plain bread to tide me over until I can cook the family meal.
If you eat the bread plain, the biga does make a difference.
Here's my version of the Laurel's Kitchen Bread Book Buttermilk Bread, with a biga. NOTE: I made this using the flour and water weights, not cups (except for the buttermilk). Laurel seems to have a heavy hand with a cup of flour, so you may need to add some if you use volumetric measurements -- let the dough be your guide. Some of the cup measurements don't match grams / ounces. That's OK. It all comes out even in the end.
Biga 5 ¼ ounces -- 150 grams -- 1 cup water 250 grams -- 8 3/4 ounces -- 1 3/4 cup whole wheat flour 1/8 tsp instant yeast
Final dough All of the biga 1 ½ tsp instant yeast 4 3/4 ounces -- 135 grams-- 3/4 cup warm water ¼ cup honey 1 ¼ cup cold buttermilk 580 grams / 20.5 ounces -- 4 3/4 cup whole wheat flour 2 tsp salt 2 Tbs butter
The night before, make up the biga. Knead it until it forms a relatively smooth dough, and then cover it to sit overnight for about 12-14 hours.
The next day, tear the biga into about 12 pieces and mix it up with the rest of the ingredients. Start kneading -- it'll take about 600 strokes and 20 minutes, but once you're finished, the dough should stretch nicely into a translucent, whitish pane, flecked with bits of bran. This dough may start a bit sticky, but should lose the stickiness and become simply tacky about halfway through. Add water or flour as necessary.
Form the dough into a ball and put it into bowl or bucket. Cover it, and allow the dough to rise for about 90 minutes or so. Poke the dough with a wet finger. When the indention starts to fill in very, very slowly, the dough is risen.
Gently degas the dough, and tuck it back into a tight ball for the second rise. Fold the dough if you wish, but really, after 600 strokes, the dough shouldn't need any additional strength. Once it has risen, divide the dough into two and shape it into sandwich loaves. Place the loaves into pre-greased 8.5 x 4.5 pans. Cover the pans with plastic for the final rise.
Preheat the oven to 350 degree F. (I like my oven a little hotter than Laurel does -- she prefers 325). Once the dough is risen and has crested one to two inches above the side of the pan in the center, slash the loaves as you wish with a serrated knife or razor blade. Personally, I prefer a single slash down the middle, but do whatever makes you happy. Place them in the oven and steam it if you wish (I find it helps with oven spring quite a bit, even with panned loaves), and bake for about 35-40 minutes, turning once to ensure even baking.
The loaves are done when they register 195-200 in the center. Let them cool for one hour before slicing.
If you want to make this as a straight dough (no biga), just dump everything together and increase the yeast to 2 tsp.
One other point. The quality of the whole wheat flour you use will make a big difference in the quality of your bread. Whole wheat flour, unlike white flour, goes rancid and if your brand has sat on the shelf for a while at the store, it may not make good bread. Also, you want the flour to be high in gluten, so look for flour made form hard spring wheat, if possible. Hard winter will do, but it won't rise quite as high. I use King Arthur Flour, myself, and it's worked fine.