February 6, 2009 - 6:38am
More dough mixing trial and error
This is in response to Trailrunner's questions on a mixing discussion over at Hansjoakim's blog here on a fantastic-looking crumb he has on his Hazelnut bread.
Lately I seem to get best results with a combo of warm shorter bulk ferment with frequent early folding and long cold final proof. No mixer, no kneading with flour, no repeated French-folding. (warning, this could change as soon as I read of a better method, so please take with a grain of sea salt!):
Hand mix all the ingredients with a large dough whisk in large bowl (incl. salt)
Cover and let rest (autolyse) for 30 min. (I know you are supposed to leave out the salt but I find it easier to mix everything initially if not using a standmixer)
After 30 min. rest, use plastic dough scraper to fold dough onto itself in the same bowl, just like what Mark does in his video here. I count to about 100 as that takes me just about 3 min., and that has seemed to develop the dough well.
Next round up the dough with scaper and place it into a clean, lightly spray-oiled lidded dough bucket - or for large-size doughs where I double or triple the formula, I use a big square clear plastic food service container with lid.
Let the dough sit for 30 min. (preferably at 76F location), then do a single stretch & fold as per Hamelman: if dough is in smaller bucket, tip the dough out onto a lightly spray-oiled counterstop, stretch it out into a rectangle, and letter fold it onto itself once, rotate 90 degrees, letter fold again, and put it back in the bucket for another 30 minutes. If dough is in big square container, just fold it right in the container and turn upside down when done.
Repeat step above 2 more times for a total of 3 folding sessions spread 30 min. apart. Then leave the dough to finish bulk-fermenting at 76F, usually for another 90-120 minutes until just doubled (my home-made starter is not that fast a riser).
Next shape loaves, then I place the shaped loaves in a 45-50F location (my unheated mudroom) to retard overnight or 12 hrs min.
After cold retarding I place the proofed loaves in my room temp (65F) kitchen while I preheat my baking stone for 45 min. and bake with steam right after that, usually the loaves are proofed enough after all that time retarding, and the oven spring is great.
Here are results of a less slack dough (65% hydration pain au levain 10% whole wheat), not huge holes like you'd get with a very wet dough, but large enough and evenly distributed, and very flavorful crumb, chewy but not gummy: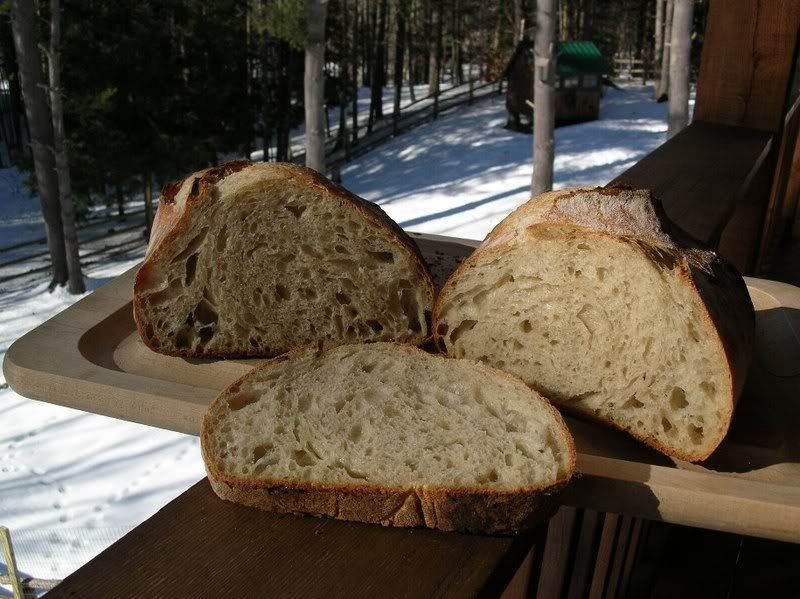 I still need to try SteveB's double-mixing technique he describes here. If anyone sees any error in my ways with how I've been doing this, I'm all ears! I'm sure I'll revise this after I read Advanced Bread and Pastry, due in soon.