January 21, 2009 - 7:41pm
Five-Grain Seeded Sourdough Bread Recipe
I have been tinkering with PR's Basic Sourdough Bread recipe for a while and have come up with the following recipe, which I really enjoy baking and eating: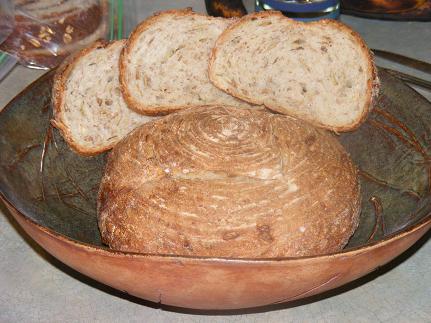 Five-Grain Seeded Sourdough Bread
 (based on Peter Reinhart's Basic Sourdough Bread, The Bread Baker's Apprentice)
Firm Starter
4 oz. sourdough starter
4.5 oz bread flour
1/4 cup lukewarm water
Soaker
2 to 4 oz Bob's Red Mill 5-Grain Cereal
2.2 oz unsalted sunflower seeds (optional)
2.5 oz unsalted pumpkin seeds (optional)
0.2 oz salt (omit if seeds are salted)
3/4 cup boiling water (approx.)
Dough
20.25 ounces bread flour
0.5 ounce salt
Starter
Soaker
1 ½ to 1 ¾ cups lukewarm water
 Directions
          Day 1
To make firm starter, remove sourdough starter from refrigerator and allow to warm up for about 1 hour. Combine starter ingredients and knead just long enough to evenly distribute flour and sourdough starter. Spray zipper seal bag lightly with oil. Place firm starter in bag and seal. Allow to double at room temperature, approximately 4 hours. Refrigerate overnight.
Place cereal, seeds (if using), and salt in small bowl. Add boiling water to cover. Cover bowl with plastic wrap and allow to sit at room temperature overnight.

Day 2

Remove starter from refrigerator 1 hour before making dough. Combine flour and salt in large mixing bowl. Add soaker and mix well. Remove starter from zipper bag, cut or tear into pieces, and add to flour mixture. Using large spoon or your hands, mix in enough water to bring dough together in a ball.
Allow dough to autolyse for 30-40 minutes. Turn dough out onto lightly floured surface and knead for 13-16 minutes, until dough passes the windowpane test. Dough should be firm but tacky, like French bread dough. Lightly oil a large bowl. Place dough in bowl, roll to coat with oil, and cover bowl with plastic wrap.
Ferment dough at room temperature for 3 to 4 hours or until it nearly doubles. Gently divide dough into two pieces and shape as desired. Mist dough with spray oil, cover loosely with plastic wrap or floured towel, and place in refrigerator.

Day 3

Remove loaves from refrigerator 3 to 4 hours before you plan to bake them. Make sure not to overproof. When the imprint of a finger poked gently into dough springs back slowly, the dough is ready to bake.
Preheat oven to 500 degrees F for 45 minutes to 1 hour with baking stone and steam pan in place. Slash loaves and transfer carefully to baking stone. Immediately pour 3/4 cup hot water into steam pan. Close oven and lower temperature to 450 degrees F. Bake for 10 minutes, then rotate loaves to ensure even baking. Continue to bake for 10 to 20 minutes, until the loaves register 200 to 205 degrees F in the center.
Cool for 45 minutes before slicing.
 Note: If you want to make the bread in 2 days instead of 3, after dividing, shaping, and misting the dough in step 5, cover the loaves and allow to proof at room temperature for 2 to 3 hours, then bake as directed.