Some call it a sponge, others a preferment, a poolish, a bigas, or a pate fermentee. Whatever you call it, the concept is the same: by taking a portion of the flour and water and fermenting it longer than the rest of the dough the baker can evoke better flavor from the ingredients.
If you are going to be baking two days in a row, one of the simplest preferments is to save a handful of the dough from the first batch for the next batch. I typically do not bake two days in a row, so instead I create a poolish the night before I am going to bake. My approach is to use between 1/8th and 1/4th a teaspoon of instant yeast (more if it is cold or I want to bake sooner, less if it is a warm night or I want it to develop slower) and an equal weight or volume of flour and water. Yes, I am aware that an equal weight of the two ingredients (8 oz. water and 8 oz. flour) is not the same as an equal volume of the two (1 cup of water, which weighs 8 ounces, and 1 cup of flour, which typically weighs around 5 or 6 ounces but depends on the type of flour and how tightly the cup is packed). Truthfully, it doesn't make a big difference as long as you adjust the final amount of flour and water by an equivalent amount in your final dough: either one will improve the flavor.
Assuming you combine the ingredients in the evening, cover the bowl with plastic, and leave it out at room temperature overnight, here is what should greet you in the morning: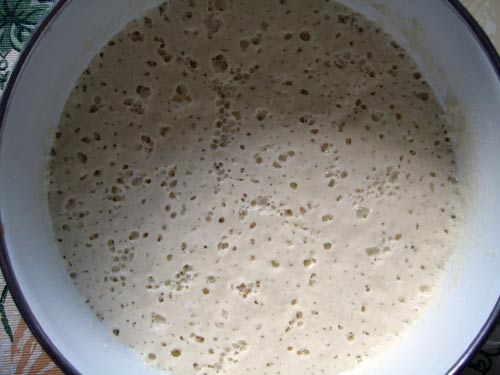 Mix this in with your final ingredients (reducing the flour, yeast, and water the amount you used in your preferment) and your loaf should develop more interesting flavors and have a longer shelf life than a loaf created without this step.
Preferments can vary from as dry as bagel dough to as thin as a frothy liquid, and can be allowed to develop for minutes, hours, or days. I find that the poolish approach I describe above results in a nuttier, sweeter flavor that I quite enjoy. My impression is that harder preferments give you more of a sourdough-like flavor without having to go through the work of supporting a starter. But your experience and taste may vary from mine, so spend some time experimenting to figure out what you like most.
Next up, Number 8: Autolyse.
Lesson Five, Number 9: Use a Preferment