Professional bakers have steam injectors inside of their ovens. Right after placing their loaves inside, they give the loaves a good blast of steam. The steam keeps the outside of the loaves moist and supple so that the bread can spring for as long as possible. Once the outside of the loaf begins to dry out it hardens, preventing further spring. Then the crust begins to form.
Home bakers need to get creative to reproduce this effect. Some folks suggest dabbling the loaves with water before placing them in the oven, but I've found this results in a softer crust. For maximum oven spring and a crunchy crust, the trick is to get a lot of steam in the oven early and then have the oven dry out for the remainder of the baking.
A warning: steam is hot. Really really hot. Steam is also wet and many electronic ovens do not like wet. Please use the utmost caution trying any of these techniques, and be aware that damage to person or property can occur as a result of these techniques. Try these at your own risk!
I've use a couple of different tricks to get steam in my oven. The simplest one is: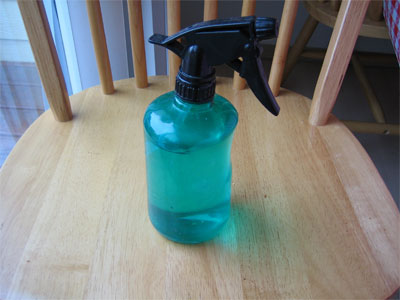 a squirt bottle. Right after placing the loaves in the oven, give the walls of the oven a good spray of water, being careful not to nail the light bulb or it will explode. The water will evaporate immediately, creating steam.
That didn't create as much steam as I wanted, so I moved on to:
A scrappy old brownie pan that I punched 5 holes in the bottom of. I'd place it below my baking stone for preheating, like this:
When I was putting my bread in the oven I'd pour a cup of hot water in the pan, some of which evaporates immediately and some of which drips onto the bottom of the oven and evaporates there.
That still wasn't creating as much steam as I wanted, so now I am using an iron pan that I picked up a thrift shop. See it at the bottom of my oven, under the heating coil: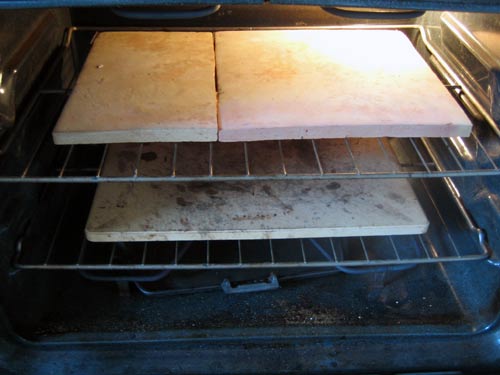 That pan gets extremely hot, so when I pour a cup of hot water into it the water evaporates in seconds.
As you can see, you can make use of whatever tools you have handy. Just be careful not to get vapor burns while pouring or spraying the hot water into the vessel.
Also, be aware that some people on this site have had their ovens malfunction after using heavy steam. Newer, more computerized ovens appear to be more vulnerable to moisture related problems. "Baker beware" is the mantra when using this technique: what is good for your crust may end up being bad for your pocketbook!
And, finally, Number 0: Practice.
Lesson Five, Number 1: Steam the Oven