October 29, 2005 - 9:28pm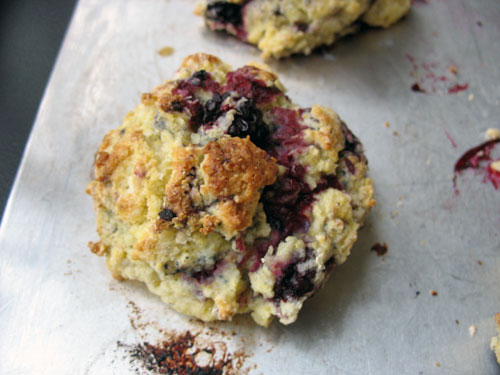 This was the first recipe that I ever stripped down to a bare formula and began to experiment with.
I'm quite certain these aren't authentic English scones, but we always enjoy them.
Super Simple Scones 3 cups all-purpose unbleached flour 4 teaspoons baking powder 1/2 cup (1 stick) salted butter 4 tablespoons sugar 2 eggs mixed into milk to equal 1 cup
Combine the flour, baking powder, and sugar in a bowl. Cut in the butter with a pastry cutter or a couple of forks until the butter is well mixed into the dry ingredients.
In a measuring cup, crack and mix up the eggs. Add milk to to total 1 cup of wet ingredients. Pour into the dry ingredients and mix to combine.
Now add something to make these tasty. I've made them with:
- 1/2 cup chocolate chips and 1 teaspoon vanilla extract
- 1/2 to 1 cup blueberries
- 1/2 to 1 cup blackberries
- 1/2 to 1 cup strawberries
- 1/2 cup dried currents and 1 tablespoon on lemon zest
- 1/2 cup dried cranberries
- a couple of tablespoons of cocoa powder and a little additional sugar.
Mix in the flavorful ingredients and place large spoonfuls of dough on a well-greased baking sheet. Bake at 425 for approximately 15 minutes on the top or middle rack of the oven.