In honor of Saint Patrick's Day, everyone is printing their recipe for Irish Soda Bread. I thought I'd throw my hat into the ring as well.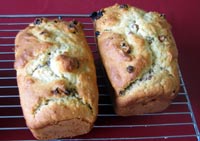 I should tell you, in advance, that my recipe has one lesson that all bakers need to know that you are unlikely to find in the other recipes.
I've only baked Irish Soda Bread once before and, truthfully, I wasn't that fond of it. This year I tweaked the recipe some and it came out tasting much better (although I ran into another issue, as you'll see below).
I have no idea if you could actually find anything like this in Ireland, but this is very tasty.
Irish Soda Bread

3 cups enriched unbleached all-purpose flour
1 teaspoon salt
4 teaspoons baking powder
2/3 cup sugar
1/2 cup (1 stick) softened butter
1 1/2 cup milk
1 egg
1 cup golden raisins

Glaze

1 Tablespoons sugar
3 Tablespoons milk
Mix all the dry ingredients except the raisins, then mix in the wet ingredients. Once all of the ingredients are combined, stir in the raisins and pour the batter into a greased loaf pan. Bake at 350 for an hour to an hour and fifteen minutes, until a toothpick inserted into the center comes out clean. If you don't your loaf will end up looking like this: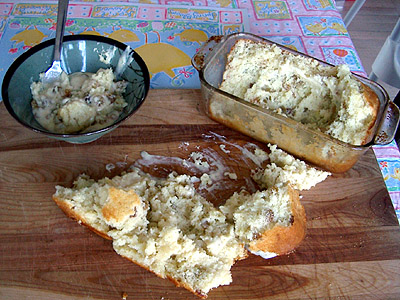 (I tested it with a toothpick but I missed the center of the loaf. Alas...)
When the toothpick comes out clean, brush the top of the loaf with the milk glaze, turn off the oven, and leave the loaf in the oven for another 5 to 10 minutes. Remove and allow to cool for at least 10 minutes before trying to remove it from the pan.
We ate the sides of this loaf and it was wonderful: sweet but not too sweet, a little bit eggy and rich without being brioche-level rich, and nice and moist. I may end up baking this again tomorrow evening, being sure to give it enough time to cook through.
I thought about waiting until I had a pretty looking loaf to publish this article and pretending that I never made a mistake, but having an extra day before Saint Patrick's Day increases the likelihood that people will actually bake this. Besides, we all make mistakes, right? I might as well share my mistakes with you, the reader, so that you can avoid making the same ones. Or, if you do make them, you can at least laugh and know you aren't alone.
---
2006 Update
I tried again this year with much better results.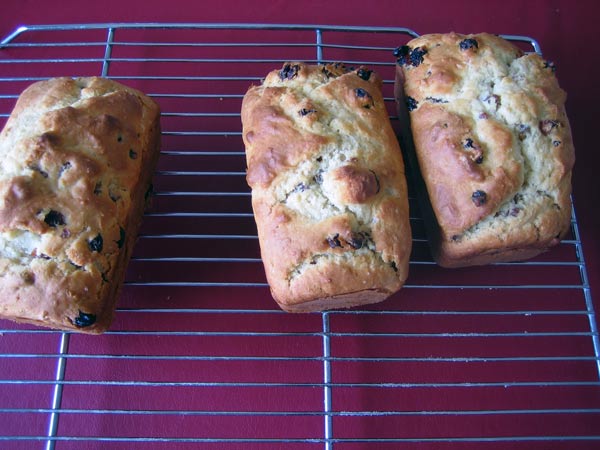 You'll notice that I baked them in small loaf pans. They still took close to an hour to bake through, so be sure to give them plenty of time!