Cranberry-Chocolate Sweet Buns
Yes, I spent most of today doing the site upgrade, but I also managed to bake these Cranberry-Chocolate Sweet Buns that I've been meaning to try.
This recipe is based on one from Jeffrey Alford and Naomi Duguid's book Home Baking: The Artful Mix of Flour and Tradition Around the World, a book I always see on clearance. The book is a little bit uneven, but there are some excellent recipes in it and the photography is beautiful too. If nothing else, it is a great coffee table book for someone into baking.
Cranberry-Chocolate Sweet Buns
Makes 12-16 large rolls

2 cups warm milk
2 teaspoons instant yeast
1 cup whole wheat flour
3-4 cups all-purpose flour
3 tablespoons sugar
2 tablespoons butter
1 egg
1/4 teaspoon salt
3/4 cup chocolate chips
1/2 cup frozen cranberries

Glaze:
1 cup powdered sugar
1 tablespoon milk
Combine the yeast, warm milk, butter, and egg. Stir in the salt, sugar, and whole wheat flour. Continue stirring and mix in 2 more cup of the flour 1/2 cup at a time. Add the chocolate chips, cranberries, and 1/2 cup more flour. Gently knead and fold in the berries and chocolate chips, adding as much of the remaining flour as is necessary to end up with a dough that slightly sticky.
Place the dough in a oiled bowl, cover the bowl, and set aside to rise for approximately 90 minutes.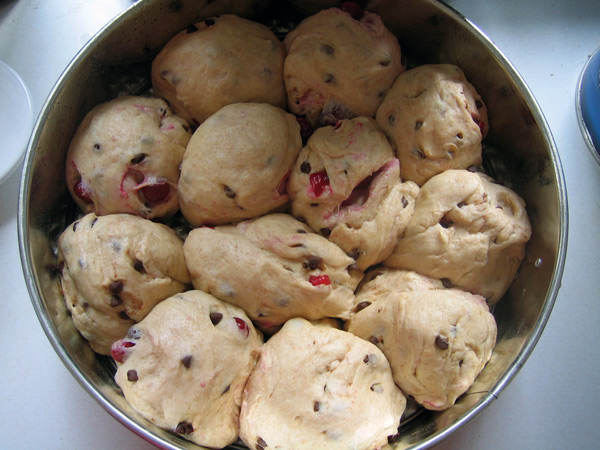 Divide the dough even sized pieces and shape them into balls. Place them together in a spring form or other round pan. Cover the pan and let rise another 30 to 45 minutes. While they are rising, preheat the oven to 400 degrees.
Place the rolls in the oven and bake at 400 for 10 minutes. Reduce the temperature to 350 and bake another 30-40 minutes until they are baked through and the top of the rolls browned.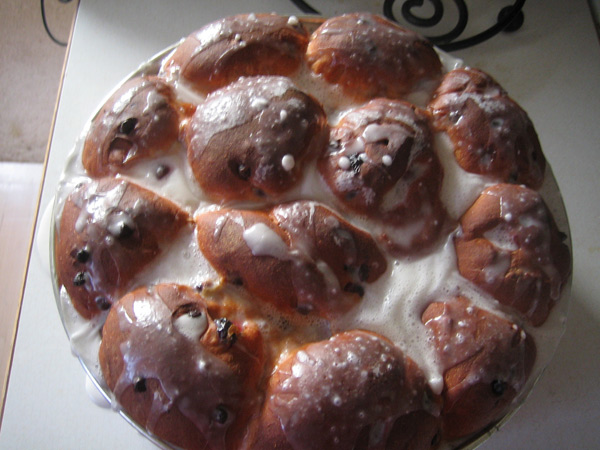 Remove from the oven and let cool for a bit. Glaze the rolls and let cool as long as you can resist!