Another step on the baguette trail---or perhaps highway, given how many other people also seem to be working on these!
Process
Followed the process in alfanso's comments here: 
http://www.thefreshloaf.com/node/63699/baguette-practice
http://www.thefreshloaf.com/node/51572/vermont-sd-baguettes-course
but scaled down to make three 11 inch baguettes at 240g each.
I used random grocery store AP flour.
At the moment, my baking setup is: put two large cast iron pans on a low rack in the oven and heat them until very hot. Place loaves on a thin aluminum baking sheet. Place a disposable foil roasting pan upside-down on top of the baking sheet over the loaves. When the pans in the oven are hot, place the baking sheet on top of them. After the steaming time has elapsed, remove the roasting pan and move the loaves to a bare rack in the middle of the oven to stop the bottoms from scorching and finish the bake.
Results
I. Bulk fermentation went fine; nice bubbly dough. Did 300 French folds per the instructions and gluten development seemed alright. Had difficulty shaping: the folds went fine, but the dough resisted when I rolled to elongate it. The crust was somewhat thick; the bread was similar to the second batch in appearance.
II. Bulk fermentation went a little long---dough was quite bubbly! To avoid the thick crust from the previous loaf, I developed the gluten more heavily. This seemed to work---the crust was noticably thinner than on the first batch. The dough again resisted when I rolled it. The first one I just rolled, but the second two I let rest for about a minute after doing the lengthwise folds, which made things easier. There was not a noticable difference between the loaves after baking.
Crumb from both bakes was fairly close. Not dense or gummy, but more like the crumb of grocery store Italian bread than a baguette. Scores opened better than on the first run of baguette practice, but not there yet---I may also have removed the pan that I'm using to steam them a little early.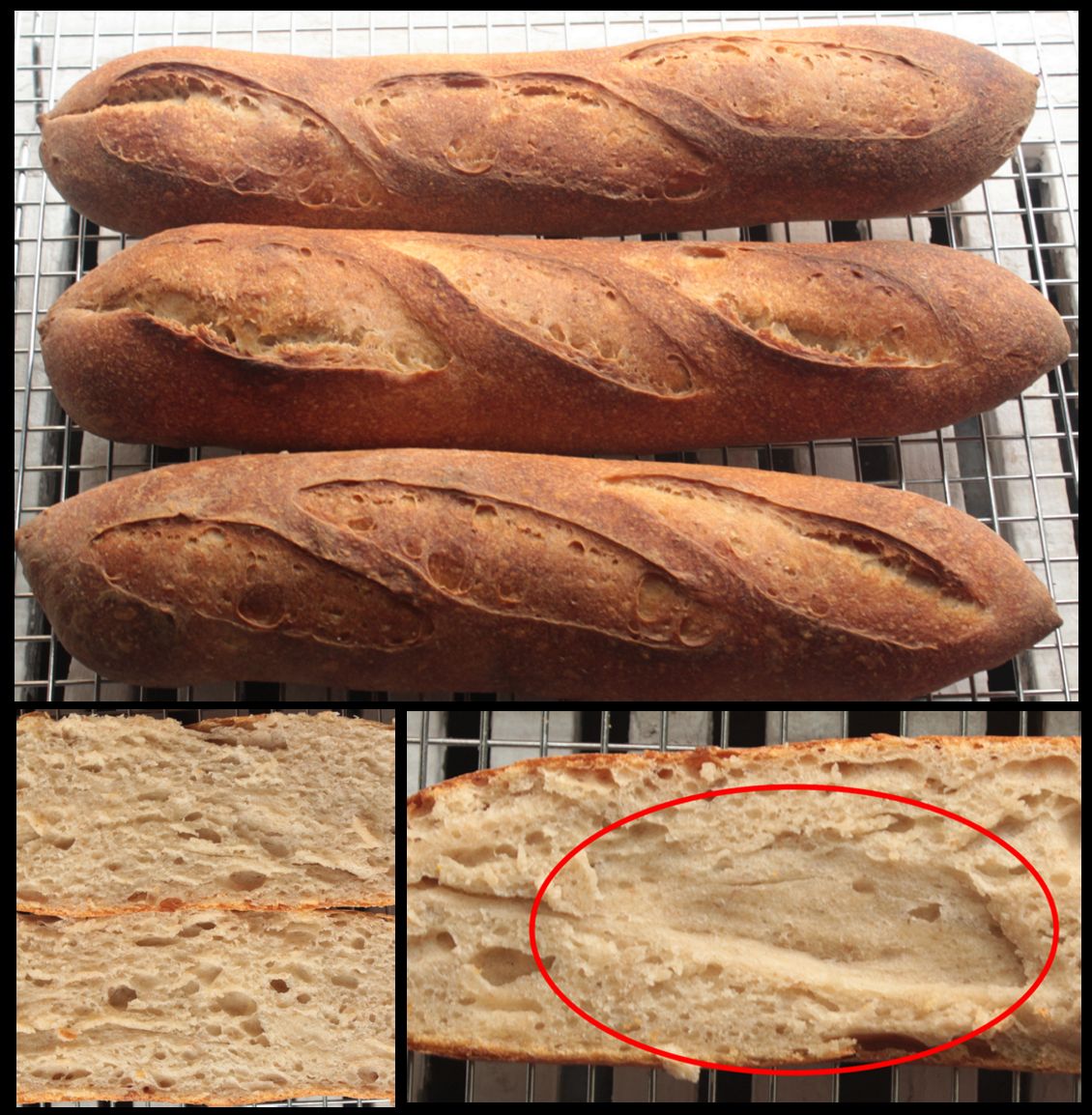 Questions
1. Some loaves exhibit strange crumb artifacts such as the one circled in red above. As far as I can tell, they are caused by the way that I fold the loaf. They aren't denser than the other portions of the bread, but they do have a sort of smooth wall that separates them from the rest of the crumb. How do I prevent these?
2. Why does the dough resist elongation? I'm happy to give them a minute's rest, but nobody else seems to need to do this.
3. How do people keep track of the seam when shaping? After I roll the loaves, it becomes very faint and I need to carefully examine the loaves in order to find it.