Croissants - getting better, room for improvement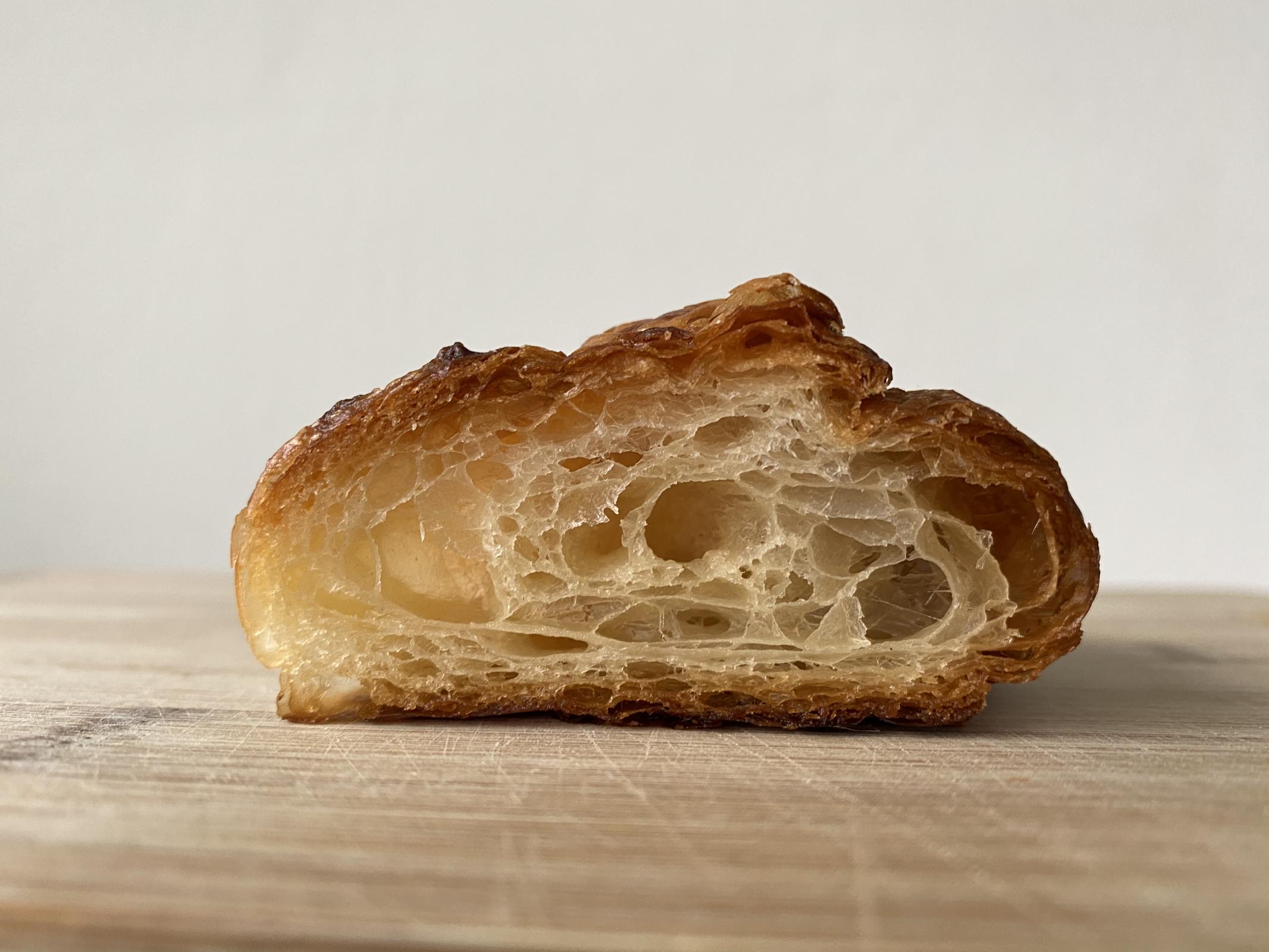 Hi! My first post on TFL :) 
I'm working towards a beautiful honeycomb croissant, following txfarmer's recipe and guidance. This photo depicts my best crumb so far (on my fifth or sixth attempt!) I have some questions:
Is this croissant underproofed? It seems too small. I actually let this batch proof for about 8 hours, and was totally surprised at how slow they were rising. I proofed them in the oven with a pan of boiling water, but the temperature was only around 73-75 F - maybe it was just too cold?? (The humidity was 80-90%.) I wonder if I mis-measured the yeast or something.
I'm vegan, so I use plant butter (Earth Balance buttery sticks), and I brush with non-dairy cream instead of egg wash. I'm pretty happy with the butter replacement (although it is softer at room temp compared with butter, so I worry about raising the proofing temperature). But I'm not yet happy with my egg wash replacement. First I tried soy milk, but that wasn't great. I read up on the effects of all the traditional, non-vegan washes. From this reading, I concluded that egg *yolk* is what makes the wash turn out dark and shiny. So I tried coconut cream mixed with a little soy milk (egg yolk = emulsified fat, coconut cream = emulsified fat)? This seemed to be an improvement, but my croissants are nowhere near as shiny as I want.
The tops of my croissants came out really really wrinkly after baking. Why is that? I wonder if they were too wet from high humidity while proofing, or too much milk wash? Or maybe it's because they were underproofed?
I used 100% high-protein bread flour for this batch. txfarmer recommended APF for hand-rolled croissants but every time I use APF my croissants are super bready. I don't know why I'm having this discrepancy from txfarmer; maybe I'm not kneading enough to develop the gluten?
TIY everyone!