Coffee Provolone Piccante SD with 30% Sprouted Black Quinoa
I have a sudden fondness for coffee flavored baked goods lately. Nowadays, people pair cheese with not only wine and beer, but also coffee. Since wine, beer and coffee bread already exists, there's no reason not to upgrade it by adding cheese, right? :)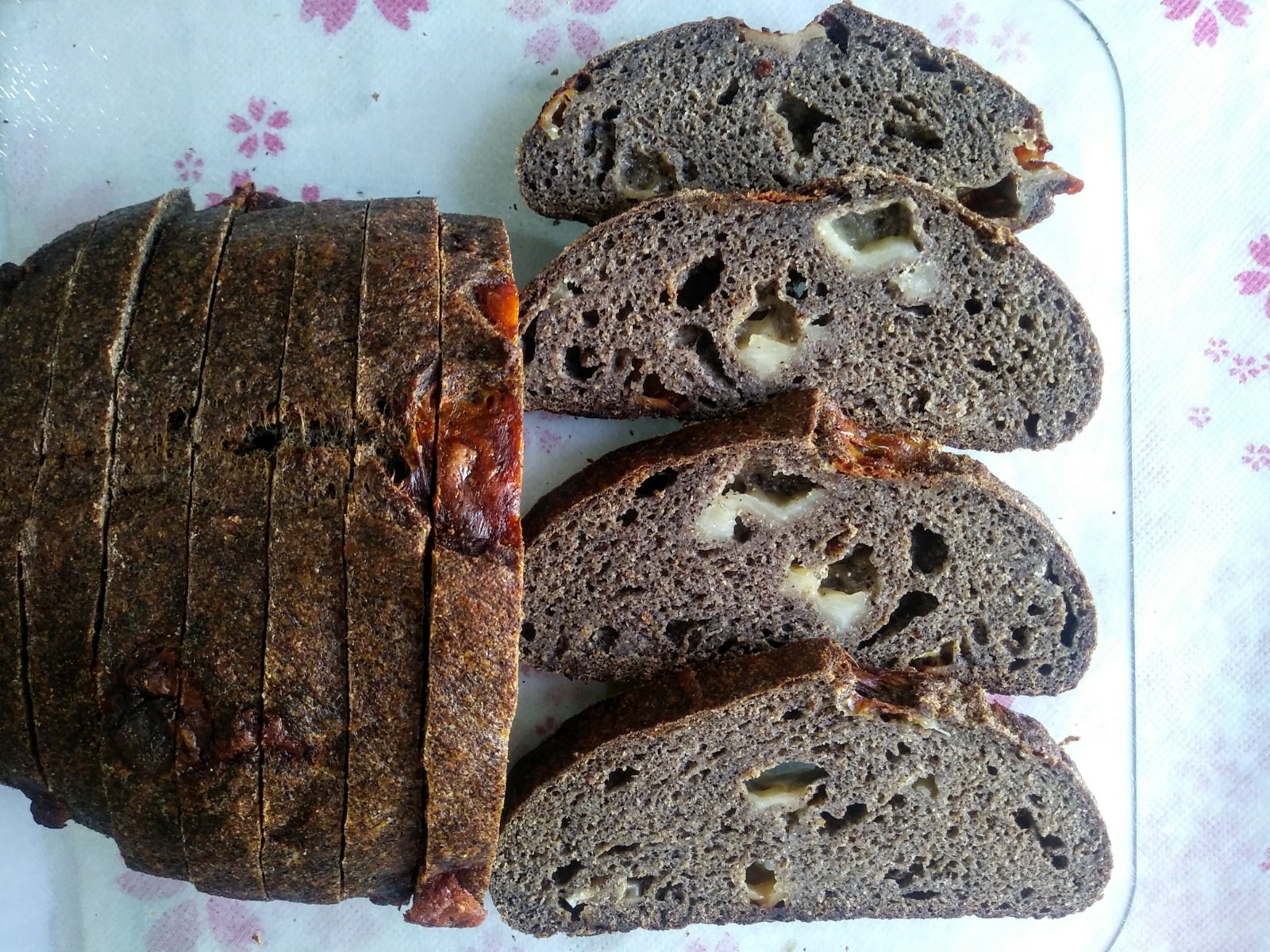 Coffee Provolone Piccante SD with 30% Sprouted Black Quinoa
 

Dough flour

Final Dough

Levain

Total Dough

 

g

%

g

%

g

%

g

%

Flour (All Freshly Milled)

300

100

272

100

28

100

304.5

100

Sprouted Black Quinoa Flour

90

30

 

 

 

 

90

29.56

Whole Blue Emmer Flour

60

20

 

 

 

 

60

19.70

Whole Red Wheat Flour

150

50

 

 

 

 

150

49.26

White Whole Wheat Flour (Starter)

 

 

 

 

 

 

2.25

0.74

Whole Rye Flour (Starter)

 

 

 

 

 

 

2.25

0.74

 

 

 

 

 

 

 

 

 

Hydration

 

 

 

 

32.5

100

262.5

96.06

Water

 

 

230

84.56

28

100

262.5

86.21

Coffee concentrate

 

 

30

11.03

 

 

30

9.85

 

 

 

 

 

 

 

 

 

Salt

4

1.33

4

1.47

 

 

4

1.31

Vital Wheat Gluten

9

3

9

3.31

 

 

9

2.96

Starter (100% hydration)

 

 

 

 

9

32.14

 

 

Levain

 

 

65

23.90

 

 

 

 

 

 

 

 

 

 

 

 

 

Add-ins

66

22

66

24.26

 

 

66

21.67

Provolone Piccante

60

20

60

22.06

 

 

60

19.7

 

 

 

 

 

 

 

 

 

Coffee Concentrate

 

 

 

 

 

 

 

 

Coarse Grind Coffee (I used a Mexican Arabica variety)

6

2

6

2.21

 

 

6

1.97

Hot Water

30

10

30

11.03

 

 

30

9.85

 

 

 

 

 

 

 

 

 

Total

 

 

646 

237.5 

65 

232.14

646 

212.15
Sift out the bran from dough flour, reserve 28 g for the leaven. Soak the rest, if any, in equal amount of water taken from dough ingredients. 

Combine all leaven ingredients and let sit until ready, about 5 hours (24°C).
Make the coffee concentrate by brewing the coarse grind coffee in the hot water. After 5 minutes, filter the solution and discard the residue. Keep refrigerated until needed.  
Roughly combine all dough ingredients except for the cheese. Ferment for a total of 4 hours. Construct 2 rounds of 3 minute Rubaud mixing at the 30 and 40 minute mark. Fold in the cheese by a set of lamination at the 50 minute mark. Shape the dough then put in into a banneton directly. Retard for 9 hours.

Preheat the oven at 250°C/482°F. Score and spritz the dough then bake straight from the fridge at 250°C/482°F with steam for 20 minutes then without steam for 25 minutes more or until the internal temperature reaches a minimum of 208°F. Let it cool for a minimum of 2 hours before slicing.
This loaf has a moderately open crumb. Its crust is particularly thin and crispy because of the milk fat. The cheese also gives the crumb a pleasantly chewy mouthfeel.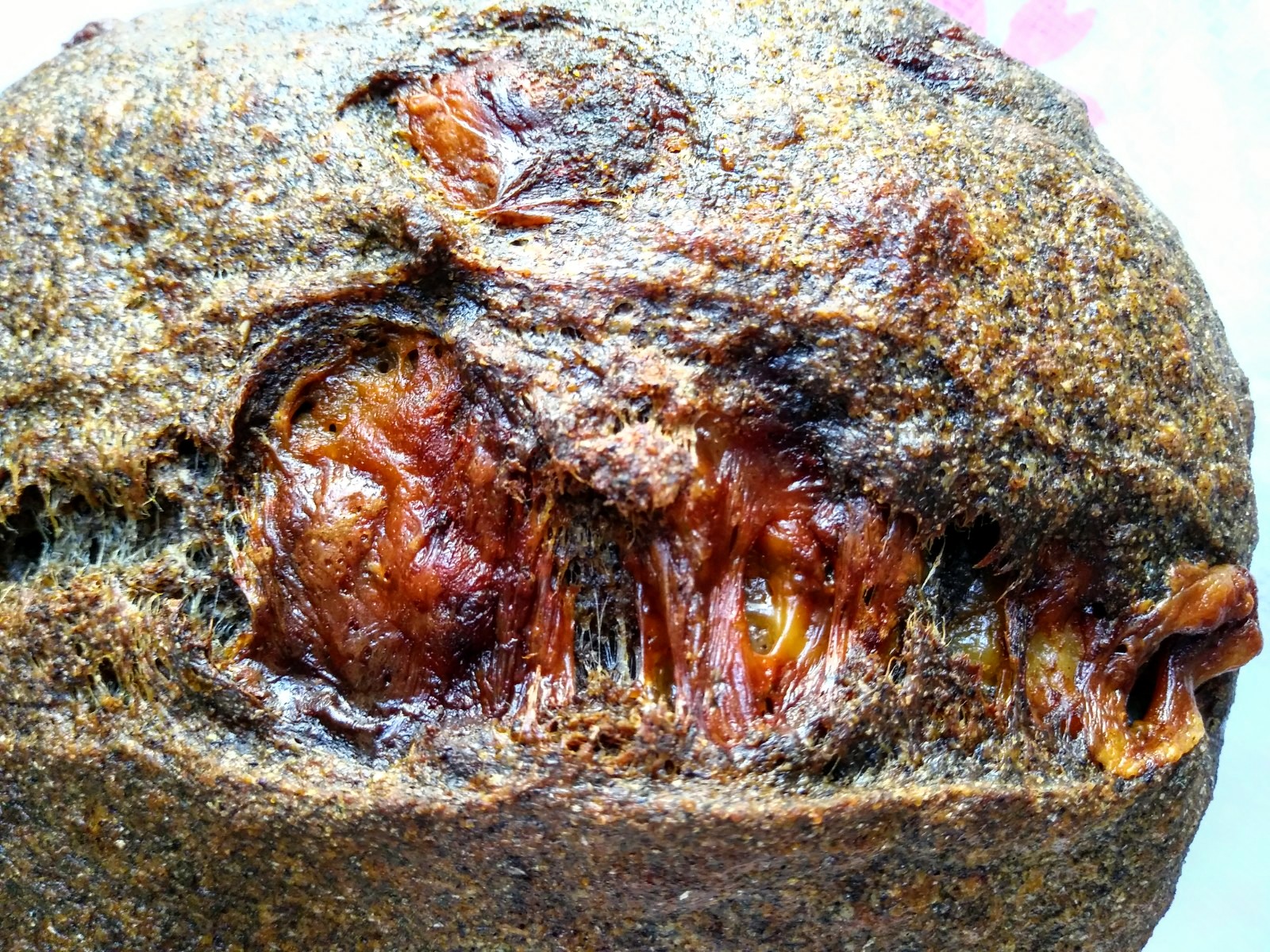 Err isn't this kind of scary looking...? 
The coffee flavor is rather subtle in this bread. It acts as a complement to the quinoa, intensifying its nuttiness. The savory taste of provolone, sweetness of grains and sourness of coffee & SD contribute to a well-rounded sensory profile.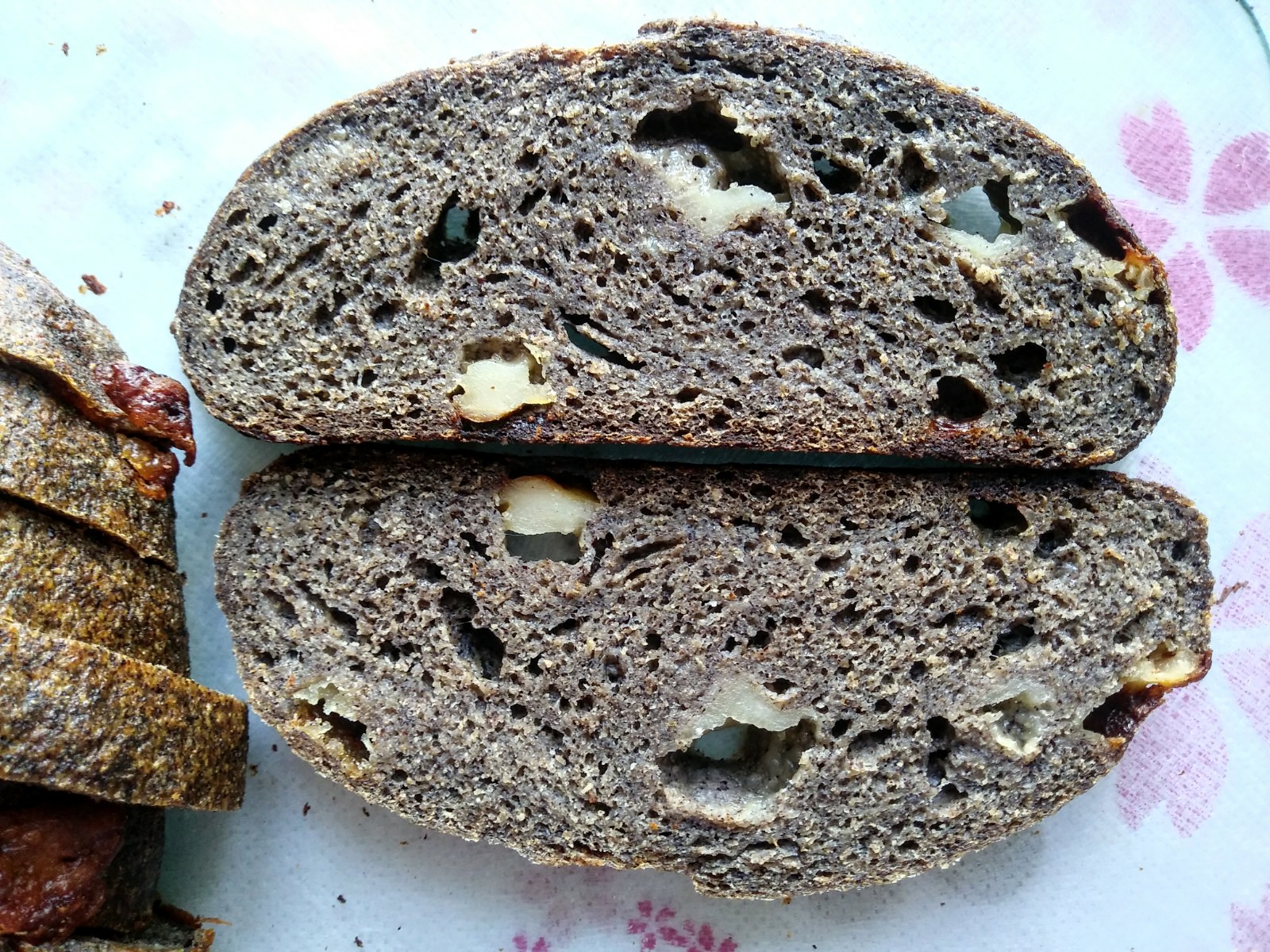 _____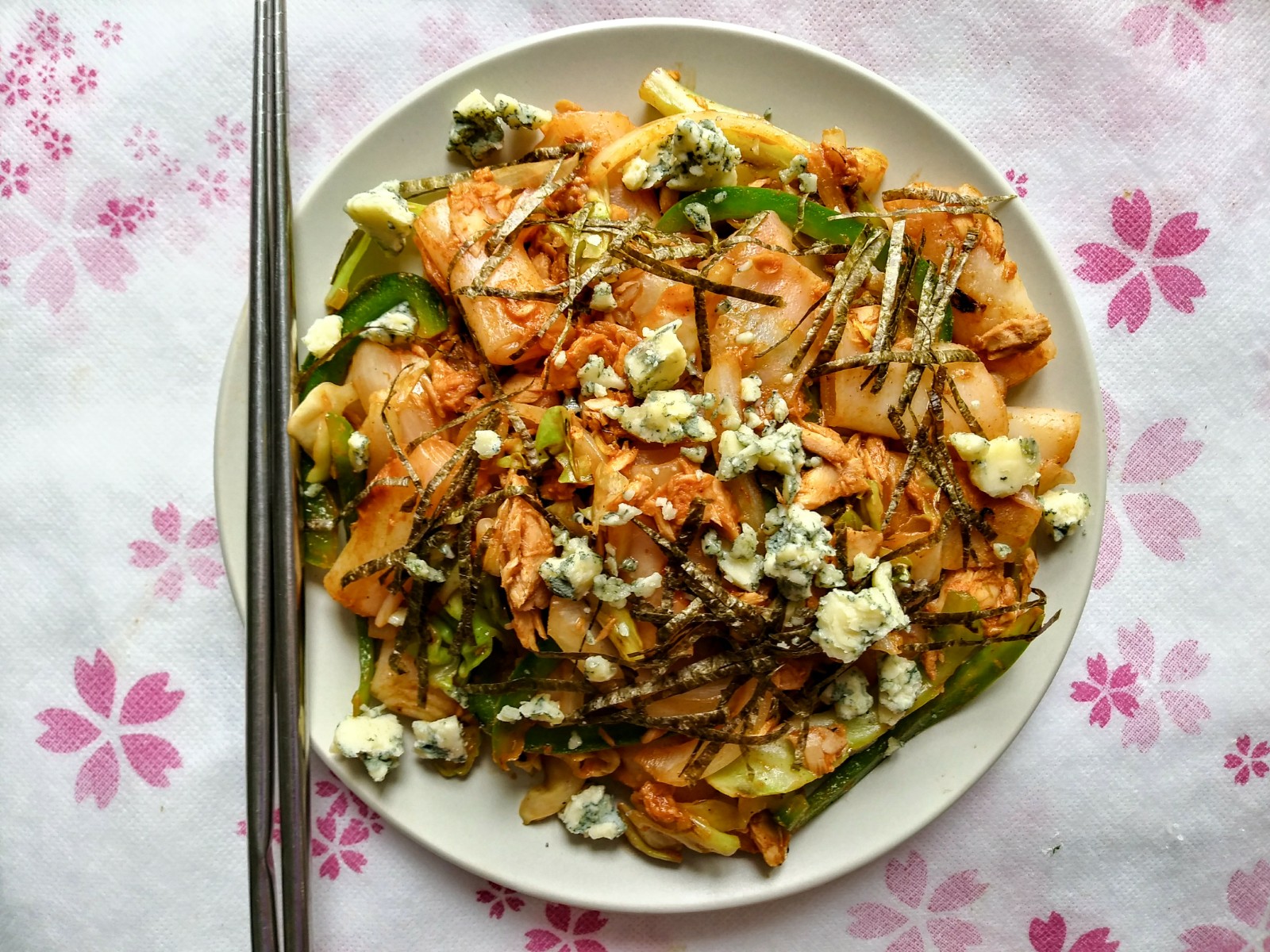 Korean Gochujang stir fried chueng fun with tuna & Blue Stilton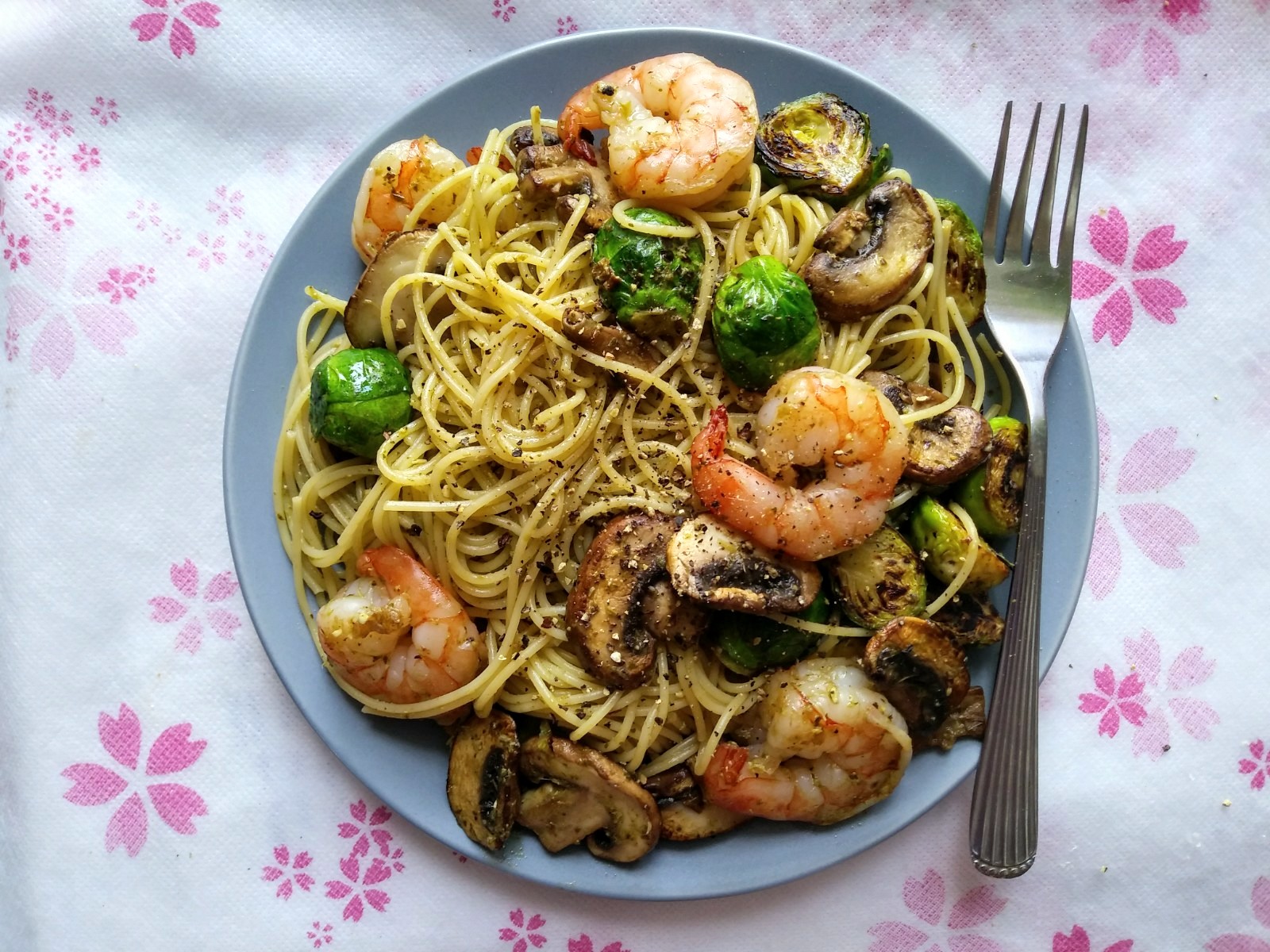 Garlicky capellini with brussel sprouts, mushrooms and shrimps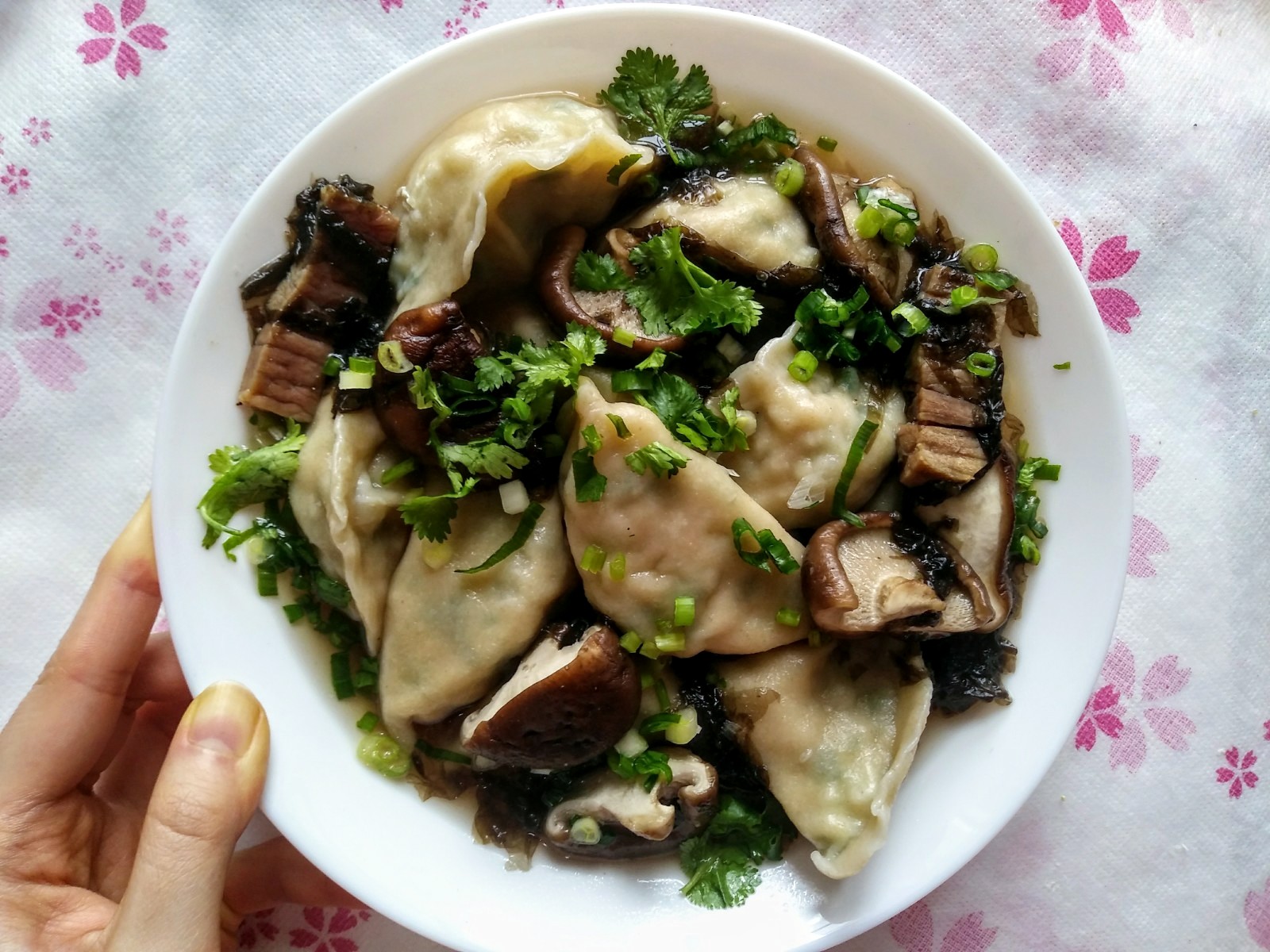 Pork, water chestnut & scallion dumplings in seaweed Jinhua ham broth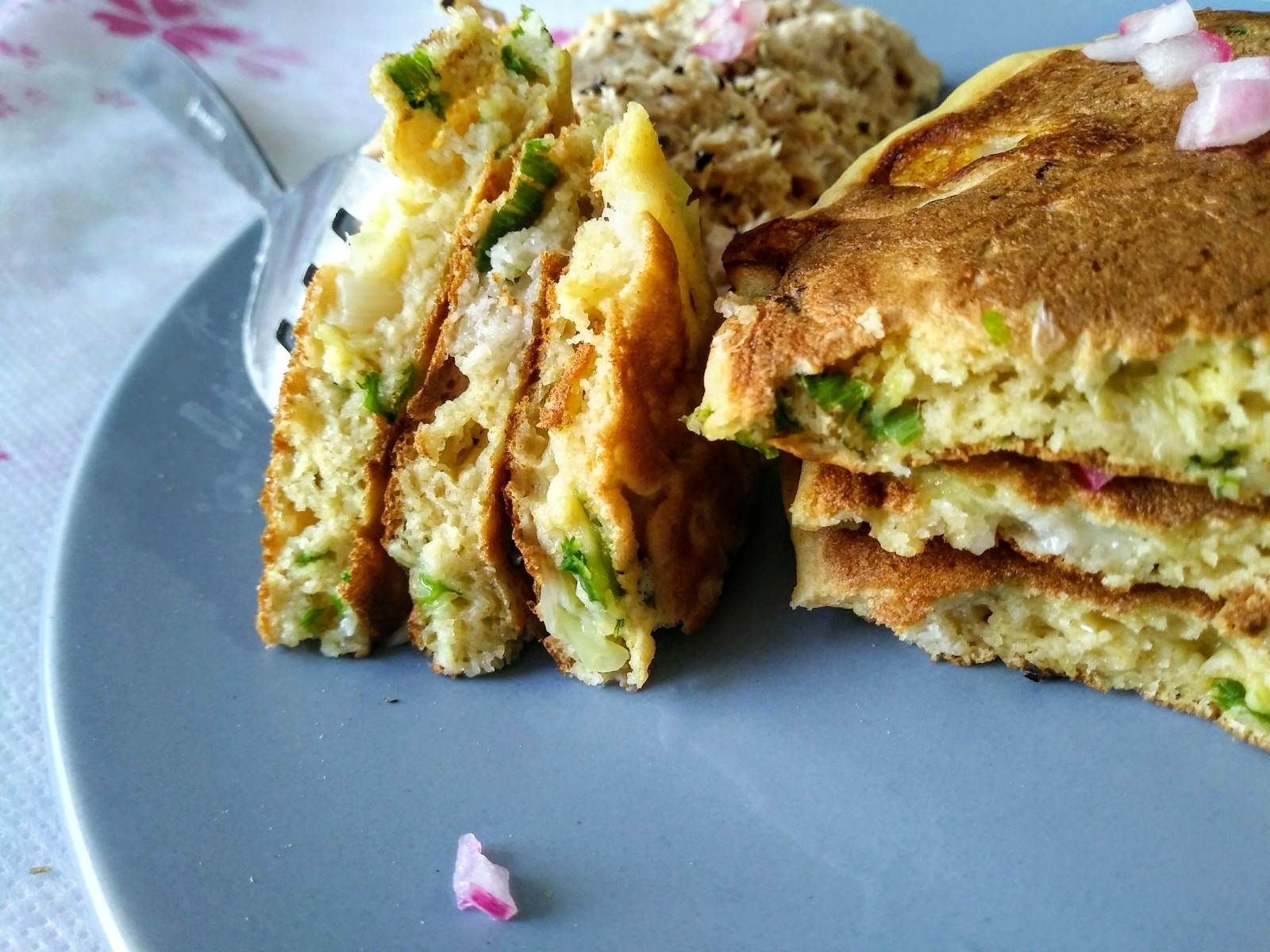 Scallion & Provolone pancakes with tuna cream cheese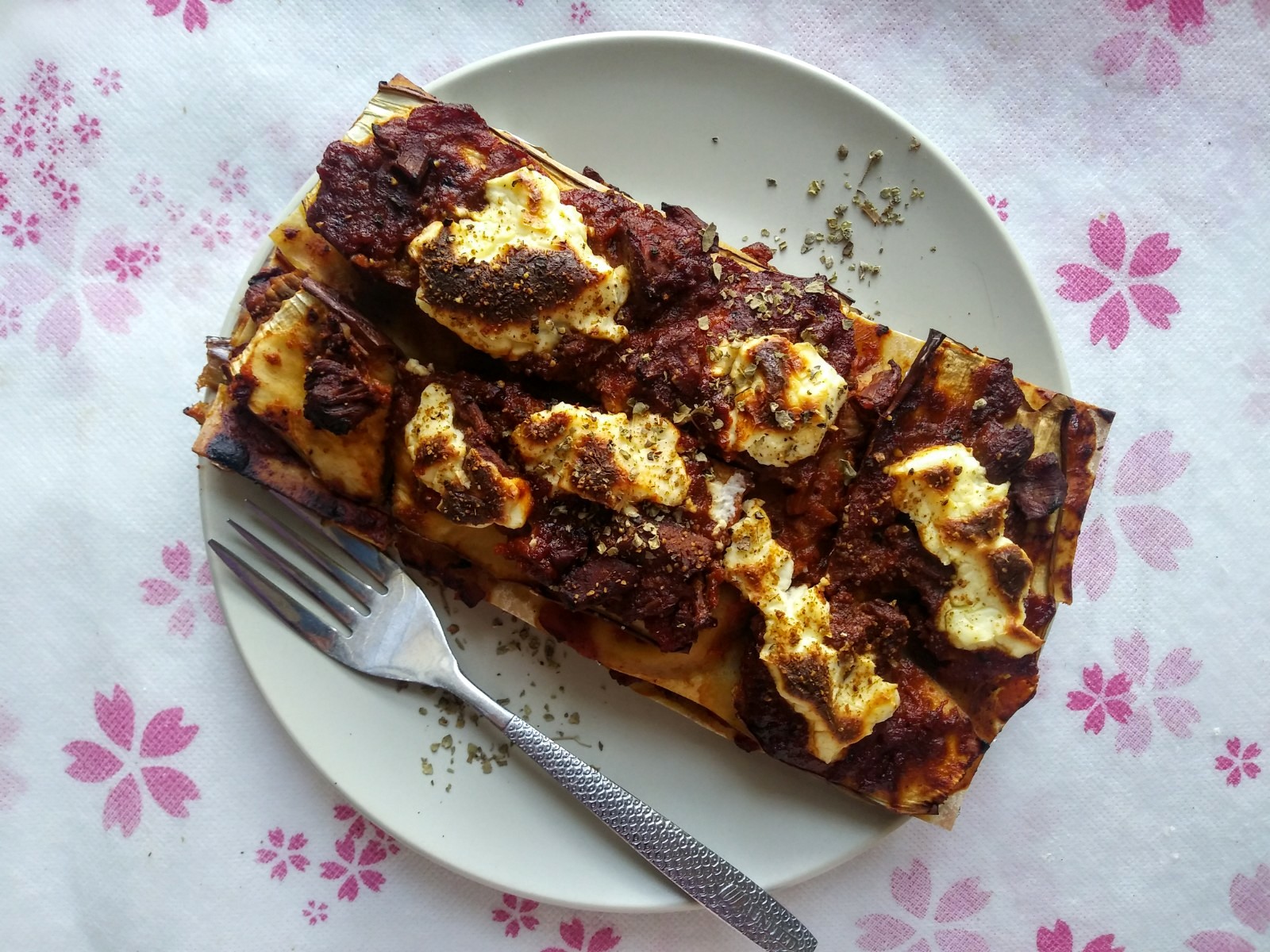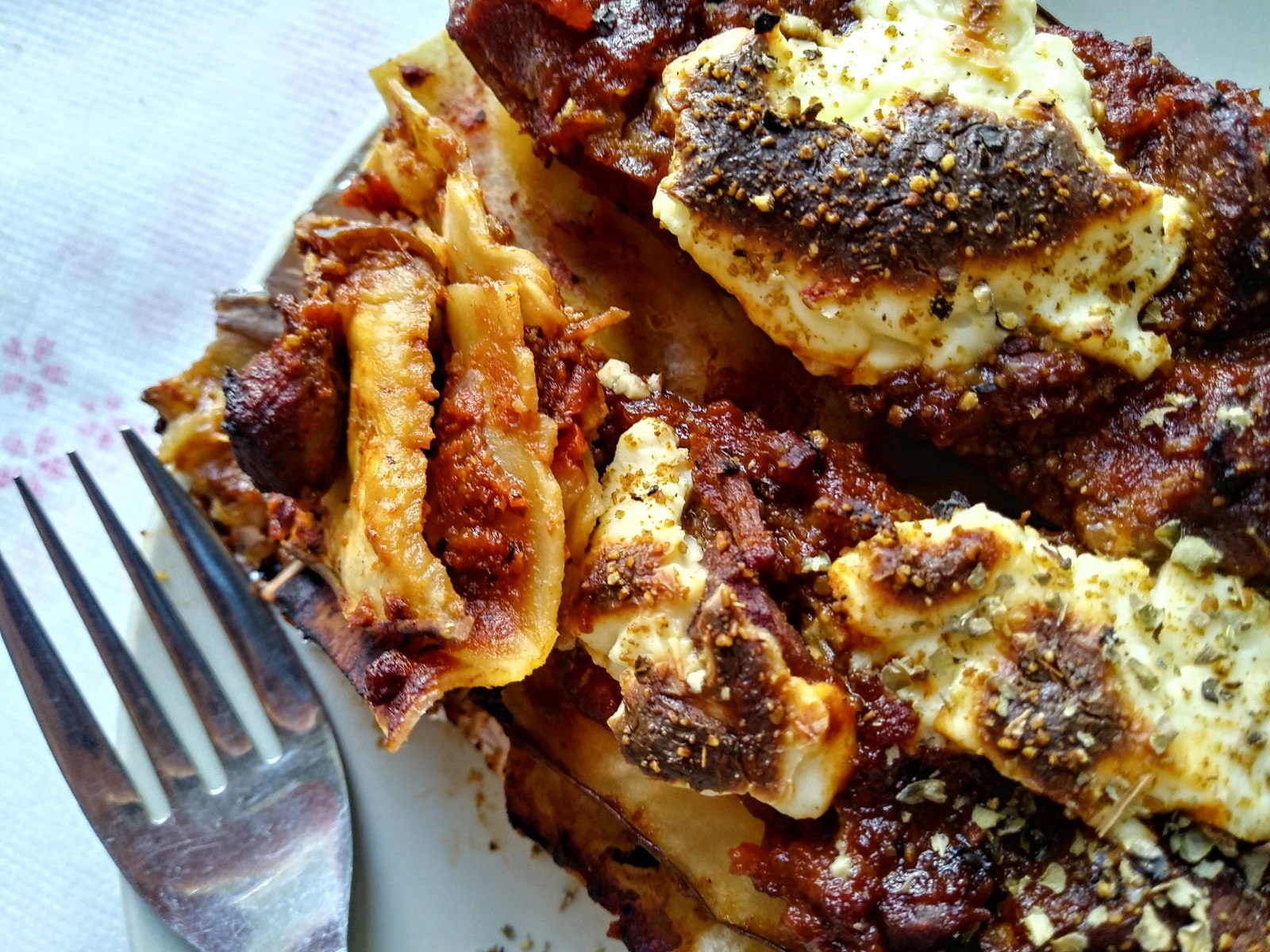 Greek moussaka x Italian lasagna (pressure cooked pulled lamb in spiced tomato sauce, noodle sheets, sliced eggplants & cream cheese)
Homemade pork sausage in porcini mushroom gravy, with sautéed brussel sprouts and Pecorino masa "polenta"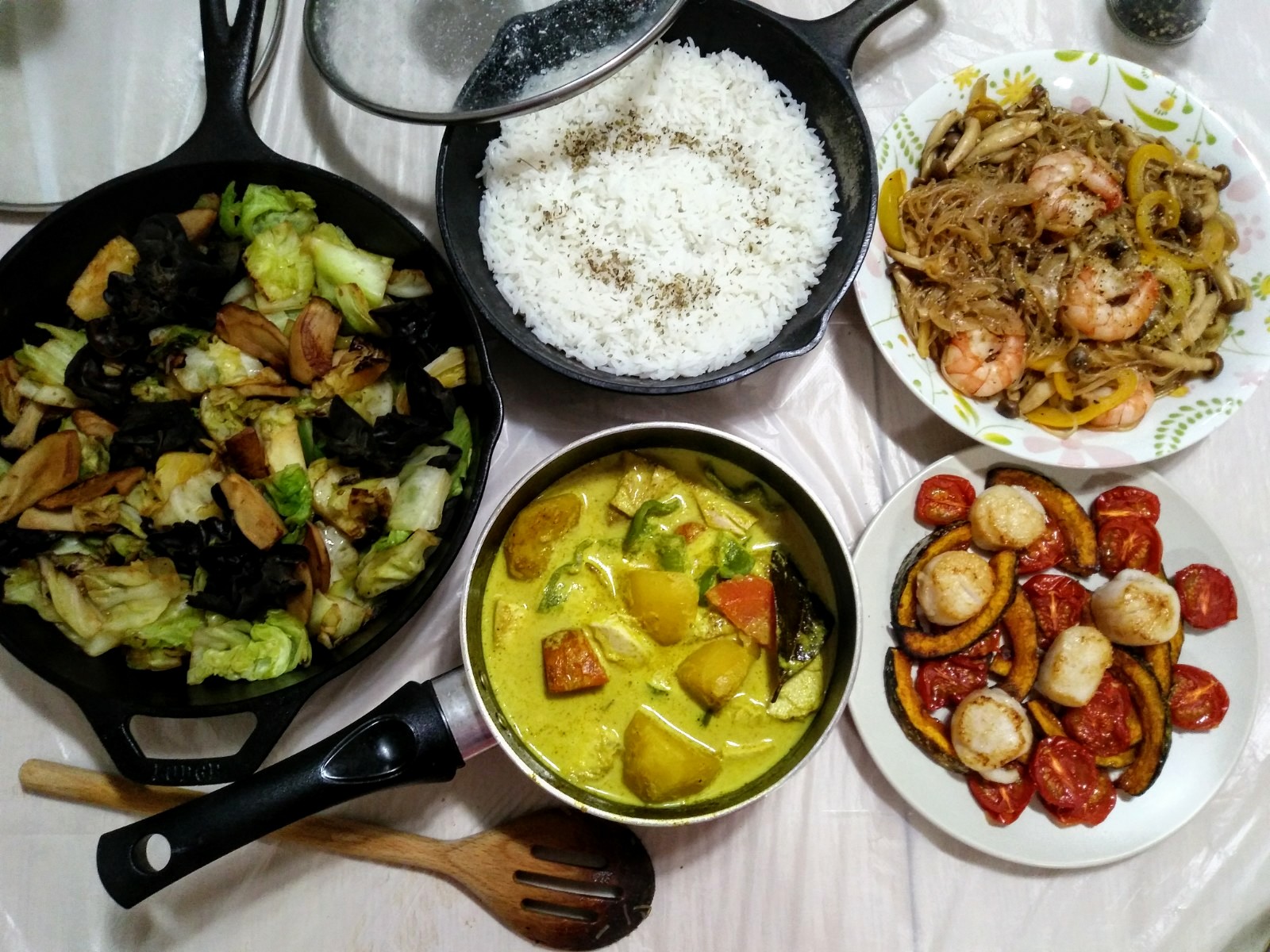 Thai yellow chicken curry, glass noodles with shrimp oil, caramelized kabocha squash, tomatoes & scallops, shrimp paste sautéed assorted mushrooms and cabbages, and plain steamed Thai rice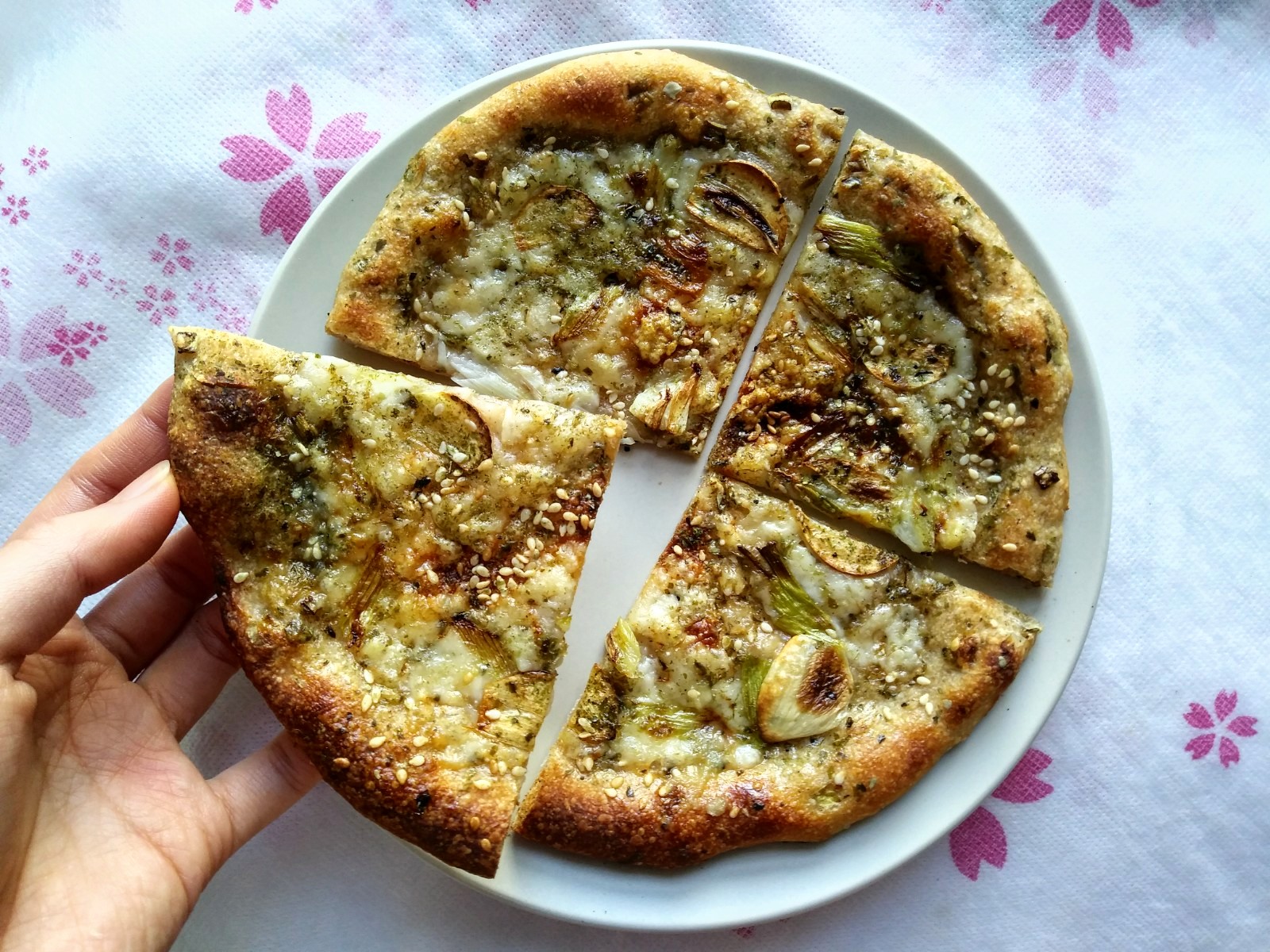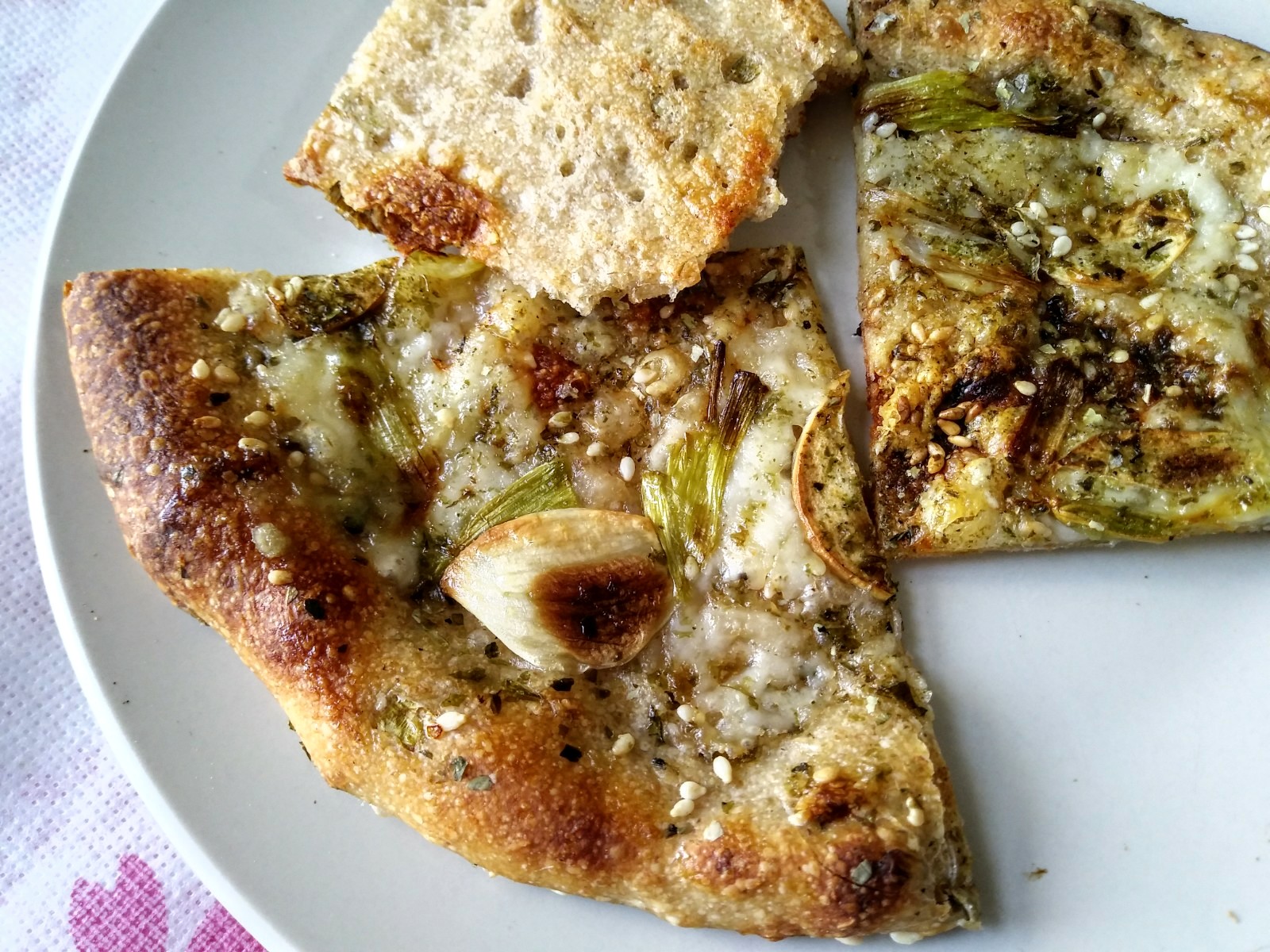 Scallion white, garlic, sesame, seaweed & Provolone pizza with a wasabi honey glaze (SD scallion green crust)