October 12, 2019 - 3:49am
Back once more from roaming the earth and, within way less than a day home, my wife coaxed me into thinking about a next bake.  I left it to her imagination what would be next, but she deferred to me.  
In the past I'd baked the Hamelman black olive levain a few handful of times, particularly in response to our building's chief engineer's constant "whining" about when I'd bake it again and slip him a loaf.
A 65% hydration dough with 25% olives makes for a hearty if not particularly open crumb.  In keeping with my M.O. of mostly avoiding posting the same thing twice here on TFL, there was just enough tweak to qualify for this post.
Changes from the original included using 100% LL instead of his 125% LL, changed to AP flour from higher protein bread flour, substituted rye flour for WW, and used rather large quarter-sliced "spears" of large green Spanish Queen olives rather than smaller and diced Kalamta flecks. Otherwise I abided by the original formula.
These olives are quite salty, so they were scaled and quartered, placed into a water bath for a while to remove some salinity, and then toweled dry.
Abel Sierra posted somewhere that baguettes should be couched seam side up.  I did so with one of the two.  But then in my infinite wisdom, once loaded into the oven, I neglected to track which of the two loaves were which since I rotate loaves a few times during the bake.
I can't check what the crumb looks like on either the batard or the more open grine baguette as they were both delivered to the chief engineer and our office manager.  Intact! 
One does exhibit a more open grigne than the other, but I am clueless as to which was which.  The batard was couched seam side down.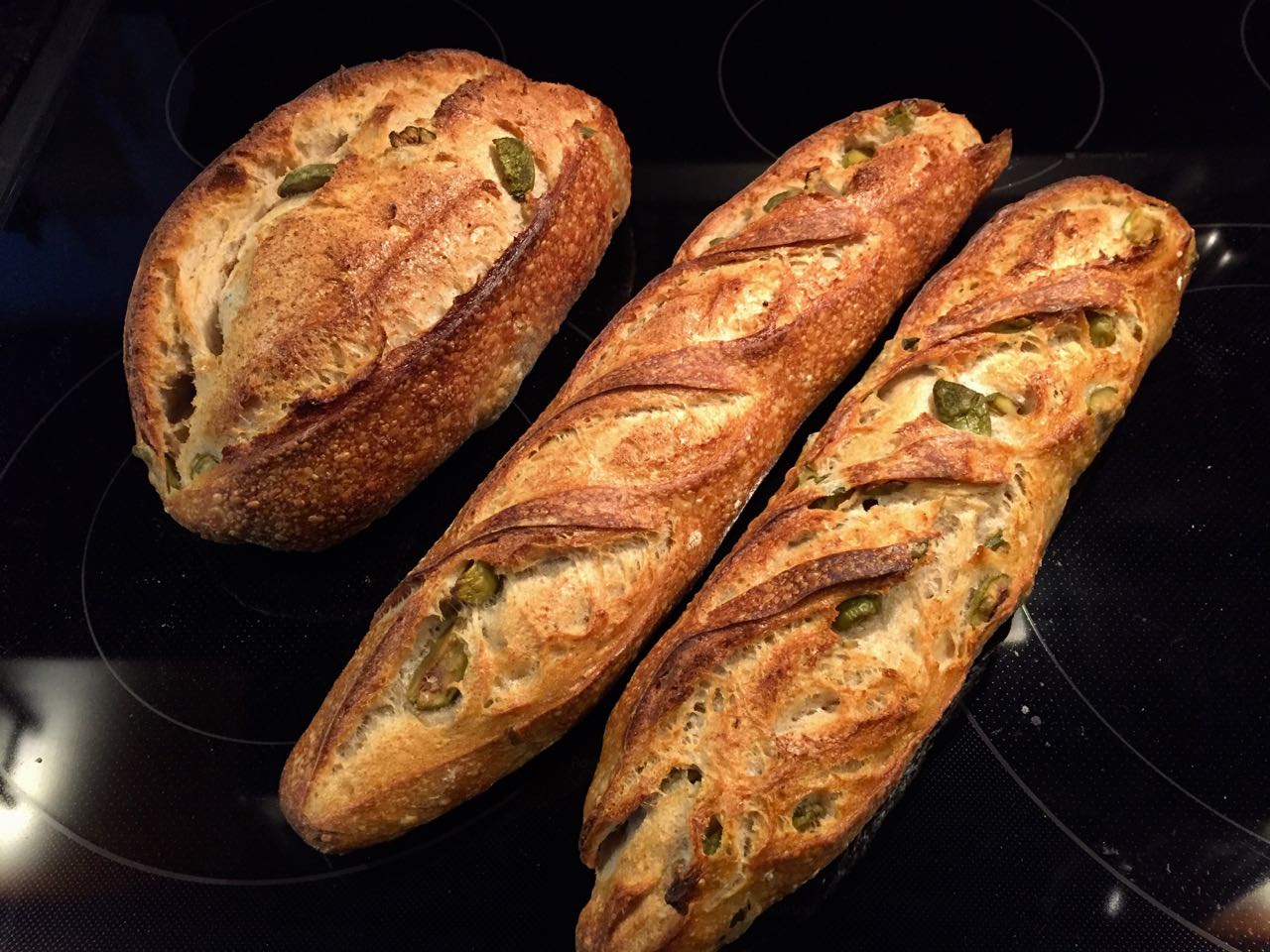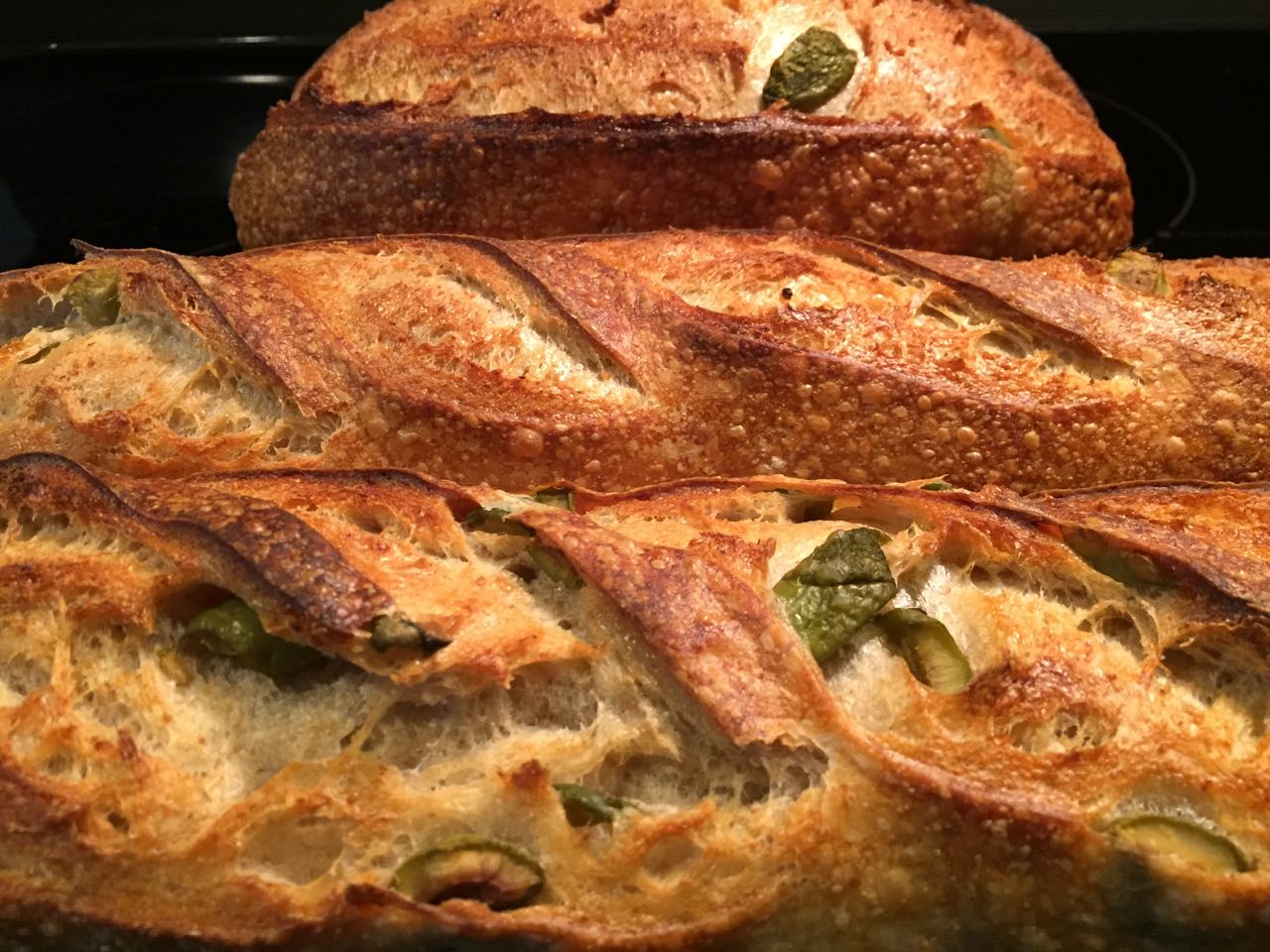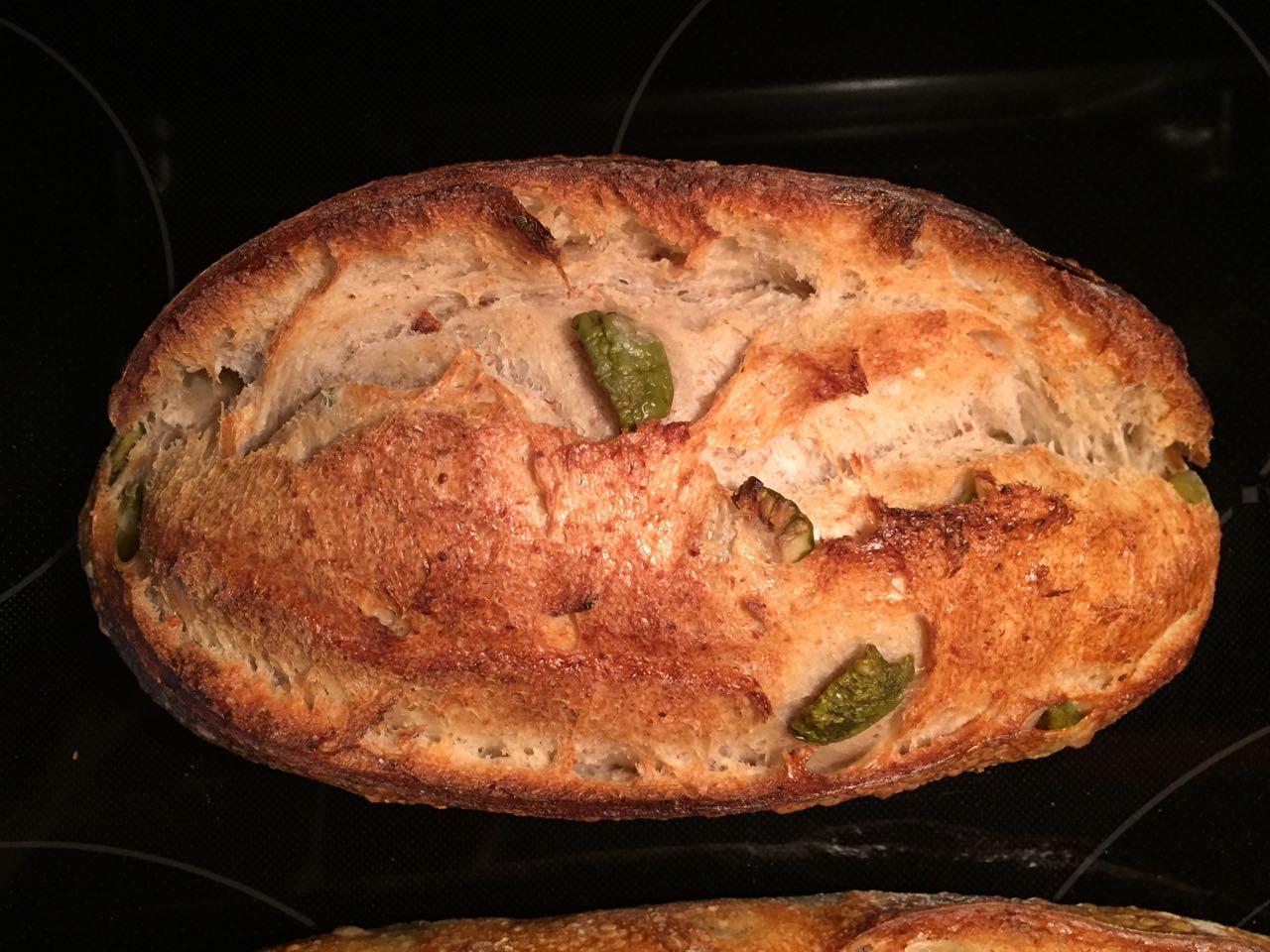 At 65% hydration and weighed down by the mass of olives, the crumb doesn't exhibit a lot of openness.  The old saying is you can't eat the holes.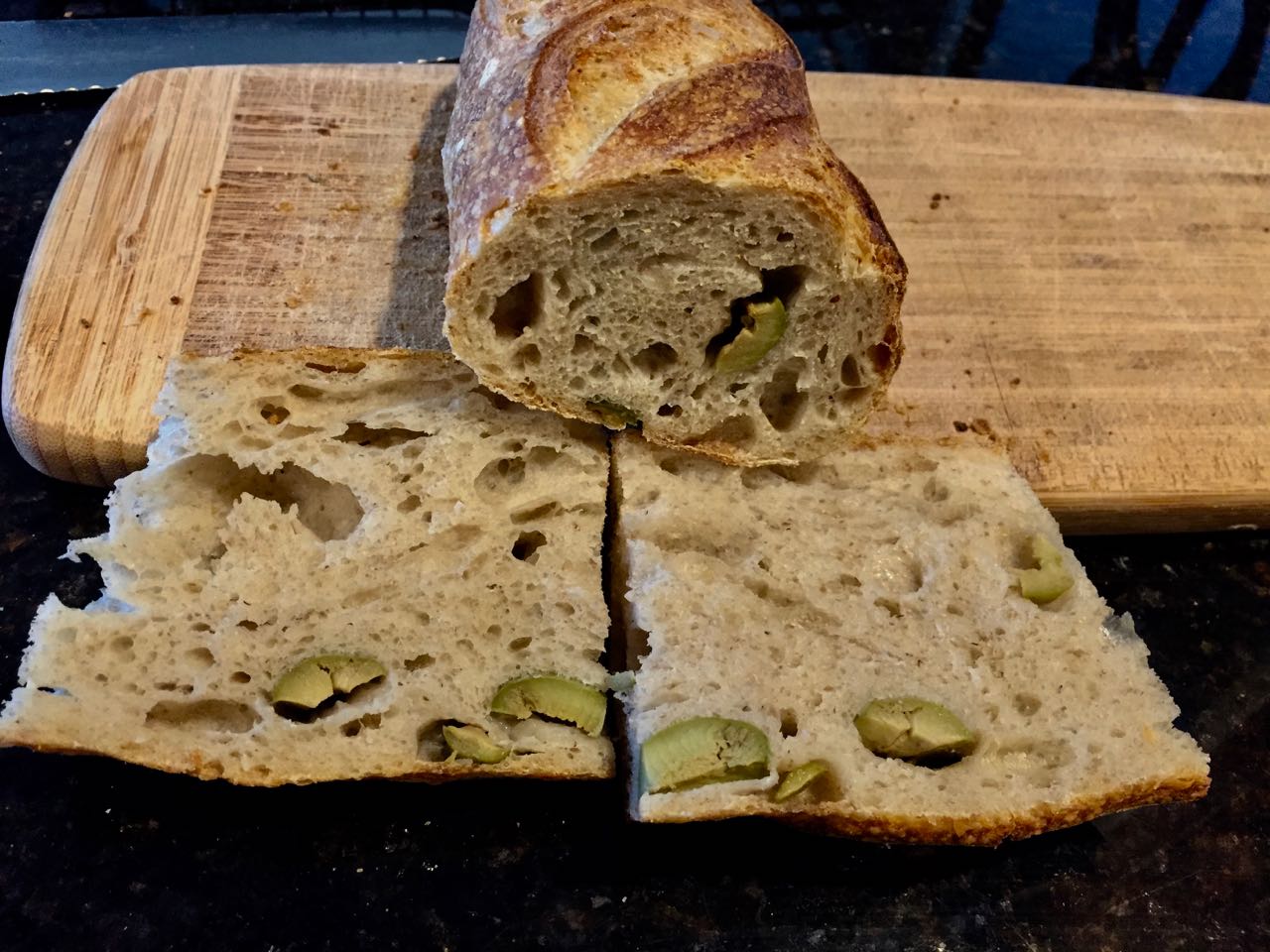 The formula normalized to 1000g 
Olive Levain with 100% AP Liquid Levain
 
 
 
 
 
 
 
alfanso, based on Jeffrey Hamelman
 
 
 
 
 
 
 
 
 
 
 
 
 
Total Flour
 
 
 
 
 
Total Dough Weight (g)
 
1000
 
Prefermented
18.00%
 
 
 
 
Total Formula
 
 
 
Levain
 
 
Final Dough
 
 
Ingredients
%
Grams
 
%
Grams
 
Ingredients
Grams
 
Total Flour
100.00%
522.2
 
100.00%
94.0
 
Final Flour
428.2
 
AP Flour
90.00%
470.0
 
100%
94.0
 
AP Flour
376.0
 
Rye
10.00%
52.2
 
0%
 
 
Rye
52.2
 
Water
65.00%
339.4
 
100%
94.0
 
Water
245.4
 
Salt
1.50%
7.8
 
 
 
 
Salt
7.8
 
Green Olives
25.00%
130.5
 
 
 
 
Green Olives
130.5
 
Starter
3.60%
18.8
 
20%
18.8
 
 
 
 
 
 
 
 
 
 
 
Levain
188.0
 
Totals
191.50%
1000.0
 
220%
206.8
 
 
1000.0
Mix water, flours and levain.  "autolyse" for 30 min.
Add salt.  Pinch and Fold.
300 French Folds - 150 FFs, 5 min. rest, 150 FFs.  Into oiled container.
Bulk Ferment 2 hours at 78dF room temp.  3 Stretch and Folds on wetted counter at 40, 80 & 120 min.
Add olives on first S&F.
Retard a few hours.
Divide, pre-shape, rest 15 min., final shape and onto very lightly floured couche.  Back to retard for ~12-16 hours total refrigerated rest time.
Oven to 480dF for ~ 45-60 min.  Sylvia's Steaming Towel 15 min. prior to bake.
Loaves onto parchment covered oven peel, score, and load oven.
2 cups near boiling water into lava rock pan.  Drop oven temp to 460dF.
13 min w/ steam.  Release steam, rotate loaves.
Baguettes/long batards took 25 minutes, batard ~28.  3 more min. of oven venting.
1x600g batard, 2x425g long batards/baguettes.