September 6, 2019 - 7:26pm
On occasion I buy a couple of our grocery store's "fresh-baked" energy bars (next to the donuts and fake bagels).  They're a thick, dense, rectangle dark bun and OK toasted, but I've been planning to create my own.  Got kick-started yesterday after the dentist's office had a cancellation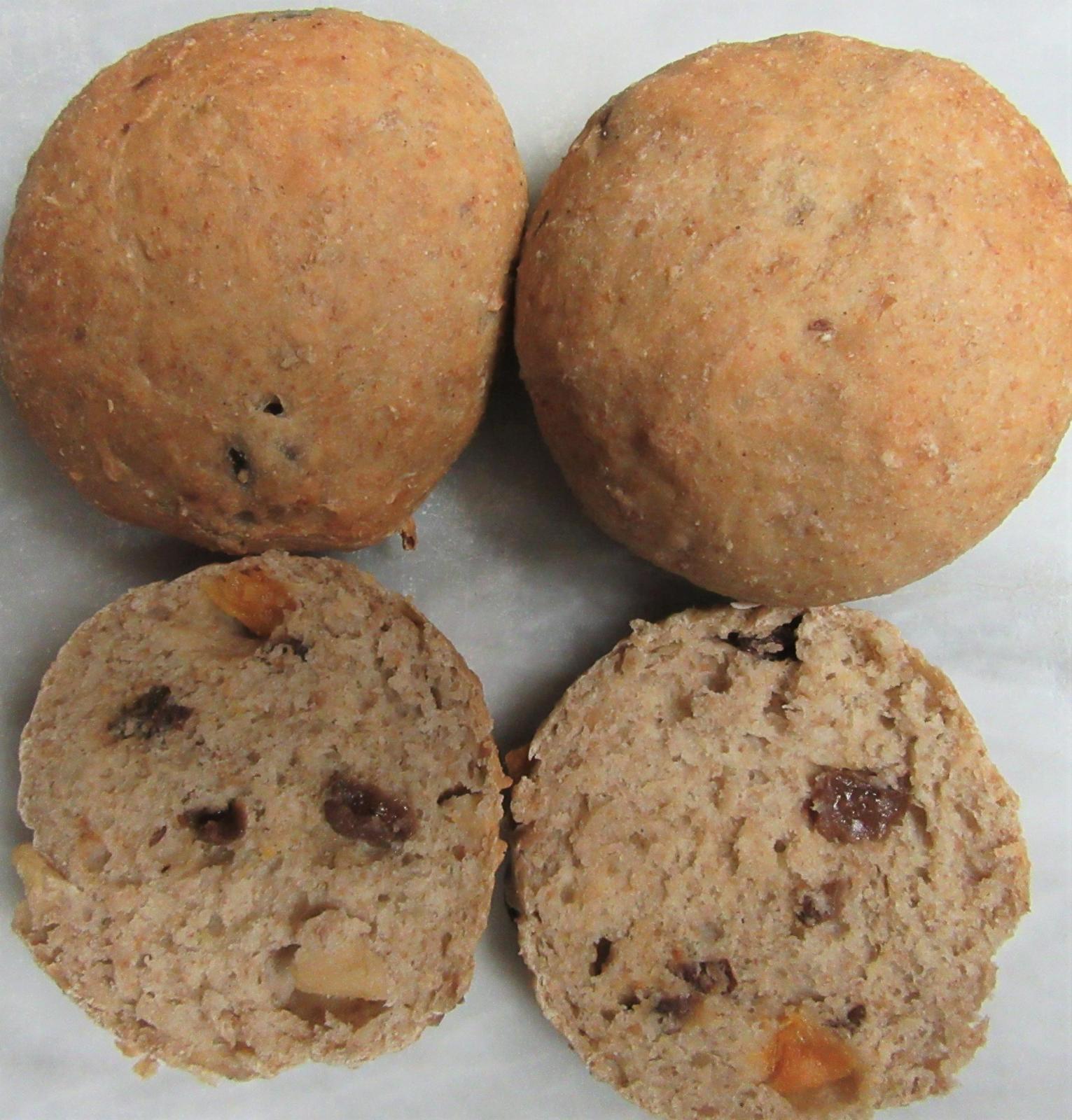 for today for a needed procedure, after which I would be on soft foods for a bit.  Quickly browsed my bread books and decided on Hamelman's 5-grain bread (p. 281) as a base.  I wanted a soft, high-protein, high-fiber multi-grain breakfast bun that would freeze well.  It's a straight dough.  No time for a pate fermentee as my 2nd choice recipe called for, and I need to make a new starter.  This recipe has a much higher percentage of whole grains.  I made the recipe as written EXCEPT:
1)    Turned the soaker into a porridge so there were no hard bits.  Kept the 12.8 oz dry grain weight, but included BRM 10-grain cracked cereal to which I added oats, wheat bran & germ, flax meal, cornmeal, oat bran & oats.  When I can chew them, next time I'll add seeds & nuts.
2)   2)  Added 9 oz soaked & drained coarsely chopped mixed dried fruit (also some spices and orange zest). 
  3) 70% of the dough water was cottage cheese to add protein and moisture, 30% the fruit soaking water.
 4)  Instead of loaves I scaled buns at 113-114 gm (bagel-size).  Lightly flattened the rounds a couple of times during final proof.  They're slightly thicker than bagels, hamburger bun width.  Yield:  23 113 gm plus 2 70-ish gm testers.  (I always end up with an odd amount of bagel dough because I add stuff, and make a small one as a proof tester).    
 5) Lowered the oven temp to 330F convection.  They were baked to 200 in about 16 min. with a soft, lightly golden crust.  I also didn't want the added fruit, dairy and fruit water to brown too quickly.    
 The buns I medium-toasted last night and this morning stayed soft with no hard bits.  The chunks of soaked fruit stayed soft.  The crumb is tender.  Overall I'm pleased and will continue to play with this concept.