Weekend Bakery Semolina and Sesame Baguettes, alfanso style
Last week I was trying to enjoy my trip to NY, and I met up with The Roadside Pie King for a couple of slices of pizza (imagine that!).  But then Abe sent a link to me from the ace bakers at The Weekend Bakery and encouraged me to give it a go.  Upon returning home the other evening, I decided to do just that yesterday and a bake this morning.
But, as fate often intercedes in moments like these, alfanso decided to go almost far afield from their posted formula and do some funny stuff in an effort to "make it his own".
***Edit: Mistakenly posted as T160, but it should have read T150 - which is similar to the US Whole Wheat/UK Whole Meal.  Spreadsheet corrected as well.  The toasted sesame seeds refer only to wha is mixed in and not what is rolled onto the crust.***
I have a fair amount of the tritordeum T150 left from my trip to Barcelona in April, so I decided this would be a fine time to incorporate some into this mix.  Changes from the WE Bakery posted formula:
Use the tritordeum T150 "whole grain" rather than semola rimacinata.
Not refresh my now last-refreshed two week old levain,  as I still had a lot of it in the refrigerator begging to be used as-is. Rather use it straight away.
Stick with my 75% hydration AP levain rather than their 130% hydration concoction.  Just abide by their pre-fermented flour percentage.
"autolyse " with the levain.
Eliminate the IDY from the final dough as I was heck-bent on following my standard routine of retarding the dough.
Retard the dough both before and after divide and shape.
Use toasted sesame seeds in the interior and coat the exterior with them as well.
And, oh yeah, make these into baguettes/long batards too.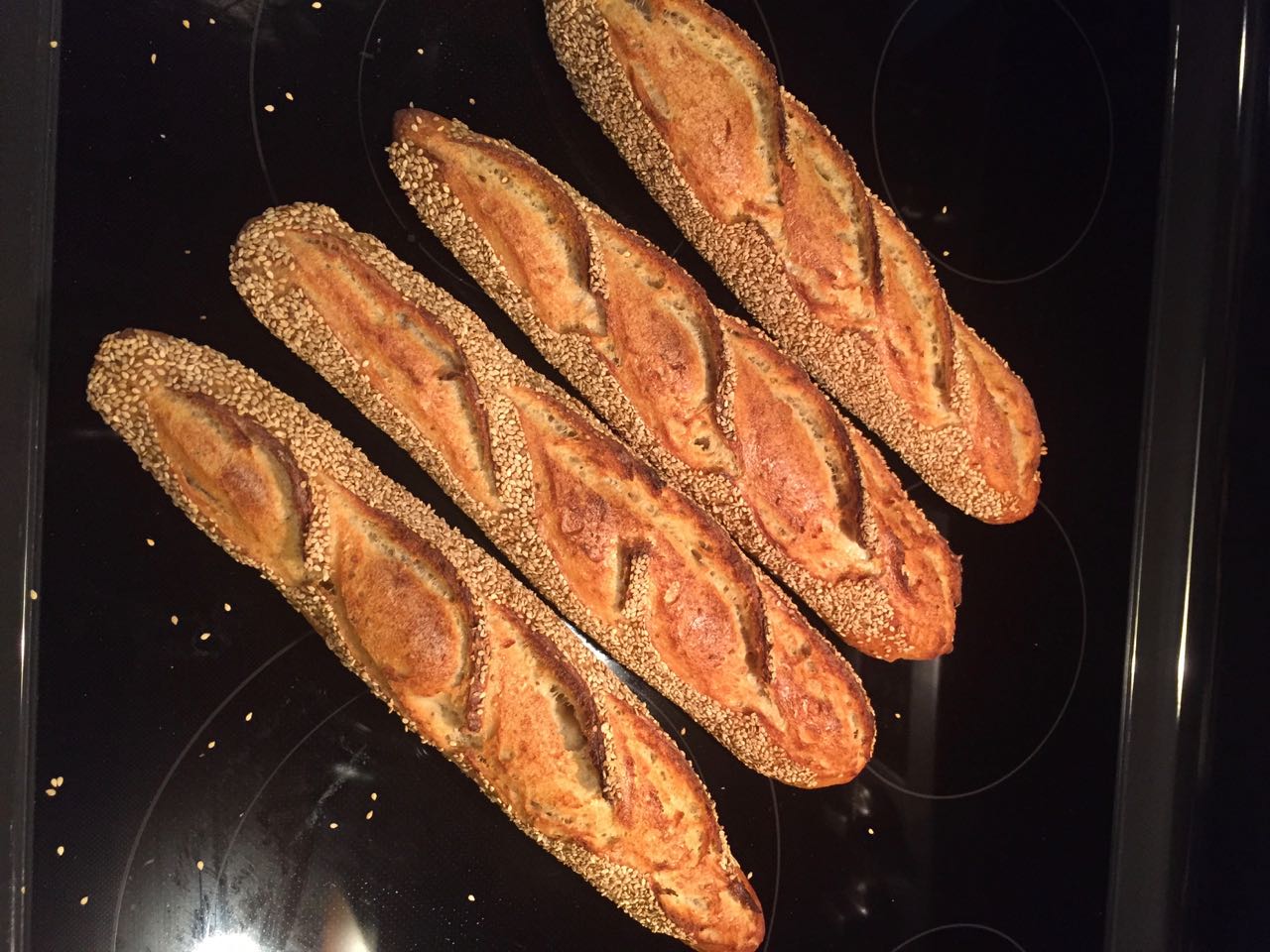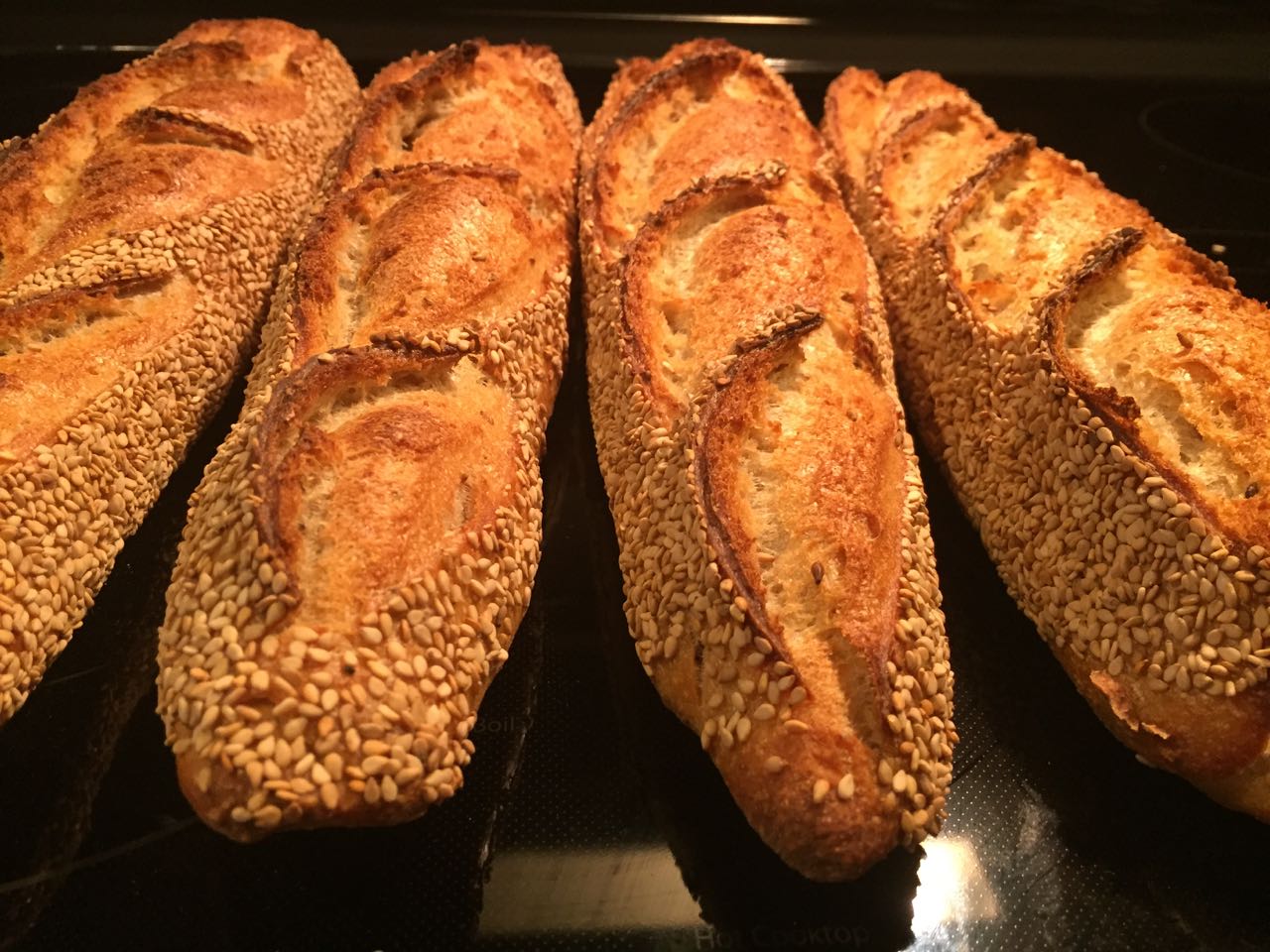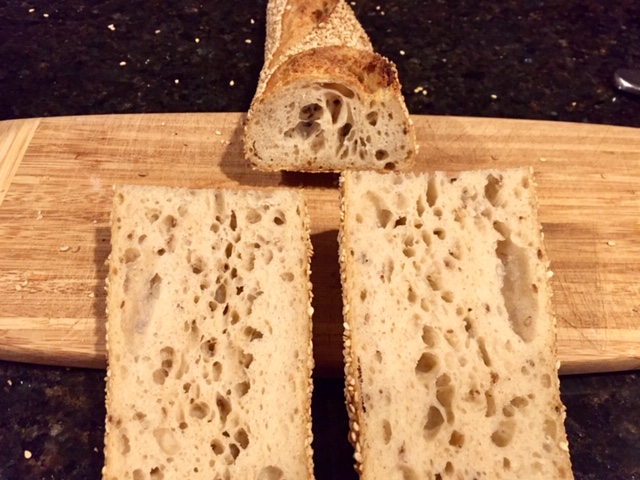 4x400g baguettes/long batards
Perhaps a more open crumb at 72% hydration?  But I'm not hung up on that sort of thang.
The formula normalized to 1000g
Semolina and Sesame loaf
 
 
 
 
 
 
 
 
The Weekend Bakery, mod by alfanso
 
 
 
 
 
 
 
 
 
 
 
 
 
Total Flour
 
 
 
 
 
Total Dough Weight (g)
 
1000
 
Prefermented
14.50%
 
 
 
 
Total Formula
 
 
 
Levain
 
 
Final Dough
 
 
Ingredients
%
Grams
 
%
Grams
 
Ingredients
Grams
 
Total Flour
100.00%
567.5
 
100.00%
82.3
 
Final Flour
485.2
 
AP Flour
62.50%
354.7
 
100%
82.3
 
AP Flour
272.4
 
Tritordeum T150
37.50%
212.8
 
0%
 
 
Tritordeum T150
212.8
 
Water
72.20%
409.8
 
75%
61.7
 
Water
348.0
 
Salt
1.75%
9.9
 
 
 
 
Salt
9.9
 
Toasted sesame seeds
2.25%
12.8
 
 
 
 
sesame seeds
12.8
 
Starter
2.90%
16.5
 
20%
16.5
 
 
 
 
 
 
 
 
 
 
 
Levain
144.0
 
Totals
176.20%
1000.0
 
195%
160.5
 
 
1000.0
 
 
 
 
 
 
 
 
 
 
hold back 10% water for post autolyse
 bassinage
 
 
 
 
 
 
 
bake at 455