Pandan Candlenut 20% Sprouted White Quinoa SD
Green bread might be my favorite after yellow bread.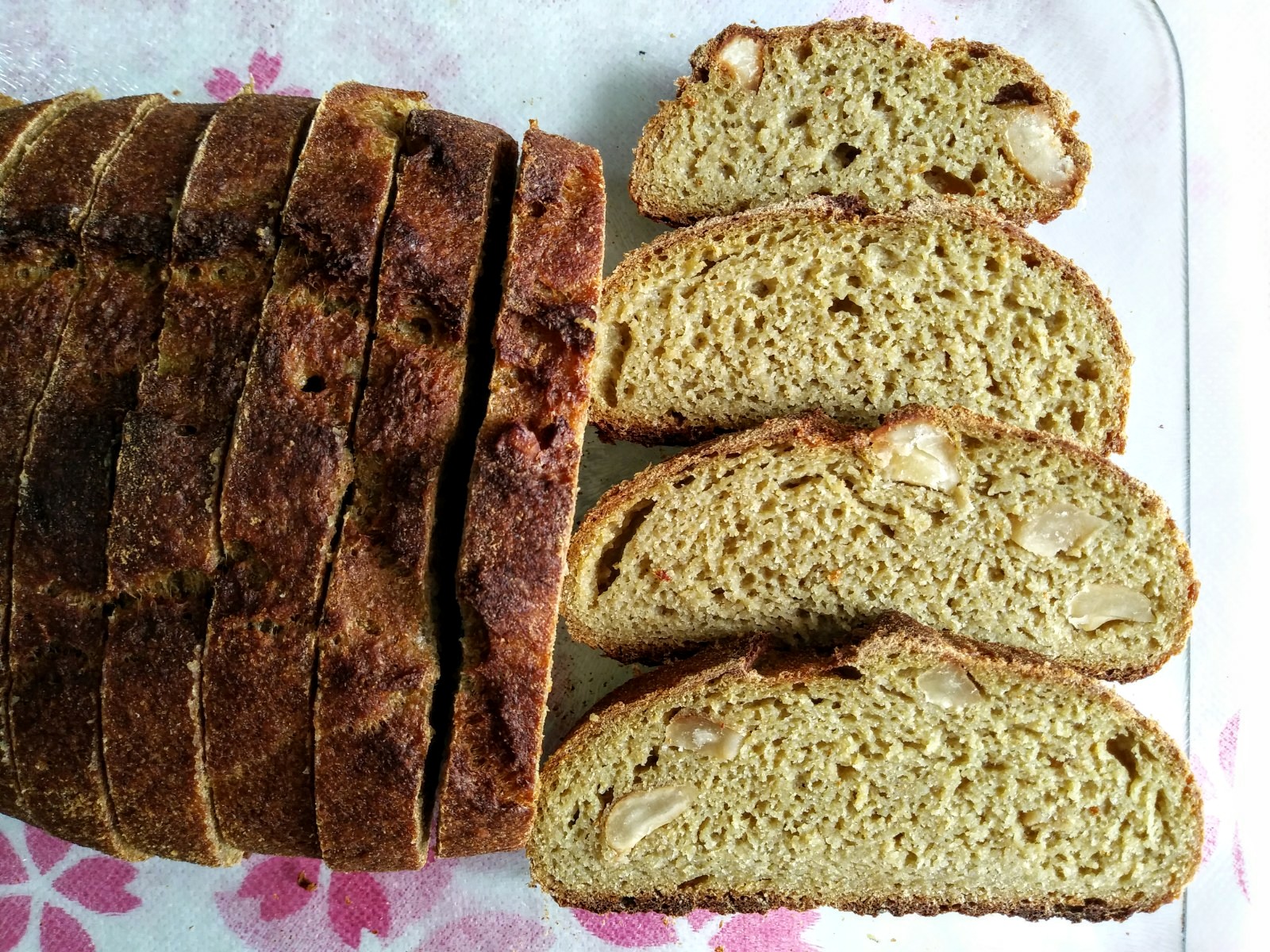 Pandan Candlenut 20% Sprouted White Quinoa Sourdough
Dough flour (all freshly milled):
150g      50%       Whole white wheat flour
90g        30%       Sprouted white wheat flour
60g        20%       Sprouted white quinoa flour
For leaven:
10g        3.3%       Starter
30g         10%       Bran sifted from dough flour
30g         10%       Water
For pandan-infused water:
5 strips          -%       Pandan leaves, frozen (freezing damages plant cells and softens the leaves, which eases the grinding process)
~190g      63.3%       Water
For dough:
270g         90%       Dough flour excluding bran for leaven
190g      63.3%       Pandan-infused water
60g           20%       Whey
70g        23.3%       Leaven
9g               3%       Vital wheat gluten
5g          1.67%       Salt
Add-ins:
30g            10%       Toasted candlenuts
__________
305g        100%       Whole grain
285g       93.4%       Total hydration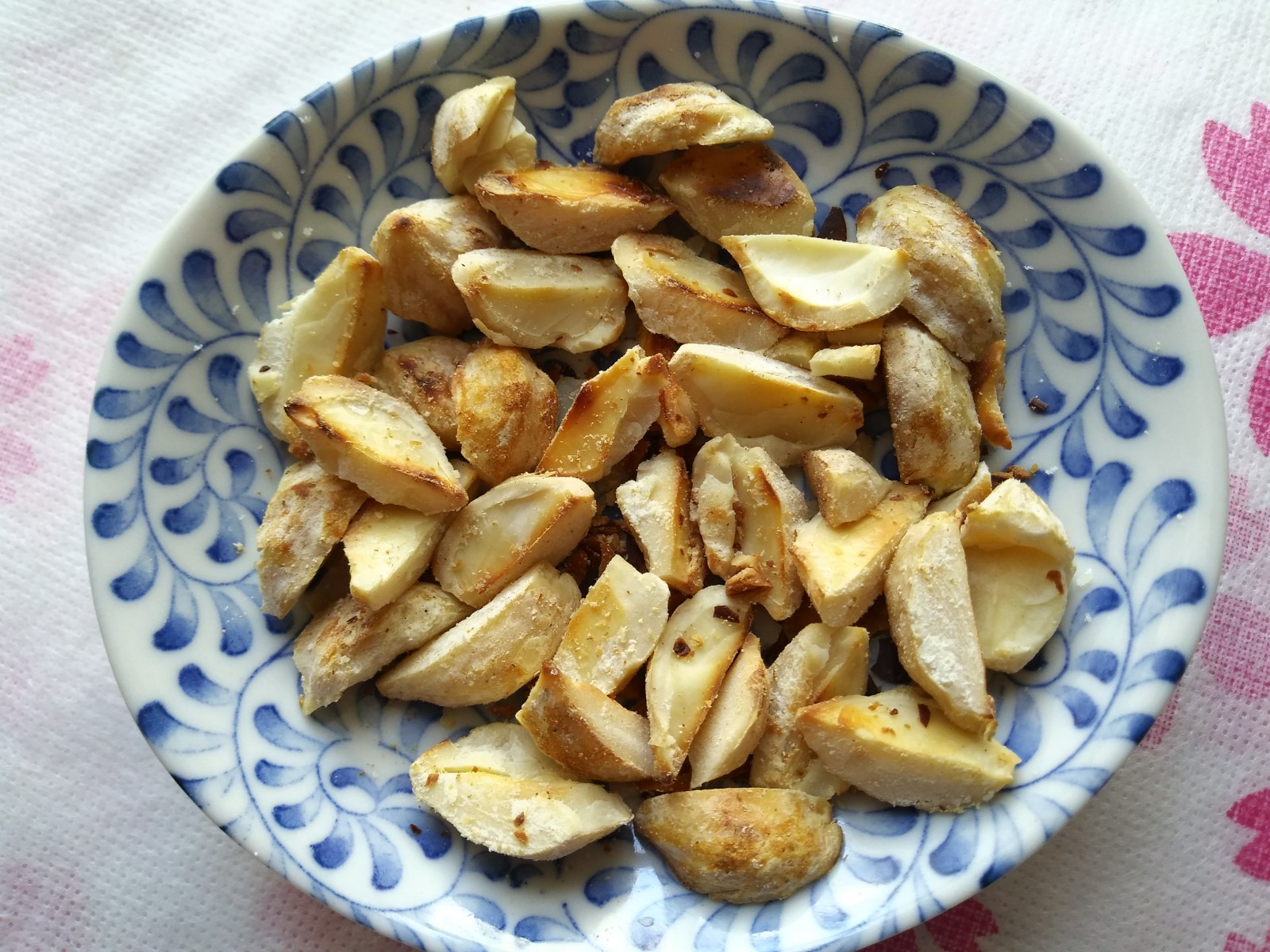 Sift out the bran from dough flour, reserve 30 g for the leaven. Soak the rest, if any, in equal amount of whey taken from dough ingredients.
Combine all leaven ingredients and let sit until ready, around 4 hours (27°C).  
Make the pandan-infused water. Using a pair of scissors, cut the pandan leaves into small pieces then process them with 50g water in a blender. Strain out the fiber by filtering the mixture through a sieve, pressing out as much liquid as possible with the back of a spoon. Add enough water to get a total volume of 190g.
Roughly combine all dough ingredients except for the leaven and salt, autolyze for 15 minutes. Knead in the reserved ingredients and ferment for a total of 3 hours 15 minnutes. Construct a set of stretch and fold and fold in the add-ins at the 15 and 30 minutes mark respectively.
Preshape the dough and let it rest for 20 minutes. Shape the dough then put in into a banneton. Retard for 11 hours.
Preheat the oven at 250°C/482°F. Let the dough warm up at room temperature for 20 minutes. Score and spritz the dough then bake at 250°C/482°F with steam for 20 minutes then without steam for 25 minutes more or until the internal temperature reaches a minimum of 208°F. Let it cool for a minimum of 2 hours before slicing.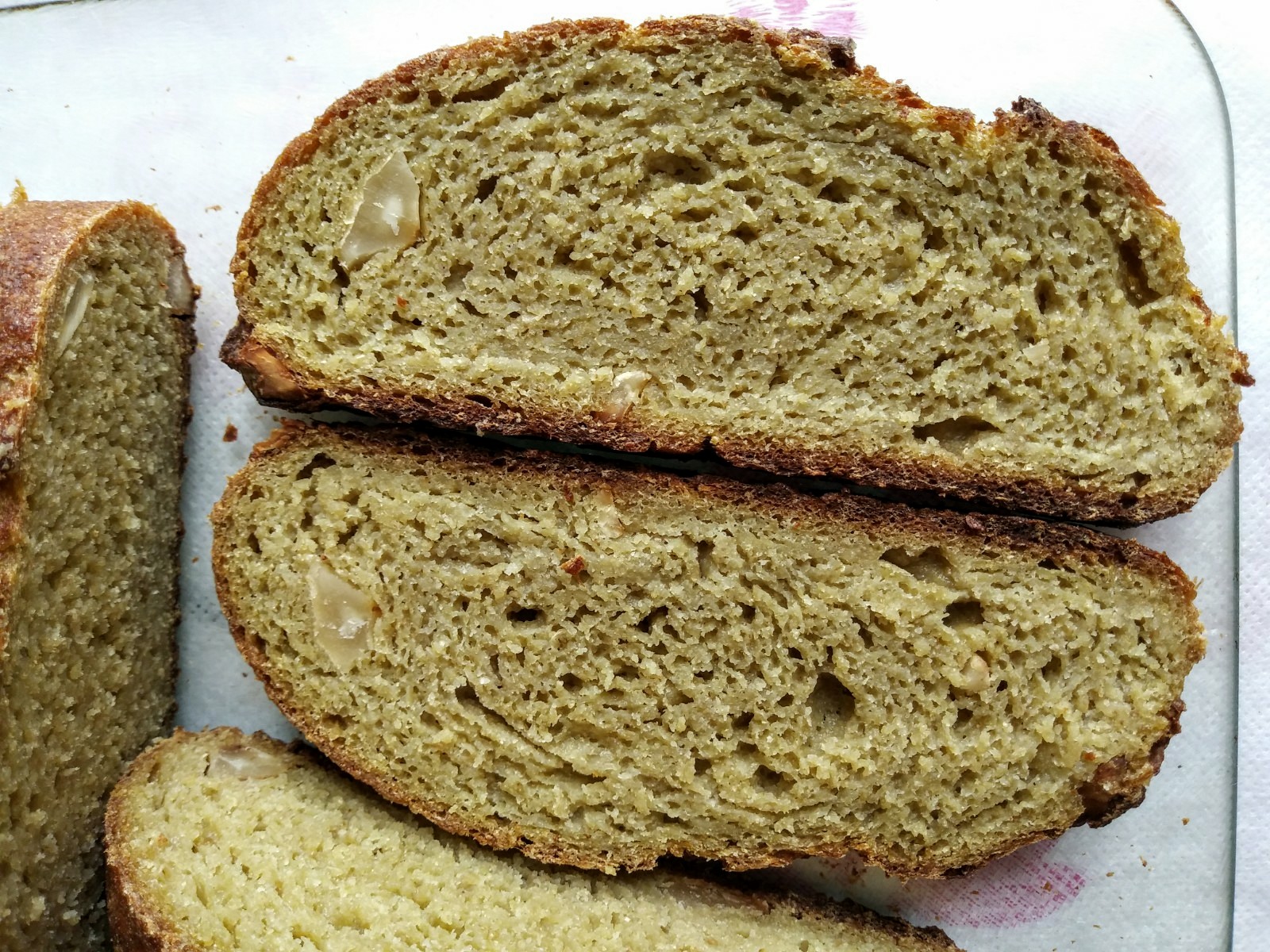 As hard white wheat is much weaker than hard red wheat and spelt, the dough wasn't quite elastic or extensible. The fact that I over-hydrated it only made the situation worse. Fortunately, it didn't lose too much strength during the bulk and managed to rise without excessive spreading.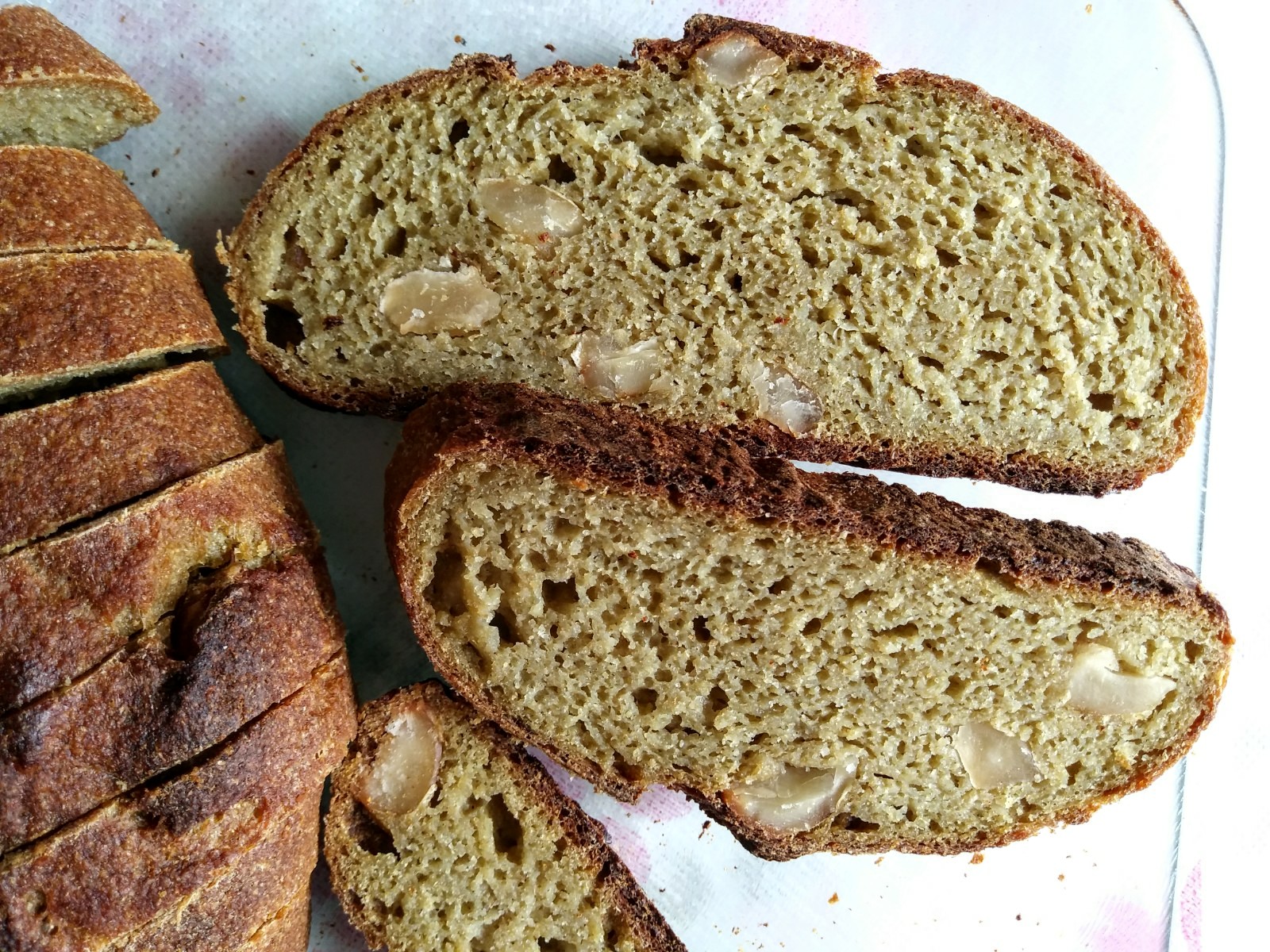 I was torn between using cashew or using candlenut but finally settled on the latter as it has a milder taste. Pandan, sprouted white quinoa and sprouted white wheat are all delicate in flavour that cashew can easily dominate over them. The taste of the bread is sweet in a mellow way with hints of pandan undernote. I find it lacking in sourness personally but some would probably find this ideal.
______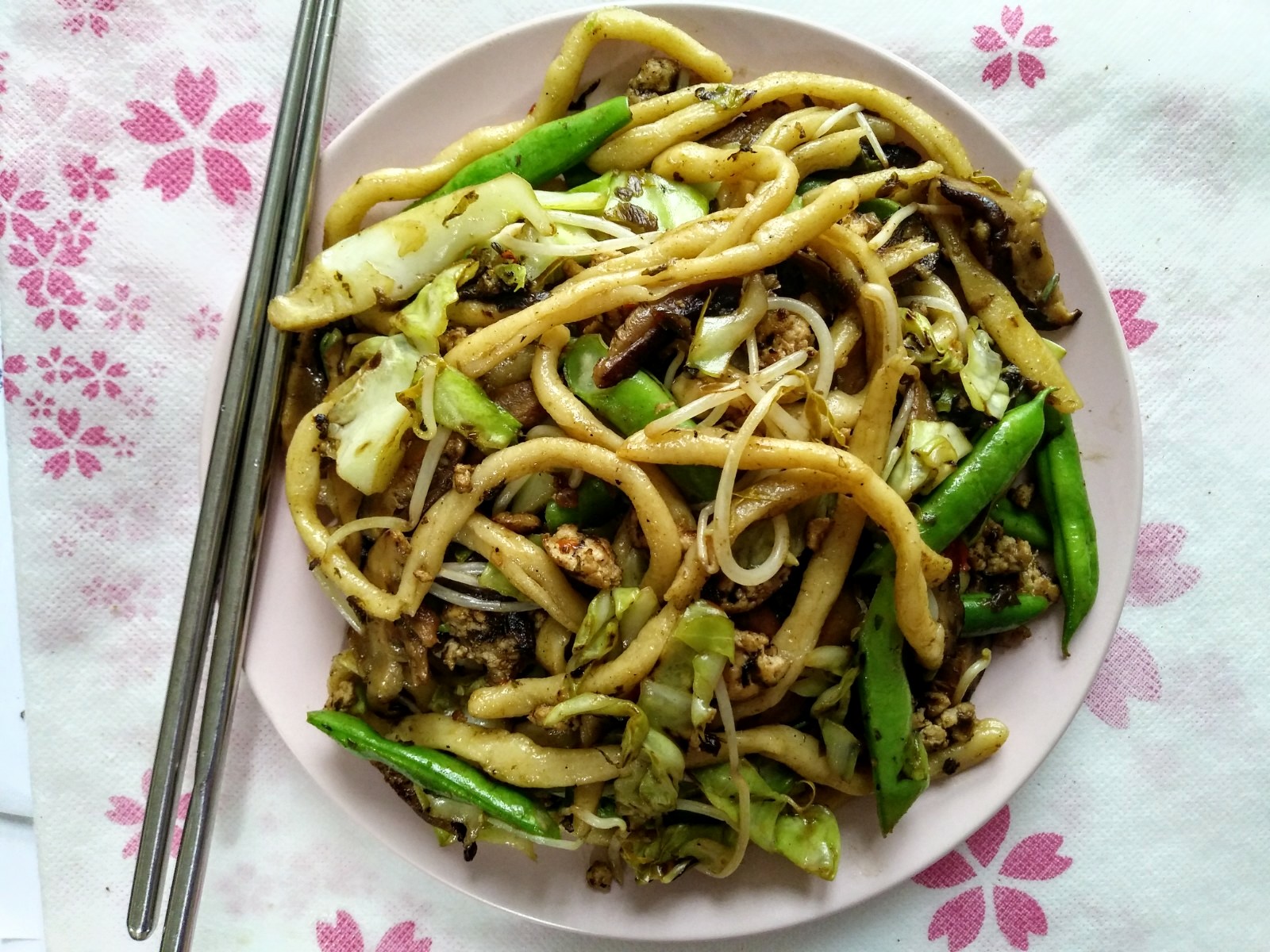 Shanghai fried noodles + green beans with olive pickles minced meat + pastudon (100% semola homemade "udon")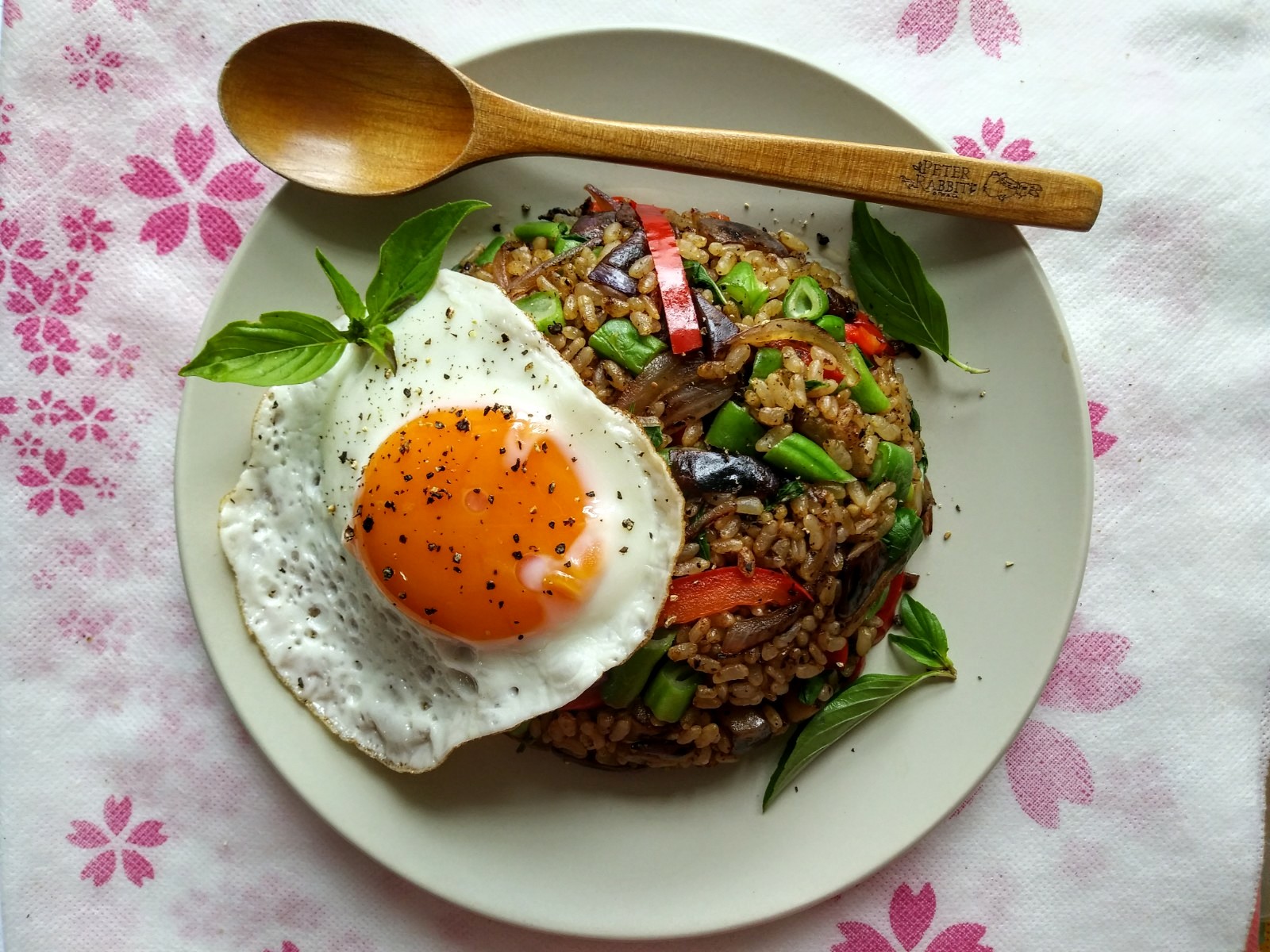 Thai basil fried rice with a fried egg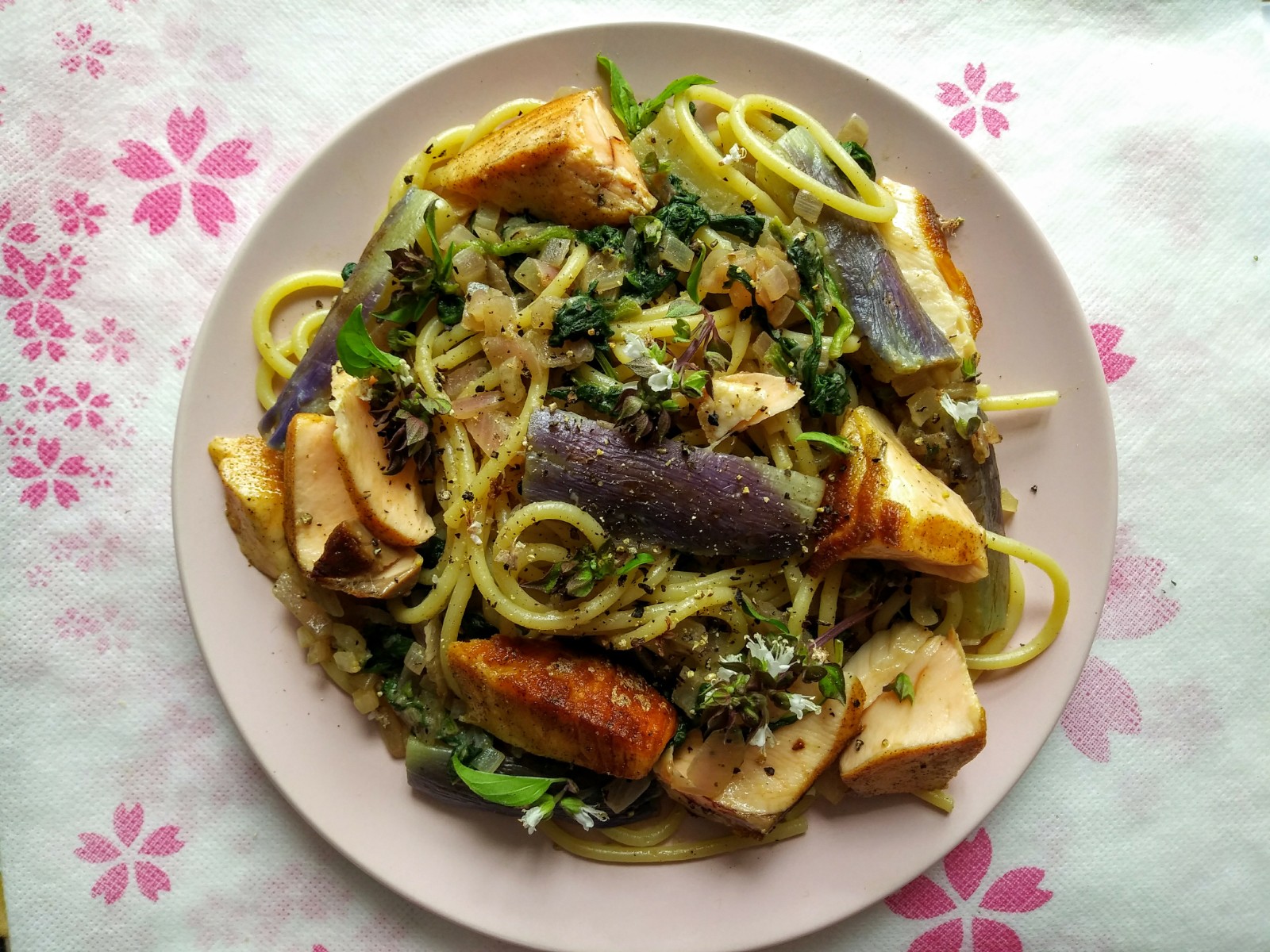 Spaghetti in herb & garlic white wine sauce with eggplants and pan-seared salmon
Thai basil pesto rice vermicelli with pan-grilled baby cuttlefish, bell peppers and toasted cashews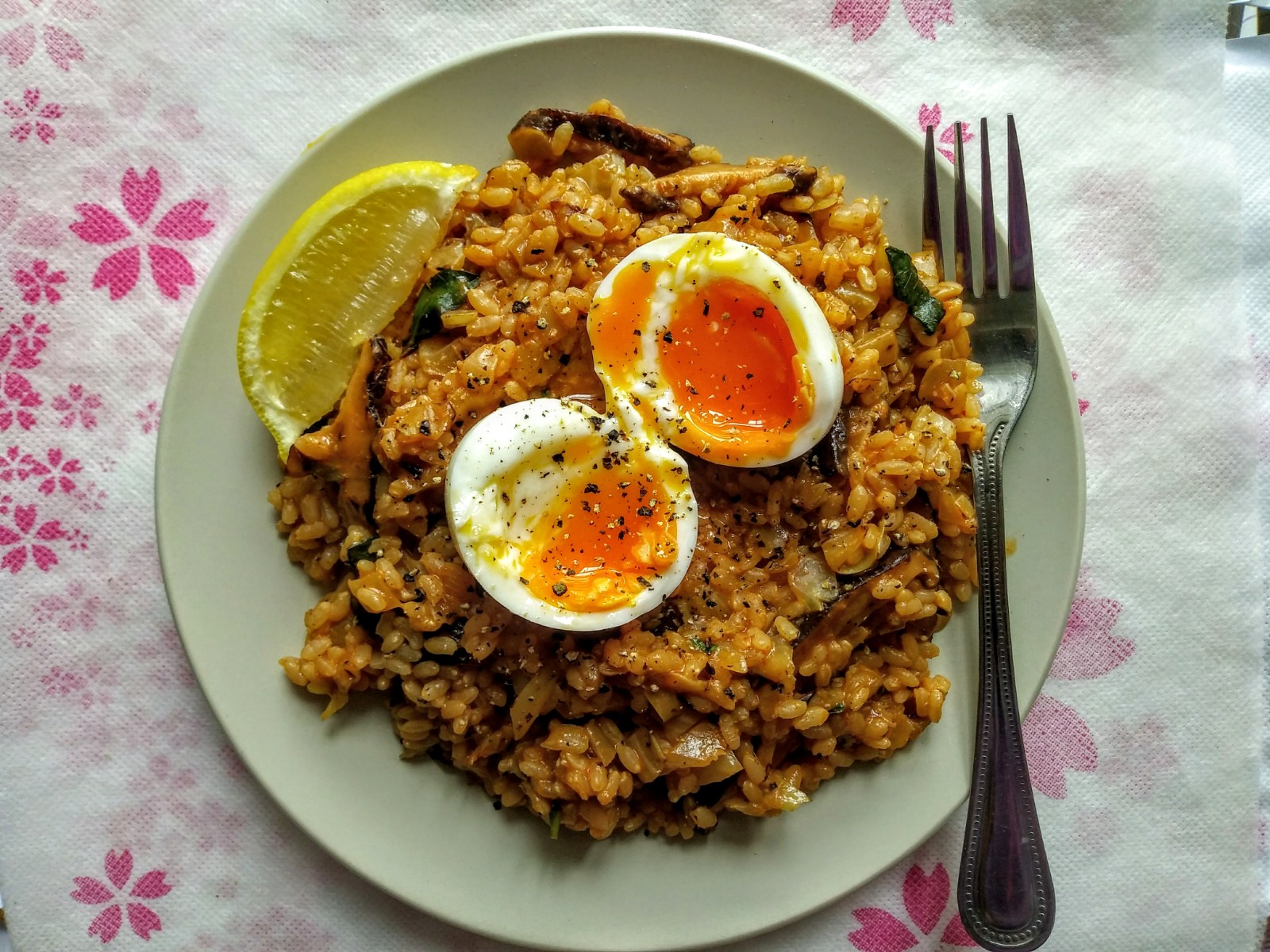 Red curry risotto with shiitake mushrooms and a soft pressure-cooked egg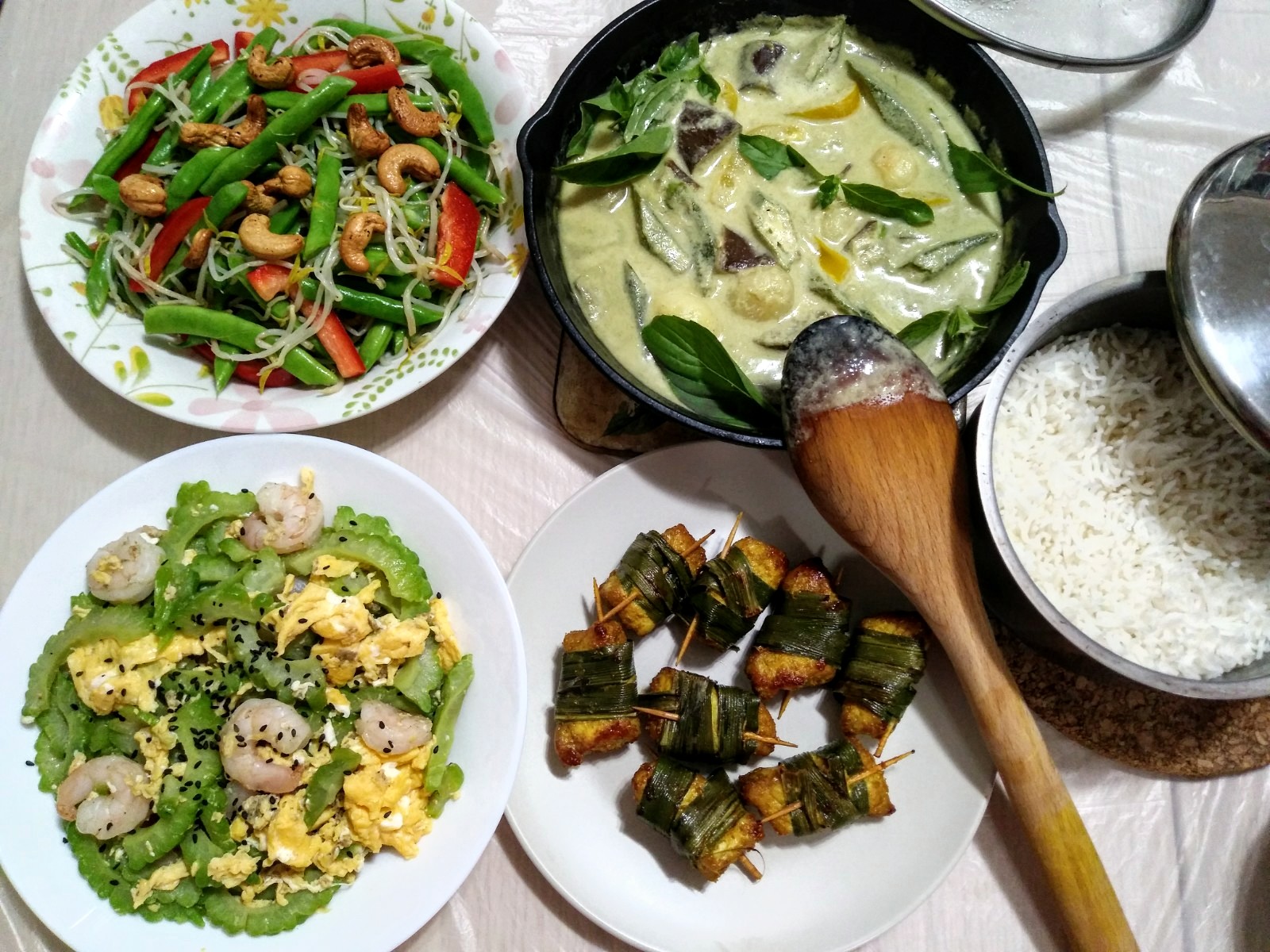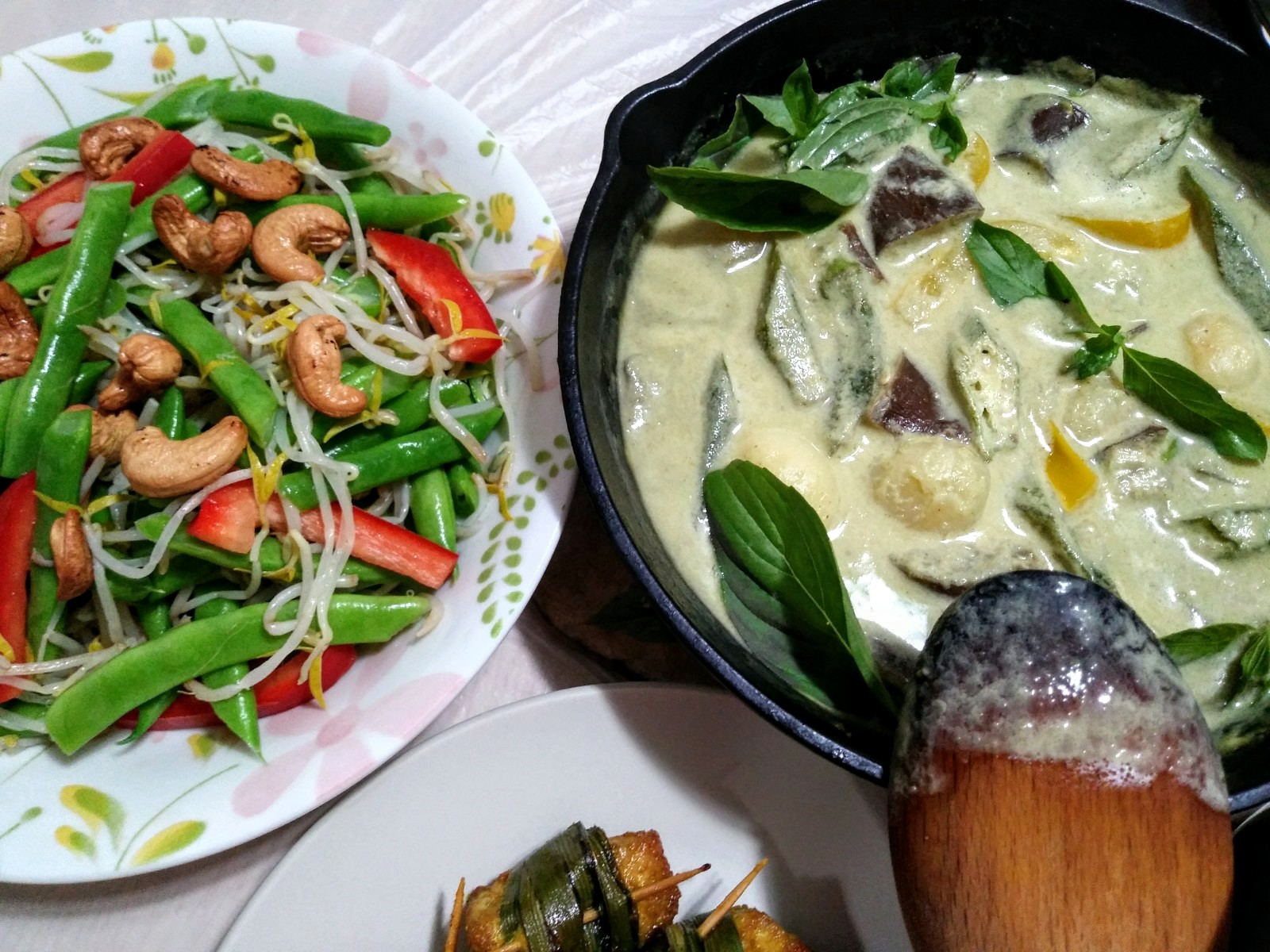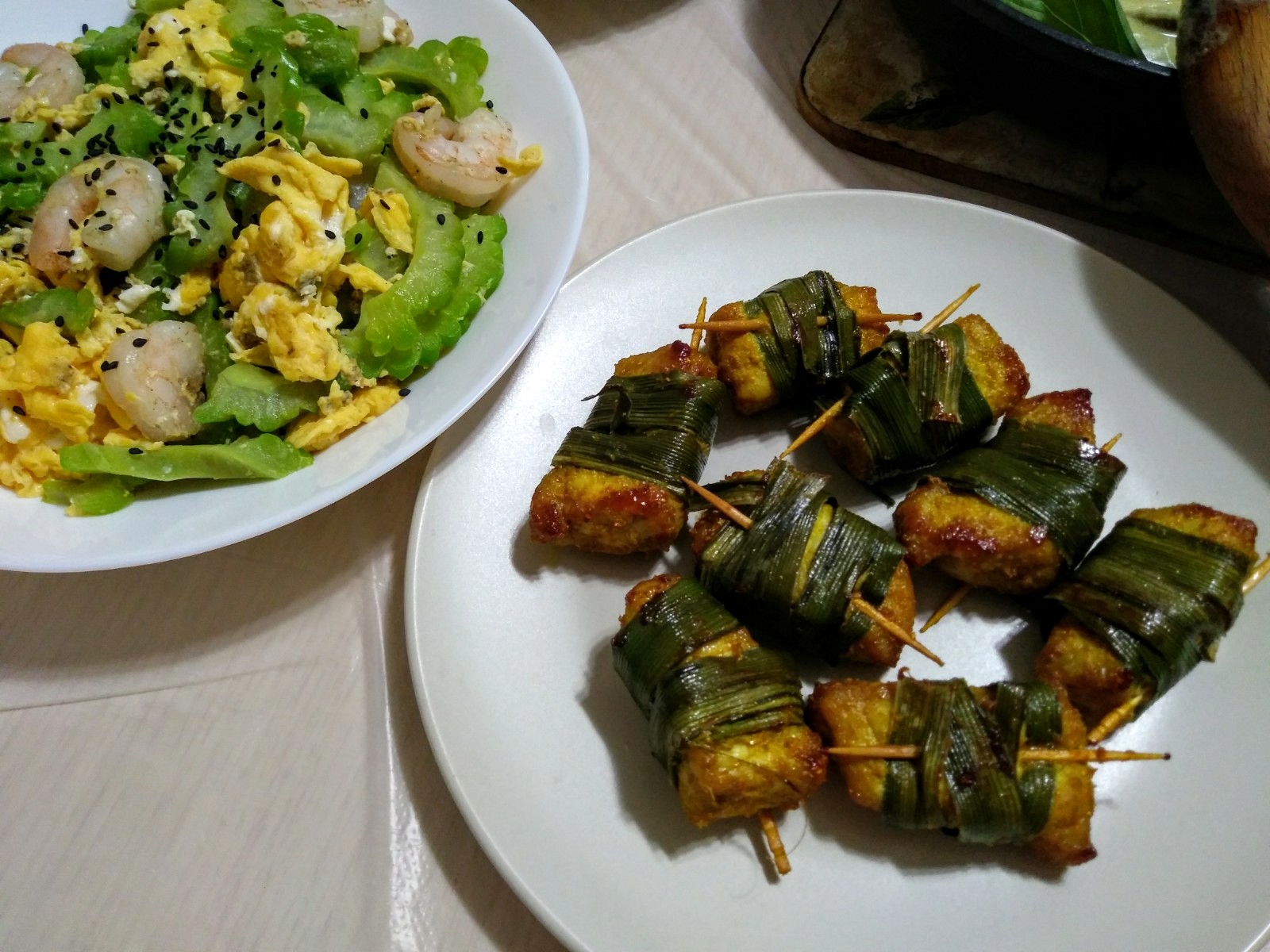 Mixed veggies Thai green curry, scrambled eggs with shrimps & bitter melon, pandan leaf wrapped pork loin, sweet & sour green bean, bean sprout & red pepper salad with toasted cashews, and served with plain white basmati rice