January 31, 2019 - 4:23am
Potato Onion Sourdough Bagels
Hello TFLers! I've been very busy this early in 2019, I almost have no time to post and check TFL. I'm glad I had a little time to post this. I baked this early this January but I'm only posting it now because, you know, teachers have a lot of paperwork aside from actual classroom teaching.

This bread was inspired by NYC.This is a remake of my Potato Onion Sourdough "Bagel-Crust" Squares but with minor differences; the inspiration came from Knishes which are also very famous in NY. In addition to baking it in an oven, I used sauteed onions instead of dehydrated onions which is how filling for knishes is commonly done.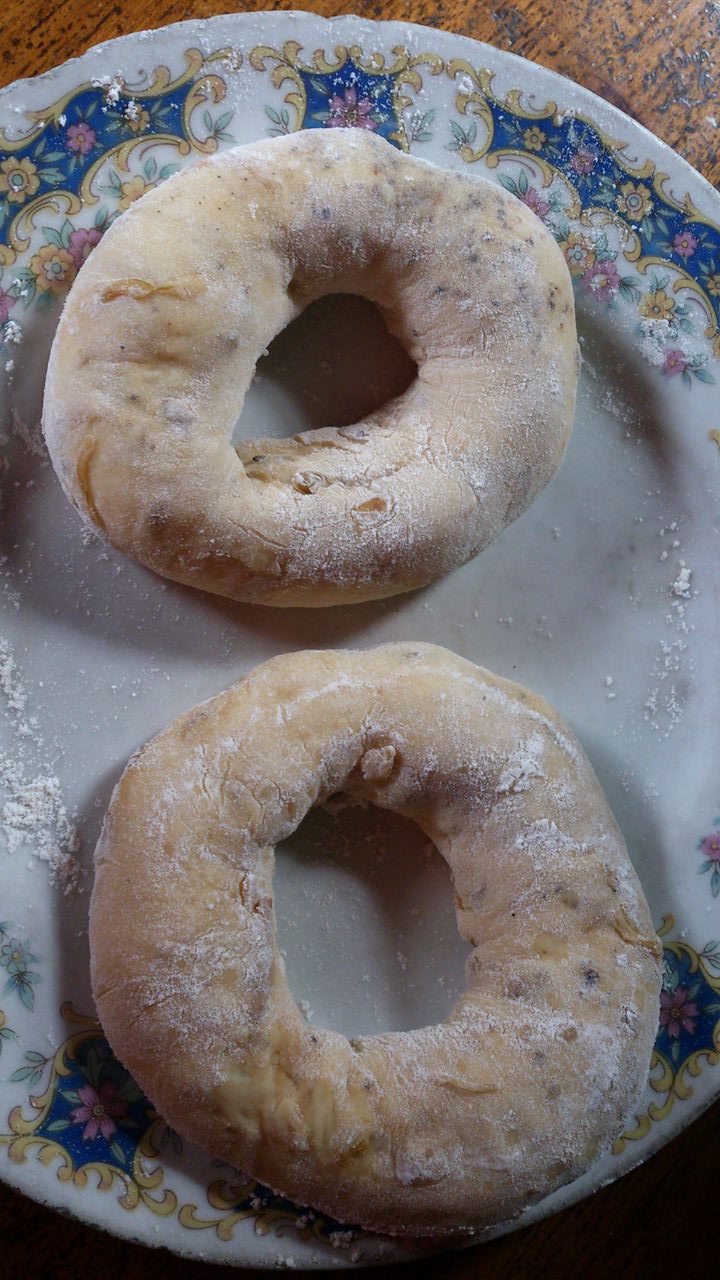 I also added lots of freshly ground black pepper. Potato, onion, pepper; you know it's going to be delicious. It was so fragrant from the pepper.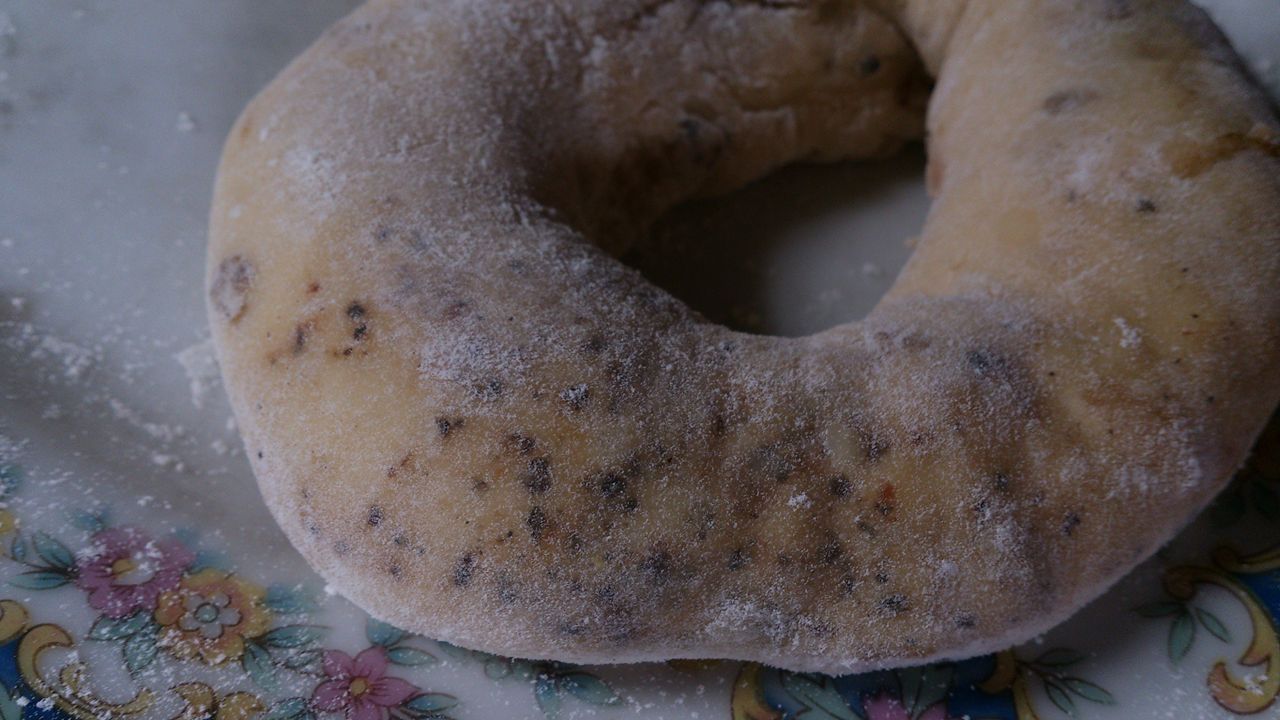 Black pepper here as it clumped in one area of the raw bagel. I love how it looks.

I dunked half of them in black sesame seeds on both sides after boiling because I love a bagel with sesame like last time and its look.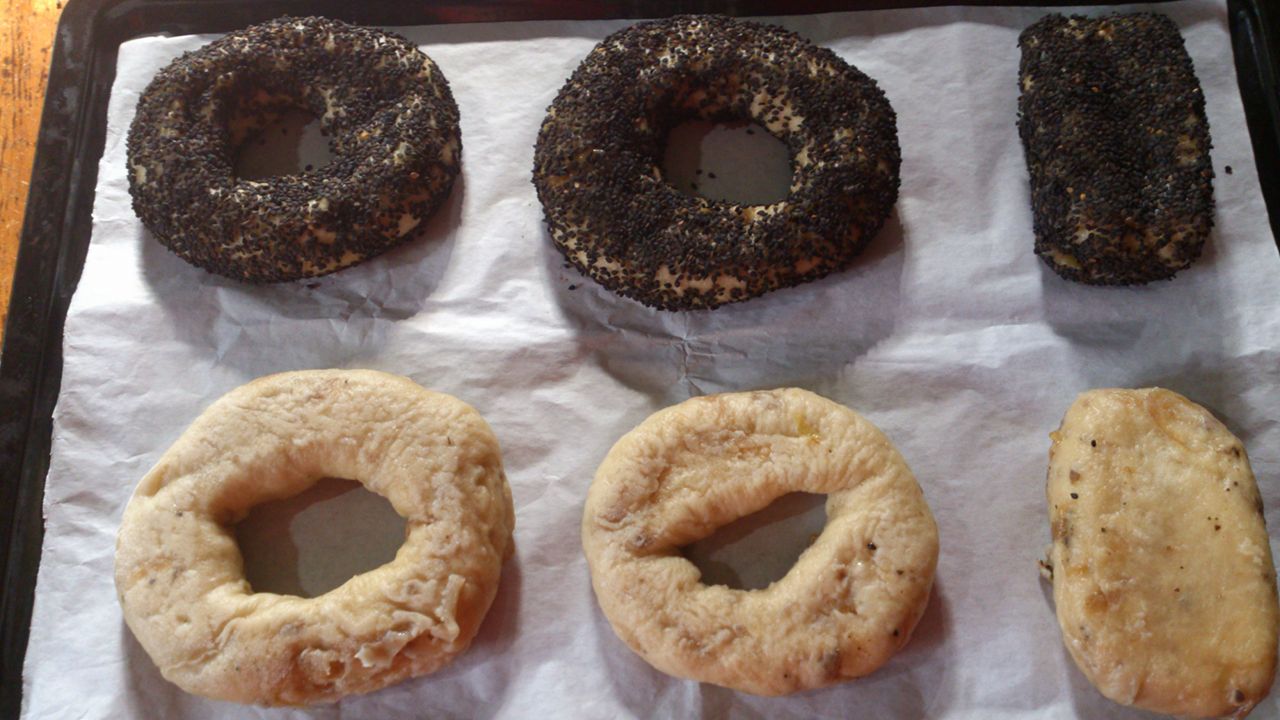 I cut some into "squares"  just like last time because I just can't enough of it. :)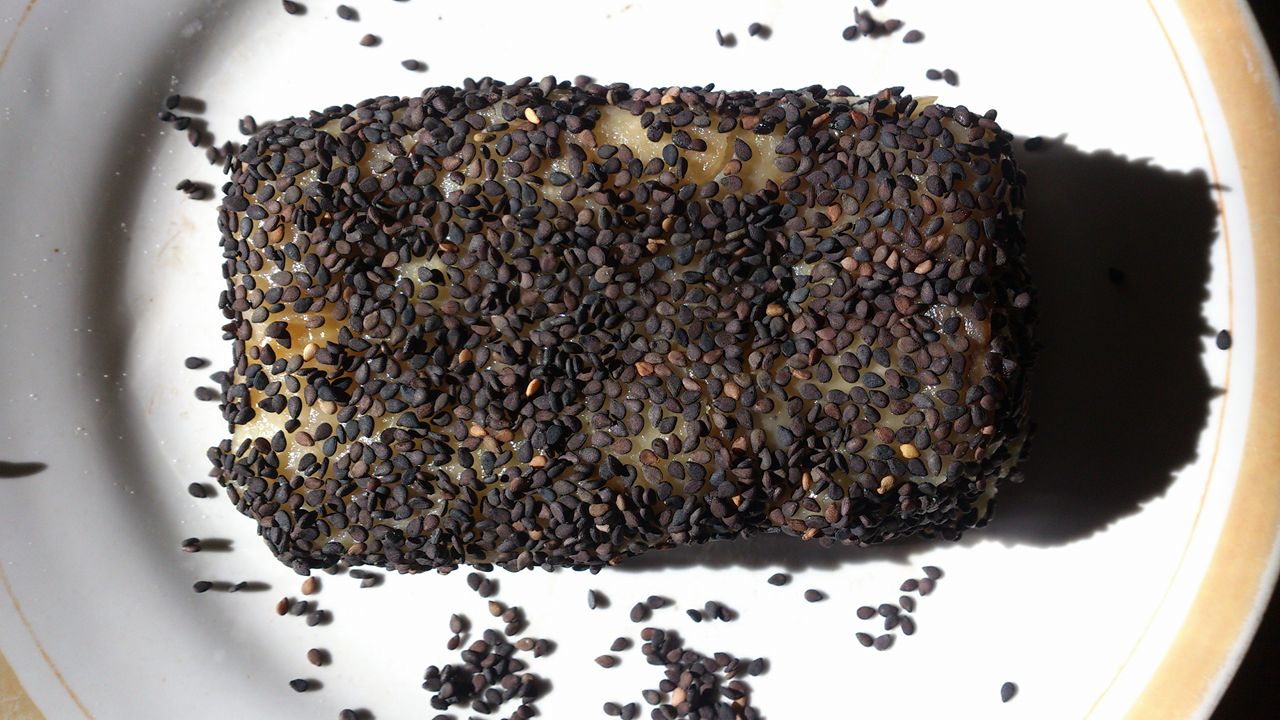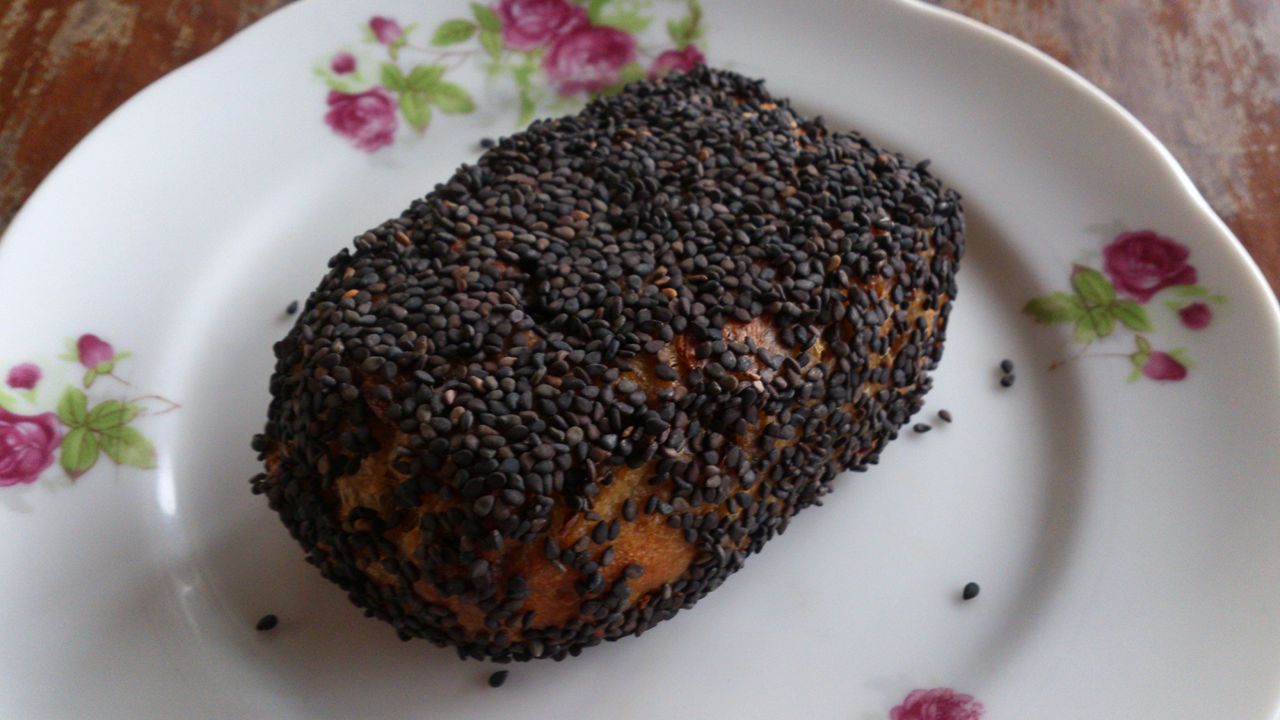 The ones without seeds stuck to the parchment paper. What if I want to make plain ones? Anyone who knows how to deal with this? 

The crumb. Potato really makes a huge difference.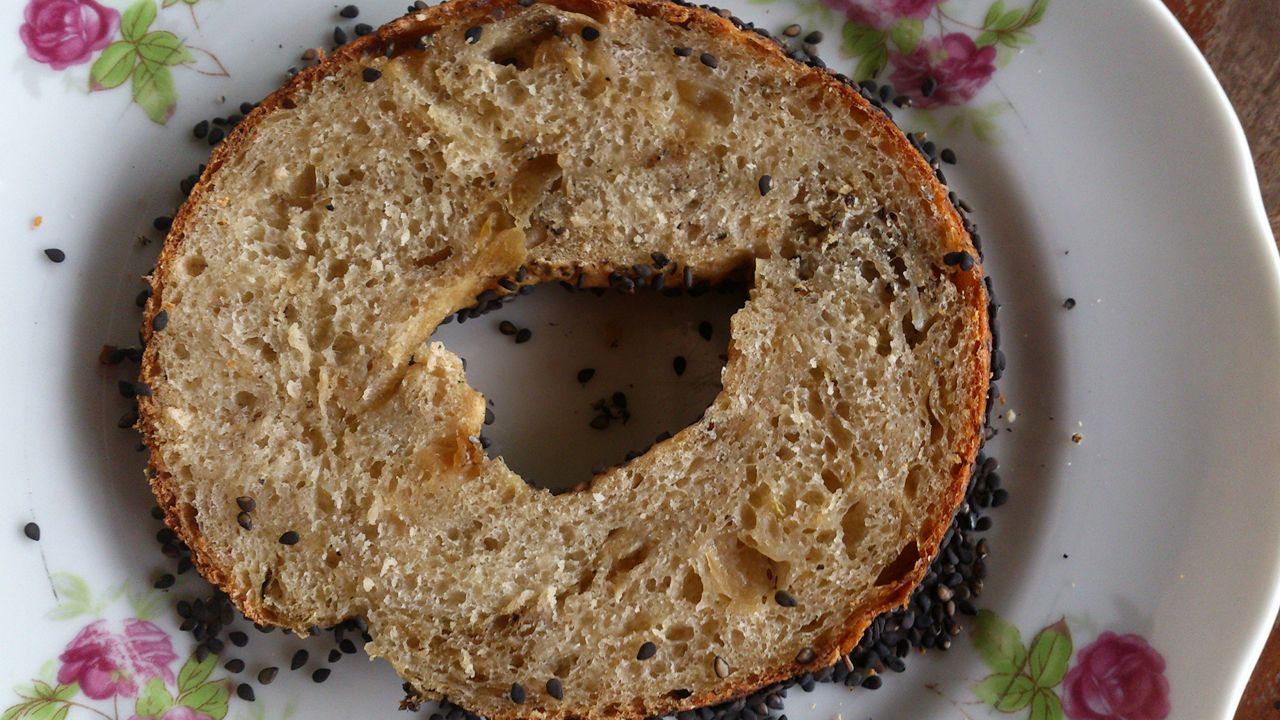 Eat with a thick schmear of cream cheese.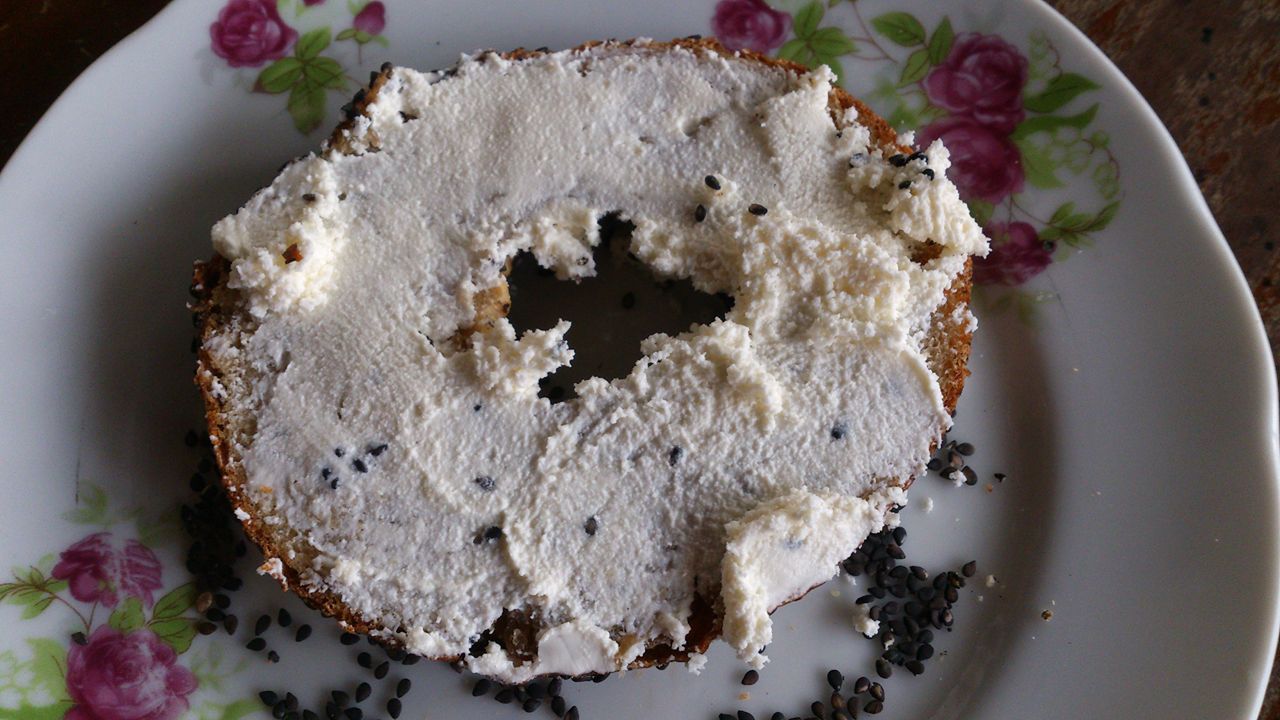 My "schmearing skills" are not on point so it was not thick. No problem, dunk every bite in extra cream cheese!

Pardon the messy look of the following pictures. Cream cheese almost everywhere. :)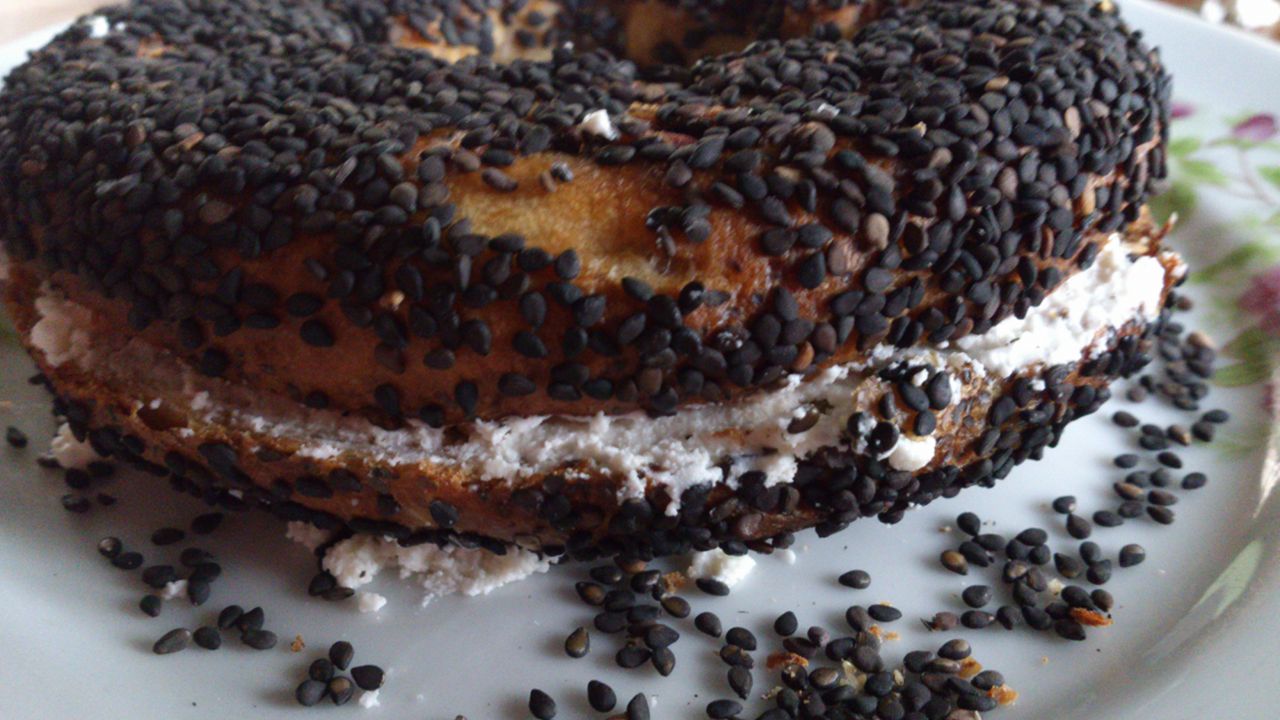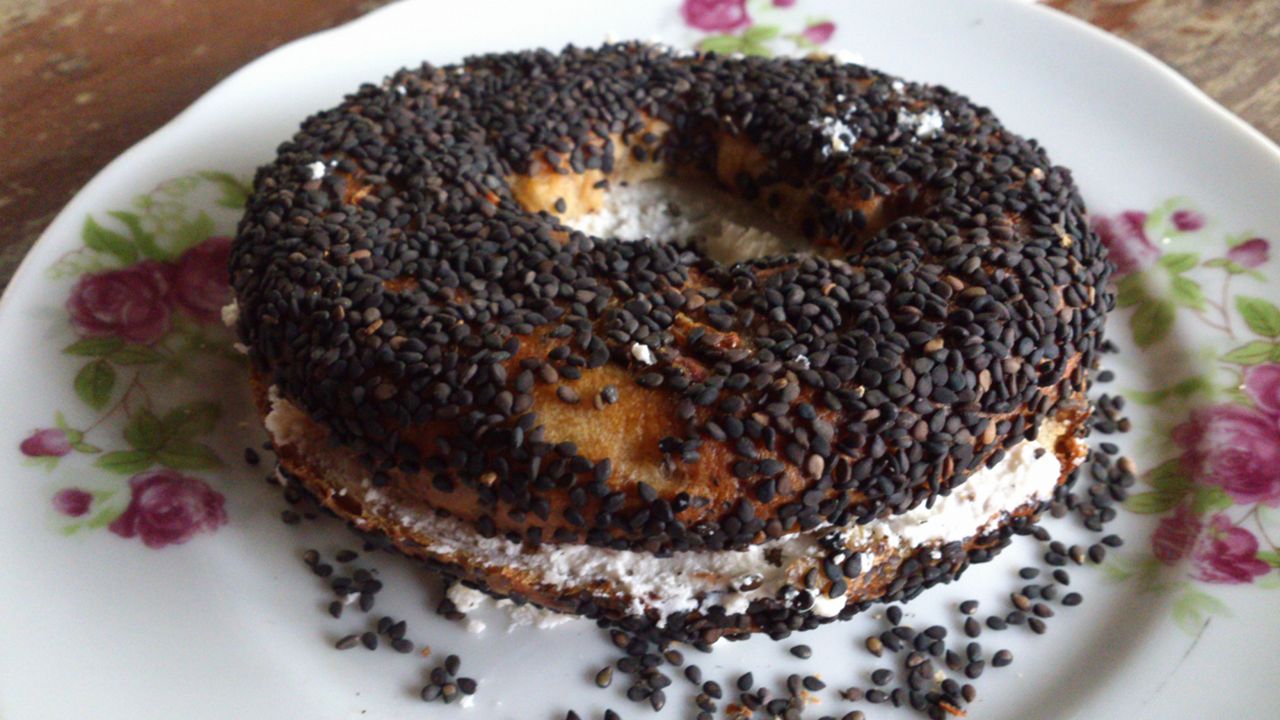 The crust was crispy and a little delicate that only boiled bagels can have. The crumb was softer than a plain bagel but chewier and tighter than my previous version. If you look at the crumb on my previous post you can see that it was a lot more open and softer, it was also moister probably due to the shape. The flavor was almost the same as I remember, like a good pizza with tang from the sourdough and sweetness from the sauteed onions but I like this one more because of the heat and fragrance of the black pepper. Really really good with the cream cheese!

-----------------------------------------------------------------------------------------------------------------------------------------------------------

I also made some wickedly good Chocolate Chip Cookies just like how a famous bakery in New York does it: gigantic and half-baked. It told you, I'm bringing a taste of NYC in our home. I used the best chocolate I can find because it is half the cookie. It's my first time to make cookies and I did not expect they would be that good.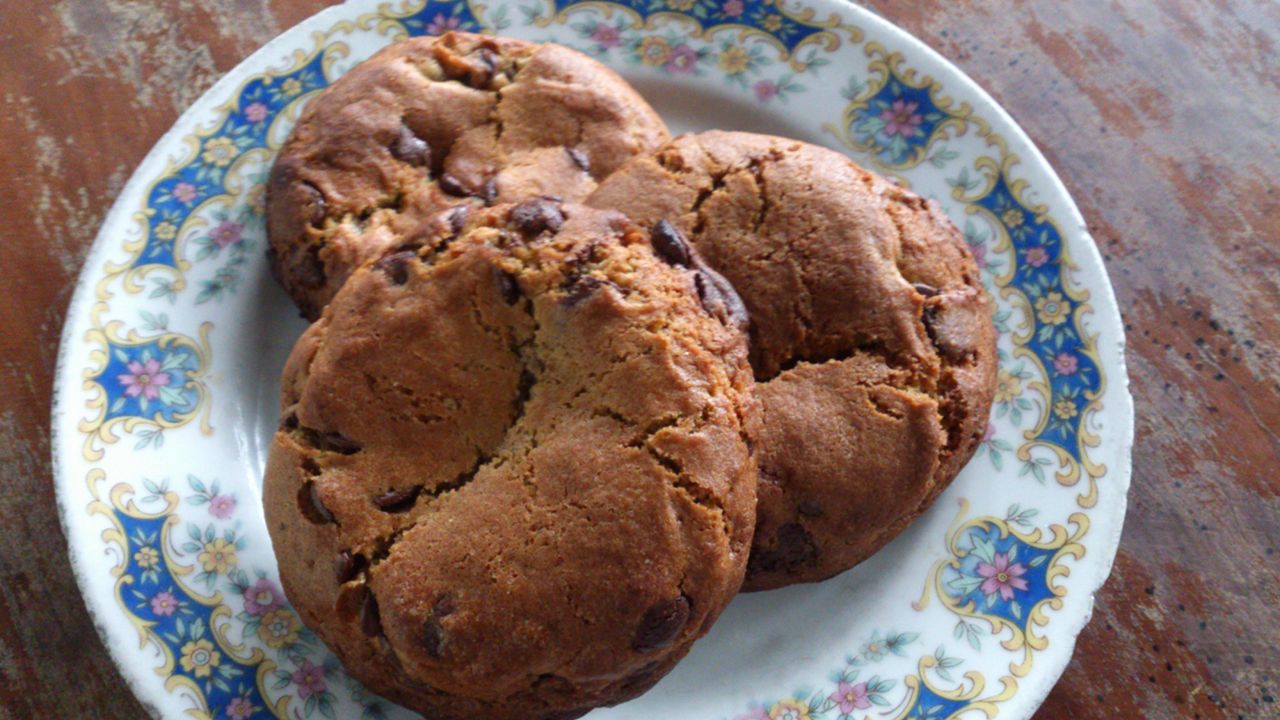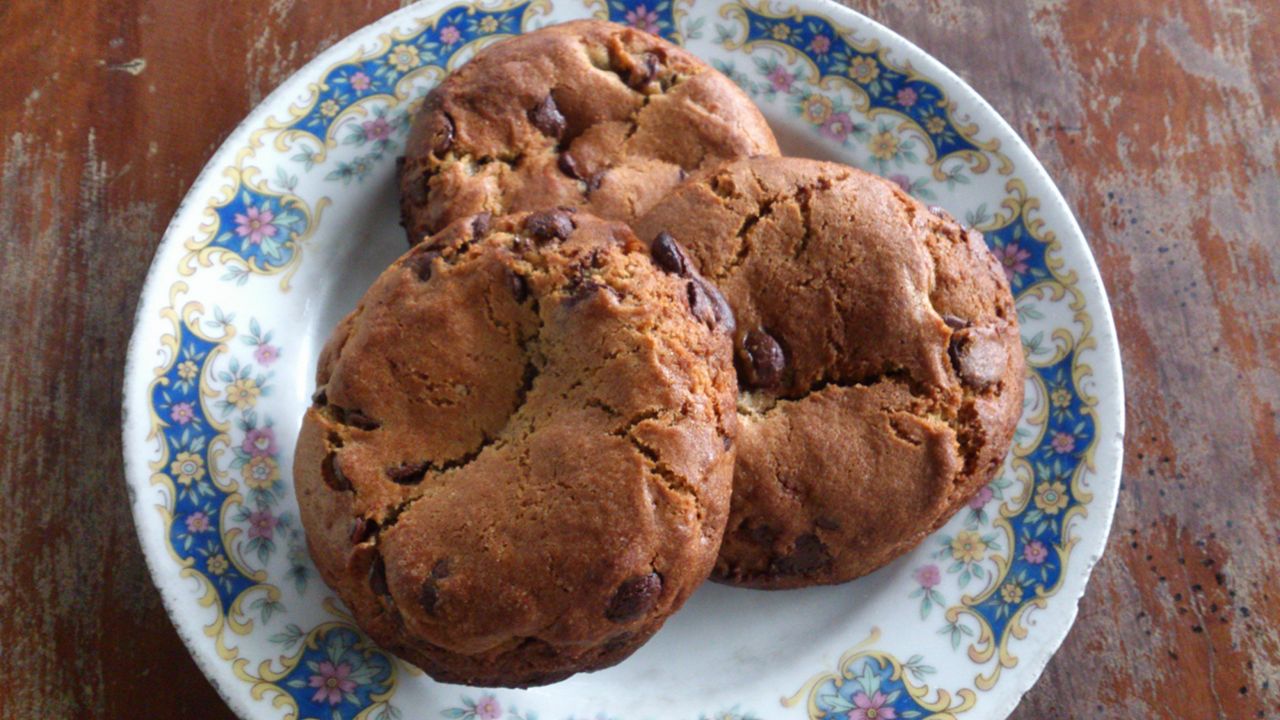 How huge are they? They're as big as or even a touch bigger than my palm.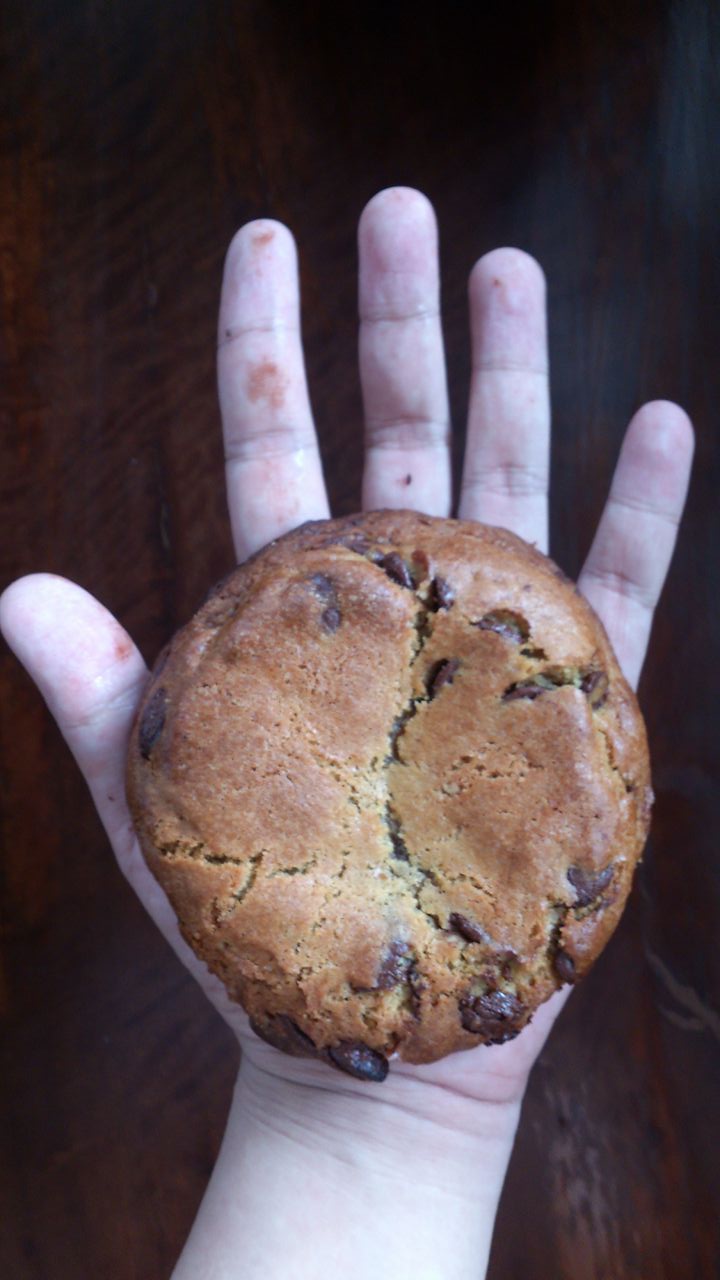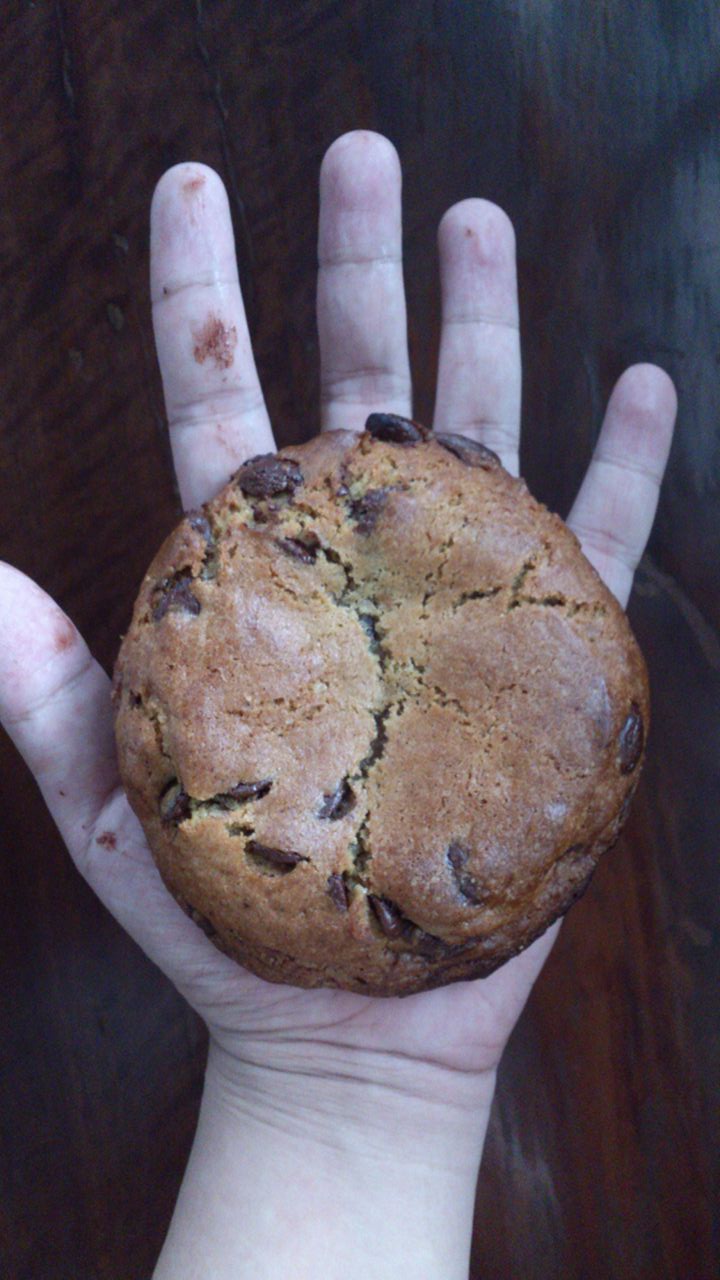 Look at the melty pockets of chocolate amidst the half baked dough with 3 perfect layers; a crispy craggly outer layer, a chewy middle layer; and a thick soft gooey center. Sorry if it was out of focus. I was in a hurry because I can't wait to eat it. :)




Perfect with a cold glass of milk. Enjoy!