September 11, 2018 - 2:08pm
Baking Abel's Baguette au Levain
Like Ulysses to the Sirens.  Like rodents to the Pied Piper, like Cupid's arrow to the heart, and like Springboks to Spring Break - or at least to the watering hole on the Savannah. Abel Sierra posted his version of Baguette au Levain a few days ago.  Lovely, and that might have been that!  Except that in response to Old Baker's comment stating that he would try it, Abel's reply was "Maybe it's difficult to get this result at home. For better results, always work with professional tools."
Well, if you know anything about me, then you know that I took it as a personal challenge, dropped my current project, and found myself on a mission.
Following Abel's lead, this is a 75% double hydration (bassinage) dough using an assumed 100% hydration AP flour levain.  Formatting the formula in my BBGA worksheet the calculated pre-fermented flour came to 9.1%.  Without the prescribed fresh yeast I employed IDY instead, and found a cobwebbed container of Diastatic Malt.  Damn the torpedos if the Malt is expired, but in it went.
Upon shaping, the dough was quite slack but manageable, and again, another dough that is so soft to the touch that it just about rolls itself out.  One technique that Abel references is to retard the shaped baguettes seam side up, something that was a nascent experience for me having never done that before.
Scaled to 1500g I had enough dough to make 4 baguettes at ~370g, the dough before and after shaping was cumulatively ~15 hours under retard.  Baked at 470dF, 13 minutes under steam, 11 minutes after steam was released, and 3 minutes of venting.
The crust is incredibly crisp and the flavor is soft and sweet.  My crumb is not quite as open as Abel's, but nothing to be ashamed about, that's for sure.
If you are in the mood for an all white flour pain au levain, this is another in the growing list of baguettes worth trying.
And so my baguettes were baked, my itch was scratched, my curiosity was coddled.  And I am happily reporting that I found no greater challenge to baking these than with any other double hydration dough.  So you too can do it!
couched seam side up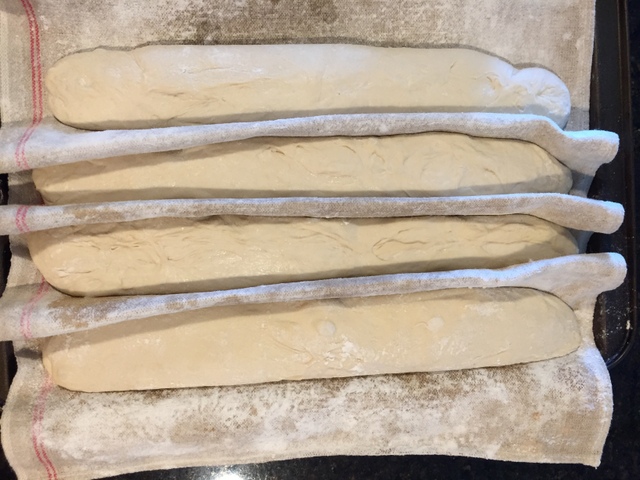 Steam released, baguettes rotated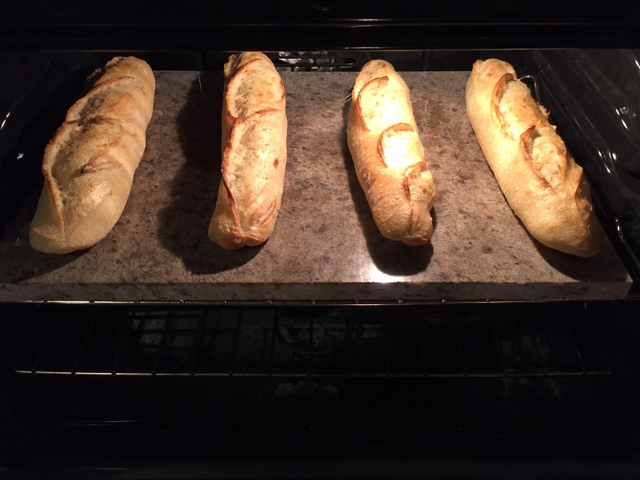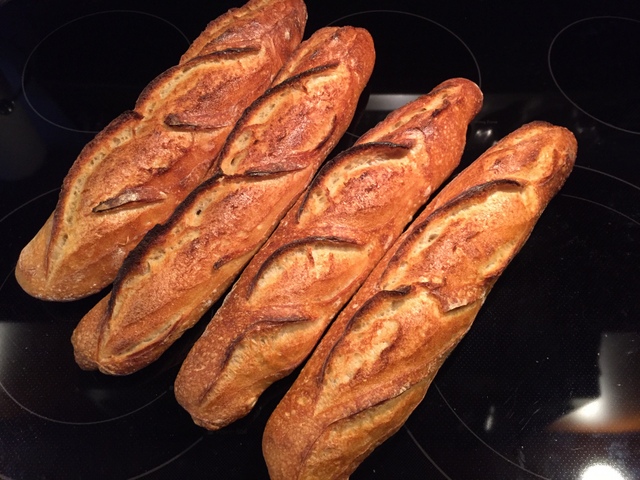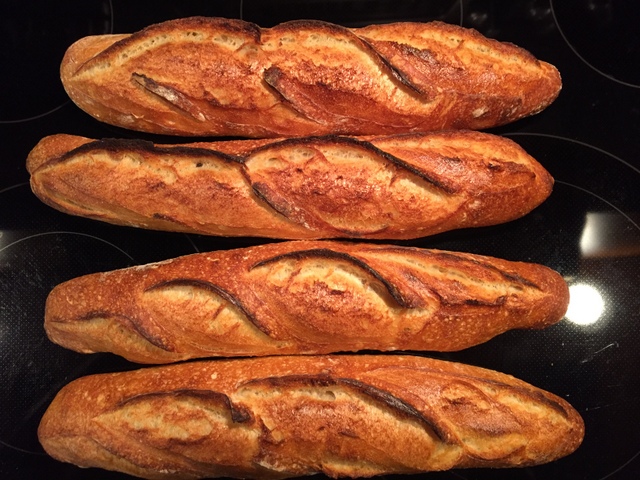 alan