August 13, 2018 - 10:52am
Two levain- SD and Banana YW , Fig Pecan Banana Rye Bread
A mouthful of a title...a la Dab !  This bread has evolved considerably from my initial bakes based on Shaio Ping's posts. The only liquid in the bake is the banana puree. I use two levains just because. I add figs and pecans..well just because. 
The dough is pretty sticky but after letting it set a couple hours  and doing a couple lamination folds it was like silk. I only did a short bulk ferment in a warm oven as it was getting late and I had started the whole process too late in the day. I divided and simply plopped them in  lightly floured bannetons. Covered and placed in the fridge. Baked cold from the fridge with very little discernible rise overnight.  
The bloom of the crust is typical of my loaves with the free-style non-shaping. The first loaf got a little darker than I would have liked but I modified the temp and loaf 2 is perfect. The Fragrance is almost more than a body can stand what with the YW, bananas and the caramel of the figs. I used a LOT of soaked/chopped figs. 
500g levain---250g rye levain from NMNF stash at 75% hydration and 250g white KA and Banana YW at 100% hydration
440g unbleached KA
90g fresh milled rye
110g Red Fife
500g very very ripe banana puree
70g date syrup ( you will find this in middle eastern stores)
70g yogurt
18g salt
lots of hydrated chopped figs ( I have used dates and raisins also) and pecans
Mix all but salt. Let set. Add salt by sprinkling on top of dough and spraying liberally with water. Cover.
Let this all set at least one hour. Flour your board and your hands and pat out the dough to a very flat rectangle. Gently lift and stretch and fold like apple strudel. Do this again and then place in PAM sprayed bucket. Leave for 30 min and repeat. If dough not holding shape do a third time. should be very silky and extensible. Distribute the dried fruit and nuts on the last lamination. 
Place in warm spot and leave an hour or so till beginning to puff up...about 25% rise . Remove and shape. Place in fridge. After 12-15hr. Preheat pan and bake. I use my Granite roaster and only do a short pre-heat at 500 just till oven is ready. Bake 10 min 500, 10min 475 ( modified for second bake and used 465) remove lid and bake 20-30 min more till 210 or so. 
Will post crumb tomorrow if I can wait that long !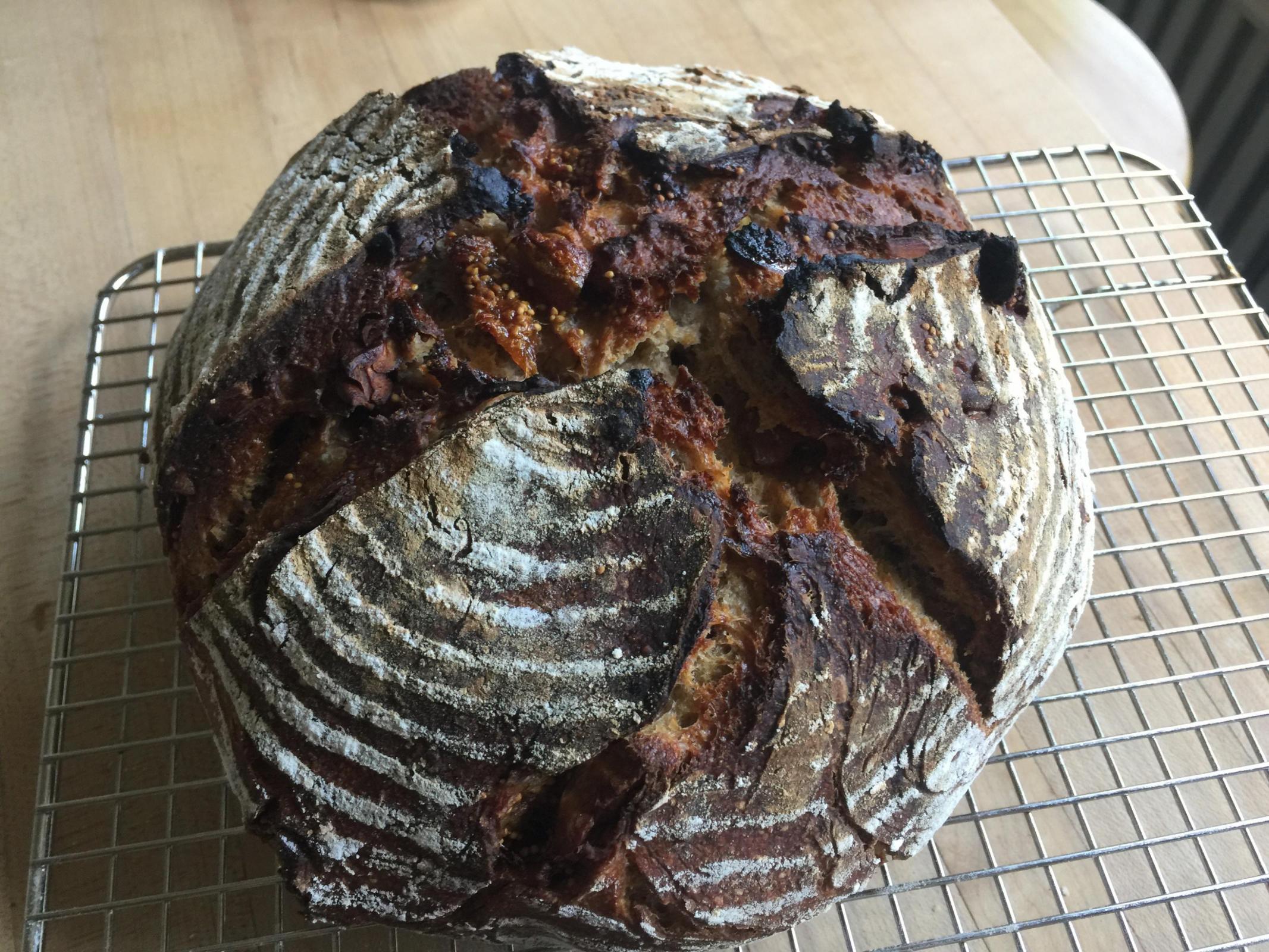 crumb:tastes lie the creamiest fig bread pudding ever! with a caramelized crust its almost too good!