A Trio of High Extraction Loaves
It's been abnormally hot in Deepest Lancashire (as with most of the UK) these past couple of months. So much so that my normal 900g batardes are going stale before we finish them. The obvious solution was to make something a bit smaller, so I split my usual dough quantity, based on 1kg flour, into three loaves, each around 670g unbaked weight.
I'm also currently exploring retarded bulk fermentation, so I incorporated that into this bake.
Flour mix
5% Aldi whole grain rye passed through a fine kitchen sieve
32% Marriages white wholewheat sieved the same
32% Mockmilled Priors wholewheat grain through a #40 sieve
31% Waitrose strong Canadian BF
Levain
22.5% young levain at 56% hydration, 30% of flour is Rubaud wholegrain mix
Other
True hydration 75%
Salt 1.8%
Process
Levain made in a 2 1/2 stage build at e5, e11, m8. The half build is a small top up one in the morning 1:0.21
At m11, autolyse whole grain flours in all water for 15mins. in mixer
Add BF, mix in, stand 10mins
Add levain, mix in, stand 10mins
Add salt, mix in
Mix on high speed 2mins 15secs
Turn out of the mixer into a bowl, dough temp 27C
Bulk ferment at ambient (about 24C) for 1 1/2 hrs with in bowl S&F at 45mins and 90mins
Transfer to fridge for retarded bulk
Out of fridge next day (22 elapsed hours)
Rest 1hr at ambient
Preshape to 3 rounds, BR 20mins
Shape to 2 boules, 1 bat
FP in woodpulp brotforms for 1hr 25min
Boules baked with steam for 10mins, bat baked afterwards with a metal cover over the loaf on the bakestone
Thoughts
I was pretty pleased with these loaves - they had a great flavour, good loft, open enough crumb for me and kept well.
I definitely think that the retarded bulk gives a good, complex flavour to the loaves - as soon as you turn the dough piece out of the retarding bowl onto the dough board you can smell some good interesting aromas.
A nice fresh levain:
The loaves: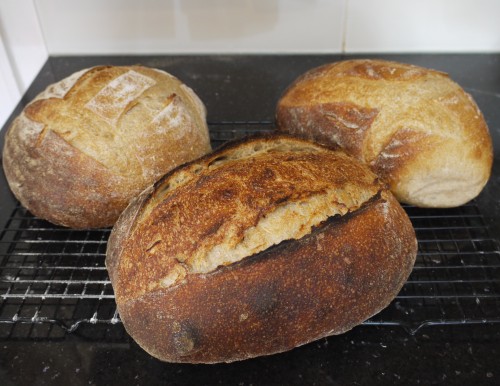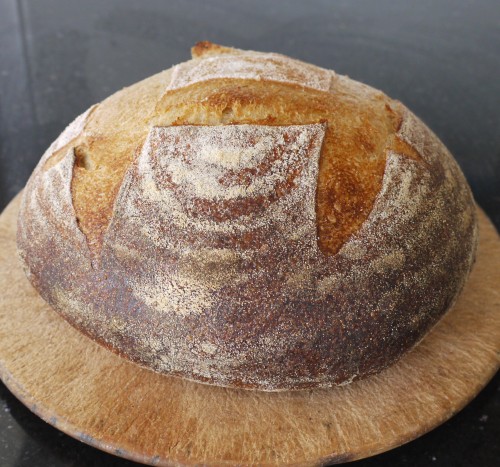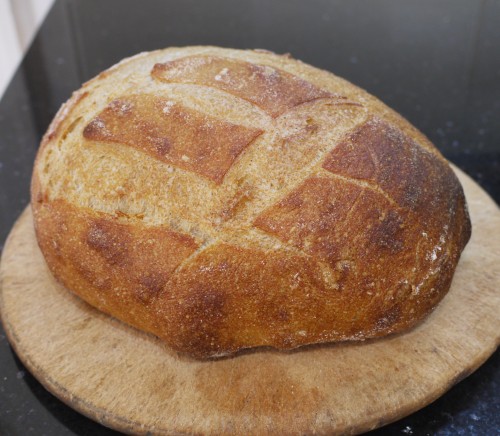 And the crumb shots: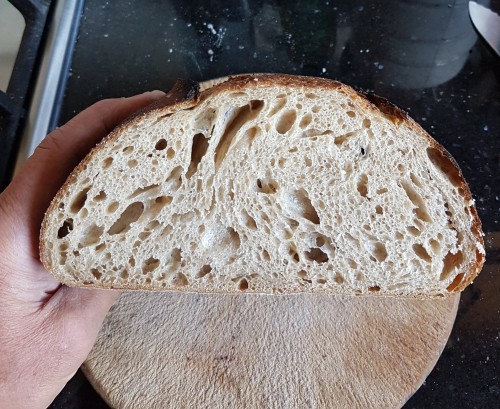 Lance