100% fresh milled whole wheat blueberry muffins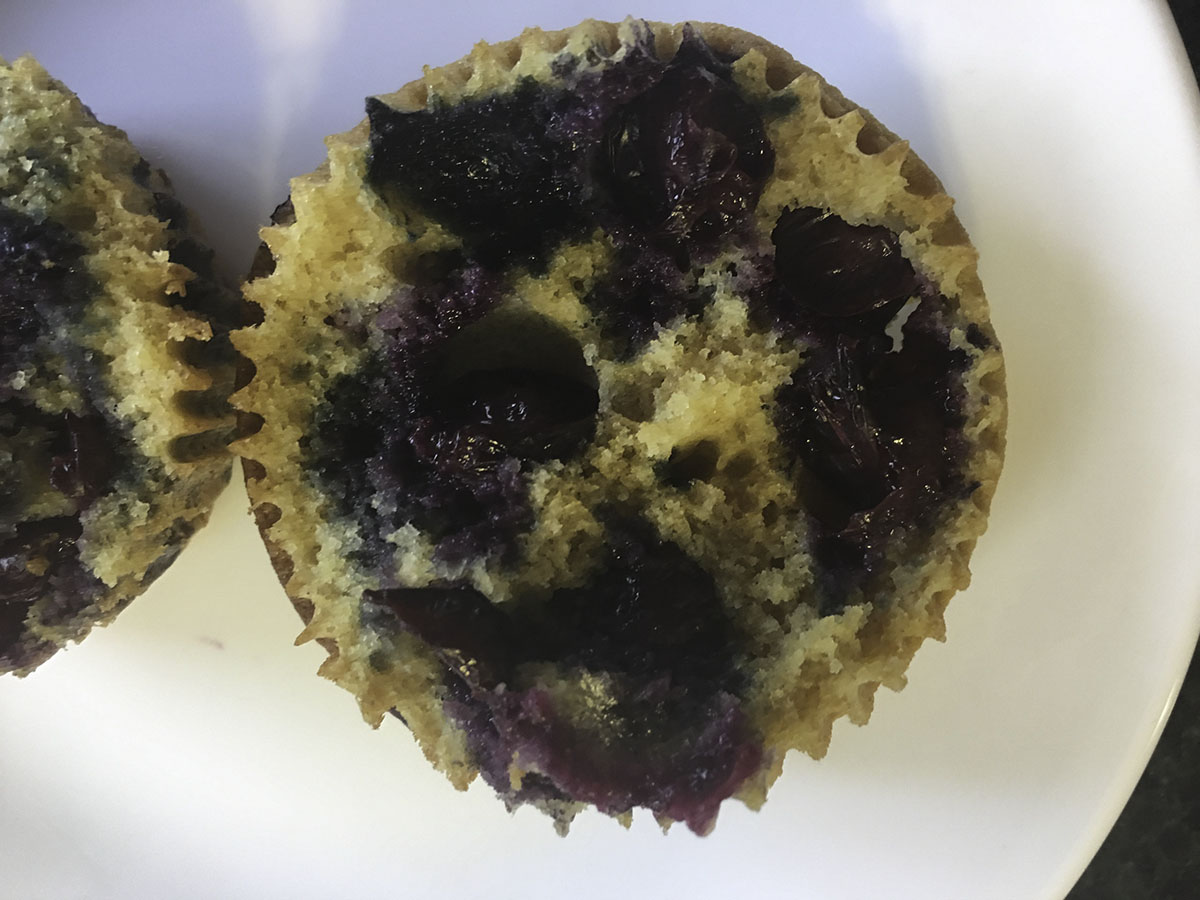 Quick breads are so much easier!
We don't eat a ton of sweets here, but we really enjoy blueberry muffins when fresh, local blueberries are plentiful at the farmer's market and the food co-op.
I've worked out a new recipe since getting my Mockmill, using 100% fresh-milled White Sonora wheat berries.
85 g butter
128 g sugar
2 large eggs
241 g White Sonora wheat berries, ground fine (I put them in the freezer for a little while so they'll come out of the mill at close to room temperature)
1 tsp. (3 g) baking powder 
1/2 tsp. (2 g) baking soda
1/4 tsp. (1.5 g) salt
113 g whey
2 tsp. (10 g) vanilla extract
1 pint fresh blueberries, washed, picked over, and drained of as much water as possible
Have ingredients at room temp, butter a little cooler if your room temp is very warm. Mix flour, baking powder, baking soda, and salt. Add the vanilla extract to the whey.
Preheat oven to 375F. Line a 12-cup muffin tin with paper liners.
Cream butter and sugar well; add eggs one at a time, beating well after each addition. Add dry ingredients and beat well. Then add whey and vanilla extract, mixing just until smooth. Gently fold in blueberries. Fill muffin cups 3/4 to almost completely full. 
Bake at 375F for 25-30 minutes, until tops are browning and a toothpick comes out mostly clean (unless it hits a blueberry). Cool in the tin on a rack for 10 minutes, then remove from the tin and cool for an additional 10 minutes before eating.
We think these taste great.
This is an adaptation of a recipe from the King Arthur website (https://www.kingarthurflour.com/recipes/our-favorite-blueberry-muffins-recipe), but I've changed it pretty substantially.
If you don't have whey, buttermilk or yogurt would probably work, although the crumb might not be quite as light and fluffy. If you would rather use milk, eliminate the baking soda and increase the baking powder to 2 tsp. (6 g) and the salt to 1/2 tsp. (3 g).