Heritage Marquis Wheat Field at Dawn
This photo was taken at dawn a few days ago. It is a field of heritage Marquis wheat grown by Cedar Isle Farm. They have carefully nurtured an initial very small seed stock over a number of years and now have enough seed to grow Marquis wheat for a modest commercial harvest.  I saw this photo in their Late Spring Update e-newsletter and wanted to share it with the TFL community if for no other reason than it's a beautiful picture!  Here is the accompanying excerpt from the newsletter: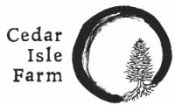 Late Spring Update 2018
    " ...planted our saved seed of heritage Marquis wheat again this spring, and the seedlings are flourishing. Take another look at the photograph (at the top), taken at dawn. Those tiny drops of moisture are not dew (condensation of moisture from the air), but guttation.  When the soil moisture is high, and there is little transpiration from the leaves because daily photosynthesis hasn't yet begun, water can accumulate in the roots, creating a slight root pressure that forces moisture to exude through special glands in the leaves.  Cool, eh?

Happy Spring from all of us at Cedar Isle Farm!

Jim "
Cedar Isle Farm - Organic Grains CSA
3270 Chaplin RoadAgassiz, B.C. V0M 1A2Canada
Copyright © 2018 Cedar Isle Farm - Organic Grains CSA, All rights reserved.