Baking with My First Mill
I seriously can't believe it. There's now a grain mill in my kitchen! Needless to say, I planned a bake with freshly ground flour the day I took it home.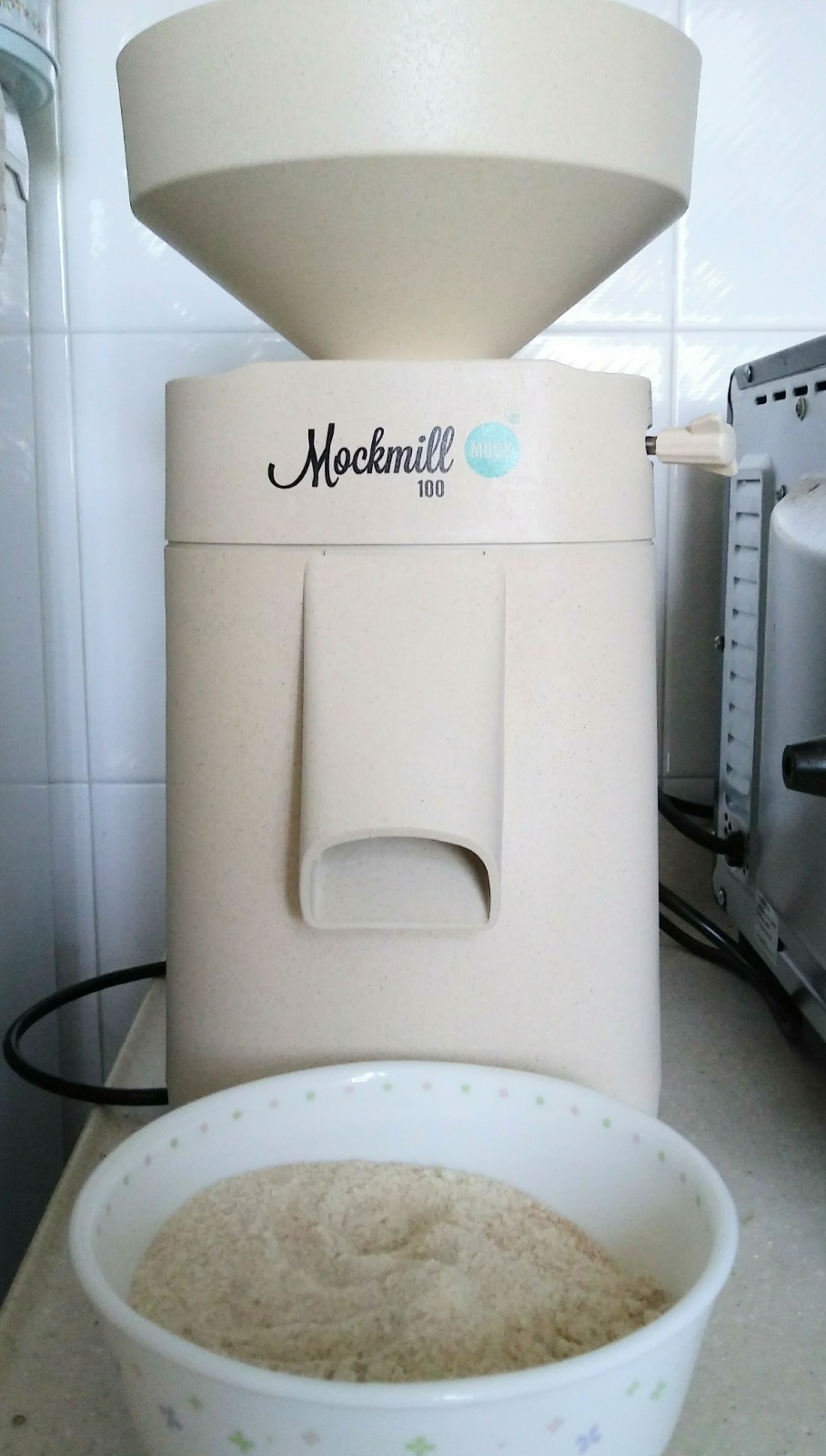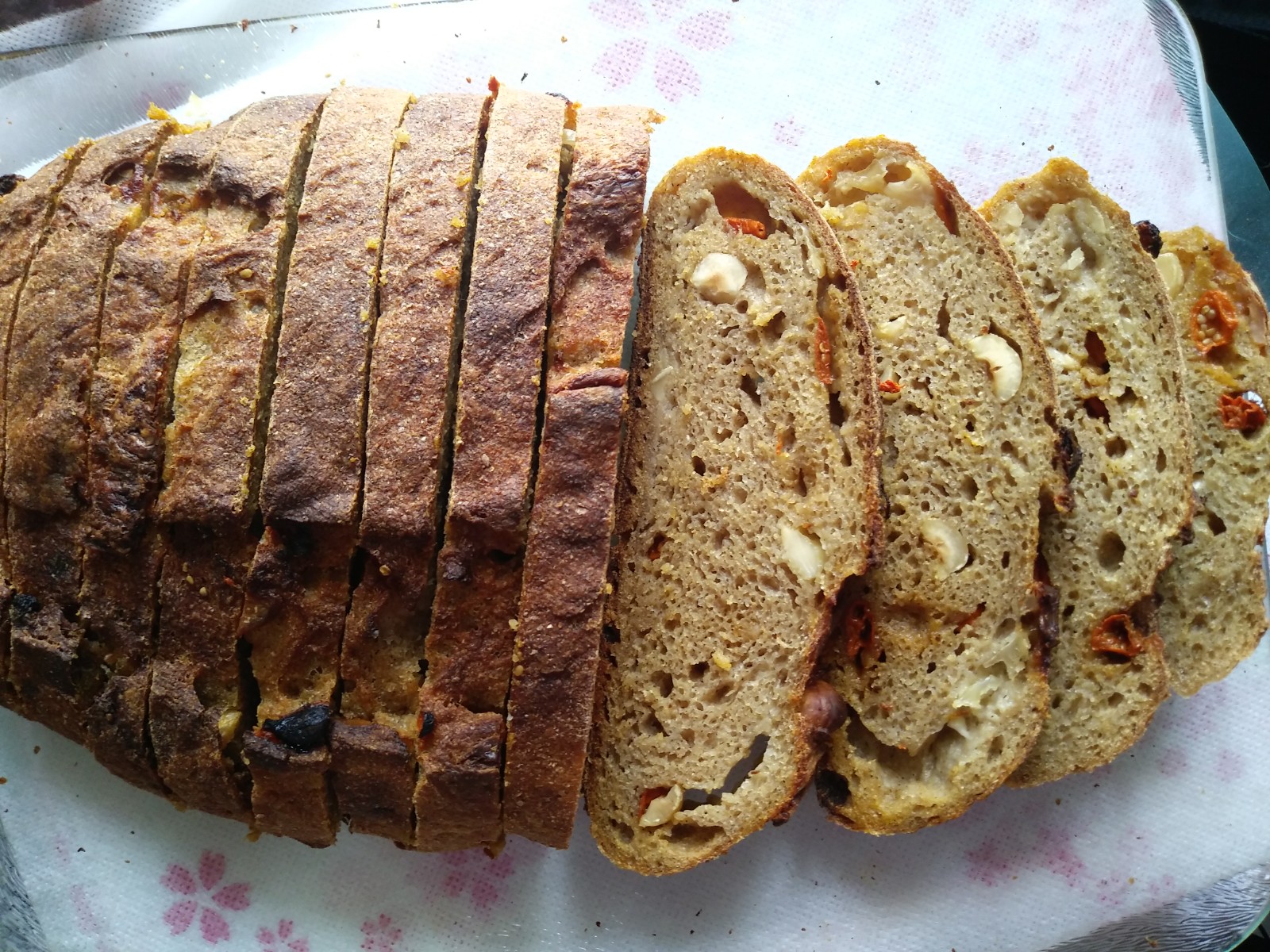 Brie, Hazelnut and Goji Berries Sourdough with White Whole Wheat Flour
Dough flour:
294g      98%       Freshly milled white wheat flour
6g            2%       Buckwheat flour
For leaven:
20g       6.7%       Starter
20g       6.7%       Bran shifted out from dough flour
20g       6.7%       Water
For dough:
280g     93.3%       Dough flour excluding bran for leaven
224g     74.7%       Water
56g       18.7%       Whey
60g         20%        Leaven
13g         4.3%       Powdered Alt Altus
9g              3%       Vital Wheat Gluten
5g           1.7%       Salt
Add-ins:
50g      16.7%       Brie
15g           5%       Toasted hazelnuts
15g           5%       Goji berries
___________
310g      100%      Whole grain
310g      100%      Total hydration
Sift out the coarse bran from the dough flour, reserve 20g for leaven. Soak the rest (I got 16g) in equal amount of whey taken from dough ingredients for a minimum of 4 hours.
Combine all leaven ingredients and let sit until doubled, about 3.5 hours.
Roughly combine all dough ingredients except the soaked bran, salt and leaven. Autolyse for an hour. Knead in the rest of ingredients then let the dough ferment for 8 hours.
Re-hydrate the goji berries in enough warm water. Cube the brie (I left the rind on). Keep refrigerated until needed.
Fold in the add-ins. Stretch and fold the dough for a few times then let the dough rest for 20 minutes. Shape the dough and put in into a banneton. Leave it on the counter for 30 minutes (mine was under-proofed at 20 minutes) before retarding for 10 hours.
Preheat the oven at 250°C/480°F. Remove the dough from the fridge to warm up at room temperature for 20 minutes.
Score the dough and bake at 250°C/480°F with steam for 15 minutes then without steam for 25 minutes more or until the internal temperature reaches a minimum of 205°F. Let cool for at least 2 hours before slicing.
Same formula except for that all red wheat flour was subbed for white and the add-ins were 10% toasted walnuts and 20% vanilla infused figs instead.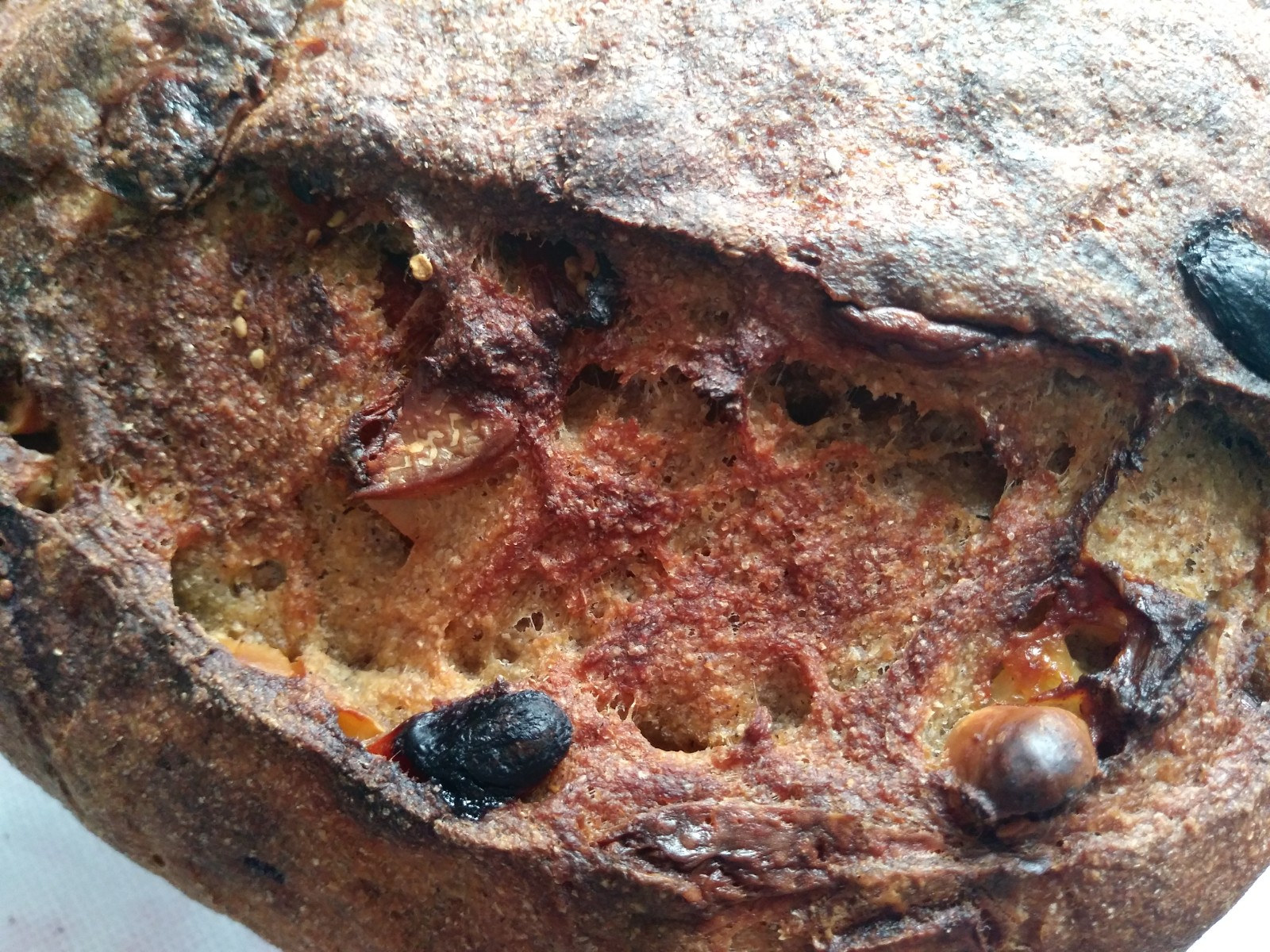 There're two major changes I made for these two bakes. Not only did I use such a large percentage of freshly milled flour for the first time, but I also experimented on a different steaming method. Instead of generating steam using two wet towels while leaving the loafs uncovered, the loafs were covered using a round disposable aluminum pan. No external sources of steam were provided yet the resulting bread has the crispiest and shiniest crust I've ever achieved!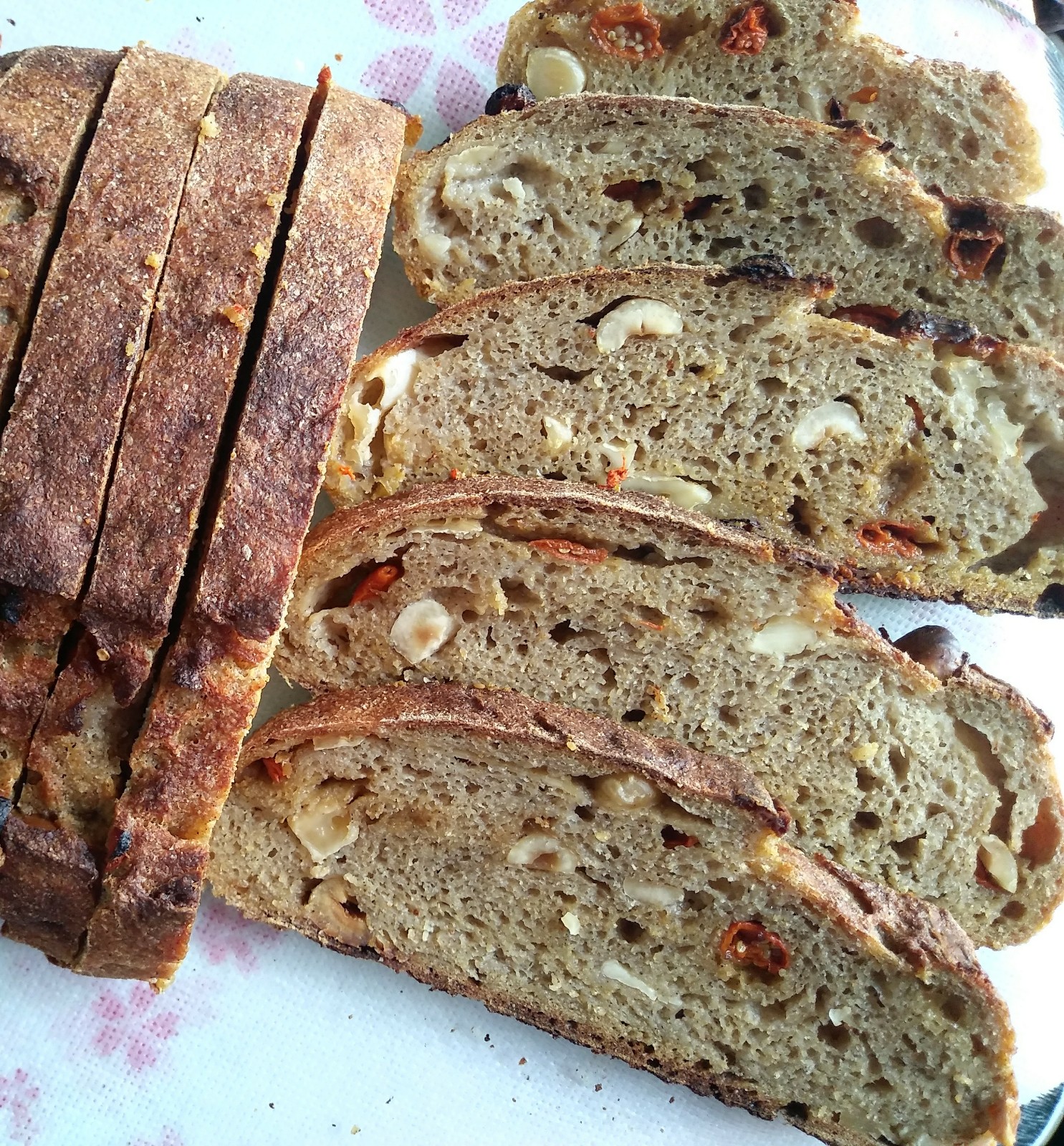 Both bakes were somewhat flawed as I under-proofed the dough for both times (How could I??). As a result, the crumb was not as open as it could have been, especially at the bottom part. Fortunately, the bread is still very moist and chewy.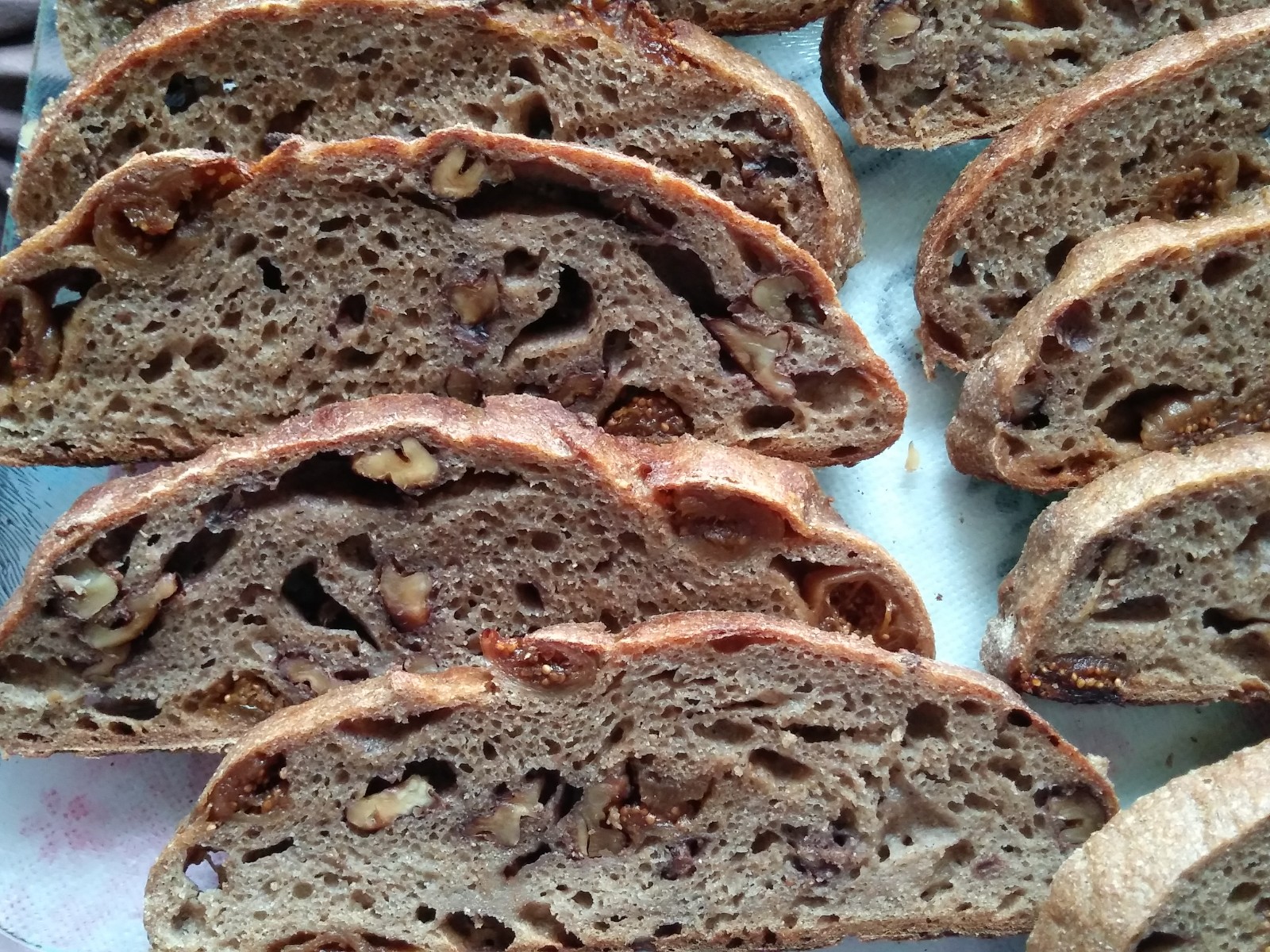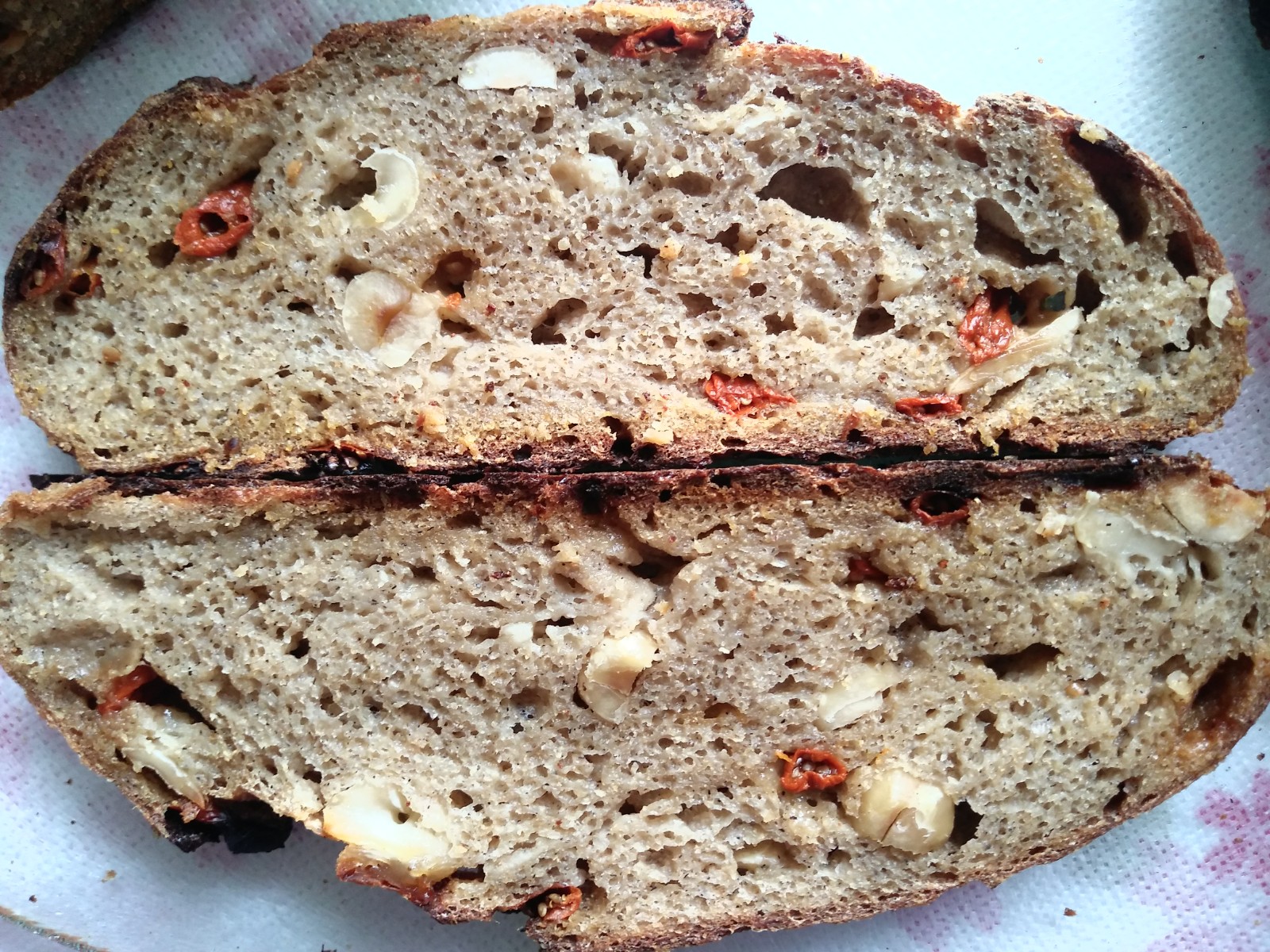 The flavours of grains were intensified when they're not given much time to oxidize. I noticed heightened sweetness and bitterness in red wheat flour. They added more character to the bread and allowed it to pair with stronger flavours without them being overwhelming.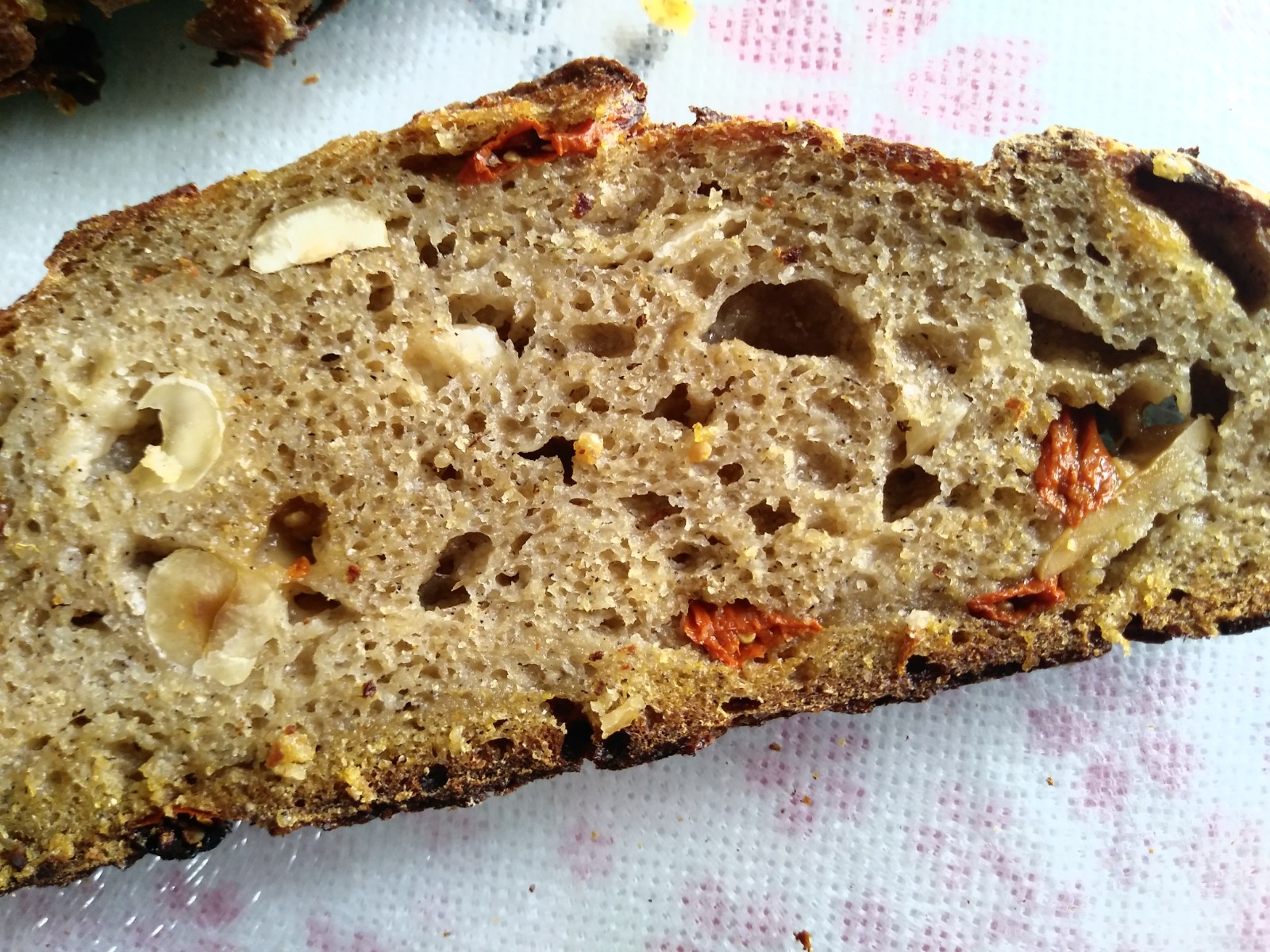 The difference in taste between freshly milled flour and bagged flour is more subtle than that between freshly milled sprouted flour and un-sprouted flour though. So next time for sure I'll be incorporating some sprouted flour as well! How much complexity is it going to add!