Where it all began - for me
Anyone who has been around TFL long enough and is suspiciously odd (or bored) enough knows that my baguette journey began with my baking the Anis Bouabsa baguette.  For the uninitiated, M. Bouabsa is a bread baker in Paris who won the quite prestigious annual city-wide competition in 2008 for the Best Baguette in Paris, and with about 30 competitors it was no small feat.  His rewards included accolades, bragging rights and a meeting with the French President.  Oh, and supplying the presidential palace with baguettes for a year.
My wife's cousin celebrated her 90th birthday with a party last weekend.  Just about a lifelong resident of Paris she invited local relatives and friends as well as her American family, my in-laws included. As our favorite travel partners and nonogenarians themselves, the in-laws asked us to chaperone them to Paris for the event.  Our main goal was to ensure their safety every step of the way.  Literally.  So when folks gush at our vacationing in Paris I have to stop them right there.  It was not a vacation.  Although we had a good time with family there.  And no matter what, we were in Paris, for-cryin' out loud.
We had our free time in the mornings as their day often doesn't begin until 11 or so.  This past Monday, the only rainy day of the trip, we clambered down the Paris Metro steps and headed up to M. Bouabsa's boulangerie.
When he came out to see who was asking for him, I showed him a still from the video I posted a few years ago on the making of his baguettes.  To our utter surprise he said that he recognized me and "knew who I was".  He invited me in to see his workshop and I asked if my wife and cousins could come in also.  Yes.
And then we talked shop.  I don't know more than a few words of French and he doesn't understand English.  But he spoke in French, I spoke in Spanish and we seemed to be on the same page.  I guess shop talk and some hand gestures make a conversation a little more universal.  Unbeknownst to me Cousin Paul videoed about a minute of the encounter. Also unbeknownst to my wife, as she hogged the picture frame during part of the encounter!
The boys talking business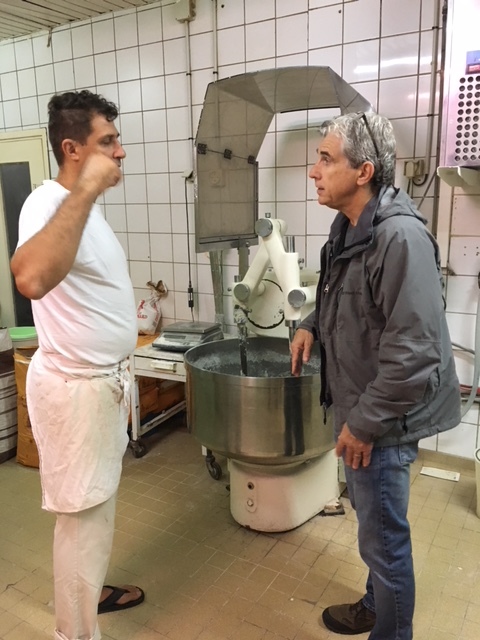 Baguettes after their long cold retard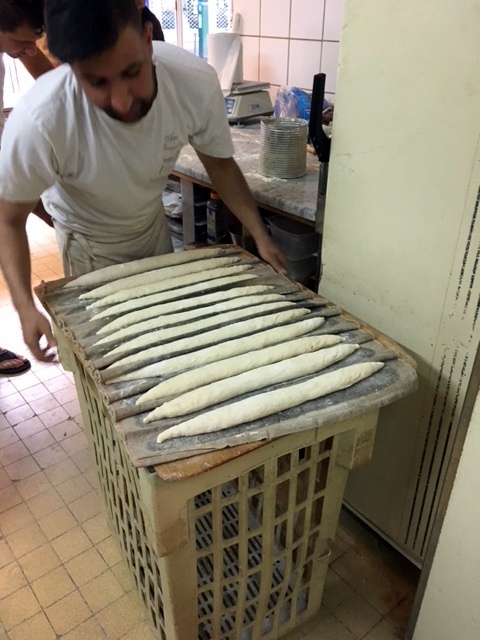 A huge Pain de Campagne on the loader just after coming out of the oven.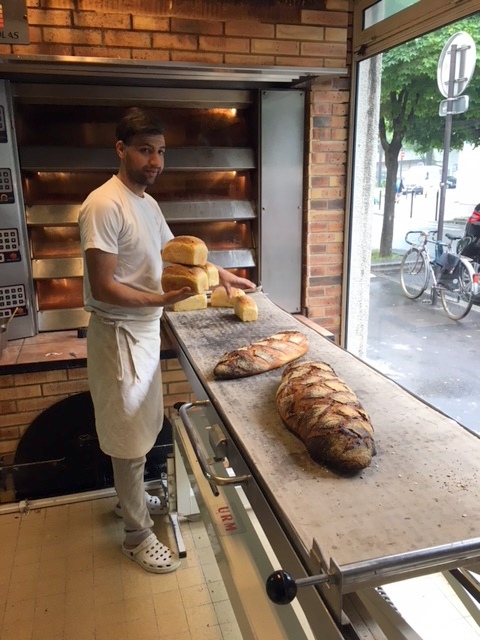 T65 flour waiting to become baguettes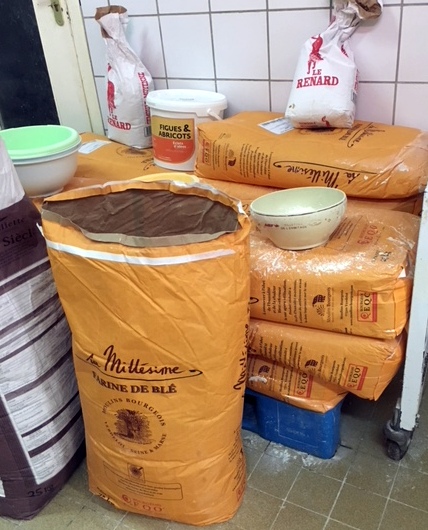 The Tzara Tradicion baguette.  M. Bouabsa's boulangerie is on Rue Tristan Tzara.
A peek into the workshop from the storefront.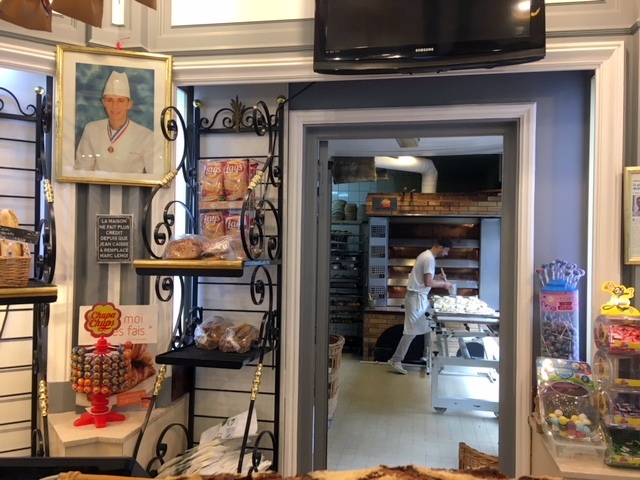 We picked up cups of expresso and cafe creme, croissants, a pistachio & chocolate chip "stick" and an incredibly flaky custard filled "cup".  And of course a pain de campaigne batard and a pair of baguettes.  What a delightful experience.
Here's old Morris and me strolling down Rue St. Severin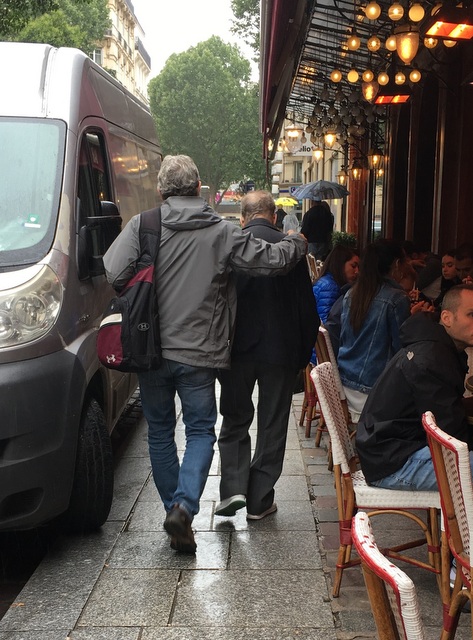 And the lunch for the American contingent.  That's BD girl Dolly sandwiched between my in-laws, themselves book-ended by my wife and me.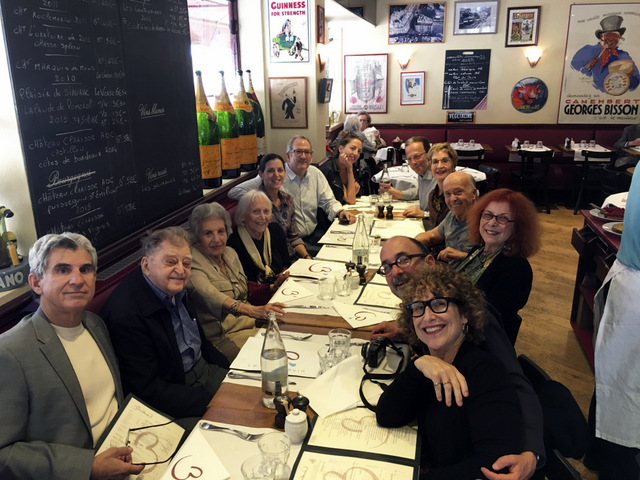 And the same dopey rabbit seems to still get his hand caught in the Metro train doors, just as he did the first time I rode the Metro back in '89.