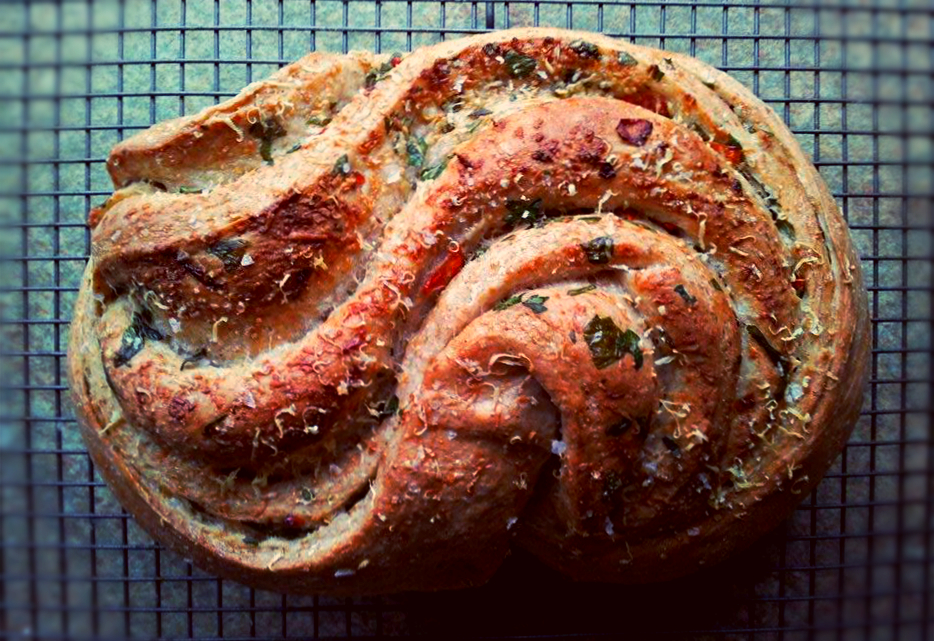 Made this today, 


360g strong white bread flour
8g instant yeast
5g salt
1 large egg
130g lukewarm milk
70g lukewarm water
35g olive oil

Filling:


100g grated Pecorino
120g oil-packed sun-dried tomatoes
4 cloves of garlic minced
25g chopped basil, rosemary, flat leaf parsley
Pretty much just mix the lot together to make a dough and kneed for 10 minutes,  stick it in an oiled bowl and leave to double in size.  Pat it out to be 2cm thick and spread everything on top.  Roll it up and tighten the ends. Now slice the log length ways and make a figure of eight.  sprinkle with more cheese and olive oil. Prove again for 50 minutes. Pre heat the oven to 175c and bake for 20 minutes, remove from oven and put some foil over the top to stop it going dark.  Bake for another 15-20 minutes.