100% whole wheat freshly milled... sandwich loaf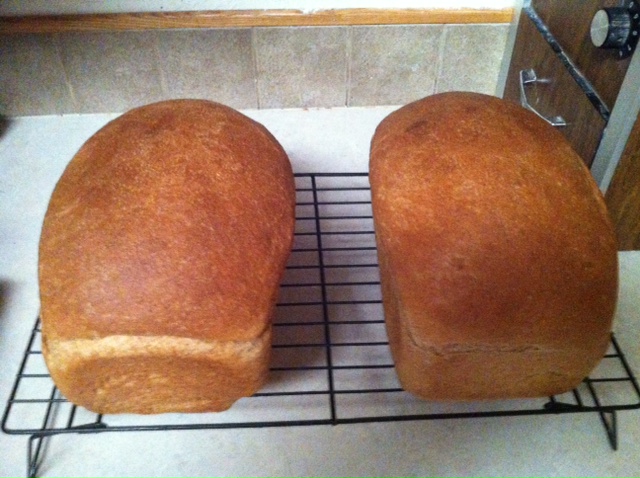 This is a very light and fluffy 100% whole wheat sandwich loaf.
100 grams starter at a 100% hydration
500 grams fresh milled whole wheat flour(red winter wheat)
400 grams water...adjust as necessary
10 grams salt.
30 grams of honey
50 grams of oil/butter...whatever's handy
2 teaspoons yeast
Mix starter, flour and water and autolyse for 30 minutes... add salt, honey, oil and yeast. I mixed these two loaves in my KA mixer for about 15 minutes until I achieved a nice windowpane. Cover and let rise for an hour or until doubled. Punch down and divide dough and shape into loaves place into bread pans, cover and let rise until dough domes 1 inch over the side of bread pans...took 40 minutes today...my pans are 9" x 5"...I bake from a cold oven set at 350 degrees for 40 minutes.
My grain mill is a vintage Mill & Mix and produces a very fine flour which I believe helps with the lightness of the loaf. The resulting loaf is super light and fluffy, it took me many attempts to produce a light loaf with freshly milled 100% whole wheat. It may not work for everyone, its just what works for me.
Cheers,
Rick