Joze's Barley-Rye, as Baguettes of course
Earlier this month, Joze (joc1954) posted his Barley-Rye Bread, a lovely dense nutty boule.  Having a bag of barley on hand but never using it before, I decided to give it a go.  But, as with my usual linear uncircular bread self, as baguettes.
According to Joze's write-up the dough takes no autolyse, has a long bench rise for a warm kitchen (3 1/2 hours) and a long retard (20 hours).  At 75% hydration this dough is quite dense and was difficult to French Fold without the flours soaking in an autolyse for at least 30-60 minutes or more.  Letter Folds every 45 minutes.  The dough remained stiff and fought being stretched and eventually shaped at every moment of its existence.  Neither extensible nor elastic, it just was...
Halfway through the bulk retard I shaped and placed it on a couche, still dense and stiff, but workable and required only the slightest amount of flour on the bench and couche.  Back into retard and baked about 21 hours after it first entered he refrigerator.  Scoring was simple.  450dF, 13 minutes with steam, and another 13 minutes after rotating, with a final 2 minutes venting.
And like Forrest Gump's box of chocolates, I didn't know what I'd get, how the bake would turn out, how much grigne or how open the crumb would be.  Oven spring was somewhat minimal but with a fine grigne and the crumb remained particularly dense.  I'll say that was due to having to be manipulated with heavy hands in order to pre-shape and shape the dough - a lot more so rather than to simply ball the dough up for a boule.  A lot denser than Joze's boule. 
A very "wheaty" taste, a bit addictive in fact.  40% bread flour, 30% rye, 30% barley.  75% hydration with 10% pre-fermented rye flour in 100% hydration levain.  I would have preferred a darker bake, but for a first foray in the barley-rye playpen, I remained on the cautious side of the playground.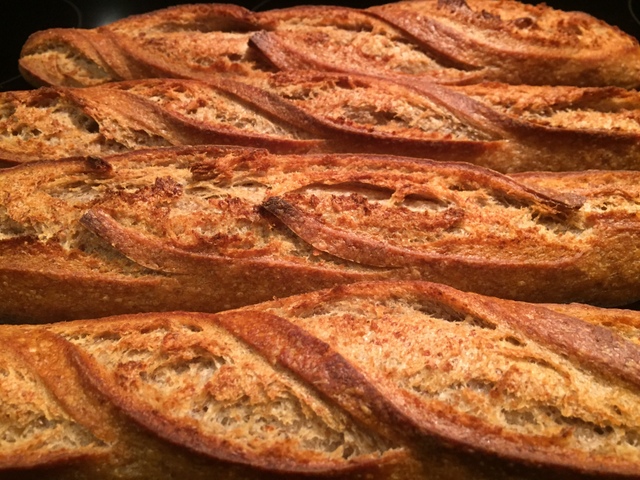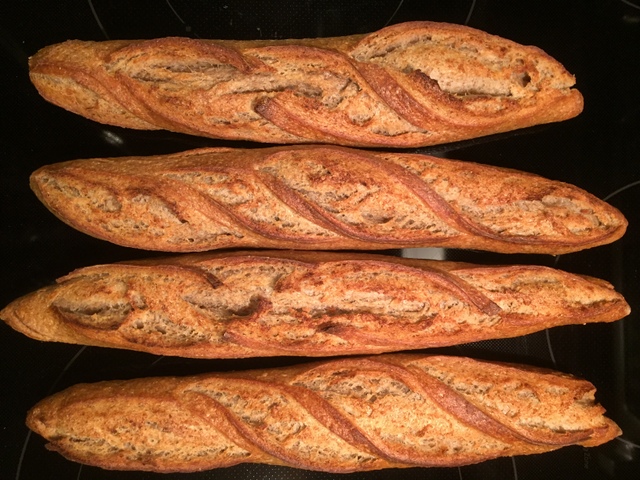 4x300g baguettes/long batards