November 2, 2017 - 4:08pm
Not sure if proofing or slashing was the issue.....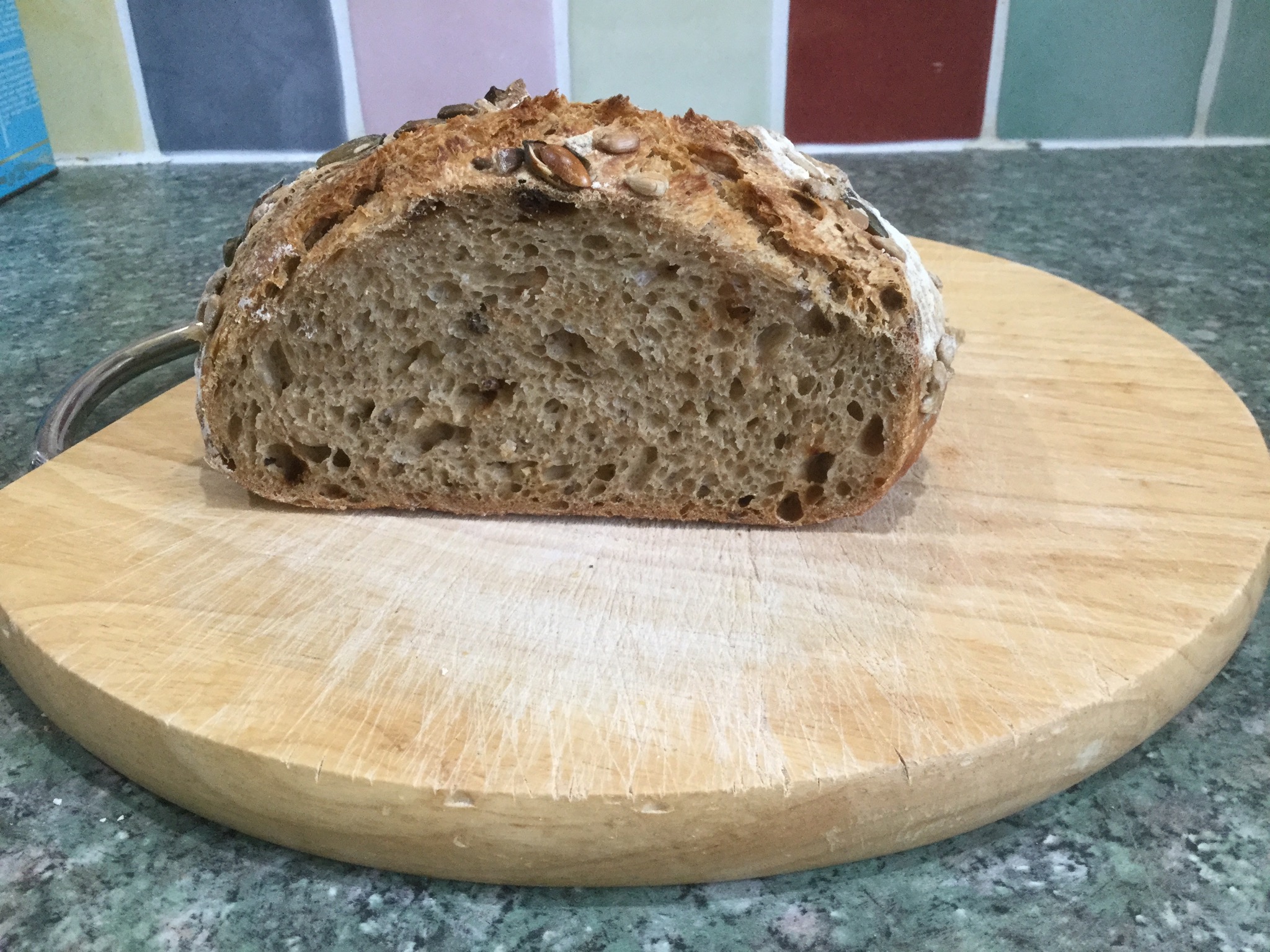 ....but at least the photo seems the right way up!
The clocks have gone back, the weather is definitely cooler, and I'm not sure if I should adjust my schedule. I usually start between 1 and 2pm with a short autolyse, develop dough with slap and fold and then do 2 or 3 lots of stretch and folds depending on how the dough feels. I've been shaping about 6pm before putting bannetons in the fridge at some point before bed and baking straight from there in the morning
Starter (50%) not used for 2.5 weeks due to baking before I went away for a few days, so that there was bead in the freezer when I came home (from my croissant course with Richard Bertinet).
So, 250g starter/200g strong white/300g 3 malts and sunflower brown bread flour/390g water (62.4%)
Soft sticky dough initially, but after a fairly long working felt slack but very nice. 3 sets of stretch and folds before shaping
Cool in the kitchen (61-66 F) and no real rise after 4 hours so one fridged and one left out over night. The one on the worktop may have been sl. over proofed and was more difficult to score. Dragged (blunt) blade off my lame handle. Fridged loaf still looked under proofed, so came out whilst first one was baking and the cloche reheating (75mins at room temp). Easy to score, new blade!
Better rise on 2nd loaf + ears (left hand loaf in photo), but crumb on first doesn't really look over-proofed to me (crumb shot)
Good flavour - will certainly get more of the Shipton Mill 3 malt flour.
Would be keen to have feedback to help me decide on whether to still slow retard in the fridge during the winter, as not sure if the difference was more due to poor scoring rather than over proofing.  Or maybe the answer is just to turn the heating up a bit, so the kitchen is warmer and there is some rise in the dough before bed time!