October 23, 2017 - 8:34am
鳳梨酥 - Taiwanese Pineapple Cakes
Hello TFLers! I missed you all along with baking and posting here. I realized that teaching is also one of my passions and I want to teach formally so I decided to study again. Yes, I am studying now to have units in education to be able to take the licensure exam and hopefully pass it so I can teach in a local high school. What's better than having a "job" where you can combine two or more of your passions; I might just teach cooking or even baking.

Just a short post, I'm in the middle of test construction and I just really want to hear from you again.
These were baked in July for a friend. She is the one who informed me about the registration for those who want to continue studying to pursue education. We took the entrance exam and we fortunately passed. She celebrated her birthday last July so as a sign of gratitude and to celebrate her birthday and our friendship; I baked these cakes for her.

Pineapple cakes are one of the most popular Taiwanese pastries; it is almost imperative to bring a box back home if you've been to Taiwan. Though called cakes, they are more akin to a tart or a cookie. What they are is a tangy pineapple filling wrapped in a crumbly shortbread-like crust. Their baking process is also unique; although baked in the oven, each cake is flipped halfway through the bake which I think is perfect to replicate in my clay pot to get even browning and crispness.

May to July is the best time here for pineapples. They're firm and crispy, juicy and sweet and tangy. We luckily found some freshly harvested excellent quality ones in a roadside stall near our house. We immediately bought nine! They come around at $2.00 for three pieces, so cheap! What's not to love?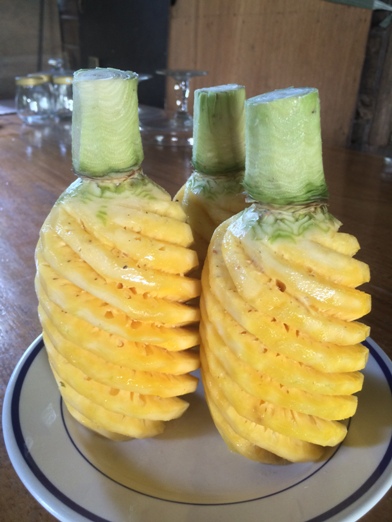 What better way to make the pineapple filling than with 100% fresh pineapple. Canned pineapple will also work if pineapple is not in season but as I said I have the best thing in my hands. I want a filling with some texture so I approximated the size of canned crushed pineapple instead of blending it into a complete smooth puree like some recipes do. I went old school here, instead of chopping into segments and dicing it; I held the pineapple by its "stem" and made vertical cuts around, then a series of perpendicular cuts then finally, shaved the cuts with a downward slicing motion; what you will be left with is the core.It's much easier and faster but this is a messy job because the pineapples were so juicy! You have to put a container underneath your hands to catch every bit of flesh and juice. 

This is the core of the pineapple. A very nice crispy and fibrous snack to munch on. Doesn't it look like a Popsicle or an Ice lolly?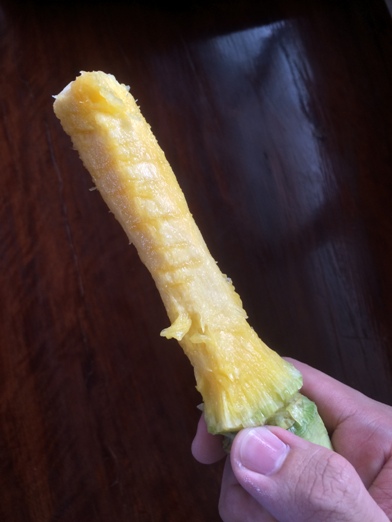 Et voilà ! Home-crushed pineapple! To make the filling, I sweetened it to my liking and added a few squeezes of lime juice. This was slowly reduced until very thick  and firm that it can hold its shape.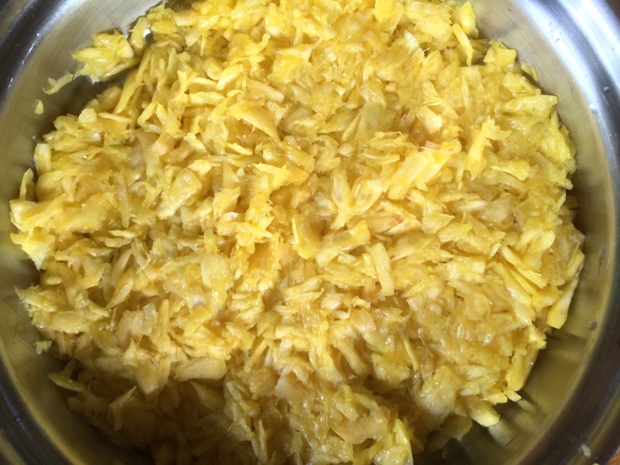 The dough is like a shortbread. The only difference is the addition of the egg and milk powder perhaps for more liquid to accommodate an added dry ingredient. Believe me, the dough smells like ice cream! I think it's a little too crumbly and dry due to lack of accurate measurements.




Here is the cooled pineapple jam/filling divided into six balls. It looks very different from the fresh pineapple. It has a very intense pineapple flavour; 2/3 of each ball would have been a better ratio for the cakes to taste perfect.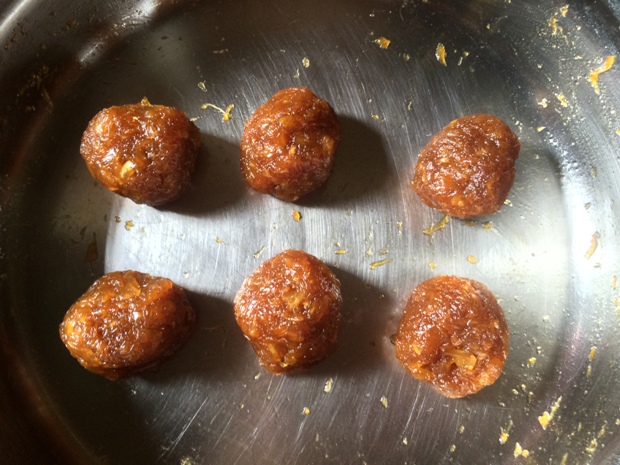 The dough was divided into six balls as well and each was filled with one pineapple ball. it was a little difficult to seal because the dough kept cracking because it's a little dry but I still managed to seal them. They were the pressed into my mini llaneras just like real pineapple cakes getting pressed into their square molds. The pineapple filling was so dark, you can see it through the dough.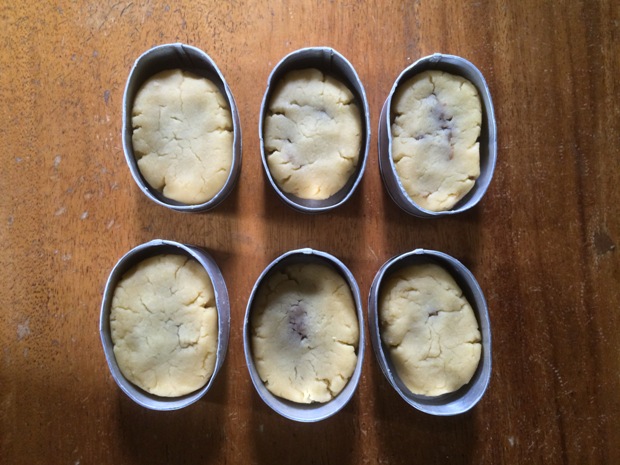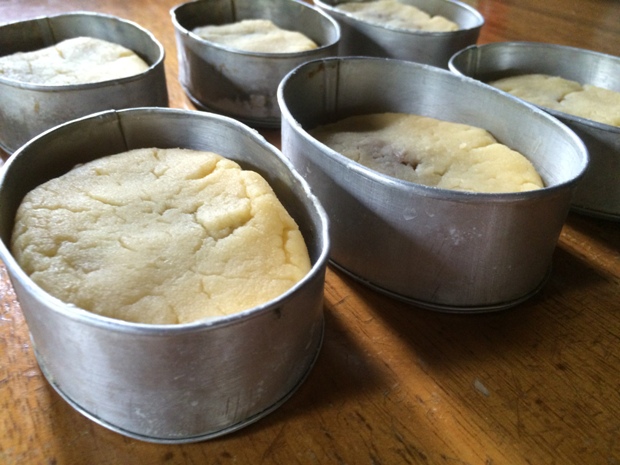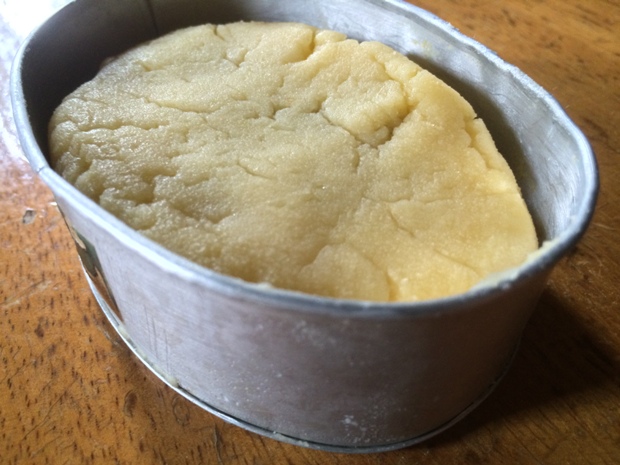 They were baked in my clay pot for 15 minutes, flipped then baked again for 10 minutes with live fire for the whole baking time. Due to the uneven heat of the pot some of them were pale but the golden brown ones have the prefect hue. If you are wondering why there are only five of them in the "baked" photo, that is because there is a swift pair of hands that grabbed one immediately after they came out of the pot.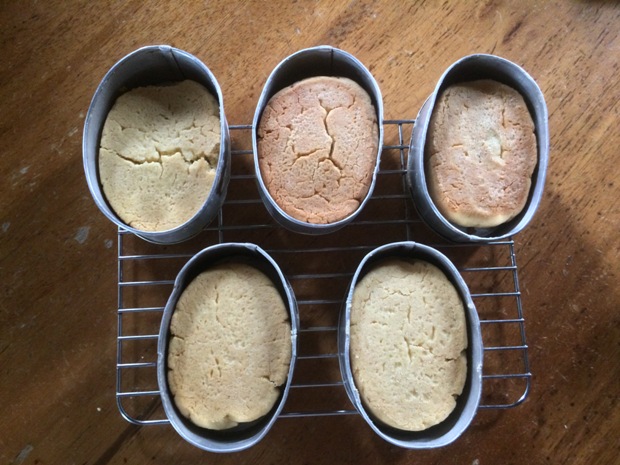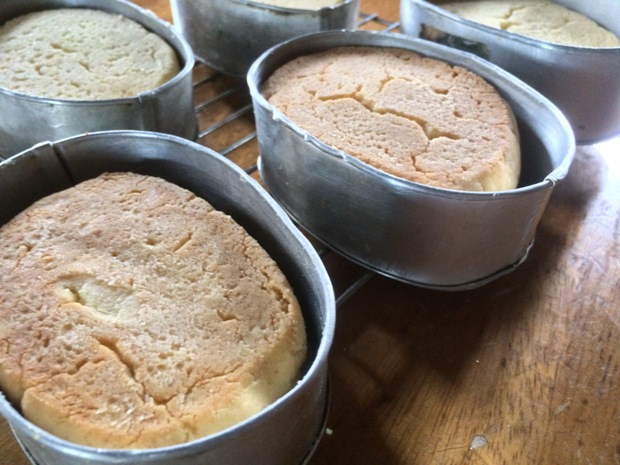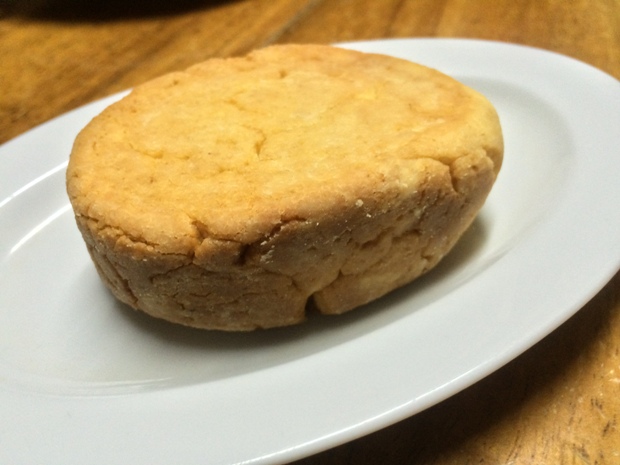 The rich, crisp, crumbly, buttery, milky shortbread was complemented really well by the equally rich but bright, sweet and tangy fragrant pineapple filling. A really delicious special treat fit for a special person in my life. I wrapped three of them beautifully; each in parchment paper along with a ribbon and a note for my friend. No photos because I did that right before going to school. She really loved them and it's a special feeling when you cheer someone up through your little efforts. Food really touches lives and it's great too that we both love to eat.

See you all next time. I still need to finish my test! :)