October 11, 2017 - 4:20am
My First Sourdough Rye Bread
So I thought I'd experiment a little and try a rye flour. I'm a very amateur baker so please bare with me if my terms aren't the correct ones!

Starter:
50g canadian flour (14.2% protein) - bought from Sainsbury's, UK
50g water

I left this for 10 days, halving it every day and replacing that with fresh flour and water.

Bread:
350g Dove's Farm White Rye Flour
100g Canadian White Flour
100g of my above starter
300ml water
10g salt

I mixed all the flour, start and water my hand pretty roughly and let it sit for 30 minutes, there's a good chance I was "autolysing" at this point althought I may well be wrong!!

Next I sprinkled the salt and then give it another mix by hand so it was consistent. I then folded and turned the mixing container a quarter turn and repeated till I was back at the start. This is something I'd seen on youtube.

I popped the lid back on and left it for an hour, I then went back and did my fold and turn thing again - and then again 30 minutes later. It was getting late so I put it in the fridge and went to bed and then work.

It having sat for about 18 hours in the fridge, I took it out and let it sit at my kitchen's ambient temperature which I'm guessing is about 20C. I then flopped it out onto the worktop and shaped it into a bowl with "good tension", I picked it up and plopped it into a wooden banneton and let it sit for another 1 hour or so.

I preheated the oven to 250C with my biggest casserole dish in it while this happened.

Having risen quite nicely, I turned over the banneton and to my surprise it came out easily. I carefully picked up the bread and dropped it into the casserole dish and baked as follows:

35 minutes with the lid on at 240C
15 minutes with the lid off at 220C  (this may have been more like 12 minutes as my daughter was insistent that it was burning).

Let it cool for an hour and voila! my first rye bread.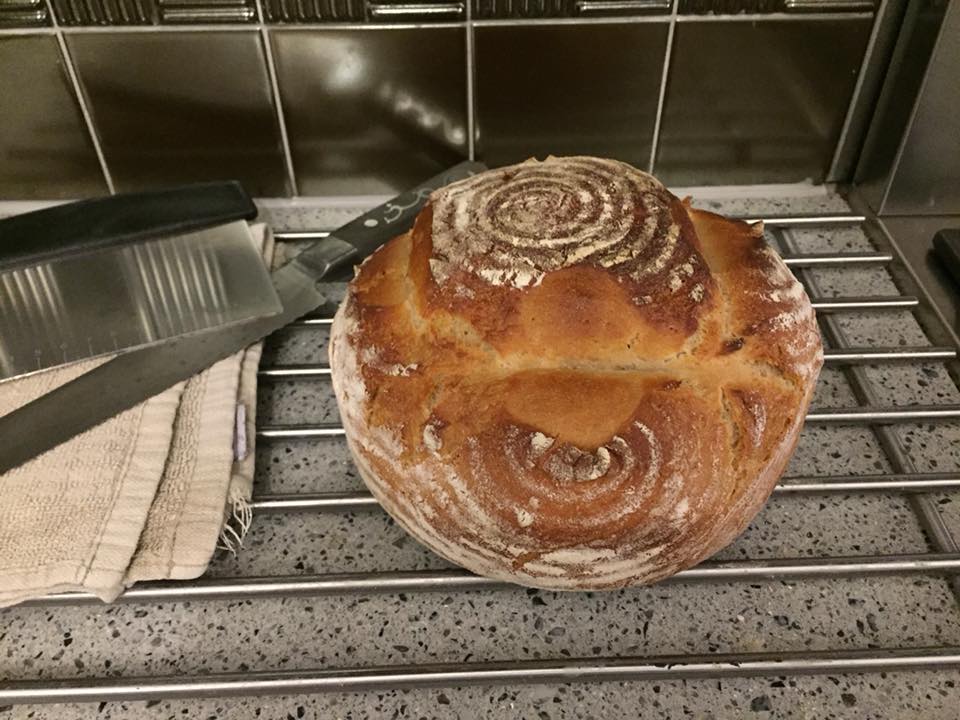 I have to say it was lovely and chewy with a nice taste to it which seemed stronger towards the centre of the loaf - that is pieces cut from the centre tasted stronger.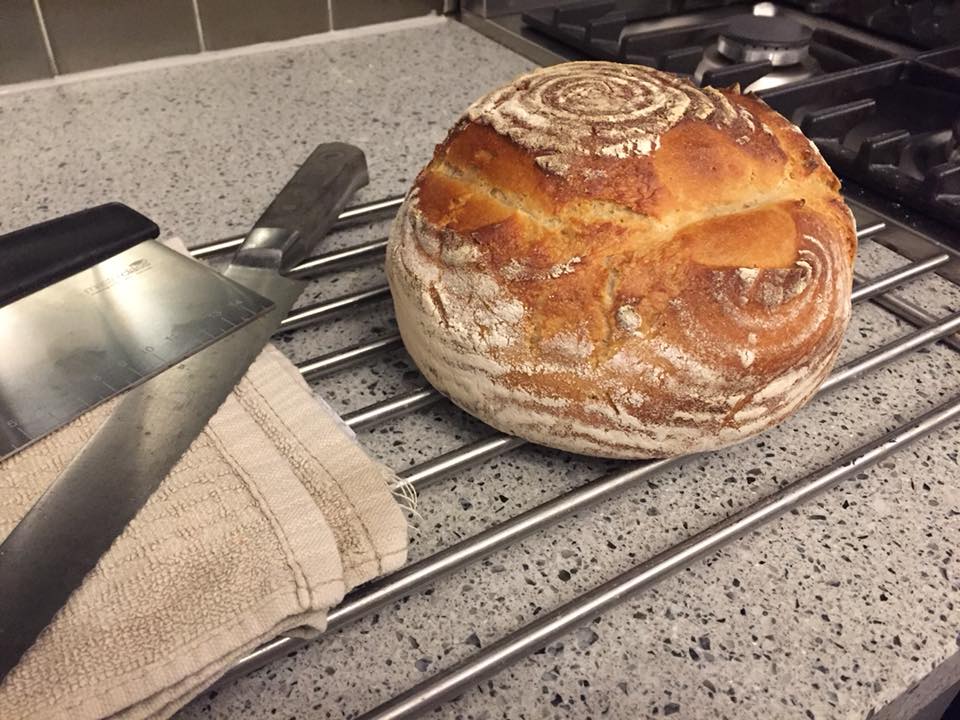 Toasted a few pieces for breakfast and I was very happy with it to say the least.