September 18, 2017 - 9:20am
First loaf of Tartine method bread - Sept. 18, 2017 - notes to myself
Followed the method pretty much exactly.  Made 1/2 recipe using my own flour blend (bread flour, 15% whole wheat, 15% sprouted buckwheat).  Hydration 77% when all was said and done.
Warm kitchen, needed only 2 hours of bulk fermentation.  Used 15 seconds of the french kneading method for the third fold to develop the gluten.  Used a lined banneton.  Bread shaped and in the fridge by noon.  Baked at 9:30 this morning. 500 degree preheated oven turned down to 450, 3 second steam, 15 minutes under cover, 15 minutes without cover, interior temperature 209.
Crust soften considerably upon cooling, but should firm up again.  Interior is shiny and custardy.  A bit soft for my preference, but I cut into the loaf early (friend for breakfast), so tomorrow will reevaluate.  Crust a lovely dark brown.
Need to adjust flour blend a bit: perhaps add some rye.  Will reevaluate taste tomorrow.
After 15 minutes under cover with 3 second steam: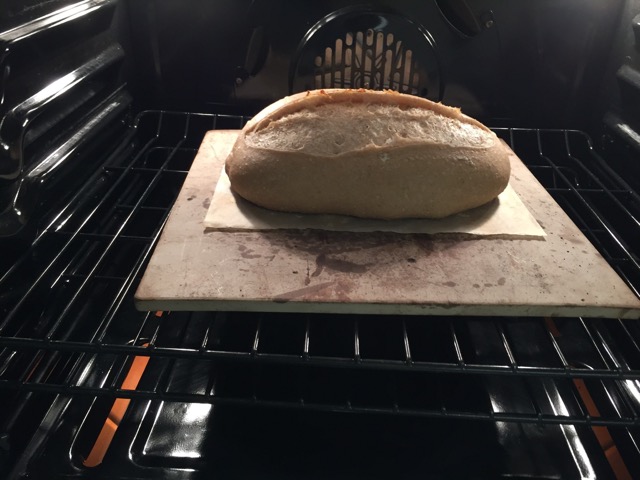 15 minutes later the loaf is finished.
Crumb shot