September 5, 2017 - 3:39pm
Pumpernickel with honey and dates
I had a real taste for a chewy rye and I always love dates and just a touch of honey so here is my version (first bake) of a great Pumpernickel. Included are my developments notes for the next bake.
A little overproofed but still delicious.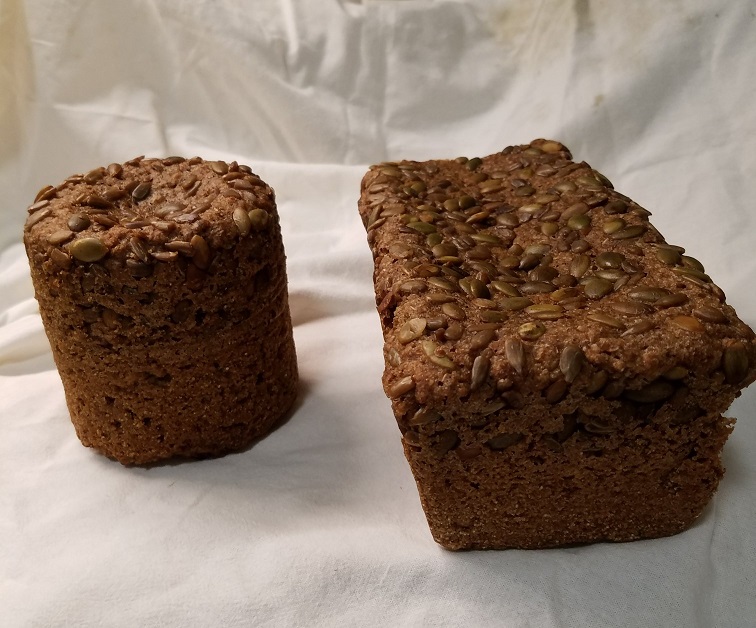 The crumb:
Moist, chewy and very smooth tasting. Not in the least sharp, tangy or sour. Almost buttery. Flavor noticeably better from day 2 to 3. Great  soft chewy kernels. Honey/sweet level is hardly detectable, as  with the spices,also. Salt a little low.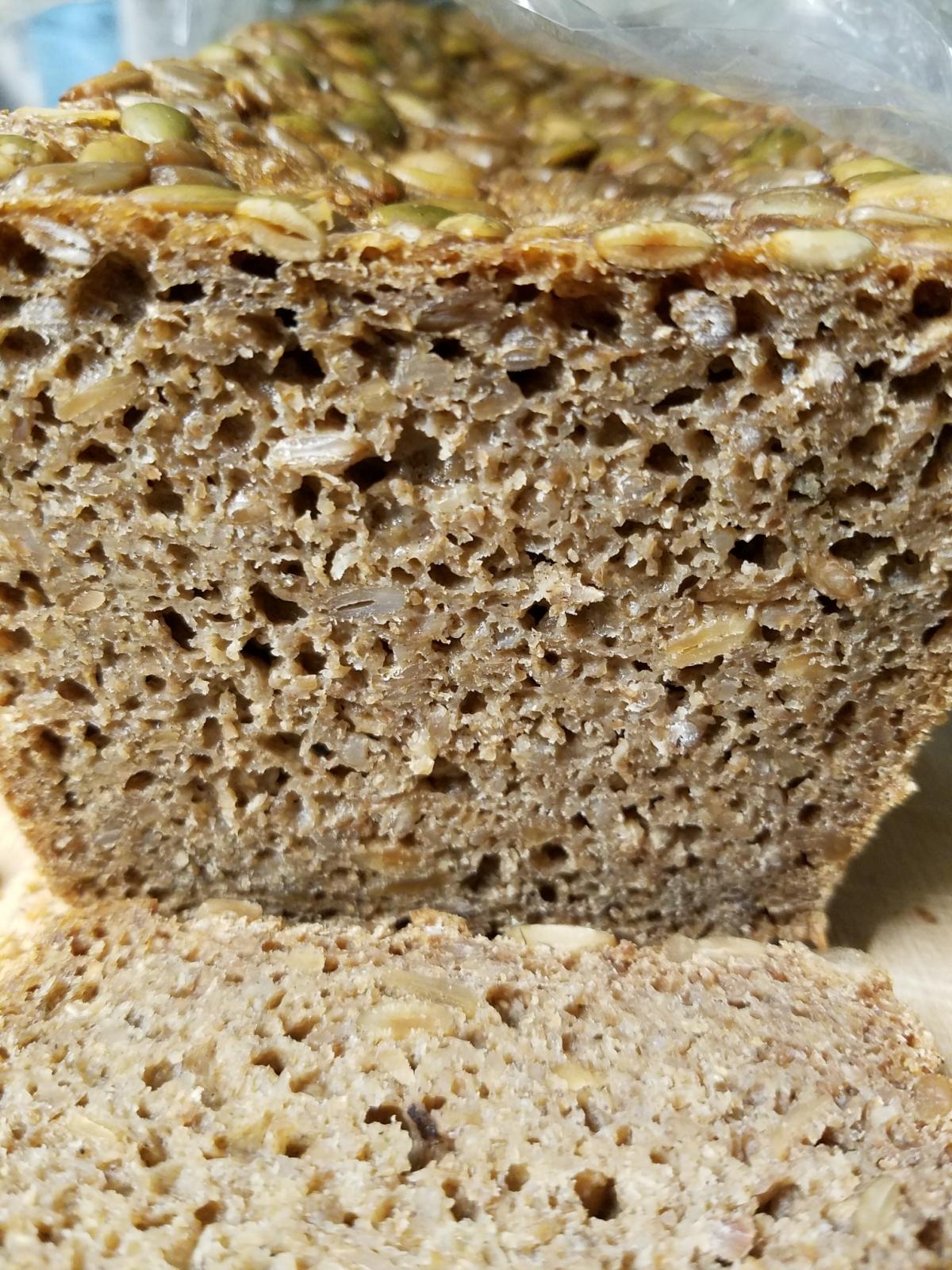 A pasty dough.  More like a thick batter: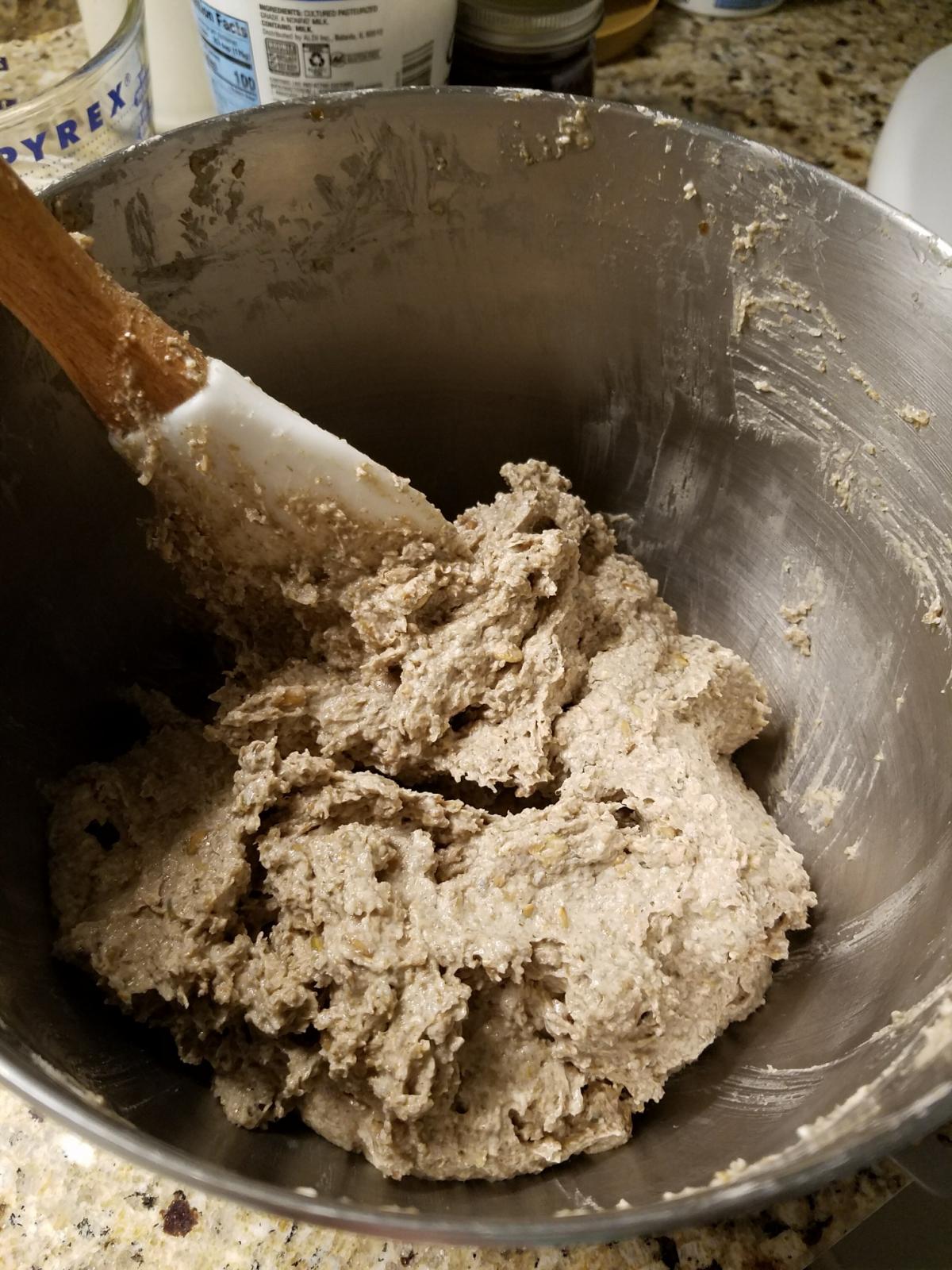 Dough-filled pan. I included the dough paddle for scale. Seeds on top and bottom.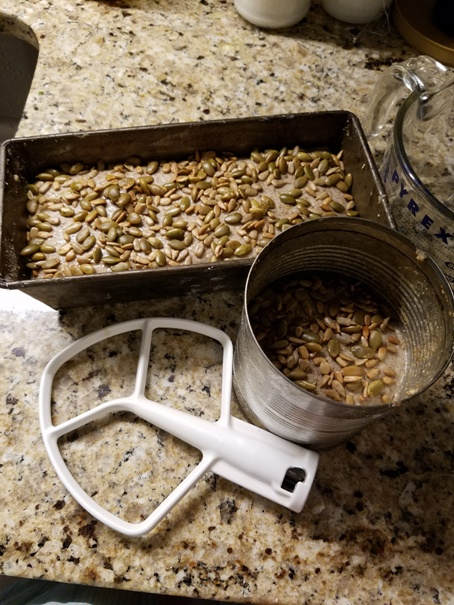 After proof. It was probably 15 minutes too proofed after 1 1/2 hr. You can just see the water I poured over the top and in the corners before I tented the pan.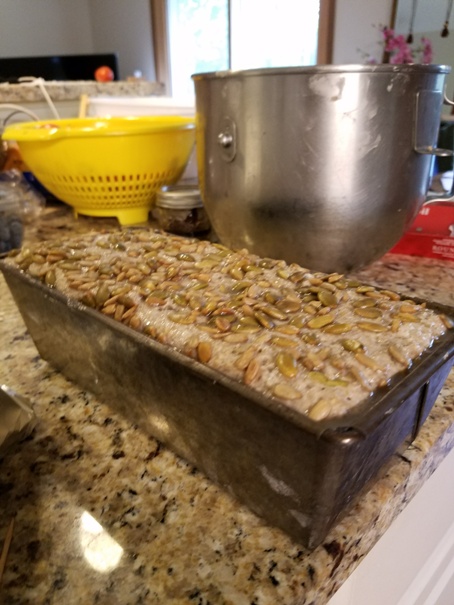 Tightly foiled. Left these on for 1 1/4 hr of 2 hr bake.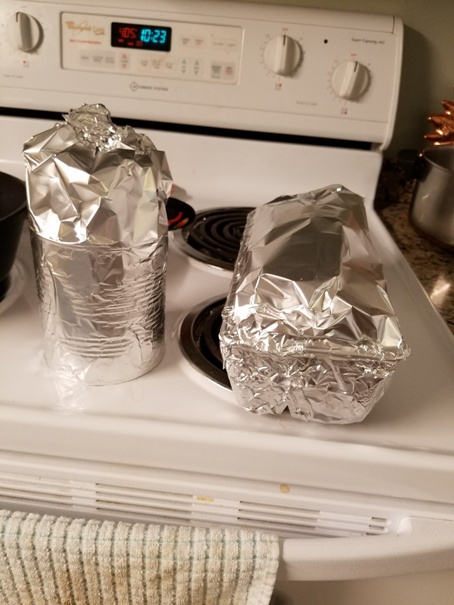 Phew! Big post! And there is still the recipe!
PUMPERNICKLE WITH HONEY AND DATES 
A very dense 100% rye that used an abbreviated process that yields a mellow, chewy loaf. It does not have a bulk fermentation and comes together like a batter bread. 
Synopsis
The evening before:
Make a starter with a very active starter (refreshed at least 3 times starting 2 days before) and cracked ryemeal. In 2 separate containers, soak whole rye kernels and cracked rye overnight.
The next morning:
Mix the starter and 2 rye soakers with remaining ingredients until cohesive. Pan, proof 1-1 ½ hrs. Bake about 3 hours. Wrap when cool. Serve in 1-2 days. 
| | | | | |
| --- | --- | --- | --- | --- |
| The evening before   baking | INGREDIENTS | VOLUME | METRIC | BAKER'S   PERCENTAGE |
| Make   a cracked rye starter | Fermented   firm starter-refreshed 8 hrs before** | 3   tbsp | 50   g | 22% |
|   | Water,lukewarm | 1   cup | 225   g | 100% |
|   | Cracked   rye | 1   ¼ cups | 225   g | 100% |
** Use any starter. Mine was a thick batter but very active.
Dissolve the sourdough starter in the water, then stir in cracked rye. Cover and let it ferment 8-12 hours.
| | | | | |
| --- | --- | --- | --- | --- |
| The evening before   baking | INGREDIENTS | VOLUME | METRIC | BAKER'S   PERCENTAGE |
| Soak   rye kernels | Whole   rye kernels | 1/3   cup | 70   g | 100% |
|   | Boiling   water | ½   c + 1 TBSP | 130   g | 184% |
Stir together rye kernels and boiling water. Cover and let soak for 8-12 hrs.
Drain and discard any extra water before mixing kernels into final dough.
| | | | | |
| --- | --- | --- | --- | --- |
| The evening before   baking | INGREDIENTS | VOLUME | METRIC | BAKER'S   PERCENTAGE |
| Soak   cracked rye | Cracked   rye | 2/3   cup | 105g | 100% |
|   | Salt | 2   tsp | 11   g | 11%   (2.3% overall) |
|   | Water,room   temp | 1/3   cup + 1Tbsp | 105   g | 100% |
Stir all together, cover and soak for 8-12 hours.
Bake Day-

Dough

INGREDIENTS

VOLUME

METRIC

BAKER'S   PERCENTAGE

 

Soaked   rye kernels

Drain   and discard any water not absorbed by the kernels.

 

68%

 

Soaked   cracked rye

 

 

78%

 

Ryemeal   sourdough starter

 

 

175%

 

Water,lukewarm

¾   cup +2 TBSP

195g

68%

 

Rye   meal

1   2/3 cups

260g

91%

 

Sunflower   seeds Raw

¼   cup + 3 TBSP

36g+30g

14%   I used a mix of roasted pepitas and   sunflower seeds &added extra.

 

Medium   or dark rye flour

2   tbsp

25g

9%

 

Instant   yeast

1   tsp

 

1%   Consider reducing or leaving out if starter very active.

 

Honey

2-3   TBSP

43g

 

 

Dates

6   whole-chopped

40g

Needs   more. Didn't taste any

 

 

Brotgewurz

3   tsp

5g

Barely   noticeable. Leave as is.

Equal parts   by wt:

Coriander,Fennel,Cardamom,Caraway

 

Coriander-ground

1   tsp

2g

 
NOTES:
Mix by hand or in mixer. It may initially look like sand but it is done mixing when there is a cohesive, sticky dough. Mine was a very pasty, wet dough. 
Add a little water to mixing bowl after dough scooped out and use this to spoon over batter in pan just before putting in oven. 
My rye meal was more like coarse flour and my rye flour was almost a meal so this dough was more like a batter consistency and mixed fast and easily. 
I used Hodgsen Mills stone ground whole grain rye. It is a slightly coarse flour. 
NOTES,CONTINUED: 
PANNING:
Prepare bread pan by oiling well. Use seeds or meal to coat bottom and sides.
This dough filled 1 9x5 pan and 1 4x6 inch round can.
Fill pans ¾ full
PROOFING:
Proofing went very quickly. Overproofed quickly,too. Poss. leave out or reduce extra yeast next time. Watch very carefully. 
BAKING:
Dock with wet toothpick
Spoon a generous amount of the dough water (see above) around the top of each loaf.
Tent tightly in foil to enclose for ½ the bake.
Preheat oven to 400F. Put loaf in oven and immediately reduce to 300F.
Bake with tent for 1 ¼ hrs then remove tent.
Bake for 45 minutes more and check internal temp.
Done when 207F internal temp.
Turn stove off and let sit in oven 30 minutes.
Remove from oven, cool slightly and depan.
Wrap loaves in cotton towel immediately after de-panning and allow to cool completely.
When cool, bag in plastic.Wait for 2 days before slicing.
Enjoy! 
DOUGH/LOAF WEIGHTS (The ingredient numbers and dough weights don't match up. Even in the original recipe that this is based on, the totals were off. Even accounting for baking loss. I report what I actually weighed.
9x5 pan dough weight before bake:        1129g
9x5 pan loaf weight after bake:              1001g           11% moisture loss
4x6 can dough weight before bake:        477g
4x6 can loaf weight after bake                419g             11% moisture loss
TASTE AND TEXTURE:
Salt level seemed a touch low.
Spice level was probably perfect as it was barely noticeable-just a slight perfume.
Dates totally disappeared. I would like at least double the amount.
Texture and taste were much better on day 3 after the bake.
I believe the short fermentation on the starter/sour and overall short fermentation time probably reduced the sharpness of this dough. It is very mellow and almost buttery tasting.
Nice color but not too deep brown.