August 23, 2017 - 12:13pm
Ongoing Yeast Water experiments
Having managed to create two yeast waters, from plums and apples in my own garden, it was time to try them out to make some bread.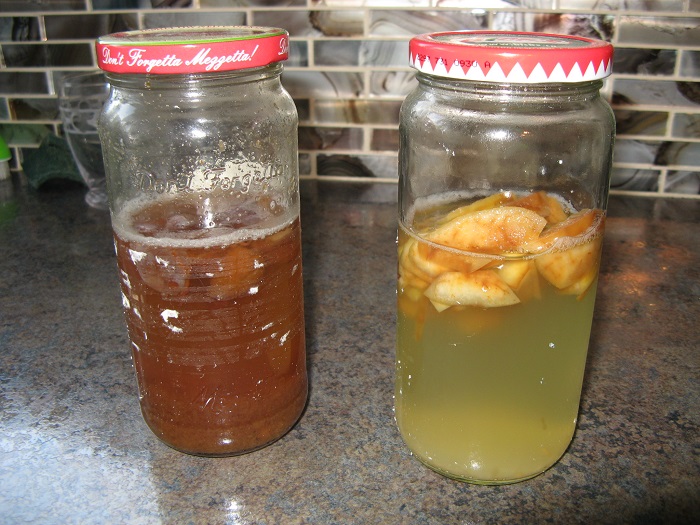 I built each of them into a starter with two builds, adding roughly 50 grams of yeast water and 50 grams of bread flour in each build. The apple yeast water was amazing (the one on the left in the photo at the top of the post); the plum yeast water not so much but still doubled within about 6 or 7 hours. Both smelled simply wonderful - clean, fruity and yeasty with a touch of alcohol.
First I made some small sandwich / burger buns with the apple yeast water. I used about 25% Red Fife flour and added some rehydrated minced onion but didn't want to add too much of anything so I could experience the flavour of the bread with the yeast water. I was a bit surprised at the dough, given the activity in the starter; it didn't seem to rise very quickly or much. I ended up popping it in the fridge overnight because it hadn't shown much activity after several hours at room temperature. In the morning it was still sort of clay-like so I left it on the counter for a few more hours, then shaped it. It was nice, soft and elastic but not very light or puffy. I shaped it into buns, flattened them and pressed sesame seeds into the top.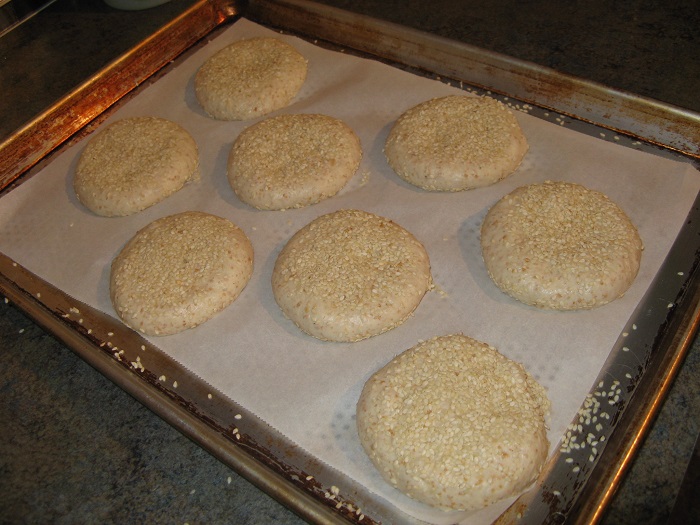 Once baked, the thing that struck me was the pale colour. Very unlike most of my bakes, though they were certainly done inside. Decent oven spring but not huge.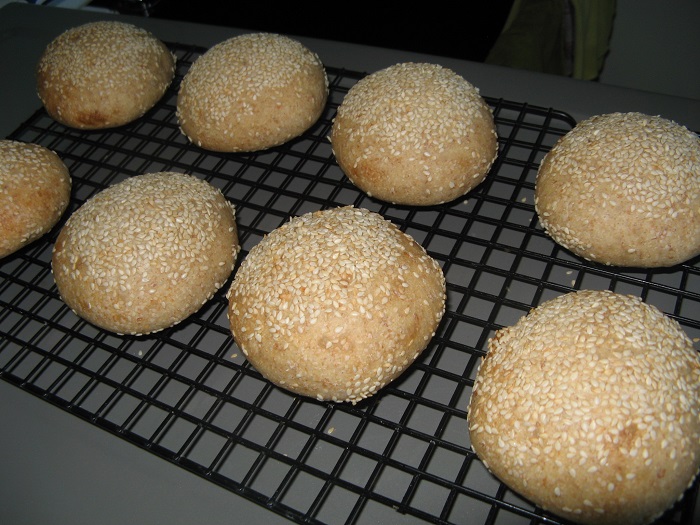 Crumb was a bit dense but decent. The DH says "good bun!" so I guess they pass, but not one of my best bakes.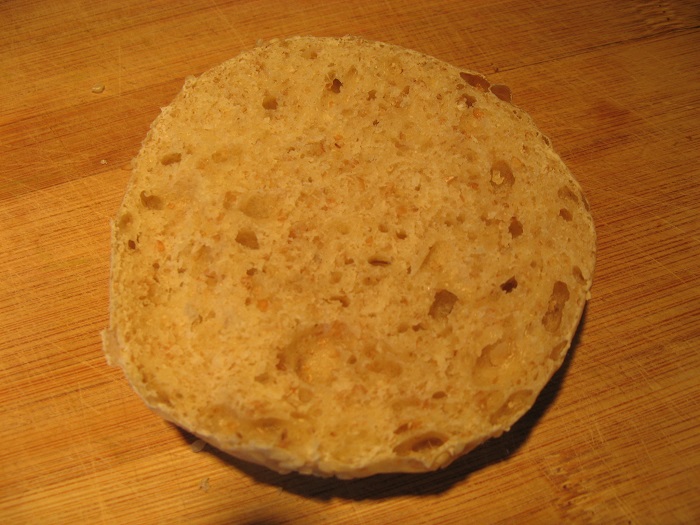 Yesterday I used the plum yeast water to make some currant buns. I used the recipe from this page for Dutch Currant buns, with a couple of changes. I used the yeast water starter to replace part of the milk and flour, and left out the dry yeast. I also used an egg substitute (ground flax seeds mixed with water) as I wanted to try this out anyway.
Once again, the dough didn't rise much and felt very dense, even after 5 or 6 hours. I shaped the buns last night and put them in the fridge. Not much change this morning, so after letting them sit out for a couple of hours I popped them in the oven.
Once again, little oven spring and a very pale colour. The crumb is dense, but the buns do taste good!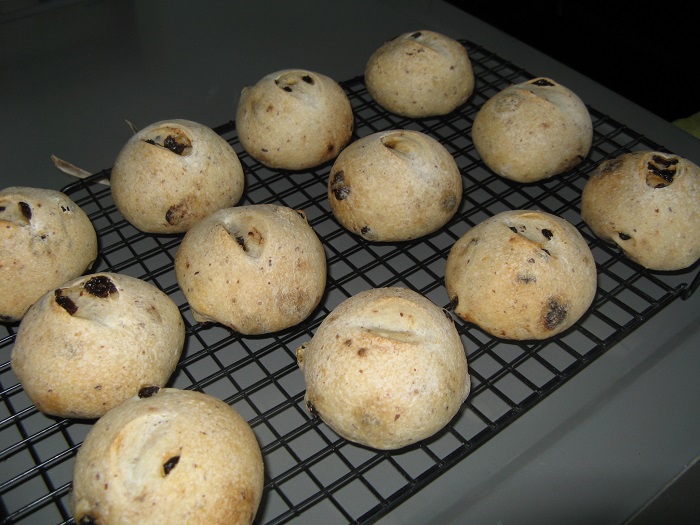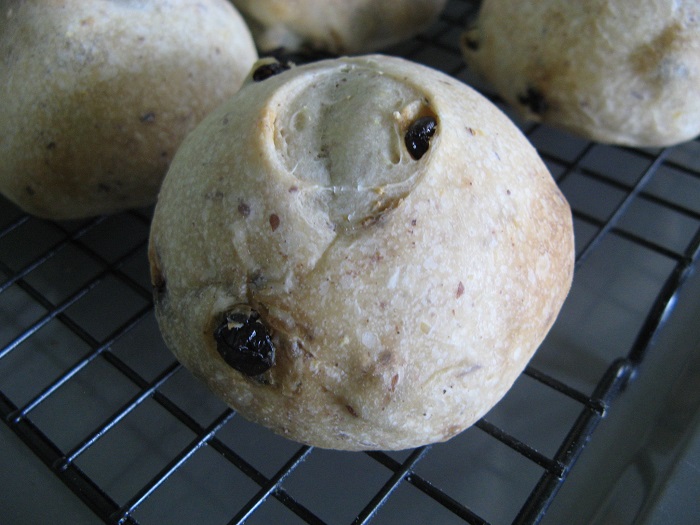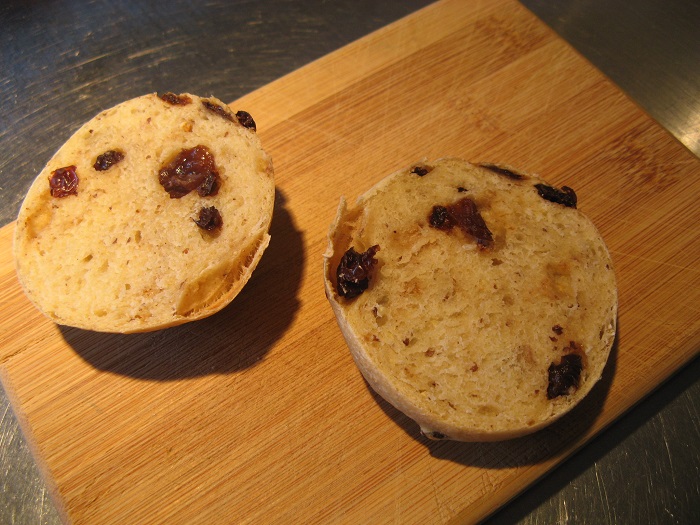 So, I'll continue to test this out. I like the idea of having a source of wild yeast that doesn't have the sour taste of sourdough starter. Perhaps it needs different timing, or a tiny bit of dry yeast for a booster.