Rhubarb season treat - Rhubarb Raisin sourdough
I have a profusion of rhubarb (and other things, but that's another story) from the garden right now, so I've been canning and preserving. Yesterday I made a batch of sweet pickle relish and another of rhubarb chutney. I've been thinking of how to use rhubarb in bread, so I decided to do a test loaf of sourdough ('cause, I had, like, nothing else to do, right?) with some of the chutney ingredients.
I started with my go-to formula when I'm testing ingredients rather than technique or formula - a simple 1-2-3 country sourdough.
100 grams of 100% hydration wheat starter
200 grams of water
200 grams of bread flour
50 grams each of stone-ground whole wheat and whole rye flour
6 grams of salt
The chutney ingredients were
diced (fairly fine) rhubarb - 1 stalk that I had left
small handful of raisins
a bit of finely chopped crystallized ginger
about a tablespoon of organic cane sugar
a bit (didn't really measure, maybe a couple of teaspoons?) of spices - some lightly crushed cardamom and some toasted, crushed fennel and anise, leftover from a rye sourdough I made a couple of days ago
I mixed the starter into the water, along with the sugar (easier to dissolve) then added the flours and mixed to get everything wet, and left it sit for about 30 minutes. Then I dumped everything else in and squished and folded it until all was incorporated. No fancy technique for me! :) I stretched and folded (and a bit of scooping and rounding as well) about three times over the next hour or two, then put it in the fridge overnight. It's pretty warm here right now so I didn't want it to overproof.
This morning, in the middle of making large batches of dough for the weekend bake, I remembered to shape the dough and pop it into a banneton. About an hour and a half later I slid it onto a stone in a 475F oven and covered it with a steel pan for 20 minutes, then uncover, rotate the loaf and turn the oven down to 425F for another 20 minutes.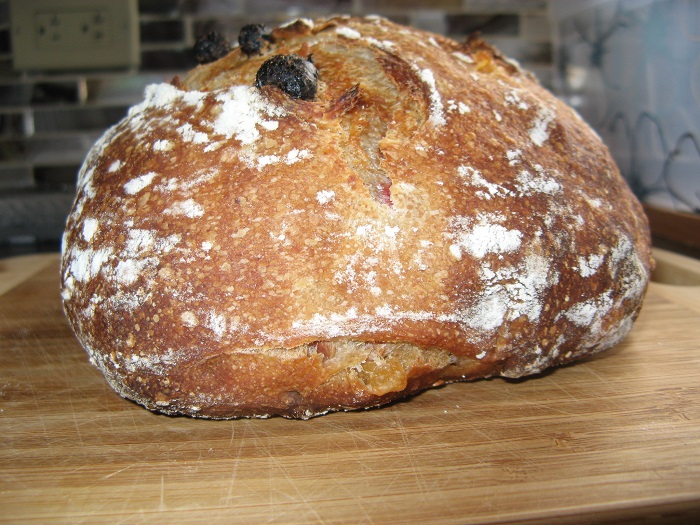 Nice spring; nice crust; smells really good!
Couple of busy hours later and time to cut it open.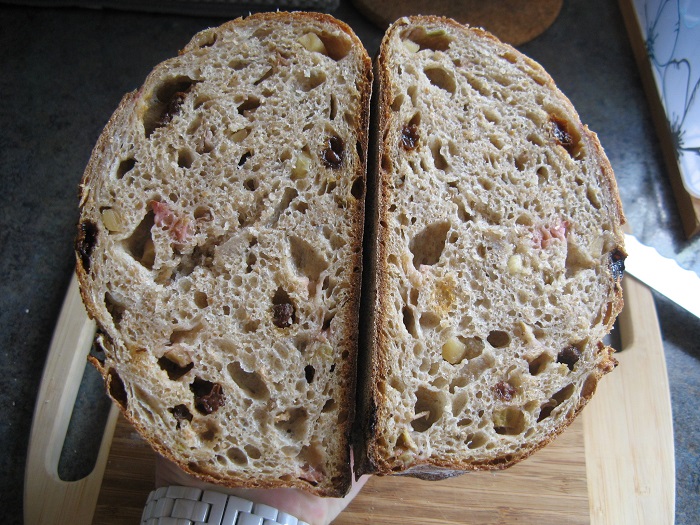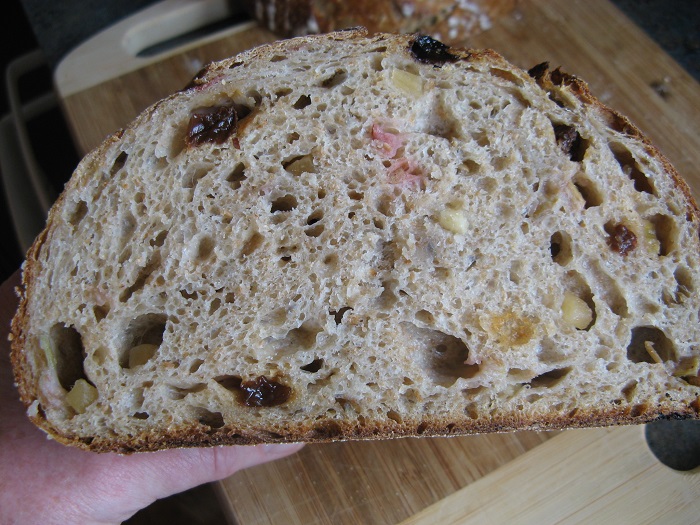 Wow, was I happy with this one! The crumb is fabulous and moist, and the taste is really, really good. The bits of rhubarb didn't quite dissolve so there are little pink bits in the dough that have a tart zing to them, along with the sweet spicy ginger bits and the juicy raisins. I think the spices are just right too. This one will be a seasonal offering in the bread shop, I think!