Gluten Free Fruit & Nut loaf
I don't bake a lot of gluten free bread, but I've got a couple of regular GF customers that I bake for weekly. Usually I bake a nice Olive bread and GF "Not Rye" (sort of a deli rye style). I use recipes from Bread in 5 Minutes a Day (Healthy Bread in 5M and Gluten Free Bread in 5M).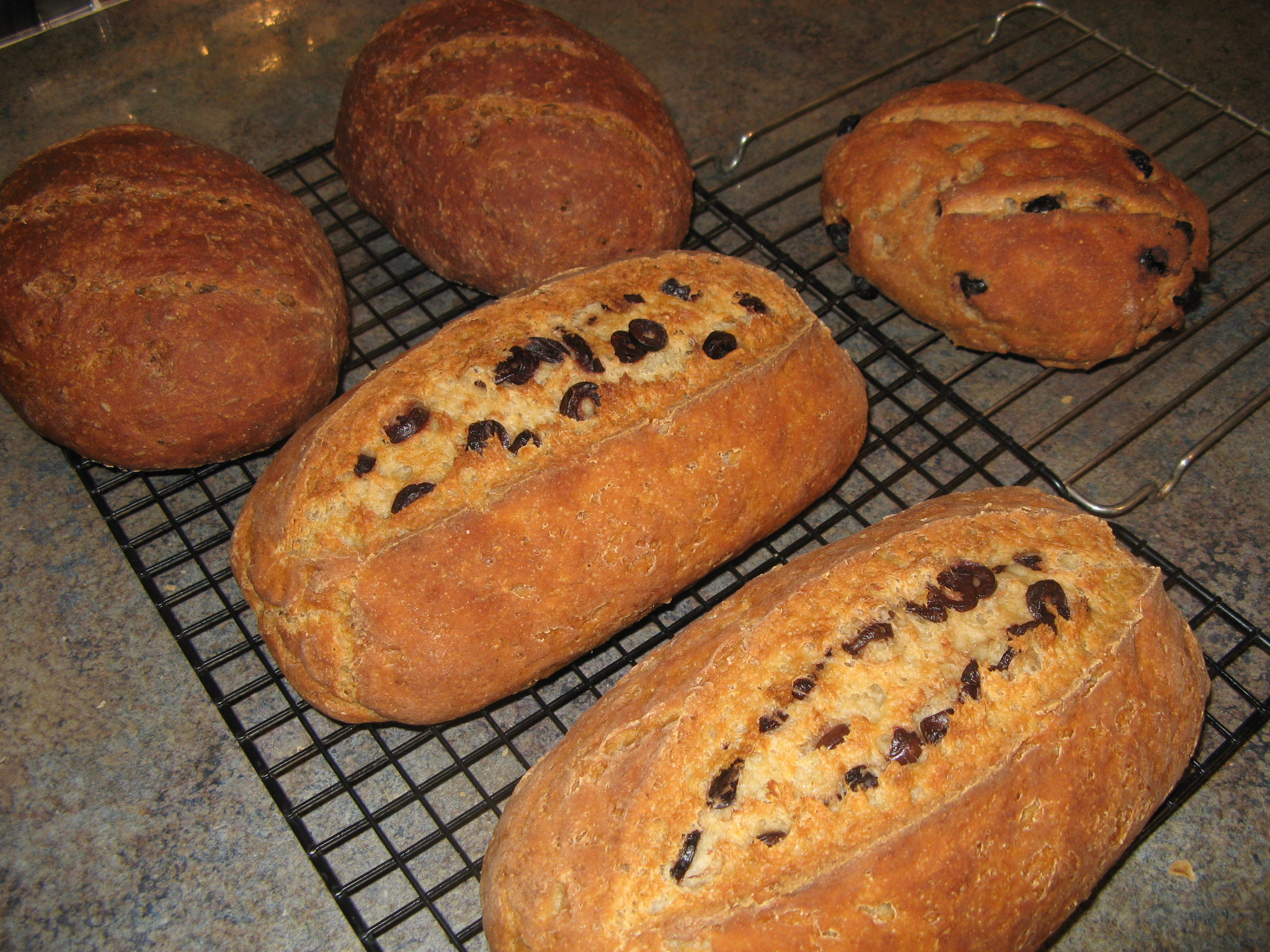 One of those customers asked if I ever bake a GF fruit and nut bread. I hadn't, and didn't see one in my recipe books that I liked so I set out to create a brand new GF recipe. That turned out harder than it sounds, as I don't know too much about percentages and the effect of all the ingredients of GF bread but I figured I knew enough about it now to give it a try.
After three iterations I think I've got it. Here's the winning recipe:
Brown rice flour - 50 g
Whole sorghum flour - 50 g
Whole Teff flour - 50 g
Tapioca starch - 25 g
Coconut flour - 25 g
Water - 150 g
Milk (I actually used home made kefir) - 50 g
Egg - 50 g (1 large)
Butter - 20 g
Honey - 15 g
Fruit (I used dried blueberries for this one) - 30 g
Nuts (chopped almonds) - 20 g
Salt - 4 g
Active dry yeast - 4 g (1 tsp)
Xanthan gum - 5 g (1.5 tsp)
Golden flax seeds - 10 g
I mixed the flax seeds into 50 g of the water and let it sit until the water was a bit thick (mucilaginous). This helped with the crumb and texture of the bread. I then mixed all the wet ingredients (including softened butter) and the yeast, added the fruit and nuts, and then all the blended flours and salt. I mixed it well to aerate it and let it sit, covered, for two hours. It was then smoothed carefully into a greased pan and rested for another half hour.
Given that it was an enriched bread (with kefir, butter and honey) I baked it at 350F. For the first 20 minutes it was covered with an overturned steel pan, then another 20 minutes uncovered.
I'm pretty impressed with the crumb, crust and flavour of this one. I'm not much into gluten free bread but I like to get it as close to gluten flour bread as I can, and this one is pretty close. I guess I'll add it to the baking rota! All the 'rules' are different for GF breads. The hydration is something like 125%, for example, and I had little idea how much xanthan gum to use. The soaked flax seeds and mucilaginous water made a big difference too.
I forgot to take a picture until half of it had already gone to one of the customers, but managed to get a couple quick snaps before the other half was gone. :) Note that I had to cut it in half before it was really cool (one of the customers came to pick up her other bread), so it looks a little gummy in the top photo.