But since it is "Italian bread", let's go with sesame semolina corona.  This is the Jeffrey Hamelman semolina dough with my 125% hydration rye liquid levain in lieu of his 125% bread flour liquid levain.
Neighbors due Friday afternoon for homemade torta di riso, rice cake - courtesy of my better half, home "brewed" limoncello, cheese -courtesy of various cloven-hooved beasts, and bread.  As I've made them my sesame semolina baguettes before, I decided on tackling a new shape, and have a preliminary run-through before subjecting any guests to it without a test bake.
Without a specialty banneton of any kind, it was time for some simple improvisation.  Using a 2 part Angel Food pan, I took the entire dough, already bulk risen and retarded, opened a hole in the center and dropped it into the pan.  Then back to retard it went for an overnight nap.  With a teflon-coated pan, there was no issue with the dough releasing cleanly.  A healthy swipe across the surface of the dough with a wet paper towel allowed the sesame seeds to adhere nicely.
15 minutes under steam, another 15 minutes after rotating and a final 2 minutes venting.  I've never baked anything greater than 750g , and then perhaps only twice, so this was a new adventure for me in a few ways.  Still too fresh out of the oven to cut open.  If all goes as planned, I'll prep the real thing today for a Friday afternoon bake and better form a round hole in the center.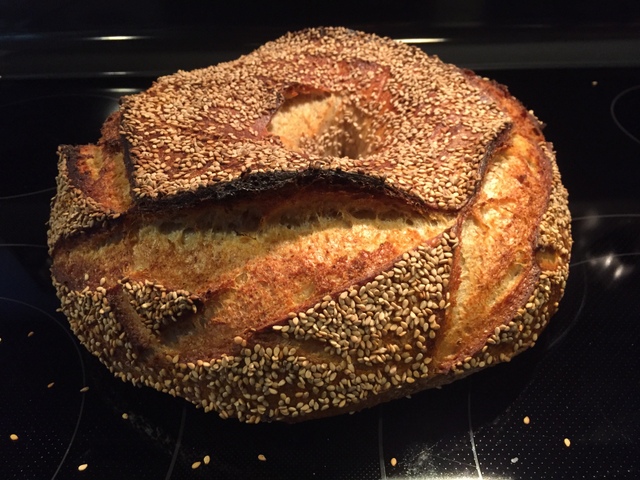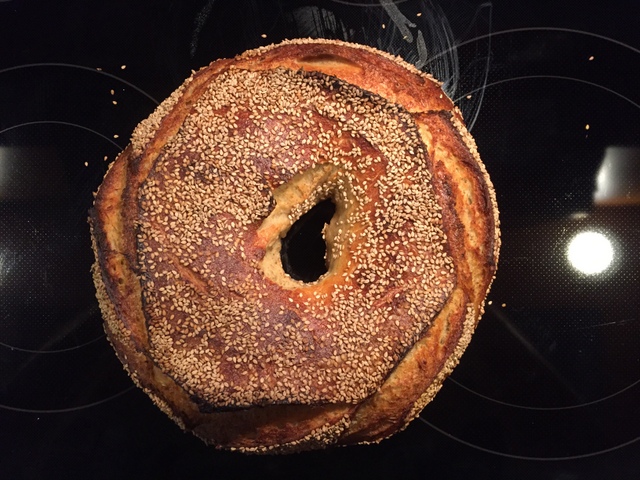 Crumb shot added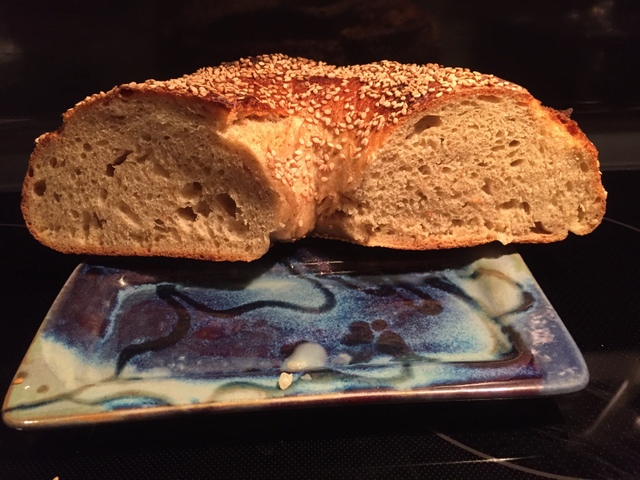 1250g x 1 corona