Pain Rustique - kinda. alfanso-style
Pain Rustique as a batard and baguettes.  I've seen a few pain rustique posts come through recently.  Well maybe one, maybe more.  And it occurred to me that I hadn't made this before.  Being poolish based, it is a rare bake these days where I don't use a levain as my pre-ferment.
This is modeled on the WeekendBakery version. The poolish is a mix of AP and Whole Wheat flours and is unusual in that it uses a levain starter rather than IDY for the poolish.  Knowing that I was planning on retarding the dough, I cut the amount of IDY for the Final Dough in half and also shortened the bulk rise times.
The dough is surprisingly sticky at "shaggy mass" time considering the overall hydration of the dough is only 65.5%.  But it mixed by hand quite nicely and was quite extensible during Letter Folds.  For this particular bread I attempted to be as gentle as reasonable while shaping the dough so as to avoid disturbing any future open cell structure within.  I did over-flour the couche in an attempt to ward off any recalcitrant dough that would want to stick to the linen.  As it turned out, the dough released without a hitch from the couche and the excess flour was probably not very necessary.
The mixed flour poolish took about 11 hours to mature.  In the picture the small black mark on the container was where the just mixed poolish started.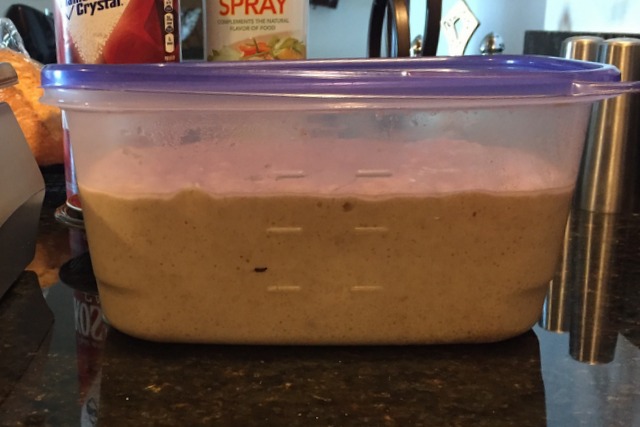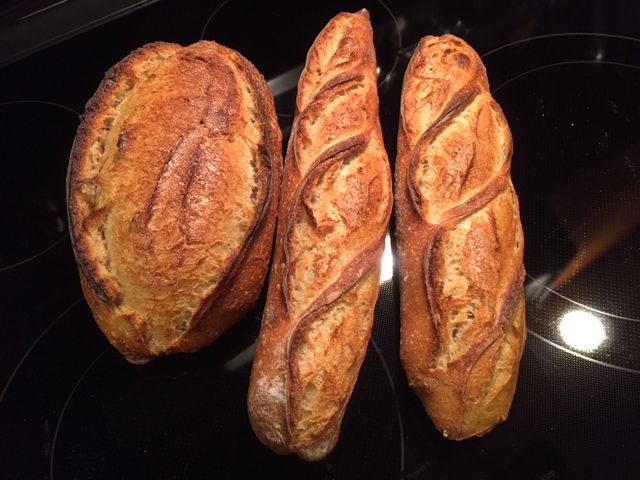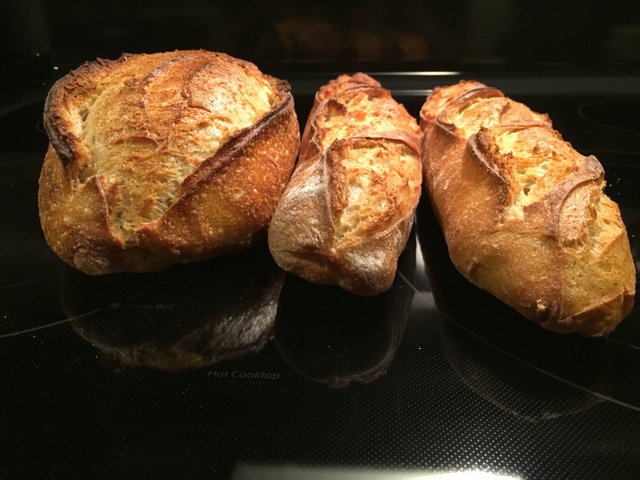 625 x 1 batard
330 x 2 baguettes
Pain Rustique w/levain based Poolish
 
 
 
 
 
 

Weekend Bakery, mod. by alfanso

 
 
 
 
 
 
 
 
 
 
 
 
Total Flour
 
 
 
 
Total Dough Weight (g)
 
1000
 
Prefermented
50.00%
 
 
 
Total Formula
 
 
 
Poolish
 
 
Final Dough
 
Ingredients
%
Grams
 
%
Grams
 
Ingredients
Grams
Total Flour
100.00%
589.3
 
100.00%
294.7
 
Final Flour
294.7
AP Flour
90.00%
530.4
 
80.0%
235.7
 
AP Flour
294.7
Whole Wheat
10.00%
58.9
 
20.0%
58.9
 
Whole Wheat
0.0
Water
65.54%
386.3
 
100.0%
294.7
 
Water
91.6
Salt
1.67%
9.8
 
 
 
 
Salt
9.8
IDY
0.25%
1.5
 
 
 
 
IDY
1.5
Starter
2.22%
13.1
 
4.5%
13.1
 
 
 
 
 
 
 
 
 
 
Poolish
602.5
Totals
169.68%
1000.0
 
204%
602.5
 
 
1000.0
 
 
 
 
 
 
 
 
 
 
 
 
 
 
 
 
 
 
Mix  poolish and allow ~12 hours.
 
 
 
 
 
 
Mix  poolish, flour and water.  Autolyse 30 minutes
 
 
 
 
Add IDY & salt.
 
 
 
 
 
 
 
 
150 French Folds, 5 minute rest, final 150 FFs.
 
 
 
 
75 minute bulk rise. Letter Folds at 35 & 60 minutes.  Rest for 15 additional minutes.
Retard for ~8-12 hours.
 
 
 
 
 
 
 
Divide & shape anytime after 2 hours.  Onto moderately floured couche seam side down.
Retard again until ready to bake.
 
 
 
 
 
 
 
Preheat oven to 475dF
 
 
 
 
 
 
 
Onto oven peel seam side down.  Score.
 
 
 
 
 
 
Bake at 455dF till brown.  ~13 minutes with steam, ~12 minutes more for baguettes or 15 more for batards.  2 minutes venting.
The crumb is surprisingly tight considering the oven spring, which does not bother me.  For a long time now, I'm no longer in search of large open crumb as my "holey grail".  I believe this type of dough is not meant to be shaped, even as gently as I attempted, hence the rustique name as others have pointed out.   But more importantly the taste is mild and pleasing for an almost all AP bread.  And although it received the same amount of steaming as my other bakes, this one does not carry the same amount of sheen as others.
Still, certainly worth placing the formula in my notebook for future bakes.  Man cannot live by levain bread alone.
N.B.  If you want to bake this the same way, without retardation and with the full amount of IDY, refer to the link at the top of this entry for timings.