More consistency, but let's talk about steam
I've posted these before, the Hamelman sesame semolina batards alfanso-style - meaning subbing out the very liquidy bread flour levain for my very liquidy rye flour levain.  Delivering 15% rye flour (all through the levain) to boost the flavor in this bread.  The composition of flours is; semola rimacinata 60%, bread flour 25%, and rye flour 15% @67% overall hydration.
I believe that I have the consistency part down pretty well.  So instead, let's talk about steam, shall we alfanso?  Okie Doakie, let's roll...  Recently there has been some interaction on the part of a few participants including myself and Doc.Dough, with a series of private messages between myself and the good doctor. Including this top notch video and blog entry courtesy of Doc.Dough - lots of steaming discussion included in the comments.  
As with others on TFL, I employ a double dose of steaming components which have me insert one loaf pan with a Sylvia's Steaming Towel into the lower rack of the oven ~15 minutes prior to the bake.  Once the dough is loaded I add 2 cups of near boiling water to a lava rock filled casserole pan.  This creates dabrownman's so named mega-steam effect.  Historically I've been leaving the steaming going for somewhere in the neighborhood of 11-13 minutes.  And I'm sufficiently happy with the outcome.
Now along comes Doc.Dough with his micrometers, calipers and what-not trying to upset my baking pushcart.  Purveying the notion with engineered knowledge that the effect of steam is negated after somewhere around the 5 minute mark.  Anything beyond that is equivalent to window dressing.  
What is an alfanso to make of all this fact based information, when all along I've been getting the job done by nothing more than "educated" guesswork, experimentation and personal experience?  Well, if I were me, I'd be curious enough to see where the oven spring has taken my dough at that 5 minute mark.  Because as with all of us, I hope to get better and more understanding of baking over the long haul.
For these past few bakes, instead of setting my timer to the trusty 11-13 minute mark I've been setting it to the 5 minute mark so that I can peer through the oven door window and take a gander at what's what.  And ya know something?  For the most part I'm becoming a believer!  The baguettes do open up (almost) all the way at that mark.  However, I find that the batards still have not maxed out yet, and they take a few minutes more.
And so I've turned a corner here and pretty much gotten on board.  I still like keeping the steam going for close to my requisite time, but I can now see the doc's point of view.  I don't see any downside to leaving the steam going, although my experimentation has been limited to maybe 3 or 4 bakes.  So I'l continue to slog on and see how this goes with some other types of dough.  Always something new to be learned in this doughy business.  Thanks, Doc.
And now a very few words on the consistency thing:
Nov., 2016: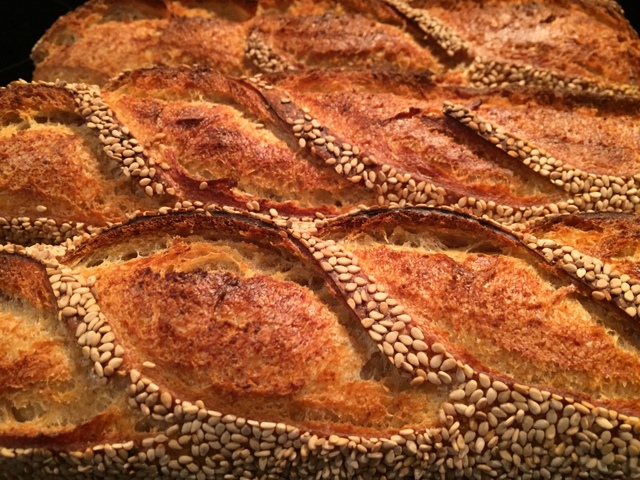 and this morning: