Some early success, and huge thanks to...
...so many of you here, for your inspiration, your patience and detail in answering questions, and your generosity in sharing your formulas and instructions in enough detail that even a rank newbie like me can start off with some success! 
After a working career traveling and eating in restaurants, I finally started learning to cook late in my 5th decade of life, and now am starting to learn about baking bread to start out my 6th decade.  My initial reason for starting to look into the idea was the inability to find a bakery within 1000 km that actually made a Westphalian-style Pumpernickel rye bread, as well as a deep dislike of the amount of sugar that the majority of local bakeries think should be an ingredient in their breads.  This site (thank you, Floyd M!) and all of you gave me the encouragement to believe that I could take on the delicate engineering / chemistry balance that is the science of bread and have some fun making some tasty real food.  I started out with building my first starter in the beginning of February, and have been trying two or three loaves (different recipe each time) per week, based around building levains on Tuesday, mixing / fermenting on Wednesday, and baking on Thursday.
I'm even less of a photographer than I am a baker, but hopefully these will do some justice to the delicious end product.
Last week I tried out Danni3ll3's wonderfully conceived recipe for "Oats Four Ways", but had to tweak a bit due to not having kamut (I used fresh milled soft white wheat instead) or yogurt (I used dried milk powder and increased water to suit).  I was too impatient to wait until it had cooled enough, so the crumb looks a bit more moist / dense than it should, and my proofing basket isn't really round (I tried to round it out a bit more with a towel but didn't quite make it), but the lacks in appearance don't have any effect on a truly wonderful tasting loaf: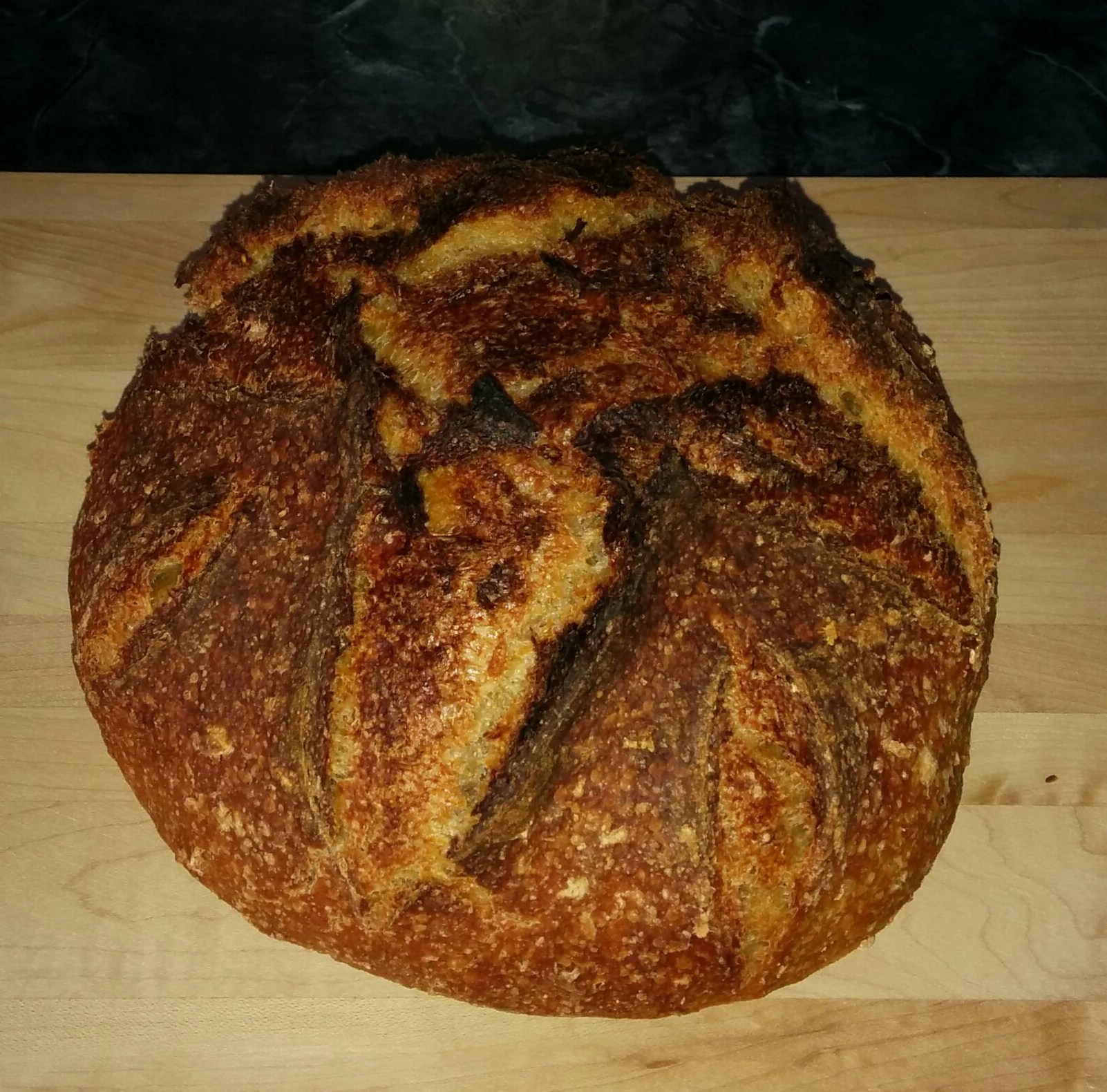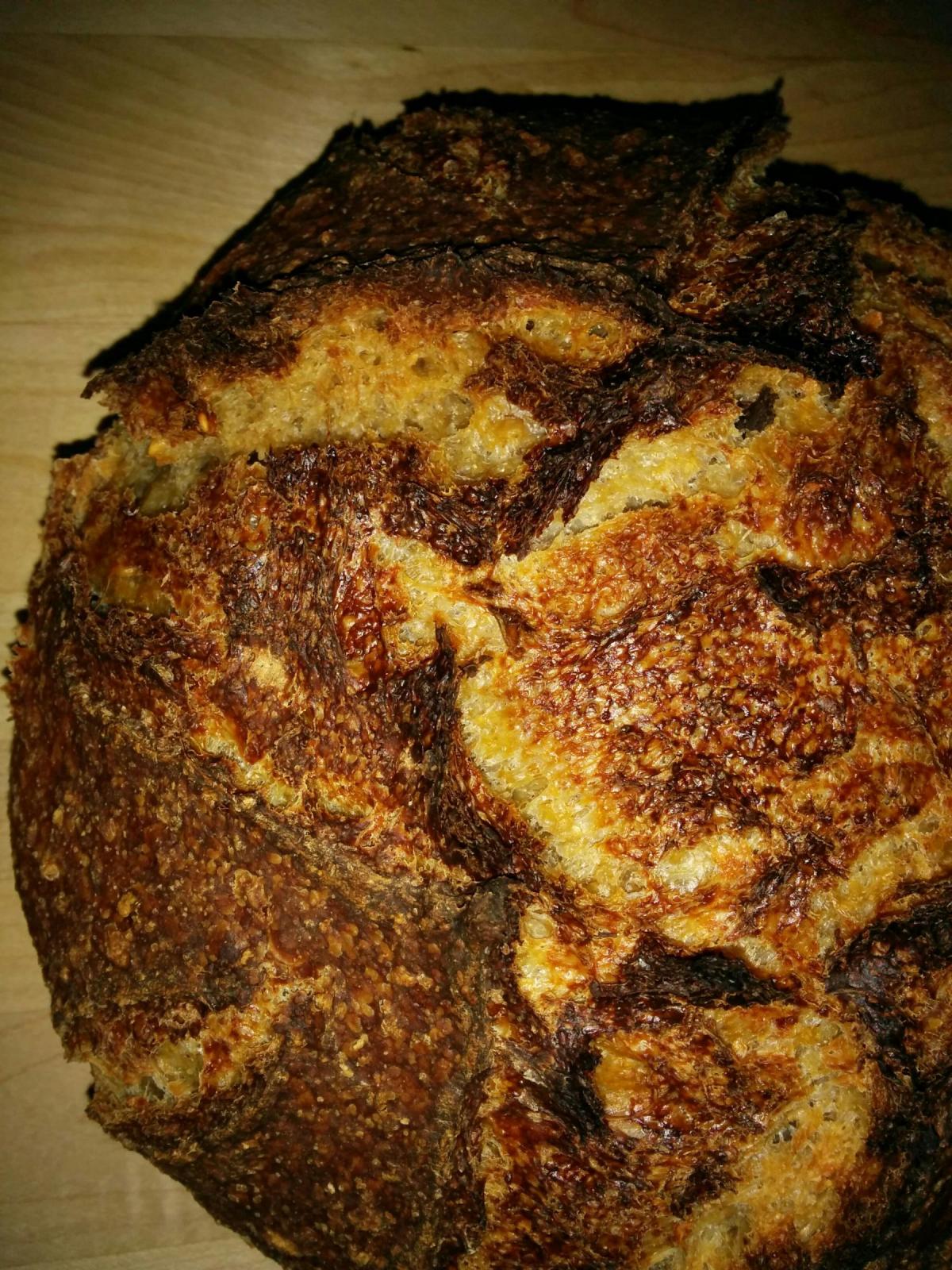 I have also been thoroughly enjoying my first success with a 100% rye loaf (loaded up with white rye malt, red rye malt, chocolate rye malt, and a "bread spice" mix of caraway, fennel, coriander, and cardamom).  I used Mini Oven's magic ratio for rye breads, along with her instructions, and came out with this fabulous treat (which is almost gone, long before I thought about taking a photo):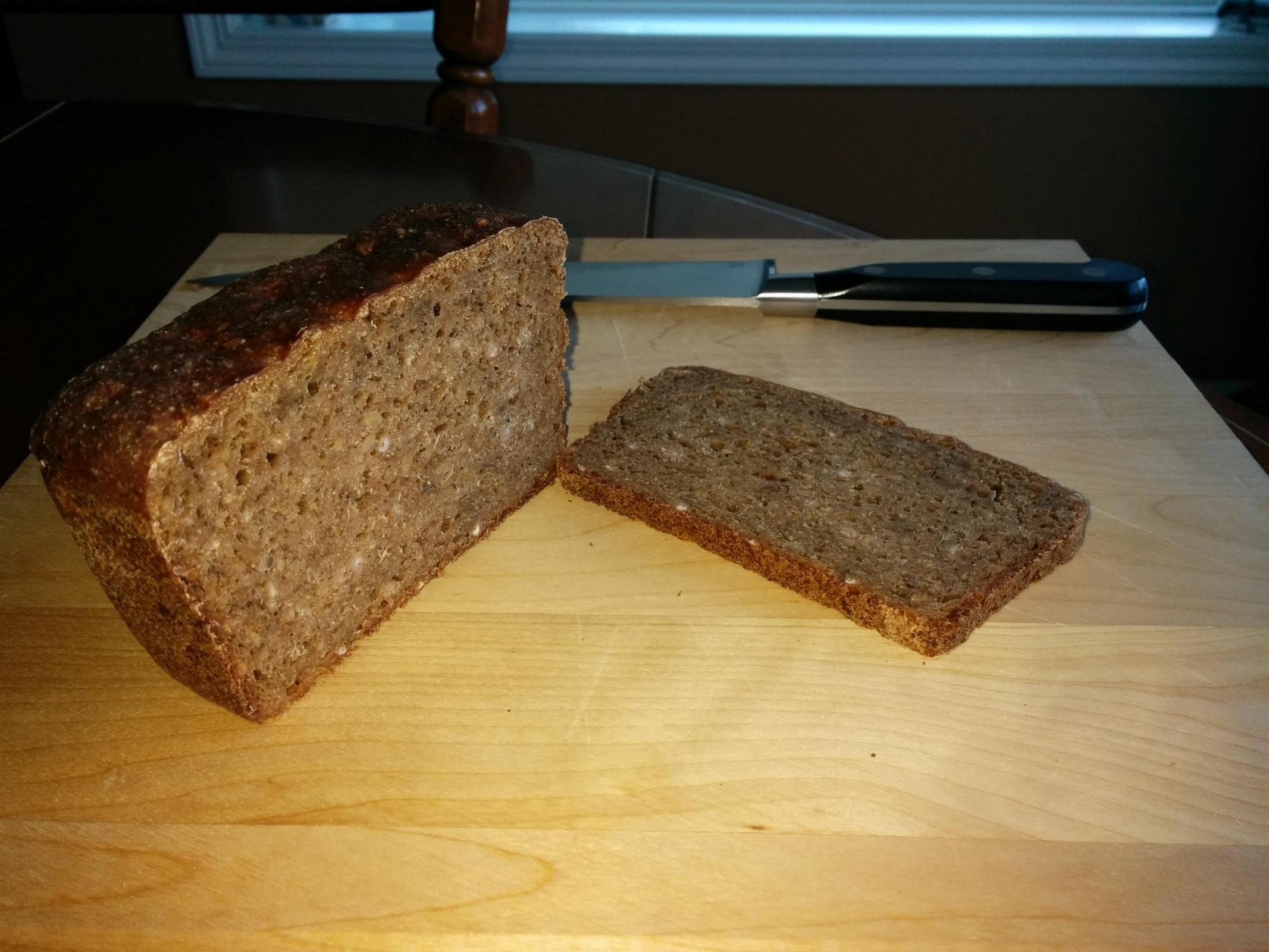 While I'm still creating my share of "battle bread" (delicious cricket bats and hockey pucks), I'm gradually increasing my skills and having a lot of fun. 
My happy little starter (George) is a 100% rye version based on dabrownman's NMNF starter - and I am loving both the ease of upkeep and especially that little bit of extra tang that I'm getting each week.
I've still got a long ways to go to develop my dough handling skills and get to a level of somewhat consistent success, but I am thrilled with the level of success that you all have helped with to so far.  Thank you!