My sourdough version of my croissants and pains au chocolat last year. Again, it was inspired by txfarmer's marvelous SD corissants but I want to make it 100% sourdough and I can't and don't measure precisely. Last year's version made with instant yeast was definitely prettier but this SD one had a couple of mishaps along the way so I can say it was still a successful bake to start the year! I made them in the shape of the pain au chocolat for a more even browning because that shape provides more surface area in contact with the llanera and not to mention faster and easier to shape in this hot climate. Since you cannot call them croissants because they are not crescents and calling a bread without chocolate pain au chocolat is senseless, I decided to call them petits bâtons or little sticks; I hope that makes sense! :P

I planned to split the process in 3 days. Make the dough and butter block on the first day; complete the lamination on the second day; and shape and bake on the third day. I planned to use a young (4-5 hour old one) levain to lessen the sourness in the final breads but you know at some point in our lives, we enter a zombie-like state because of stress and lack of sleep and do some things that we had no idea why we had done it; before the first day, I refreshed my starter and after 4 hours, I built my levain and fermented it for 12 hours at room temperature. Only when I woke up the next day that I realized that I should have done the the reverse! The result, a slow levain! Then a sudden trip that fell on the "baking" day, I have to complete the turns and bake at the same time on the second day. Everything was rushed so most of the steps did not go smoothly and resulted in some failures but with any croissant failure, it was still delicious.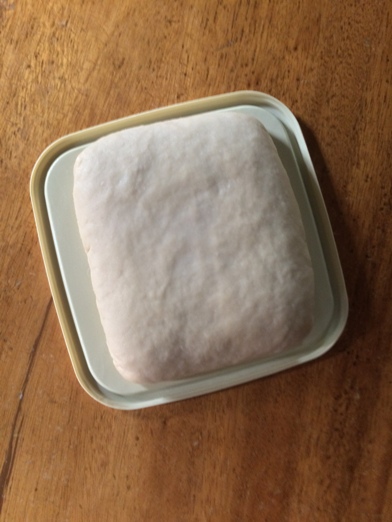 Made the dough (Bread flour, water, levain, salt and oil) at night and underwent bulk fermentation for 3 hours before going into the fridge. I was in a zombie-like state again that night that I made a long bulk ferment and even made the dough too dry resulting in a very strong dough that is hard to roll out.

Next morning, I woke up at 10 AM and performed the first turn. After a 1 hour rest in the fridge, I performed the second turn. I only performed 2 turns, un tour double et un tour simple (at 27°C / 82°F). Because the dough was too strong, 1 hour is not enough to relax the gluten so I struggled a bit in the turns but as I said before, my steel pipe and large hands are great help and I was able to roll the dough to desired dimensions.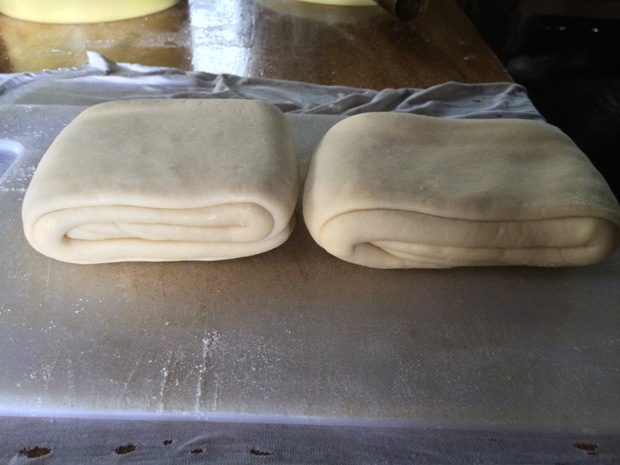 The turns are complete and they are ready to be shaped.

After another hour, I shaped them like pains au chocolat and proofed them for 4 hours before baking. The dough was resisting in the final roll-out so I was able to roll it only to a short length then divided into 3 so they were short and fat and do not look like sticks that much. :D Now this is where the slow levain becomes a problem, before 3 hours is enough for my breads to be fully proofed but it's already getting dark and I don't want to cook outside in the dark and cold.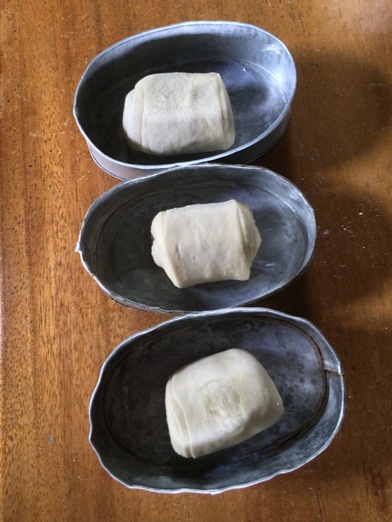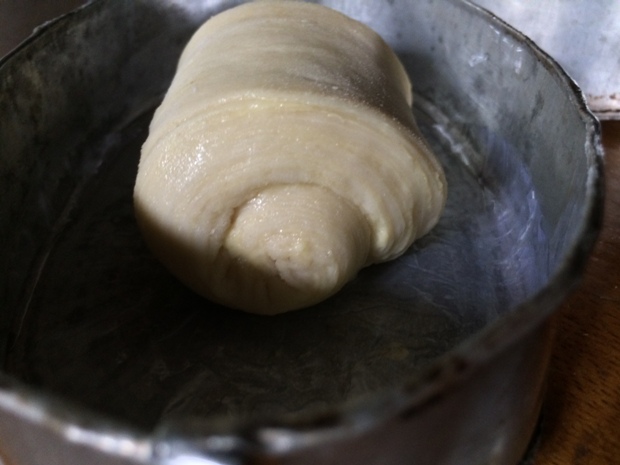 We just saw another five-foot elapid near the outside kitchen just days before and that snake has a reputation for being very venomous so we want to be extra careful so I decided to bake them even though they were underproofed.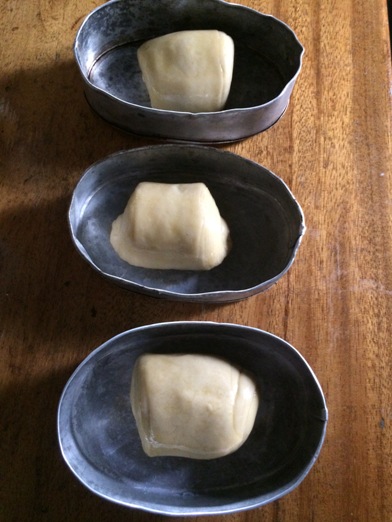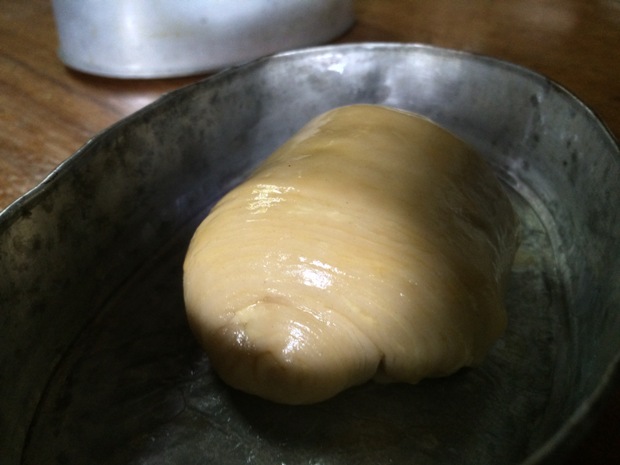 You can clearly see they were underproofed. They should have really expanded and the layers should have been clearly defined if they were fully proofed,

I eggwashed them and baked them in my clay pot for 20 minutes, flipped after 10 minutes. One more problem is I didn't remove the pebbles from the last bake, I thought they would provide thermal mass to help the croissants spring but I was wrong, they provided an "even" controlled heat  that delayed spring; works well for lean hearth loaves to avoid burning and provide a slow controlled sping, bad for croissants where you want a sudden burst of heat to make the butter boil and puff instantly. It's the reason why the ones in the first picture are denser, not evenly browned and has more pooled butter underneath (well it's a given because they were underproofed). The next batch without the pebbles were much better; flakier, lighter, more evenly browned with less butter pooling. Most of them unrolled and lost their shape, maybe it's because of underproofing as well.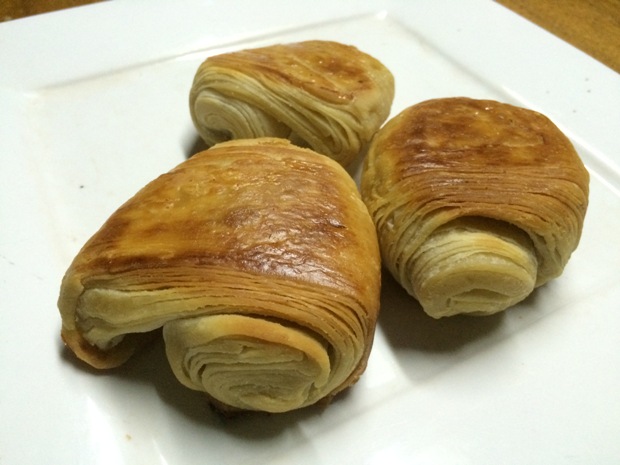 At least the layering was obvious! I haven't had the chance to take a picture of the crumb because my phone ran out of battery; we didn't wait for it to charge anymore because these are best freshly baked. It's not bad at all, of course not honeycomb like and slightly bready but still light and flakes easily. The crust is crispy and shatters at one's touch. What I like most is how the flavor improved! The aroma was not that "yeasty kind" it a special sourdough aroma and the taste is complex; sweet and tangy that works well with the heavenly buttery flavor. For those who enjoy sourdough bread with butter, you will really like this!

I hope it will be better next time with the right timing, planning and a better state of mind! :P You will see more viennoiseries and more that require lamination from me for a short while because it will be cold (21°C-24°C) here for 2 months (the only two cold months out of twelve!) so I just have to take advantage of it! It's hot during the day (27°C-32°C) which is perfect for maturing the levain, bulk fermentation and proofing then doing lamination during the night.