October 30, 2016 - 12:44am
Hokkaido pumpkin bread with cinnamon, sage YW and SD combo
Every autumn we have abundance of pumpkins in our garden. Most of them are Hokkaido pumpkins which have an orange skin and more yellowish meat. I usually use Hokkaido pumpkins for preparing pumpkin soup or pumpkin gnocchi with brown butter and sage leaves (one of the recent recipes is published here with a nice video), but this year I decided to make Hokkaido pumpkin bread with SD and sage yeast water combo.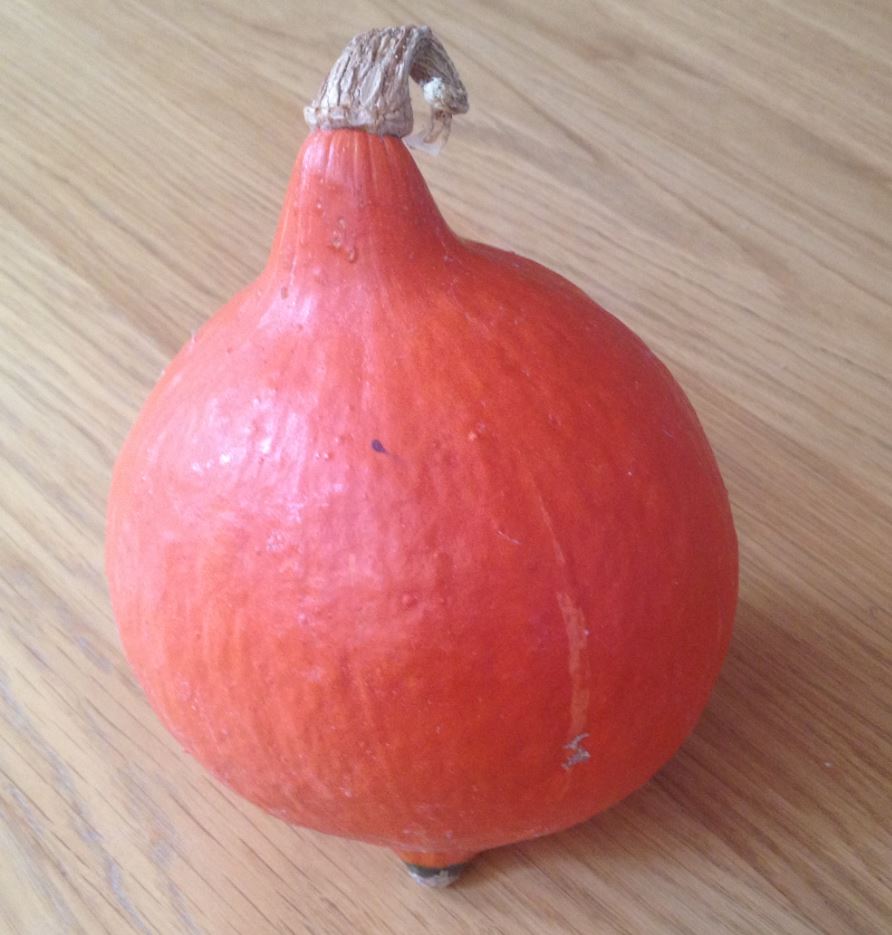 Hokkaido pumpkin from our garden.
I almost never do completely white bread so also for this bread I decided to use 15% of wholegrain spelt flour and 15% wholegrain rye flour. The flour was freshly milled few hours before mixing the dough.
Procedure is quite straightforward:  First prepare SD levain and sage (if you have) YW levain and let them ferment for about 8 hours. The levain should be bubbly and active. If you don't have sage YW or any YW just skip preparation. The final bread will be great without that as well. In this case put 5-10 fresh sage leaves in the butter used for preparing pumpkin puree. My sage yeast water was not very active so the majority of raising power was gained by SD levain. YW levain actually added just the sage taste and probably just a little bit raising power.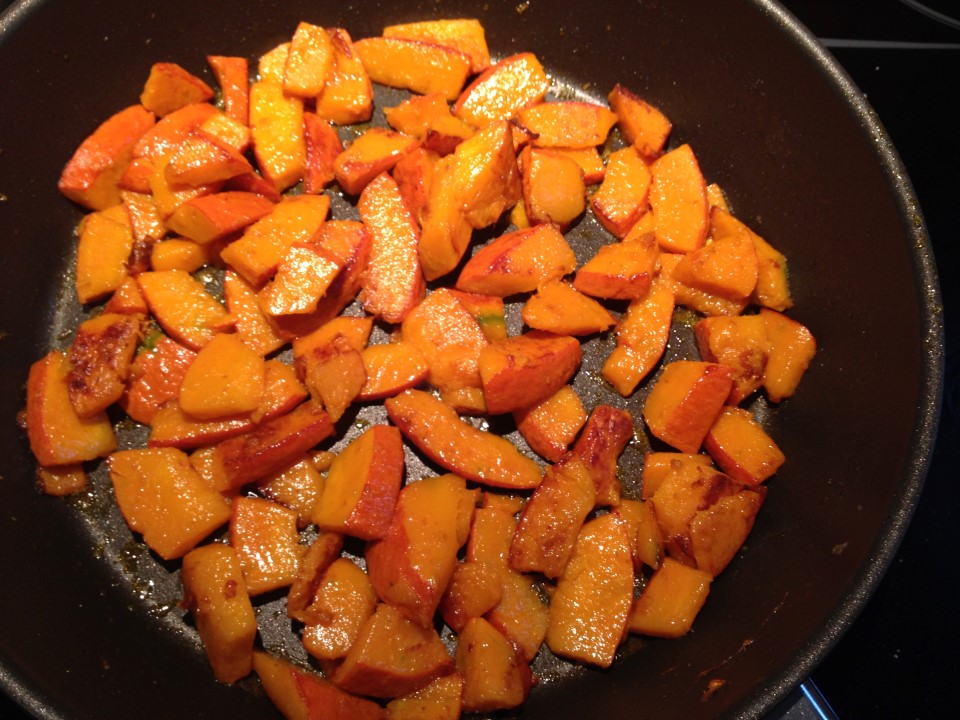 Preparing pumpkin puree.
Then prepare Hokkaido pumpkin puree.  You can use canned one (any pumpkin puree if you don't have Hokkaido puree at your hand), I prepared fresh one from Hokkaido pumpkin from my garden. I rarely use preprocessed ingredients if I can use fresh one either from my garden or bought fresh on the farmer's market. Wash it, remove all seeds and slice the pumpkin to 1/3" (8mm) thick pieces. Deliberately I didn't peel the pumpkin as the skin gives so much color to the puree.   I used about 40g of butter and sautéed until they became soft. Instead of using sage yeast water you can put sage leaves after butter has melted while preparing pumpkin puree and remove them when the pumpkin slices become soft and start browning. Season that with salt or increase the amount of salt in the dough recipe. At the end use hand blender to prepare puree. I added 50 g of water to make blending easier (see the recipe ingredients specification).  I started with about 450 grams of sliced pumpkin and a lot of water evaporated so the estimated quantity of puree was about 250 to 300 grams.
Adding pumpkin seeds and puree to dough. In my first attempt the seeds were not cut.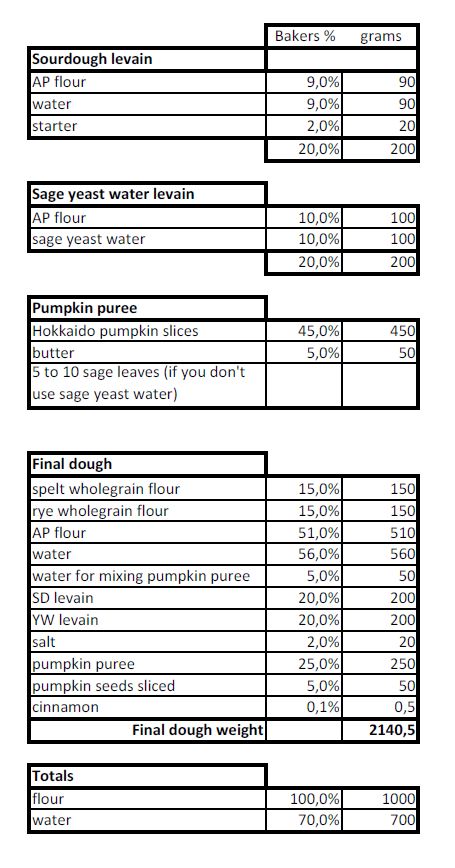 The initial dough hydration is pretty low because the puree brings a lot of additional moisture. Estimated final hydration is between 73-78% - depends on the quantity of added puree. I was using AP flour, but you can use also stronger bread flour. AP flour makes the crumb really soft. There is lot of place to play with the taste of this bread - it depends on the quantity of added pumpkin puree, sage and cinnamon. In my next bake of the same bread during this weekend I added a little bit more cinnamon but found later on that it was just a little bit too much. So be cautious with the cinnamon (unless you would like that cinnamon taste would be the prevailing one).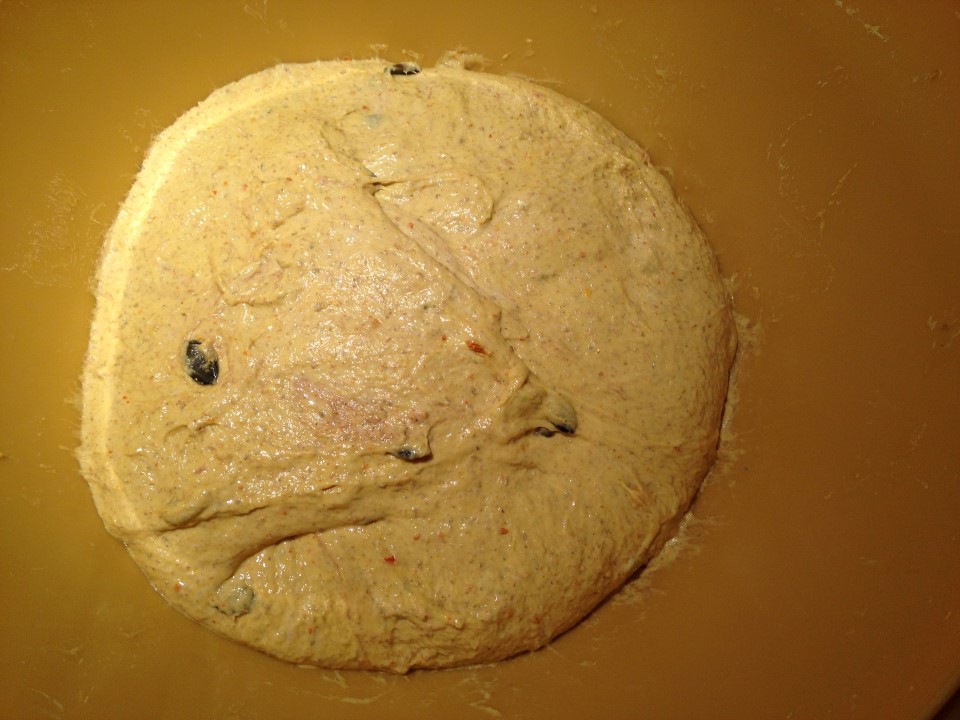 Dough at the end of bulk fermentation
Dough preparation:
1.) Mix levain (SD and YW if you prepared it), water and flour with hand to get a shaggy mass and let it rest from 20-60 minutes (autolyse). Desired dough temperature is 27 to 29 dC (80 to 84 dF)
2.) Add salt and mix thoroughly with hand.  
3.) Do stretch & fold every 30 minutes. Add toasted pumpkin seeds and pumpkin puree one hour into bulk fermentation (at second stretch & fold).
4.) After 2.5 to 3 hours of bulk fermentation (watch the dough, not the clock) divide the dough, preshape it and let it rest for 15-30 minutes on the bench.
5.) Do final shaping and let it rise for about 1.5 - 2 hours or retard immediately and bake it direct from refrigerator after 6-12 hours. Use finger poke test to estimate when the dough is ready to be baked.
6.) Bake in Dutch oven – for 10 minutes at 240 dC (460 dF) and then reduce to 220 dC (435 dF). Open the lid after 30 minutes and bake for another 10-20 minutes.   Alternatively bake with steam for 15 minutes, after that continue with convection bake.
7.) Cool on a rack for at least 1 hour before slicing.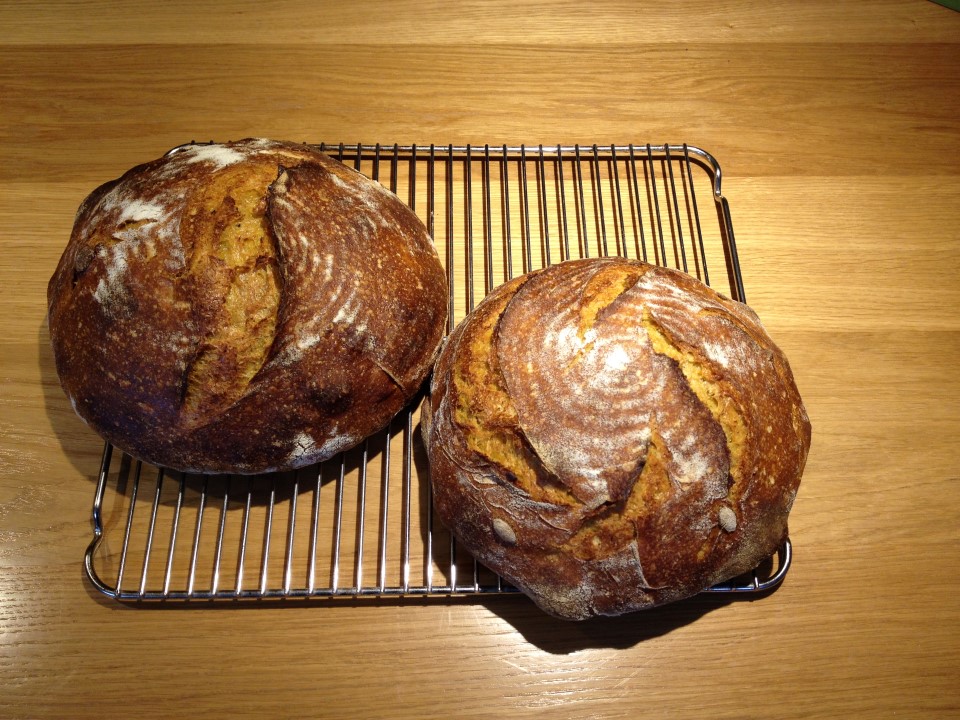 Another two loaves - one with curved scoring and on another one I was just playing with scoring.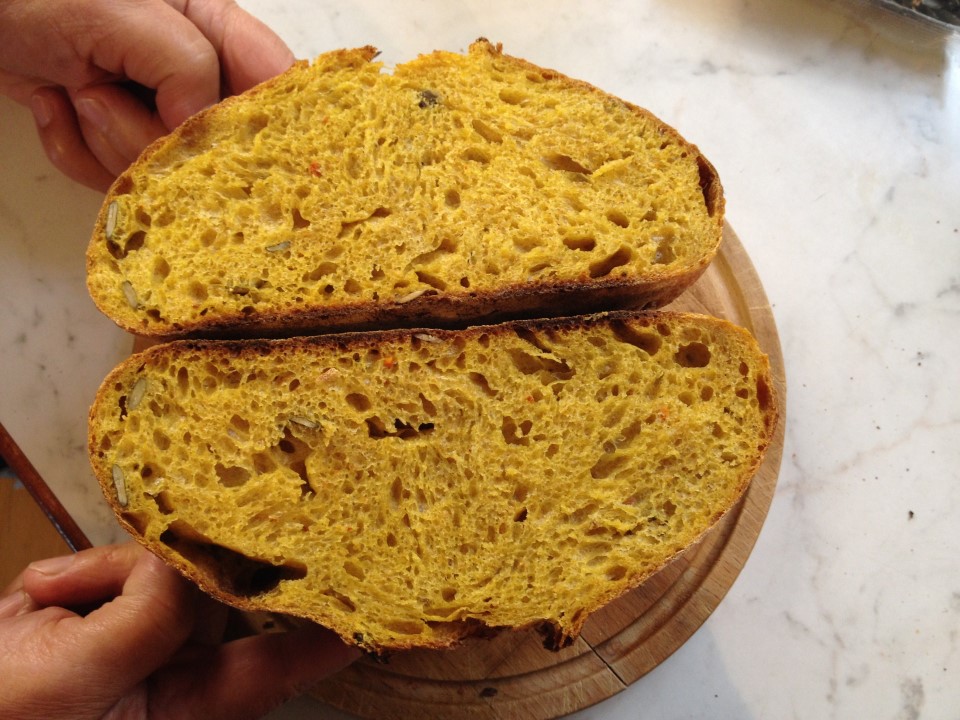 The crumb is yellow, very soft and tastes heavenly.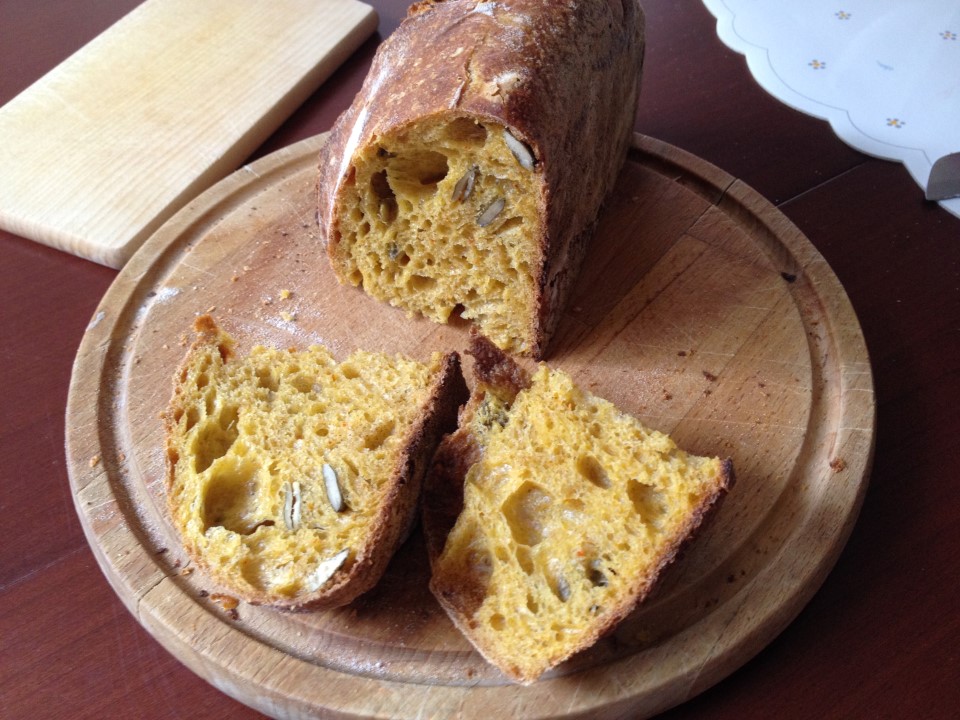 The crumb was pretty much opened due to YW combo and relatively high hydration due to added pumpkin puree.
After adding the puree the dough becomes very silky due to used butter. Be careful when adding cinnamon and sage leaves as both have quite strong taste so you can quickly add too much. My goal was that cinnamon and sage add just enough taste to enrich the pumpkin taste in bring it to a completely new level. Of course it is up to you how much of cinnamon and sage taste you want in this bread.  
My wife and neighbors evaluated this bread as the best bread I have ever made. It is very soft bread with pronounced yellow crumb, not sweet but with warm note of cinnamon and sage spice. Topped with some butter brings you straight to heaven.  
Happy baking, Joze