Puto (Pao) - Steamed (Meat-Filled) Rice Cakes
NOTE: This post is NOT in anyway intended to offend, malign or make fun of anyone especially TFLers from Latin America or those who can speak and/or understand Spanish. Our country has lots of Spanish influence too and you could definitely trace it in our language; although the feminine form retained its offensive meaning, the term "puto" did not; it just always refers to a delicious treat. For the sake of clarity, all of the terms "puto" you will find here refers ONLY to steamed rice cakes. No hate comments please. Thank you! 

Our country favors rice as its staple. Everyday from breakfast, lunch, afternoon snack, dinner and even midnight snack we eat rice but for special occasions we do not settle for plain steamed white rice. We turn rice into simple to very complex festive dishes like arroz valeciana, bringhe (something like a coconut milk arroz), talulo (rice in banana leaf), hundreds of different rice cakes and puto. I know this is not as grand as other bread TFLers make but puto often takes the place of bread or sometimes even rice in festive occasions. In birthdays the famous trio of puto, pansit (Chinese style stir-fried noodles) and spaghetti is so prominent that when they are seen in ordinary days the first question is "Who has a birthday?"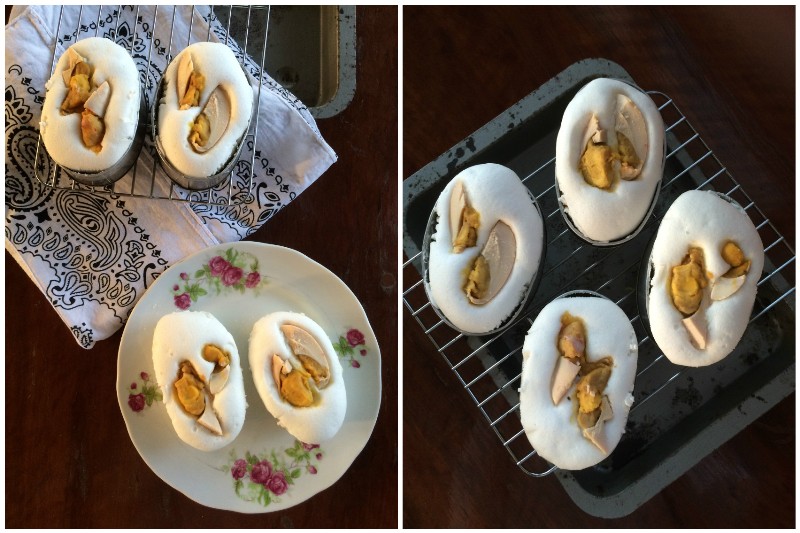 I grew up on the traditional puto with the optional topping of salted eggs or cheese that my dad buys from a town 2 hours away from us. Traditionally, top quality rice was soaked and ground in a stone grinder, mixed with sugar and water and allowed to ferment in clay jars for a day or two. When the batter has overflowed and full of bubbles, it is then poured into molds and steamed until done. When I learned about sourdough I realized that puto is essentially a steamed rice sourdough starter! When eaten, this style of puto has a slight tangy taste and a sweet but almost vinegary aroma. It is very similar to the Indian idli, the only difference is puto uses only rice.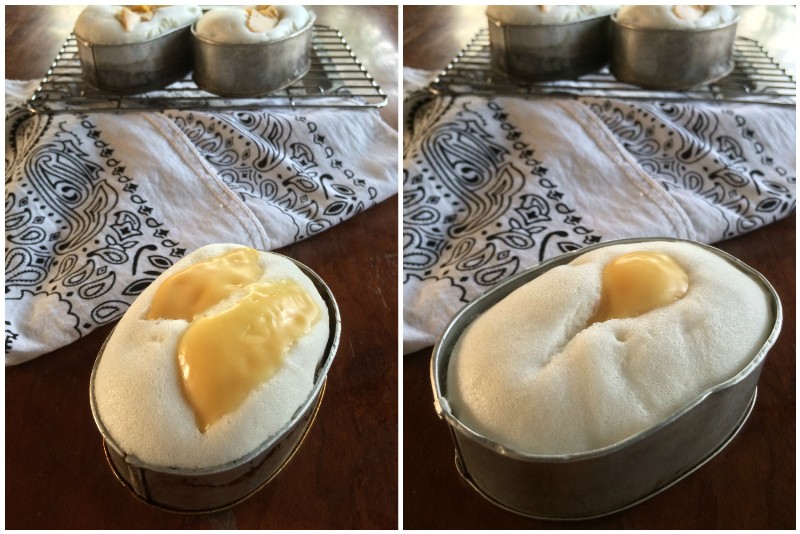 Today there are various styles of puto, some have milk or eggs, made with part or all wheat flour instead of rice and leavened with commercial yeast or chemical leaveners. I developed this to fit everyone if that's possible; gluten free, dairy free and vegan if you do not put the toppings. It uses rice flour and baking powder, a bit modern but close to traditional puto.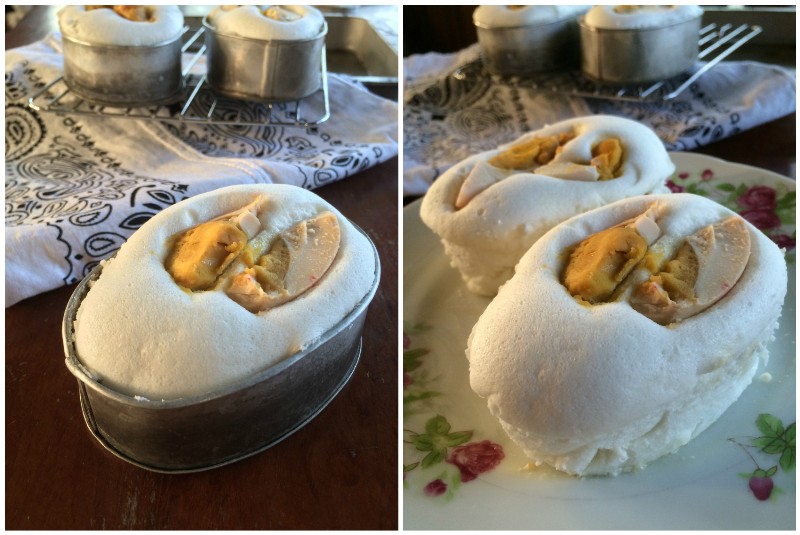 I just mixed rice flour and water into a thin batter and sweetened it to taste, added salt and baking powder then I steamed it until done. I used my little llaneras that's why they're oval but they're commonly round. I also put some salted eggs and cheese on top just like they do in stores, I like the cheese more and I even hate salted eggs topped ones when I was a child. I will use a good Edam for special occasions but I doubt other gourmet cheeses, perhaps it won't taste right because my nostalgic taste screams for the processed supermarket cheese used here.




My first attempt with puto did not turn out so well. It looks okay at the top but the sides are sticky, too moist and brownish. The interior was gummy unlike the fine crumb pictured above. I used baking soda and vinegar before because I did not have baking powder on hand; I think it was the culprit, maybe there wasn't enough acid to react with the baking soda and the rice cakes have a weird salty taste and alkali smell and taste; it also didn't rise as much, maybe it's also undercooked because I was a bit excited to eat them.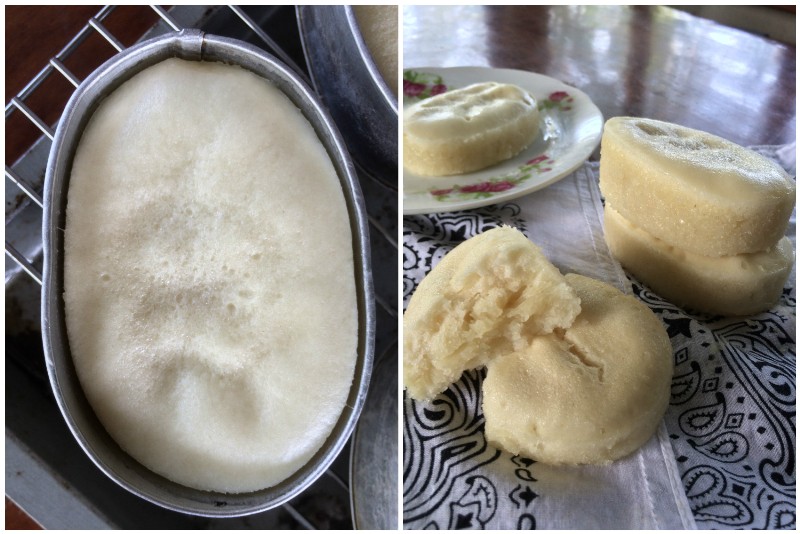 Here they are while they were steaming. I put all the left over batter in my biggest llanera and topped with both cheese and salted eggs. In parties this size is considered small, puto 5 inches high and 20 inches in diameter is not uncommon in such occasions.




I also made a nostalgic snack that my dad buys from a nearby town, puto pao. I remember they were the muffin like about half the size of my fist filled with sweet salty pork and salted eggs. Puto pao is  combination of puto and siopao (which came from the siu bao in char siu bao- steamed meat buns) making them meat-filled steamed rice cakes. I filled them with my asado (soy sauce cooked pork) and topped them with salted eggs just like what I remember. Salted eggs will complement the filling better than cheese and even though I hate salted eggs before, I love them when they are on puto pao.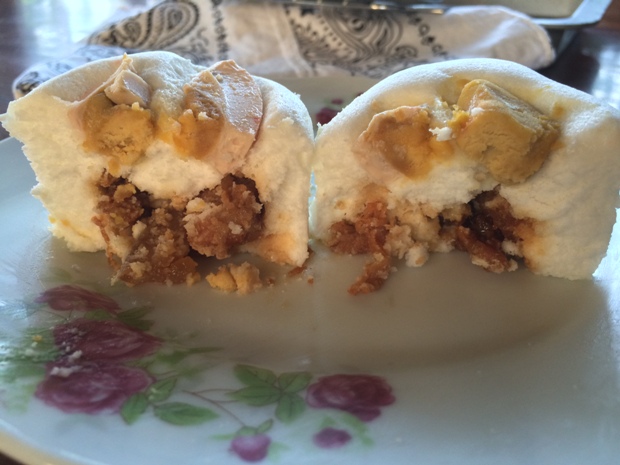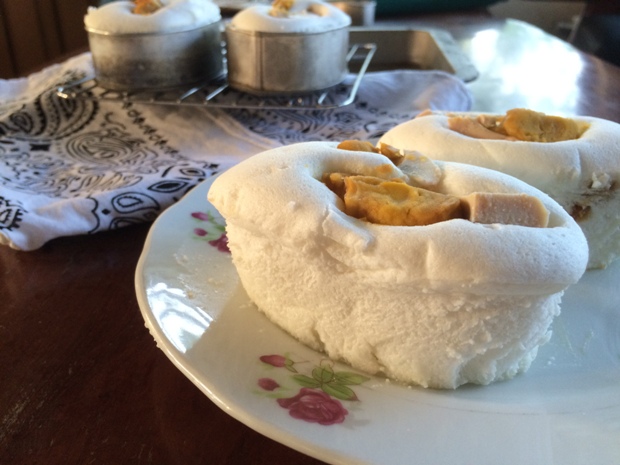 The puto is slightly sweet, extremely soft and fluffy with a very fine crumb. I think this batch is best reserved for plain puto because it is too delicate for the meat filling, maybe I should reduce the baking powder if I intend to make puto pao. Puto pao is an excellent snack though it may not sound appealing to many of you of because of the flavor combinations but they are a thousand times easier to make than char siu bao.

Maybe I should also pour the right amount of batter, I thought some are going to overflow but fortunately they did not, they just formed a muffin top.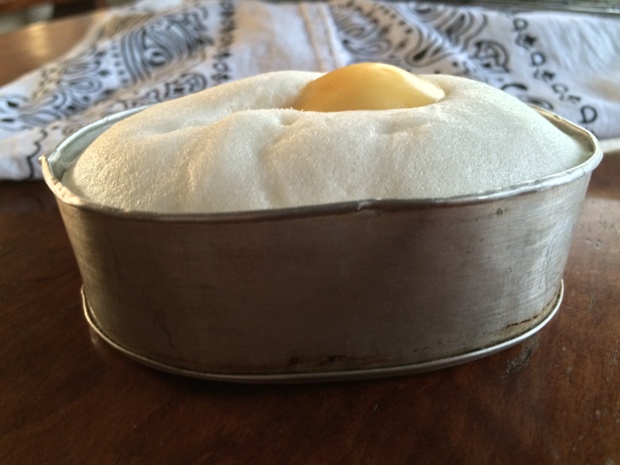 The photo above has a good amount of batter but I like the next one better, a higher full dome without overhanging sides. It's just the nostalgia in me that wants them to look like what I used to have. (You can see how the llanera endured many of my baking adventures)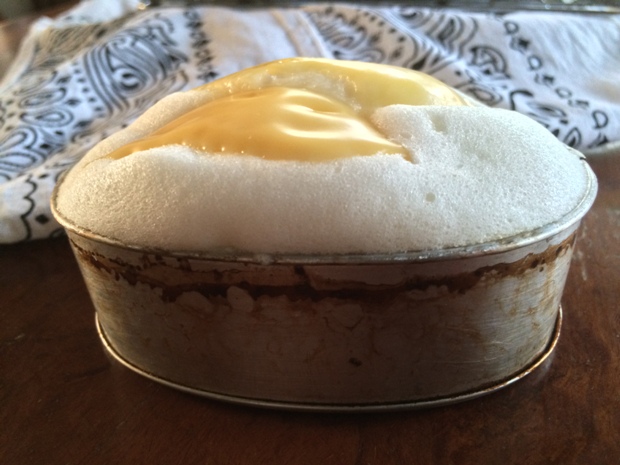 Here is the large puto, it looks like the mother of the little ones. Which camp are you? Salted eggs or cheese? There are some traitor salted eggs that allied themselves with the cheese camp! :P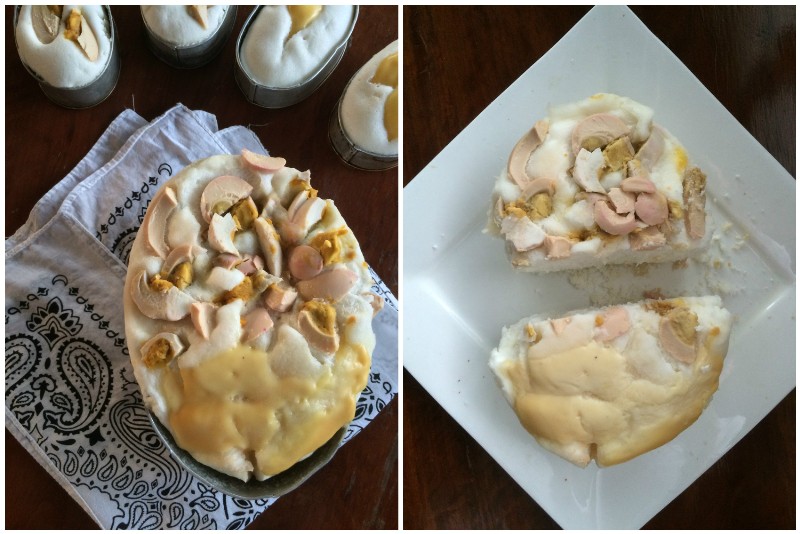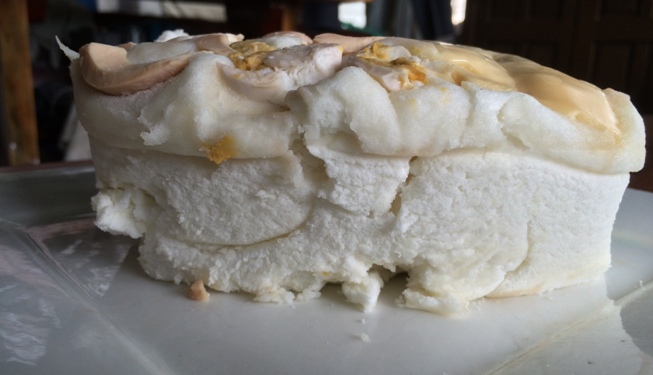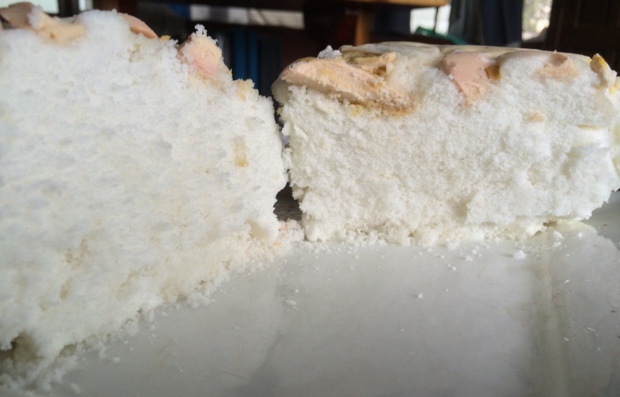 The crumb was a bit dry because it was left in the fridge for 3 days but it was still good. I cooked some pancit today and paired it with the puto and we were transported immediately to a birthday party! :P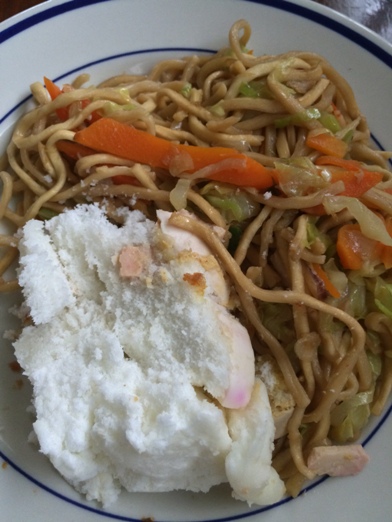 Sorry for this long post, I'm just happy with how this turned out!

Thank you very much! Job